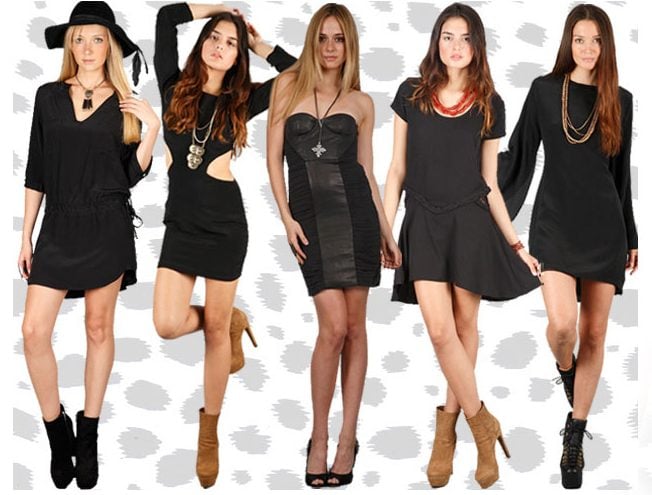 Ah, the Little Black Dress. Through fashion's ever-changing ruthless journey, the LBD has survived. Women all over the world swear by it and designers can't seem to stop making it. A black dress suits any complexion. It is also truly versatile in the sense you can wear it to an office party or you can wear it for a night out with your friends. Oozing elegance and charm, the black dress can be paired with specific types of accessories to achieve certain desired looks.
List Of Accessories With Black Dress
1. Black Dress with Diamonds and Pearls for Accessories
Remember Audrey Hepburn's black dress in 'Breakfast at Tiffany's'? She kept her accessories elegant. She wore a diamonds-studded tiara, with simple diamond earrings and a multi-stranded pearl necklace with a diamond pendant. This is an iconic look and many celebrities have been inspired by this look.
This look is ideally for a cocktail party or other such upscale event. Although Hepburn looked posh wearing a tiara, you may want to skip it and just stick to diamond earrings and a pearl or diamond necklace.
2. Unrelieved Black Outfit
If your preferences run that way, you can even opt for a total black look. Black dress combined with black accessories and shoes. But to carry off such a look, you need to make sure your accessories and outfit are stylish and daring. A drab black outfit with matching black accessories will end up looking like you're going to a funeral. Break all that black with a bright red lipstick, instantly taking the look from rocker chick to glamorous diva. This look works best for a date or even for partying with friends.
3. Black Dress with Neon Coloured Accessories
Neon colours are here to stay, so why not pair them with your LBD to give it a whole new look? The neon colours add a fun element to your outfit and perk up your entire look. This is not a suitable look for an office party, but can be worn for almost any other occasion as long as it is not a black tie affair. Check out how Fergie adds some neon to her black outfit, making it pop.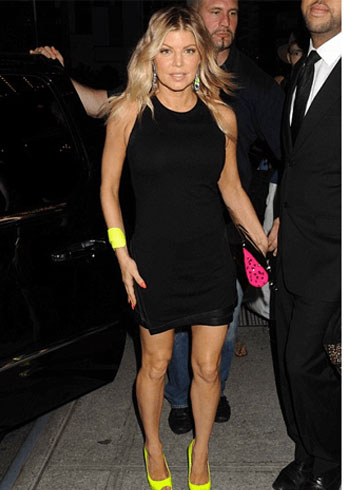 4. Black Outfit with Gold Accessories
A black dress provides the perfect landscape for metallic accessories. While silver and bronze work well with black as well, gold is just a little extra special. Consider wearing a gold metal belt with your black outfit to up the fashion quotient of your outfit. This is a highly adaptable look that you can wear to a formal event as well as a rock concert. Chunky gold accessories go so well with a black dress.
[sc:mediad]
Rihanna adds bling to her floor length black dress with some interesting gold accessories.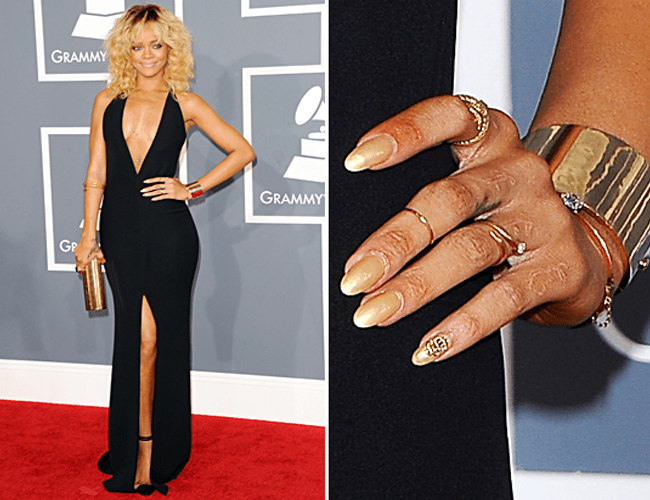 5. Black Dress with Coral Accessories
While it might sound like an unusual choice, black and coral actually go well together. Take a look at the picture below to get an idea of how to adopt this look. The harsh black clashes with the soft coral shade to create a look that is dramatic and demands attention. Just remember to keep your makeup to a bare minimum as heavy makeup will stick out like a sore thumb against all that black and coral.
6. The Monochrome Look
It involves pitting striking-white against dark-as-in black to evolve a look that is harmonious. The monochrome trend has been very popular amongst celebrities and fashion designers alike as it allows for a lot of experimentation within its limitations, and it is a relatively safe look as you cannot really go wrong with black and white. This look is truly versatile. It works as a daytime look as well as an evening look, it's great for office parties and to go out with friends. While attempting this look, keep white to a minimum, as too much white might make this look too jarring.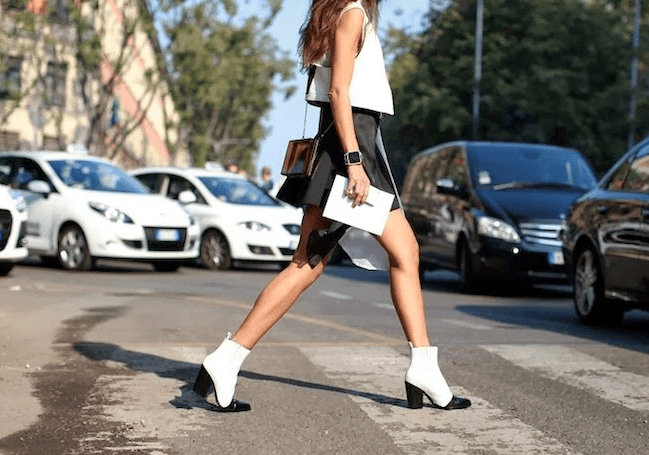 7. A Pop Of Red
The combination of red and black is the perfect answer for what to wear with black dress. Take a look at the below picture to get some inspiration on how to rock this combination.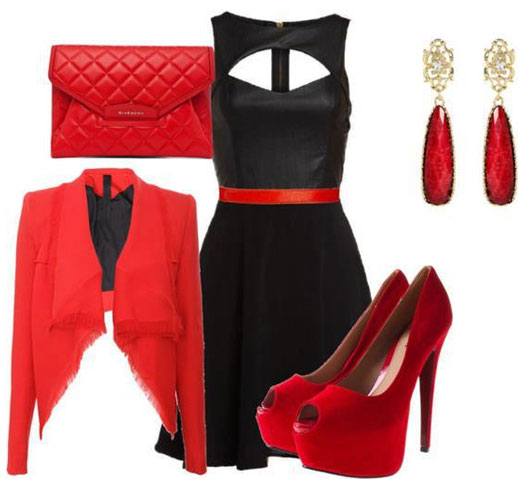 8. Nude Is The Way To Go
Well not literally of course. Nude is a good choice of color when when wearing a black dress with belt. You can also wear nude colored heels with black dress. The below image will show you exactly how to do it.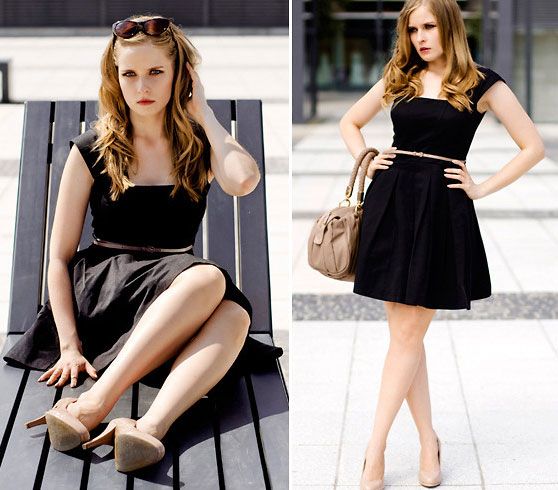 9. Aqua Love
Wearing a statement piece like a black dress with necklace in the shades of blue can add the required touch of color to your ensemble. The aqua color is completely soothing to the eye and it will also not overpower your LBD.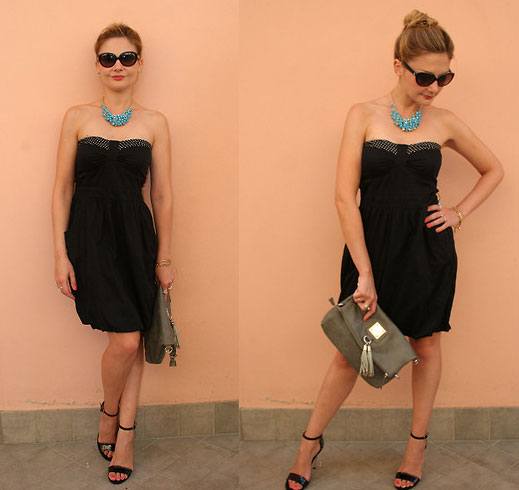 10. Animal Prints
Wondering what heels to wear with black dress? Animal prints win hands down!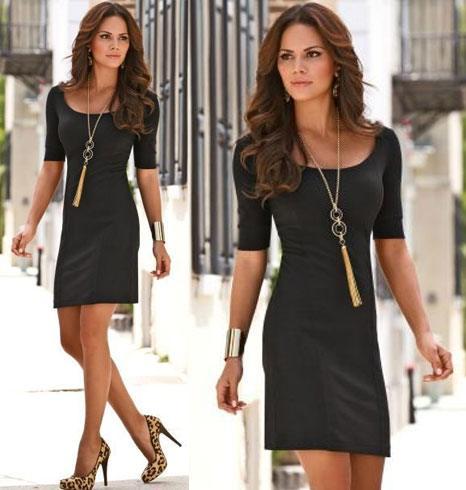 11. Orange Is The New Black
Orange is an amazing color to try out when you are wearing a black dress with jacket. Don't believe us? Take a look at the below image!
12. Black Dress With Accessories
Because of its versatility, you can wear any color of accessories with a black dress. From pretty pink to glossy green, you can experiment with every color.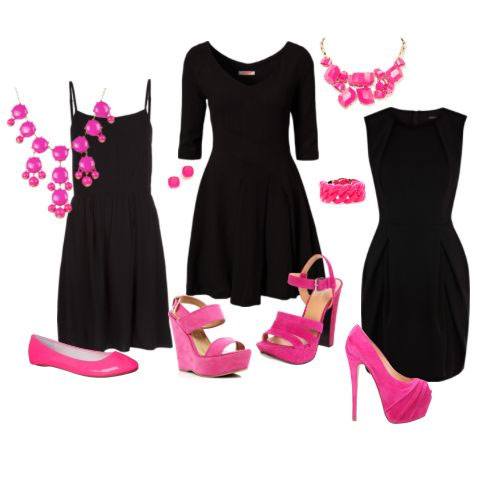 The black dress is a true legend in its own right for withstanding decades and decades of fashion waves. Every season, fashion enthusiasts and fashion designers decide which colours are in. While a new fashion season will bring a new bunch of favourites, black has always been the only constant.
Anytime you have a dilemma about what to wear, the LBD will come to your rescue. Do not hesitate to experiment with different colours as black works well with almost all shades. Create your own unique look or get inspired by the red carpet looks. Keep reinventing and giving your LBD new avatars and a whole new lease of life.
Images Source: pinterest.com