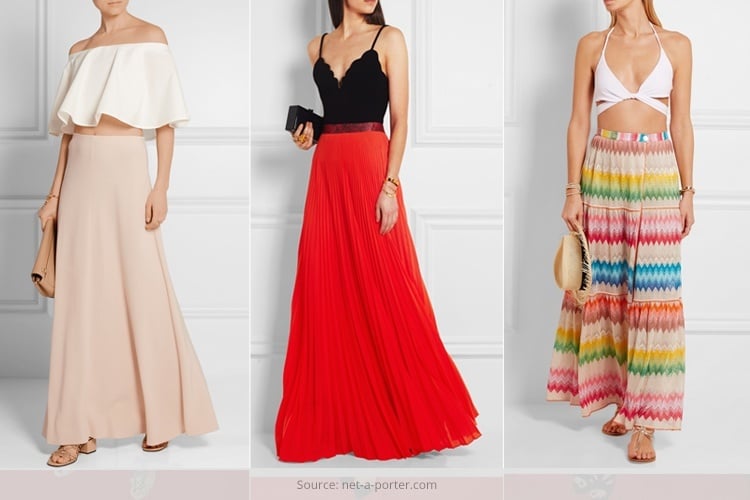 Once upon a time there was a trend of wearing short and mini-skirts. But when fashion takes a twist on fashion runways, certain clothes end up gaining on length. Which is why, long skirts have now scored a come-back in the list of fashion must-haves.
Long skirts are mostly called maxi skirts, and the good thing about them is that they are practical, comfortable and figure flattering. The fashion for long skirts is such that they can go for any occasion depending on the designs, styles and details. The long skirts for women are suitable for day wear when teamed up with basic looking neutral pieces, and ideal for night wear when matched with elegant accessories and blouses. In short, long skirts trend symbolises femininity, style, practicality and beauty. Question is how to wear long skirts, so that they look apt and admirable.
[Also Read: How To Wear Leather Skirts]
FASHION TIPS ON HOW TO WEAR LONG SKIRTS
Like many fashion newbies, long skirts for women too need a bit of knowledge and practice. It goes without saying that long skirts are best suited for women with height. But the good news is that women with shorter and medium height can also sport this new outfit as long as they know how to make appropriate styling combinations. Yes, long skirts highlight the tummy area and many women end up developing a hump when wearing it. But that is no reason to frown and sweat. Here are some fashion tips for long skirts and how to wear long skirts if you're short that will happily lift all your worries and make you embrace ways to style long skirts.
1. High Waist Skirt
Hide your rounded and bulging tummy by putting the long skirt below the breast line. Alternatively, you can wear the long skirt at the thinnest part of your waist.
2. Skirt With Gathering At The Waist
The presence of gathering or bunches of fabric around the tummy area can interrupt the effortless impact of a long skirt. Let the style of the skirt fall smoothly from the waist. Having too much of fringes also ends up disturbing the look.
3. Skirt And Tunic
If you want to enjoy a great top pairing, then wear a longer shirt or shorter tunic over the skirt. See to it that it is not too long and falls around the hips, but for heaven sake avoid tucking the top inside the skirt as that will end up highlighting your paunch if you have one. Wear a basic tee with small details like sequins or beads to get a fashion look.
[Also Read: How to Wear Pencil Skirts the Bollywood Style]
4. Length Of Skirt
Finding the right length of the skirt can be a bit challenging since women have different heights. Which is why see to it that the length of your skirt matches your height. Whenever you are out shopping for a long skirt, a bit of experimentation and hemming is required.
[sc:mediad]
5. Skirts For Tall Women
In case you happen to be a very tall woman, then you can use the length of the skirt to hide your feet and in the process flatter your figure.
6. Skirts For Short Women
If you are one of the shorter breed, then wear the long skirt a few inches above your ankle or below your ankle. Even wearing heels can also add to your height.
LONG SKIRT FOR VARYING BODY TYPES AND OCCASIONS
The fashion for long skirts has been around for quite some time. Let's know how to go about it adopting this trend.
Any type of long skirt would look nice on tall and slim women. So any kind of pattern or print – whether bold or neutral – would do. The printed skirt can be matched with light blouse and a slim-cut skirt with a detailed blouse.
Women with short figure will have to wear the long skirt in such a way so as to heighten its silhouette due to the skirt's length. Lightweight and body fit sleek skirts should be apt for petite women.
If it's formalwear such as office, meeting or a dinner, skirts should be 3-4 inches below the knee. But when it comes to casual wear, then ankle skirts are more comfy and prettier than jeans or slacks.
When it comes to choosing footwear for long skirts, invest in flat sandals, slippers, and sneakers. For night time, you can rely on peep toes, pumps, heeled gladiators or dressy sandals. Long skirts also look great with knee-high boots.
Hope you have got a fair idea of long skirts trend and how to wear long skirts. Do share your views too on this trending subject.