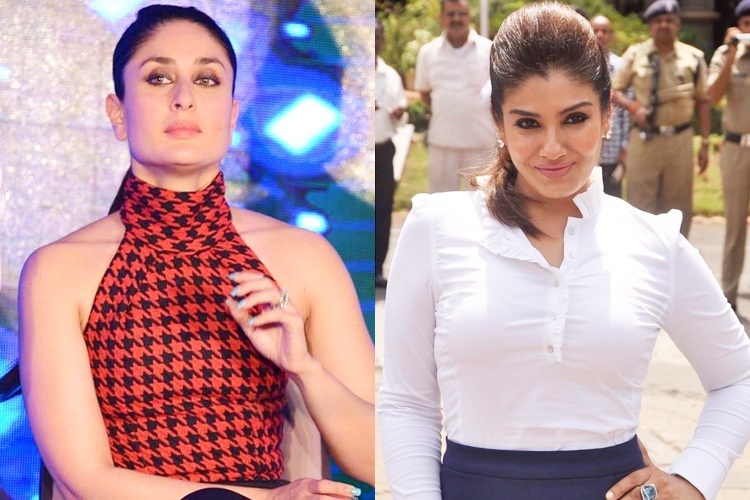 Bollywood is the first place where fashion trends hit the market. No matter the time or season, our favourite celebrities don't shy away from try on new things.
However, this doesn't mean that they only wear clothes that are in fashion and forget how to dress the classic way. Case and point are Kareena Kapoor and Raveena Tandon showing us how to wear pencil skirts and look professional yet sexy!!
[Also Read: Flared Skirts]
At two separate events, these hotties were spotted wearing skirts, and winning our hearts. Let's take a look at who wore what and then, you guys tell us, who wore it better!
Kareena Kapoor
On another round of Bajrangi Bhaijaan promotions, Ms Kapoor was spotted in something very lively! To be honest, her past few appearances of whites and blues were getting a bit dull. Anyway! Kareena Kapoor wore a black and red dress (which is illusion-ed to look like a two piece) by Sergi Hudson. Completing her look were a sleek pony, ankle strap pumps and just the right amount of makeup with kohl-ed up eyes!
[sc:mediad]
Raveena Tandon
Raveena Tandon maybe yesteryear's actress, but she definitely has still got style. While she was attending the Times of India Road Safety event, she was dressed in a crisp white shirt by Zara and a lovely blue pencil skirt by Hema Kaul. Again, completing her look were matching peep toe pumps, a ponytail and the right amount of makeup, with added hint of pink on her cheeks!
[Also Read: The Complete Pencil Skirt Guide]
Which celebrity carried this look better? Kareena Kapoor or Raveena Tandon?