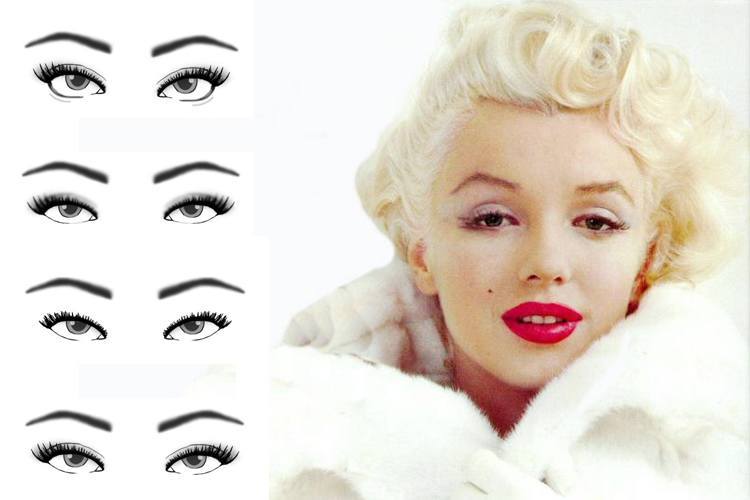 'Aankhon hi aankhon mein ishaara ho gaya'….to 'Ankhiyon ke jharokhon se' and many more. Aka Bollywood knows how to make each part of the female anatomy popular and seeking.
[Also Read: Makeup Tips For Small Eyes]
Eyes are a big asset to a woman. But not all women have the same eyes and eye structures. Some have tall eyes, some have short, some have black, and some have blue, some have brown, some have wide, some have Monolid and some have Indian.
There are a few eye classifications that vary as per the various eye attributes. We give you a run-down of different eye shapes and the kind of basic makeup for different eye shapes.
Wide Set Eyes
These types of eyes are popular for the youngish look they give. And so, a strong make-up goes well with it.
Do not hesitate before applying a good amount of make-up at the outer corner. You can apply liner on the inner eye corners too.
[Also Read: How To Do Chola Makeup]
On the eye shadow front, use metallic colours like golden, black or turquoise. Before experimenting with colors, keep in mind that brighter colors make your eyes look big whereas darker shades make your eyes look small. Jackie O Kennedy and Michelle Pfeiffer are the celebs who had wide set eyes.
Eye Makeup Tips: In order to create the illusion of wide set eyes, use a dark liner first and line the top and bottom lash line as much near to the inner eye as possible. Stay away from creating a heavy line all over the lid. Instead, start by making a thin line close to the tear duct, pull it toward the outer eye and create a thicker line as you pull. Towards the end, apply mascara to the lashes on your inner eye.
Close Set Eyes
These eyes are the exact opposite of wide set eyes as they are closer than one eye width apart. But yes, they give a sexy, sultry appeal such as the one on Jennifer Aniston and look great with winged liner.
If you have close set eyes, use intense colors preferably. In fact, you can use highlighter just below the outer corners of lower lashes to get a dramatic look.
Eye Makeup Tips: Use frosty white or nude color in the inner corner of the eye. This will make your eyes look bigger and farther apart. Also, apply more layers of mascara on outer lashes and lightly apply mascara on lashes closest to the inner eye.
Almond Eyes
Almond shaped eyes have been linked to a standard of beauty since times immemorial. Cleopatra had one. They are known to have balance and symmetry. In the current breed of celebs, Janet Jackson has almond-shaped eyes.
Eye Makeup Tips: This shape is the easiest for applying basic eye makeup. You can put eyeliner on your waterline, but avoid putting eyeshadow under, as it will make your eyes look smaller.
Hooded Eyes
Seen Chinese people? They are the ones having hooded eyes wherein a fold of skin droops or hangs over their natural crease. This makes the eyelids look smaller.
[sc:mediad]
Eye Makeup Tips: Bold eye makeup suits hooded eyes, and so darker shades on eyelids should be used. Lighter colors will make your eyelids look baggier. Don't neglect your lower lid and don't try to over-highlight the brow bone.
Monolid Eyes
This is the opposite of hooded eyes. Most of the time, you can see the lid. In hooded eyes, they fold over the lid, whereas in a monolid, the fold is over just the lashline.
[Also Read: Eye Makeup Tips]
Eye Makeup Tips: Create a gradient effect by applying a smokey beige shadow on your upper lash line and brush out toward the outer part of your eye, in a sideways V shape. Now use a shadow brush to apply the dark color and blend. Then, apply neutral color shade in the middle and blend it with a soft shimmering color toward the inner part of your eye. Lift it to the brow bone to create a highlight.
Down Turned Eyes
Girls with down turned eye shape should feel nice since they have the eye types for cat eyeliner looks. The timeless Marilyn Monroe had downturned eyes.
Eye Makeup Tips: Use liquid eyeliner in order to create a thick, bold line. When you extend the liner to the outer corner of the eye, shift your liner at an angle to create the perfect winged line.
Protruding Eyes
These eyes are large, round and stand out. Should your eyes bulge a bit from their socket, then it means you have protruding eyes. Nichole Richie is a classic example of protruding eyes.
Eye Makeup Tips: Apply your eyeliner thicker toward the outer lid, and thinner towards the inner eye. To make it look less prominent, apply medium to dark shades of eyeshadow on your eyelid.
Deep Set Eyes
These types of eyes are very large and set back into the skull. Cameron Diaz and Taylor Swift floor you with their deep set eyes.
[Also Read: Diwali Makeup]
Eye Makeup Tips: To enhance the deep-set eyes, line the upper and lower lids. Use lighter colored eyeshadows such as peach or beige.
Now get started with your eyes and let us know which of the eye makeup pattern made you stun everyone.