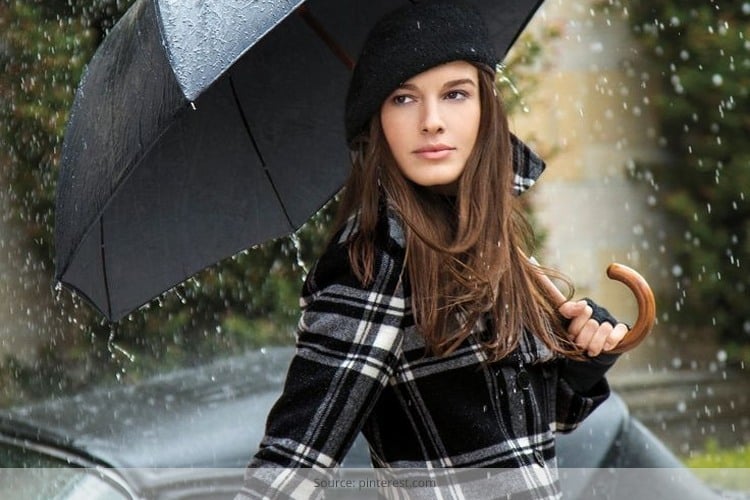 When it rains, it rains cats and dogs, making everything around you so dull and gloomy. Sometimes that reflects in our sartorial choices too. But let it not dampen your style. We present to you some stylish accessories that are as practical as stylish. Think PVC bags, Parka raincoats, and jelly flats. Here're our top picks of monsoon accessories:
Shoes: Monsoon has rendered lot of sole favorites impractical. It is time to move your favorite stilettos, leather boots to the backside. But that doesn't mean you got to whiz around in discomfort. It is time to say hello to PVC shoes, gum boots, and jelly sandals. They are a perfect way to splash through puddle of water.
[Also Read: Stylish Waterproof Footwear]
Add a ting of color to your wardrobe with glitter Jelly flats. Great and practical, this is our go-to footwear this monsoon. It matches perfectly well with almost everything in the wardrobe; making it even better.
Don't we all hate arriving at a party looking all frumpy in wet soaked shoes? Thankfully you don't have to endure it anymore. Opt for the shoes made out of PVC. They are uber stylish, durable and practical. Elevate the fun quotient in this color block PVC heels.
Bags- We absolutely love our leather bags, so much so that we practically live in them. But come monsoons and it becomes an impractical decision to carry them around. Swap your leather ones for these beauties in transparent waterproof bags. Opt for a transparent tote bag to keep your belonging safe when you go to office. These bags are big enough to carry your belonging around. Transparent tote bag from Zara is just perfect for such days.
[Also Read: Tips To Make Your Clothes Look New]
Add a dash of colors in your wardrobe with these monsoon friendly numbers in candy colors from Furla. They are great for the days when you don't have too much to carry in them. These perky arm candies are great to brighten up your plain Jane outfits.
Raincoats
Monsoons can get quite nasty but let that not stop you from brunching around, picking up errands or tending to your chores. Raincoats are a monsoon wardrobe staple but it doesn't need to be unsightly or boring. Classic, quirky, bohemian – no matter what your style is designers across the globe are coming up with exciting range of styles suited for you.
[sc:mediad]
Parkas, trench coats, & wind cheaters are some of the season's must haves.
[Also Read: Are You Ready For The Monsoons]
A classic trench coat in Tan is a sartorial icon and is a wardrobe staple of many a fashion icon across the globe. Look chic and elegant in a classic trench coat. Team it up with dark jeans and pair of PVC colored heels and you is set to combat monsoon in style. For those experimentative ones, there is an option to go for the numbers in different pattern and color. We found a slew of options from Asos which will add that spunk to your outfit.
Give an outdoorsy feel to your outfit with Parkas. Pick a see-through version if you want to show off your OOTD. Look no further than Parkas if you are looking for a practical yet stylish rainwear.
Umbrellas
Umbrellas are a wardrobe staple and it is a good idea to invest in a fun and vibrant umbrella to brighten up your day when dark monsoon clouds are looming in the skies. Indulge in an umbrella that goes well with your style. Neon, patterned, transparent, embellished, or artsy- whatever is your style there is an umbrella for every aesthetic. Opt for a foldable number for convenience. Pick a polka dot number if you too love everything retro like us.
[Also Read: Fashion Must Haves for Monsoon]
So folks, stock these in your wardrobe and head out in your monsoon best.