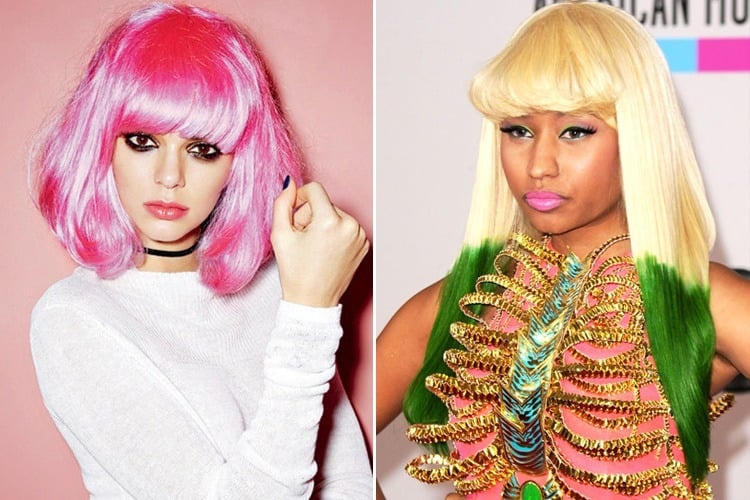 When the sky doesn't give you a rainbow, paint one for yourself. And if you are running out of canvas, use your hair. On a second thought why even strain your hair with all that chemical colors? Just grab a bright hued wig and rock it like these stars.
[Also Read: Iconic Blonde Hollywood Stars]
Kylie Jenner
Now because Kylie so infamously boasted that she is the one who pioneered the wig and everyone else –cough*Kim Kardashian* cough – has been imitating her, we thought why not begin the article by paying some "homage" to the 'trend setter'. The green waist long strands might look natural to you, but trust you me, that is a wig. If the brunette had dyed her hair that green, the hair would be found more in the bath tub than her head.
Katy Perry
Moving on, here we are with Katy Perry, rocking some blue and purple 'synthetic' tresses. Unlike Kylie, she stayed away from blowing her own trumpet, but who doesn't know how The 'California Girl' did set a mad trend of wearing blue and purple wigs with thick bangs, with a heart shaped decorative hair band few years ago. By the way, I know you think that the purple one looks too natural for a wig, but I have done my homework peeps. The singer, made an appearance in this look at the red carpet of MTV VMAs, and within the next 10 minutes set the stage on fire looking pretty in her black 'real' hair.
Gigi Hadid
Woa.. concede already… you guys did take a second or two to guess who this one is. For those who are yet to arrive at a recognition, she is the very pretty super model, Gigi Hadid rocking some crazy colorful afro wigs for the photoshoot of Vogue magazine. Doesn't she look like her own alter ego?
Kendall Jenner
When bestie does it, how can Kendall not do it? Something about these Jenner girls, I just cant keep them out of a single fashion article I pen down. Check out the eldest Jenner girl (Or, is Caitlyn Jenner the eldest Jenner girl, now?) going incognito in the hot pink bob wig. And doesn't she look adorable. The second one is also from Vogue's photoshoot and the girl seems to have found her element in the ambre wig too.
Lady Gaga
Honestly though, I could have prepared this entire listicle featuring Lady Gaga's wigs only. But I had to do justice to other talented people also. Nevertheless, I picked up the best one for you. She could have left that bra and jacket at home, and still escaped a scandal…because that inordinate wig can cover an entire town. As I have less than enough words to spend in honor of this enoroumous wig the songstress had managed to head, how about you have a look and decide yourself?
Nicki Minaj
Remember, I said you need to paint your own rainbow? Well, I just said it, but here we have Nicki Minaj demonstrating how you do it. The multi colored rainbow wig isnt the only time she rocked some insane manes. Check out the incredible collection of some insane wigs the 'Anaconda' singer owns.
Rihanna
Rihanna might not have gone as far as Nicki, but girl friend has her share of wig friendly appreances too. I think of an icecream when I look at this pic of the pop star. What do you think of? I guess I am really hungry because the other colorful wig, reminds me of Maggi noodle, tell me if I am wrong. But keeping my love for food aside, I am competely digging the firery red wavy wig the 'Work' singer is wearing.
[sc:mediad]
Miley Cyrus
Apparently, Nicki Minaj is not the only woman who is bold enough to wear a rainbow. Miley Cyrus's multi colored braided wig and the poker straight with bangs wig feature all the shades in a rainbow and are shining all bright. Looks like someone's got a tough competition, eh, "Nicki, what's good?"
Selena Gomez
Now, Selena Gomez sticks to the natural and her style is more conservative as compared to the aforementioned. But I couldn't miss out on this one single time she wore a wig heavier than her own frame. This is a shot from her 'Like a Love Song' music video and doesn't the tiny little Sel Go look like a button in here?
[Also Read: Hair Chalking: Coolest Hair Coloring Trend]
Be it Miley, Katy, or Nicki – whoever you are fangirling on, do you plan to replicate their love for colorful wigs anytime sooner?