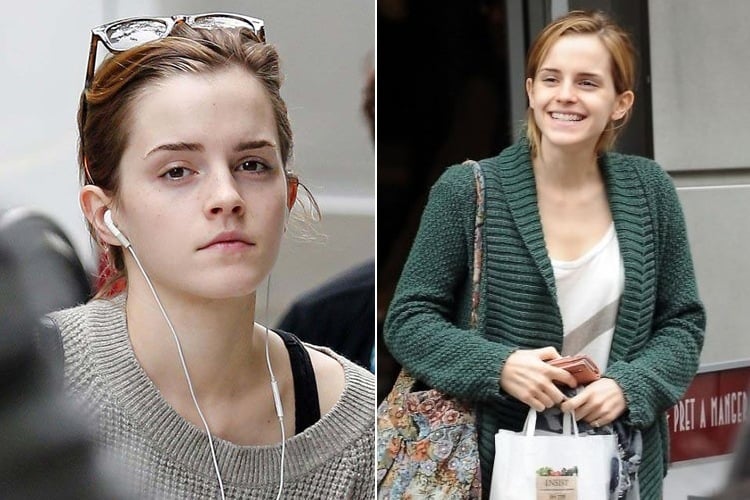 Men are crazy about her and the women drool when they see her. We are talking about Hermione from the Harry Potter series, Emma Watson. The British actress has come a long way since the epic series and by playing a Hogwarts student. She has the grace, elegance and grandeur which is why, a very famous makeup brand cosmetic company signed her up as their pin up girl. But did you know, as much as Emma looked a billion bucks in makeup, she steals the show on the street without a hint of gloss and blush too. Don't believe us, here are a few pictures to prove our point. Watch away!
EMMA WATSON NO MAKEUP LOOKS
1. Caught sending text messages to we don't know who, Emma sits pretty without makeup. Maybe it is the oversized woolen scarf and the sleek nude coat that she wears which steals the show. This is one of the cutest pictures of Emma Watson no makeup doing the rounds.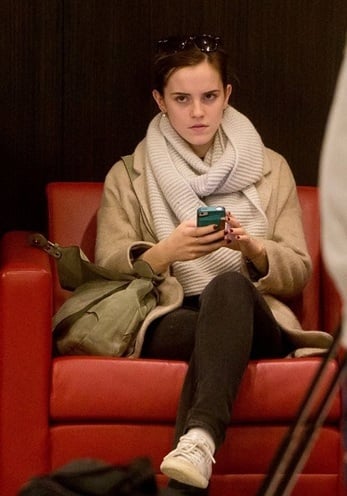 2. If you really aren't happy with your teen wearing makeup to college, and if she is an ardent fan of Emma Watson, your problem is solved. Show her this image of Emma sans the makeup and on the streets.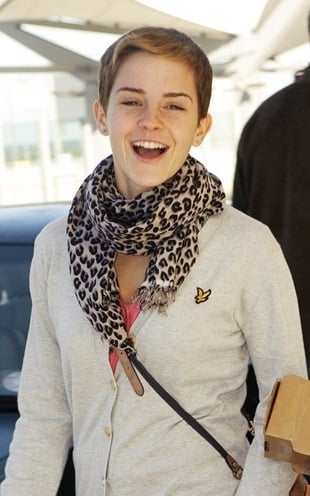 3. Once again, if PYTs at college protest against the rules of no makeup, here is Emma showing you how to look like a diva at the examination hall in a dark coat, a coloured scarf and jeans to complete the look!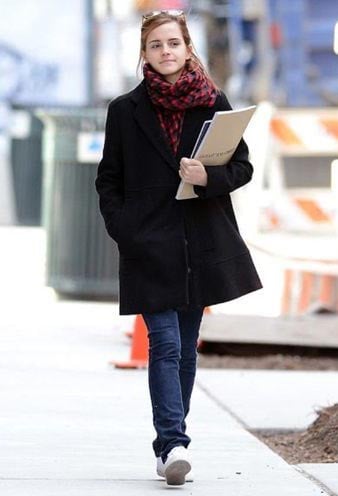 4. Charming as Emma is in the cute pixie cut she sported a while back; Emma steals more than just glances in a wild print scarf and NO MAKEUP again! Need more proof that Emma Watson no makeup still is an eye grabber?
[Also Read: How To Look Beautiful Without Makeup]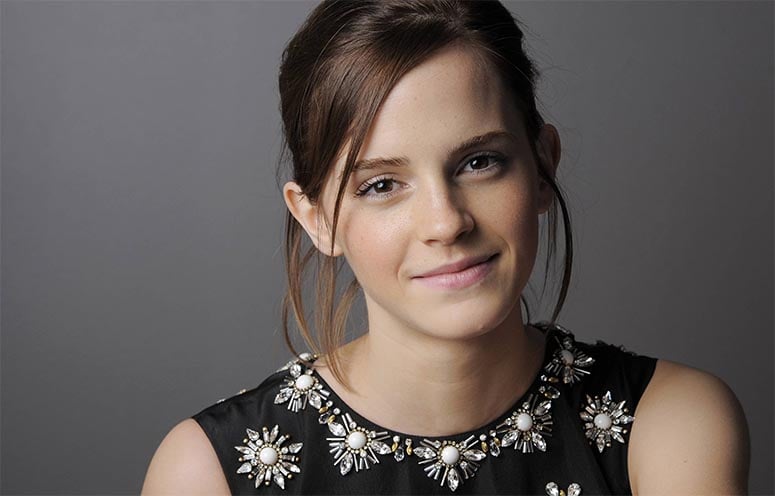 5. Short blunt shag hair do and a simple bottle green oversized pullover does the trick it seems here. Emma once again and out on the streets without makeup! Gorgeous and lovely, isn't she?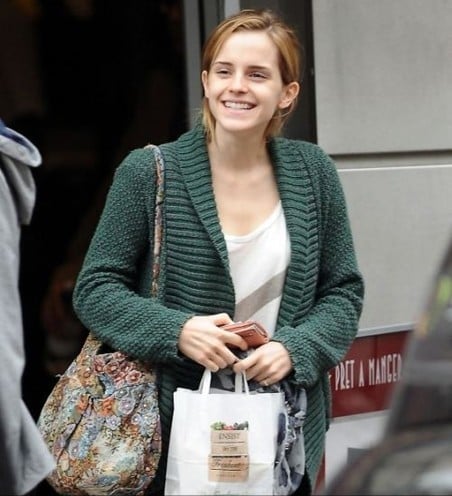 6. Tired of the Kardashian sisters wearing tons of makeup, even while at the gym? Your answer and inspiration is here, Emma strutting her sexy physique and healthy body without makeup!
[sc:mediad]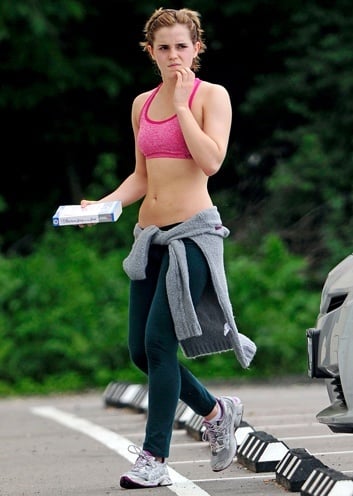 7. One in the crowd and that is exactly what Emma loves being. Chirpy, vibrant and the girl next door, Emma loves keeping it low key and minimal as and when she gets a chance to do so. The crop top and singlet makes a statement any which ways!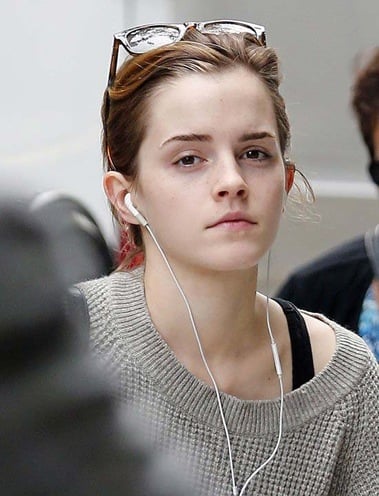 8. You see her face and notice those scars? Yes, Emma too has had a brush with acne and pimples, and their remnants too. There's nothing to be embarrassed about anymore, not when you see the natural beauty emma watson, without makeup and flaunting her scars.
[Also Read: Gigi Hadid Street Style]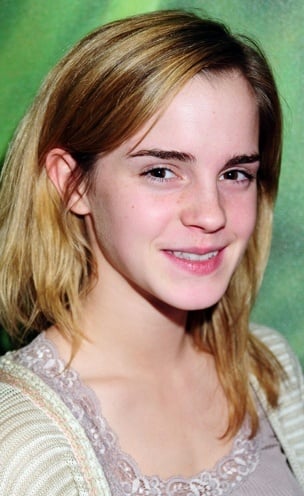 9. It seems that the shutterbugs cannot get over her or enough of her, and we don't blame them too. Emma is an epitome of beauty, of womanhood and feminine charms, and why wouldn't the world follow her wherever she goes. As seen here, Emma wears her leggings an track cropped jacket with ease, sporting no makeup at all.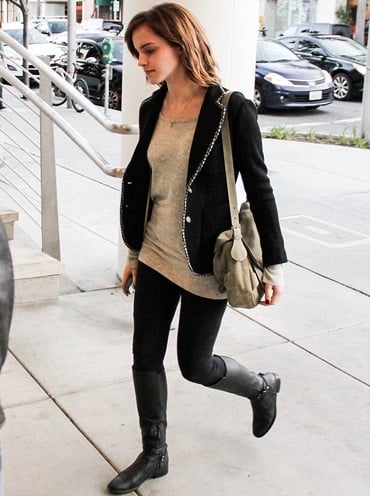 10. She may have been out with the girls probably, doing her thing and hence decided to wear no makeup as well. If you have a girls day or night out and would like to go bare on the face, here's Emma showing you how to be nonchalant and sassy!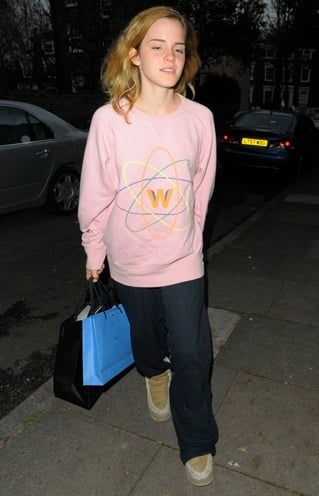 11. Out on a picnic or maybe a lazy Sunday noon fishing time when she was very young and just doing the Harry Potter series, Emma was caught by the paparazzi clan wearing no makeup, quite a casual street look for the summer months ahead, we say!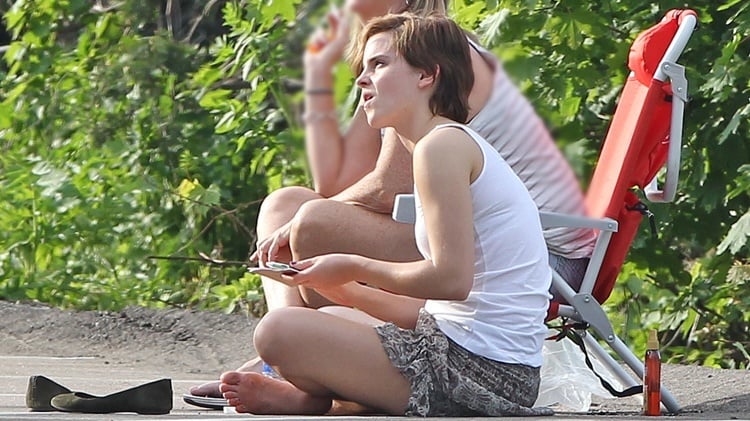 12. Confident as she is, Emma doesn't miss an opportunity to pose for the cameras and flaunt that lovely smile. This is why the world loves her, and even without a hint of blush or gloss, Emma Watson no makeup pictures stole our hearts here!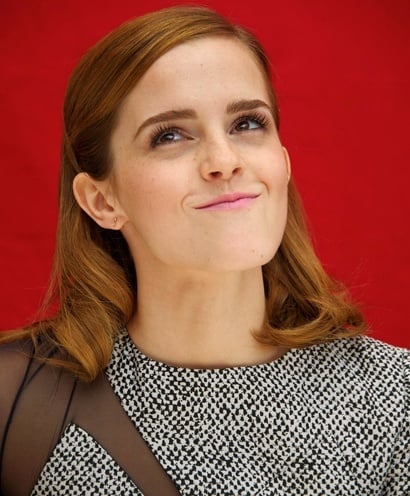 So, if you thought only makeup would make you look beautiful, remember that was not the right thought, in the first place. There are men out there who prefer women with a natural touch, but most importantly, do it for yourself. Be the street stylish diva without makeup just like Emma Watson no makeup selfies have shown us.
Images Source: pinterest.com