We all have certain body flaws that we try and cover up using clothes and different kind of styles. You wear stripes to look taller, avoid horizontals to look wider and what not. So, this article will help you in case you have fat thigh. I'm sorry for the blunt language but we all know how we try and hide or even mask it under clothes. But wearing long tops is not the only answer.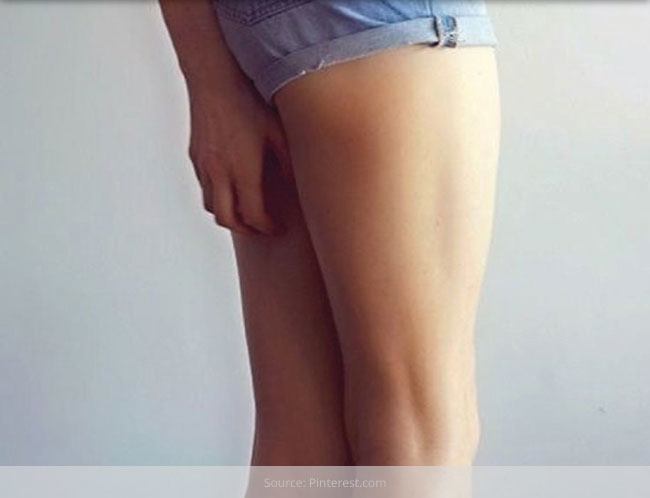 [Also Read: Causes for Rash On Inner Thigh]
Top 10 Style Tips For Those Big Thighs:
Today in the marketplace, when you have so many beautiful clothing options, you just need to analyze for yourself how you will make it work for your body type. Don't just rule out options because you think you cannot wear them because of your thighs. Read Ahead to look fabulous and fashionable in these easy and convenient options:
1. Wide Leg Trousers:
With a simple, well-fitted top you could rock this look. Pick up wide-leg trousers or get one stitched, that will flatter your body, conveniently hiding the thighs. The important part is the fit of the trouser. Get one with the right length or alter it if you like because that will add points to your look, slimming the thighs and making them look longer instead of wider.
2. A Line Skirts:
The perfect skirt style for you because this clearly hides the not-so-thin thighs. Today, you get all lengths, colours, and fabrics in A-line skirts, so picking one according to the occasion, your personal style, and your height is very necessary. I say you own three must-haves in these: A shimmery one for the party chick, a casual oriented one for Sunday brunches or office lunches, and one in solid dark colors. Avoid too-short skirts, instead, look for mid-thigh or even below the knee ones.
3. Tops That Are Neither Too Long Nor Too Short:
Don't wear tops that end exactly where the widest part of your body is, instead choose one that ends higher. Like a shirt top but not a very short top.
4. Jeans:
The first choice would be to pick up straight-leg jeans and then the boot cut ones. I know the trend is for skinny fit jeans but for you, you will have to be very careful while choosing the fit. If you still want to go ahead wearing skinny jeans, just wear a nice flowy top that could have an asymmetrical hem.
You don't want your thighs to take up more attention. So, ideally, the two kinds would be tapered and boot cut jeans.
5. Vertical Stripes:
An ideal print that will give you the illusion of length and will thin it up too.
Vertical striped pants are in trend currently. You could wear it with solid, bright colour tops. Another trendy way to sport strips is like that in the picture – side stripes.
6. Dark Pants/Jeans:
It's no secret that dark colours make you look thinner. So, even when wearing pants or jeans, look for dark colours when you want to look slimmer or especially when you want to make your thighs look that way.
7. Flowy Fabrics:
Fabrics that fall well give the body a flattering shape and silhouette. These will take the shape of the body and the flair will give it a very soft dainty look.
8. Indian Clothes:
It compliments every single body type, so the saree or the Kurti will hide your flaws and accentuate your pluses. Kurtas are a safe bet since they are long and they hide most part of the thigh. So when in doubt, wear a pretty printed kurta with a dark-colored salwar so as to mask those thighs.
9. Avoid Anything High Waist:
This will automatically make you look wider at the hips and thighs even more than it already is. So steer clear of these 'dont's' because accentuating the tiny waist will shorten your torso and make you look stout which isn't the ideal thing to do here.
10. Dresses:
A-line dresses are the most flattering for you. You could wear straight maxi dresses too, that are ankle length or slightly above the ankle. The maxi trend is still in and you can make the most of it.
With these styling tips, you can make your thighs appear sleek and sexy! Use these to look flawless and carry any kind of dress with much ease. Do let us know if you have some other tips too that can help slender other problem areas too.