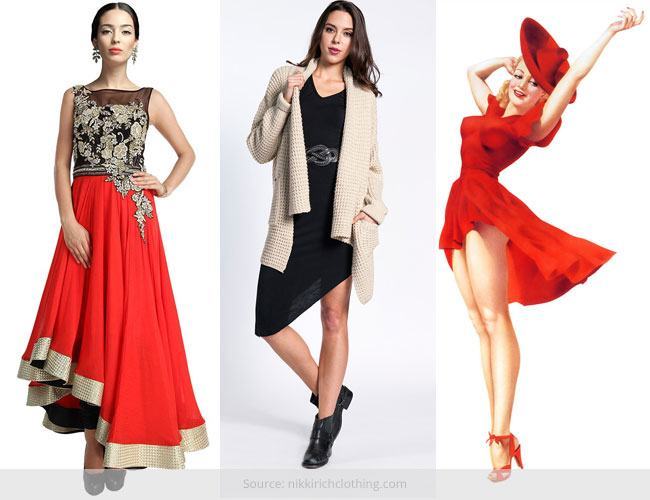 Was the world of fashion ever straight and well-manicured? Not quite looking at the fashion twists that have come time and again. One such unconventional breed has been the asymmetry in skirts. Some asymmetric skirts look high up the thigh and some low enough in almost touching the ankle. But ever heard of the combination of high and low in a skirt? Yes, that's the beauty of high-low skirt otherwise known as Asymmetric Dress that is fast rising up the fashion chart. Also known as Mullet or Waterfall Skirts, these are skirts that have a higher hem in the front, or side, rather than in the back.
Origin of Asymmetric Dress
This particular style of asymmetric dress goes back to the Victorian era during the 19th century when the hem style became popular as 'fishtail'. A trend in the 1870s, they assumed popularity in the 1880s, 1920s and 1930s in brief spells. However it is in the year 2011, that this skirt style became a sort of trend in Europe and America and later on the focus of attention during the Spring and Summer 2012.
Numerous fashion labels such as Namrata Joshipura have praised the Asymmetric Dress for its 'playfulness'. Apart from the slanted styled skirts, other fashion items that have taken to one side sporting a different cut has been the cardigans and blouses.
Asymmetric Dress – Indulgence on The High
Ask modern day fashionistas and you will see them glowing with pride in wearing clothing that has irregular cuts. There have been many celebs sporting the asymmetry in fashion on the red carpets with aplomb. Watching the tail of the skirt dancing with the winds is so very retro and chic.
Asymmetric hems offer lively cuts and emphasise on putting your legs into the spotlight. The cut is so dynamic that it brings a sense of fluidity on different fabrics, whether it is strong and sturdy materials to transparent chiffon. So energetic is this new breed of fashion, that the asymmetrical cut adds flow to your body as you walk and the cut flows with you as you move.
Trendy Basis Dress
Make winters look trendy with this 100% cotton regular fit dress with high low hem, scoop neck and racer back.
Chiffon Flounce Dress
This flounce dress has loads of oomph appeal. Having been tailored with adjustable spaghetti straps, a V-neck and a flounce finish that moves with the wind, imagine the impact it would create.
Flirty Asymmetrical Dress
Flirt around in this flattering fit that accentuates the curves like nobody's business.
Petite Alicia Strapless High-Low Gown
Hold your breath to this chic strapless silk chiffon gown with high-low hem. The gathering at bodice accentuates the sweetheart neckline. The back zip closure is hidden and the lining is made of 100% polyester.
Belted Maxi Dress Style
Experience the winsome charm of this sleeveless high low maxi dress that has round neckline and is made from polyester.
[sc:mediad]
Spring Back Sequin Asymmetrical Dress
Inspired by international catwalks, the playful fabric shown has sequin panelled hem that makes a perfect silhouette.
Origami Style Anarkali
Stunning looking and perfect for evening parties, this red net anarkali is embellished with resham and crystals. Not to miss is the asymmetrical hem that comes with a matching dupatta and churidar.
Celebs who have Worn It
Asymmetrical dress trend is the latest thing to light up the red carpet. One-shoulder dresses are not only easier to wear than strapless frocks, they are pretty cool than traditional outfits.
Umpteen celebrities, models and socialites are taking to sporting asymmetrical necklines. Be it Kate Winslet, Rihanna or Drew Barrymore, one thing you will notice is the grace with which they carrying themselves in designer asymmetrical neckline dresses.
Dabangg Girl Sonakshi Sinha takes the oomph level to greater heights with this asymmetrical cut in the back hem and the flowing part of the dress.
Guess the impact of this oriental printed handkerchief dress worn by actress Tara Sharma. Asymmetrical pattern looks chic, cool and so sweet.
Tips to bear in mind while wearing an Asymmetric Skirt
Without a doubt, asymmetrical cut gives you breezy silhouettes in light fabric and relaxed shapes. But keep these tips in mind whenever your heart goes out to wear them:
If the hem starts from the hip area, it should ideally end up just above or below the knee. This will help make the overall get-up suit daytime.
Playful and unconventional that they are, an asymmetric dress looks creative when you throw some prints or wear ankle strap heels that go natural with it.
If you are in favour of wearing light flowing dress in asymmetric style, team it up with an oversized black blazer. Also pair it with boots to give that tough look.
When your heart is for a sporty look, pair asymmetrical hems with some light colored tops and contrasting dark skirt or pants, heels and bare face. Crop tops with asymmetrical trousers and skirts would be amazing and sexy.
The DIY of Asymmetric Dressing
Fashion styles can be recreated and that doesn't always need a formal training. All it needs is a couple of DIY steps.
As you know asymmetrical skirt is a skirt with an angled hemline. All you need to do is wear the angled hemline to the side or turn the skirt to wear a pointed hemline in front or back. Here is how to go about making your high-low asymmetric skirt.
Items required:
Measuring tape
Measuring stick
Elastic band
Sewing Scissors
Needle and thread
Spandex fabric
Fabric chalk
Pins
Sewing Machine
Iron
Here's a Video Tutorial

Now get set by dressing up in some lovely asymmetrical skirts, crop tops, ethnic salwar churidar and watch the appreciation come in.