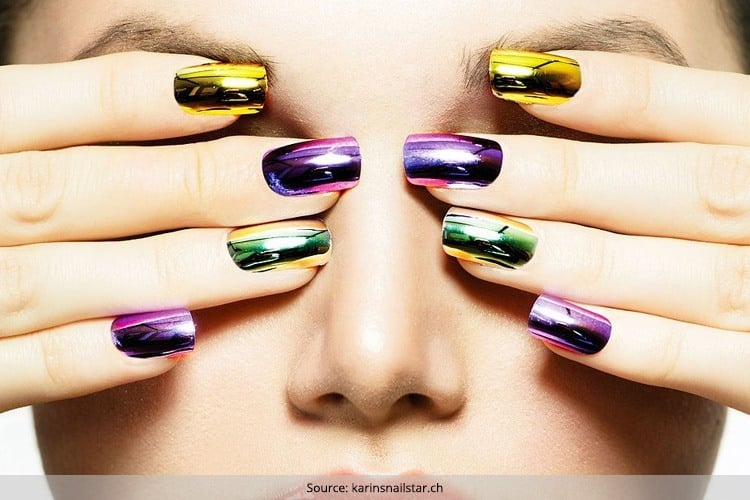 What impresses on the runway and glittering occasions? Is it the costume, the tan, or the mirror? Well, it is the 'mirror effect' which is the in-thing these days in fashion meets and evening soirees.
[Also Read: Minnie Mouse Nails]
Heard of Mirror Nails? It is the modern contemporary twist in nail fashion that adds a touch of class and haute couture to your nails.
Sounds complicated, is it? No ways as mirror effect nail polish is super easy to apply. You just need two coats of mirror nail polish to get full opacity and there you are flaunting them to claps and kisses.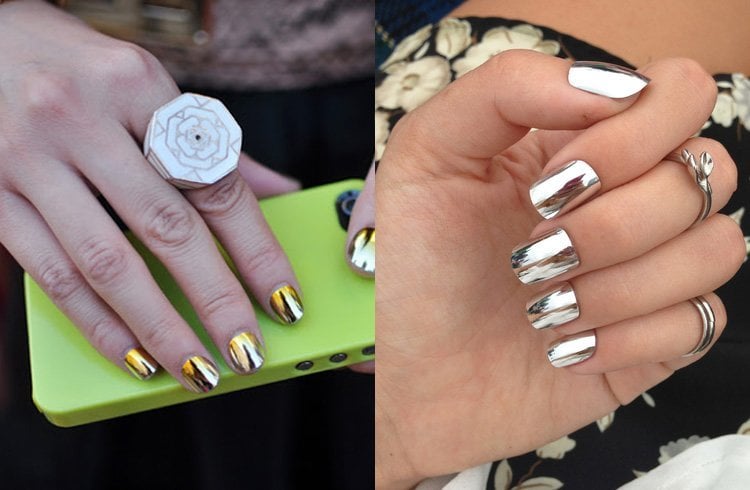 HOW TO APPLY MIRROR NAIL POLISH
No formal training or expertise is required while going for Mirror Nails. All you need is the right method of application.
Needless to say, it needs to be done in a methodical way to get the right impact. There are beauticians and expert nail artists around to do this. But there is full charm and no harm when you learn and do mirror nail polish on your own. All you need is a bit of time and attention, that's all.
The mirrored nail polish looks best when applied onto the bare nail. Applying basecoat is a strict no-no because it leaves behind streaking or bald patches, which might look distasteful.
How does mirror effect nail polish look when first applied? Expect a proper metallic or chrome shade once you are through painting your nails with it. In fact, such is its glam shine that leaves you swooning over it! Once it dries up, it leads to an aluminium foil like semi-reflective surface on your nails. Whoa, how cool a way to see nails reflecting!
Few Imperfections On Nail Surface
Applying mirrored nail polish might leave you on cloud nine. But like all good things come with a bit of negatives, so do Mirror Nails.
Minor imperfections are a part and parcel of mirror effect nail polish. There can be a couple of dents, dings, chips or splitting. But the good news is that you can avoid it by using a nail buffing block which helps even out the flaws before you apply the mirror nail coat.
Brands Of Mirrored Nail Polish Worth Buying
Here are a few mirror nail enamels which you can buy it from a cosmetic store or for that matter go online:
1. Layla Mirror Effect Nail Polish
There is no 'laila-o-laila' hummable melody here. Layla is a brand that has 8 mirror effect nail polish shades to its credit. There is Metal Chrome, Cosmo Lilac, Pink Iron, Titanium Sky, Purple Diva, Red Hat, Metal Plum, and Black As Ebony. No wonder your nails would look absolutely smooth, glossy and charming when you wear these shades from Layla.
Whichever shade you choose, first apply a base coat. This would help you get the maximum impact and attention.
[sc:mediad]
2. Essie Mirror Metallics Look
This brand is no small Jane. Considering its 5 metallic mirror effect nail polish shades – Blue Rhapsody (silvery blue), Good as Gold, No Place Like Chrome (silver), Nothing Else Metals (silvery lilac), Petty talk (copper), you can look forward to big time when it comes to nail attention.
But no matter the nail shade you choose from Essie, don't forget to apply a matte top coat first. This would go a long way in soothing the nail. Follow it up by applying a metallic polish.
3. Maybelline Mirrored Nail Sticker
If you seek smooth and most reflective mirror nail effect, then Maybelline mirror nail wraps is the perfect bet. You will be stunned to know that it virtually 'glows' in the dark. So whenever you are dressed in an LBD, make sure to wear Mirror Nails from Maybelline.
Now if you are keen to bring in a distinctive edge to your simple outfits, go for mirror effect nail polish. It will shine you through even in the darkest hours.