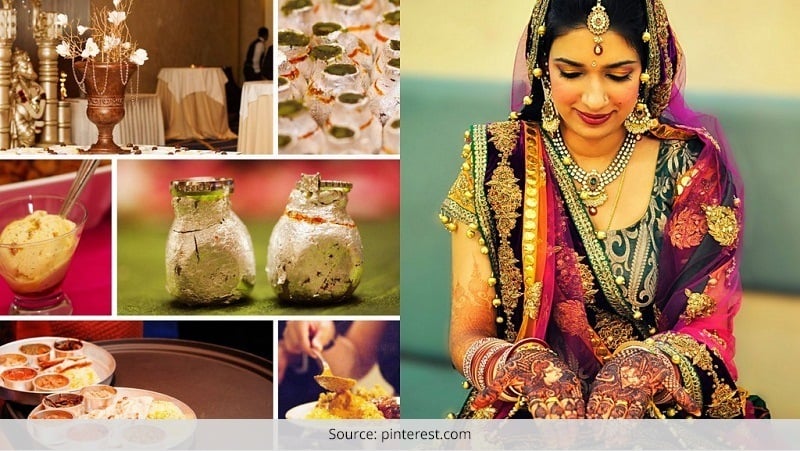 Navratri is one of the most auspicious festives of India. This 9-day festive is celebrated with immense faith and benediction, followed by joy and excitement.
Apart from the customary traditions, food and savors, this festival brings in lots of colors with dazzling Navratri sarees oozing ethnicity in every ounce.
[Also Read: Paithani Saree]
In states like Gujarat and Maharashtra, there is the tradition of wearing 9 sarees in different colors for each day. Let's have a look at the nine Navratri colors for 2013. Have a look!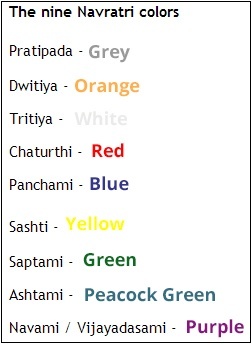 Since this festival is mostly celebrated in north-western and western part of India, apart from vibrant colors, dazzling embellishments such as mirror work, mirror sequins, sequins, fancy beads etc. are quite obvious to be noticed.
Keeping the essence in mind, manufacturers offer saree designs which suit the fashion and mood alike.
The grace of Bandhani
You'll get a myriad of Navratri saree collections both online and at all physical stores, ranging from georgette, brasso, chiffon, kota and lehenga saris. But among all these patterns, bandhani sarees reign supreme. This is because of the fact that bandhani is very much indigenous, reflecting Gujarati culture in all its demeanor.
Having been originated in the western part of India, especially in parts of Rajasthan and Gujarat, bandhej sarees involve intricate craftsmanship.
How are bandhani sarees made
This particular material undergoes process of weaving and dyeing. The base fabric is tied down at several points by threads and then the threads are dyed. This is how the saree got its name – Bandhani.
The tying manner decides the resulting pattern, which could be either Ekdali, Leheriya, Mothra or Shikari. And the designs could be dots, strips, waves or squares.
Both natural as well as artificial colors are used in the dyeing procedure. Dark colors, mostly red, green, blue, yellow and black are used. The Khatri community of Kutch, Gujarat is famed to excel in this art.
The artisans tie thousands of pint-sized knots on the fabric and then dye them by opening them to spread and form elaborate designs, only to flaunt their superlative skills.
The bandhani art is mostly famous in Bhuj and Mandvi in Kutch and also in Saurashtra. However, the Gujarati design is bit different from the Rajasthani art, as they have their unique style of tie-die process.
Colors play a major role in these states. Different colors signify different roles a woman plays in her life. For instance, red color signifies a newly married bride, while yellow conveys a new mother.
Because of their intricate design and ethnic excellence, these sarees have sent out a unique appeal not only beyond these two states but across India and overseas as well.
Popular Varieties in Bandhani
Designer bandhani saris available in colorful prints and exquisite embroidery are quite a rage online. Recent fashion finds recognition with single colored sarees and also those with contrasting colors on the body and the border.
[sc:mediad]
Lehriya Bandhej Sarees: The exclusive Lehriya Bandhej sarees with Gota embroidery and patch border are among the most sough-after varieties. These 9-yard drapes find preference as daily casual and also as corporate wear.
Bandhani Crepe Silk Sari: The Bandhani Crepe Silk Sari with Jaipuri prints and tinsel printing and border embroidered with kundans and sequins, is a grand affair. Because of the richness in its designs, it has become a natural preference for weddings, bridal attire and other traditional functions such as Navratri and Diwali.
Unnati Silks: Unnati Silks offer a wide range of Bandhani Sarees. These are available in pleasing prints with latest designs, matching borders and beautiful intricate patterns. These silk bandhani sarees are a feast for the eyes and could serve as an anniversary gift, a wedding present or a collectors item.
With so much of variety, if you are really looking to look fashionable and elegant while keeping up with the tradition for the upcoming navratri festivals then indulge in this pure ethnic bliss of bandhej sarees to celebrate the true woman power.
Now let's look at a few bandhani sarees that you can buy online apart from the bandhani salwar kammez
The first one is a beautiful half and half saree in faux crepe and net combination. The combination of navy blue and deep red or maroon bandhej designer saree with leheriya work is a beautiful wear for your garba and dandiya nights. You can wear this saree on Navratri Day 5.
The second in this bandhani collection is a bandhani print crepe saree in magenta and gold bandhani work. You can even wear this saree with a golden blouse with navratri jewellery and make the most of this navratri celebration.
The next is a traditional but latest bandhani design in red and violet color. You can also wear this on Day 5 where the color of the day is red.
Here we have a stunning piece for you to wear at another Navratri 2014 dandiya night. This Navratri special saree is made of faux crepe and faux Georgette in half and half style. The saree has delicate embellishments in bandhani print that makes this saree a light and easy to carry at any garba party. Wear kundan jewellery with the saree to make this one look more grand. The saree can also be worn on Diwali 2014.
Hope you enjoyed this post!