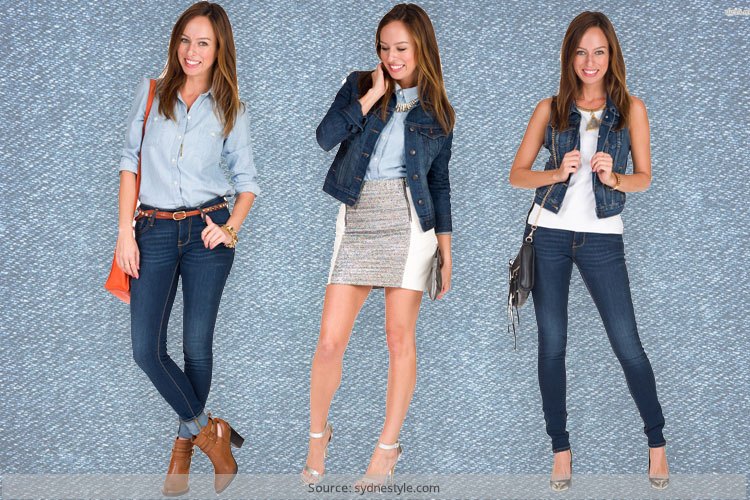 If you want something classic and timeless for your wardrobe, you CANNOT ignore the quintessential denim jacket. Denim jacket ideas have been floating around in plenty on the internet and celebrities to even you and me, everyone is wearing the denim jacket trend. So what makes these denim jacket outfits a favorite with everyone?
[Also Read: Look What's Trending With The B-Town Ladies – Denim Jackets]
One reason- they are so versatile! You can wear a denim jacket with almost anything and everything! In this article we will talk about how to wear denim jackets in the best possible way and how to wear denim jackets with anything and everything!
[sc:mediad]
Denim Jacket Outfit Ideas:
The best thing about investing in denim jacket outfits is that you can wear it with anything and it is a very sound investment. Never flinch when your heart goes out for a really good-looking denim jacket, which is a little out of your budget. Remember, there are thousands of styles with denim jackets and you can mix and match the entire year with just one jacket.
Here are some ways you can wear this versatile piece of clothing:
Maximize It With A maxi:
When you are imagining how to wear denim jackets, you would have never thought about wearing it with a maxi dress right? Wearing a denim jacket with a flowy maxi or even a tight cinched one looks extremely gorgeous.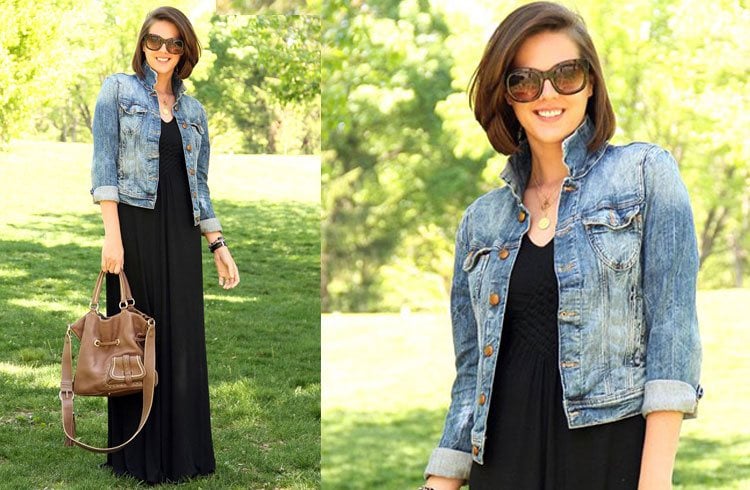 You can wear it during the spring or even during the autumn when there is a slight chill in the air.
Take a look at some of these inspirations: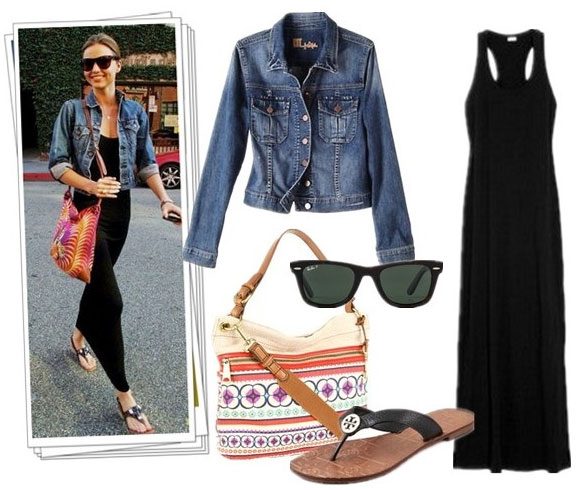 Miranda Kerr channels her inner boho goddess with this simple yet elegant black maxi and light washed denim jacket
Classic White Lace And Light Washed Denim Jacket:
For a classy and very feminine look, team your lace dress (knee-length and preferably white) with a light washed denim jacket. Not only does it look extremely demure, it is also perfect for a casual day out with your friends or even for a blind date! Wear booties to finish off this look.
[Also Read: 6 Denim Fashion Trends 2016 To Emulate]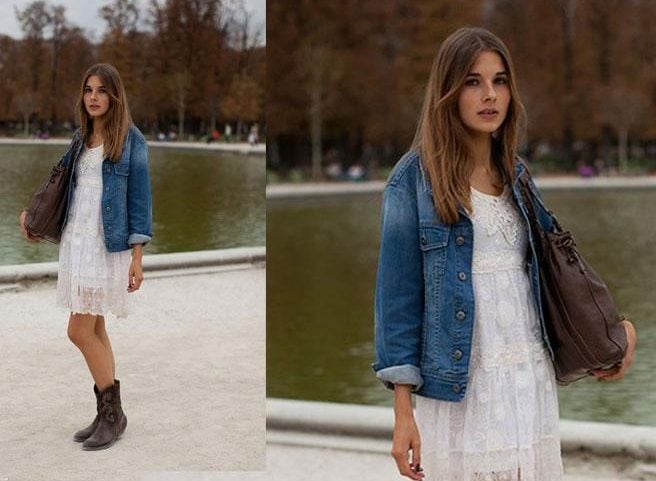 Dianna Argon looks cool and composed in her short dress and denim jacket
[Image: http://cdn-img.instyle.com/sites/default/files/styles/428xflex/public/images/2014/GALLERY/040214-denim-jackets-14-567_0.jpg?itok=BMZCc7qP]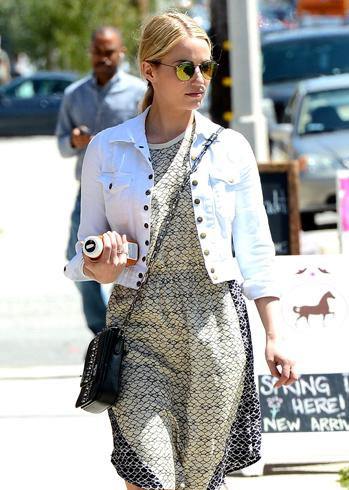 Wear it with a flared or a fringy dress: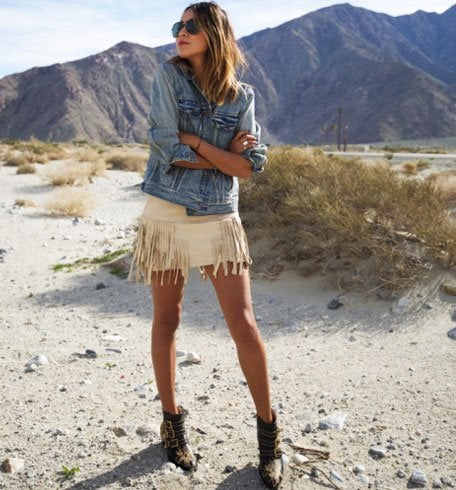 The Denim on Denim Look:
This is another classic ensemble but a lot of people are afraid to pull it off because they think they might end up having too much denim in their look. On the contrary, wearing the right denim colours will actually make you look like a diva! Trust us! The key to wearing denim on denim is to wear different coloured denims. So if you are wearing a dark denim jacket, make sure your bottoms are not the same colour and vice versa. Take a look at some of these combinations for more ideas: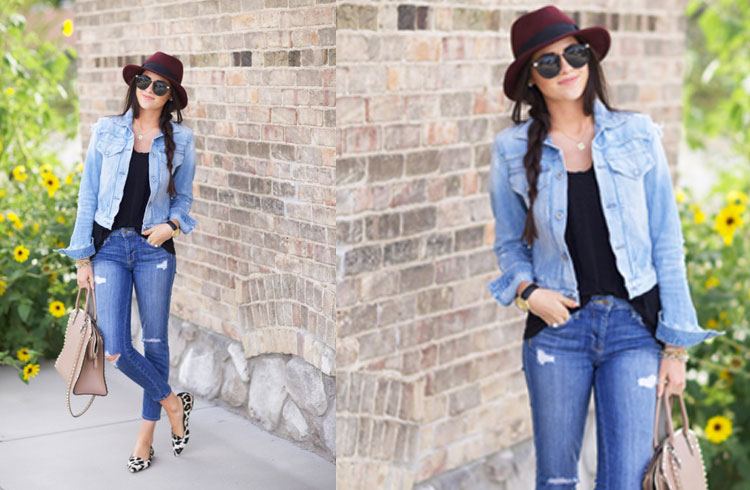 Even Cameron Diaz rocks the denim on denim look with so much élan!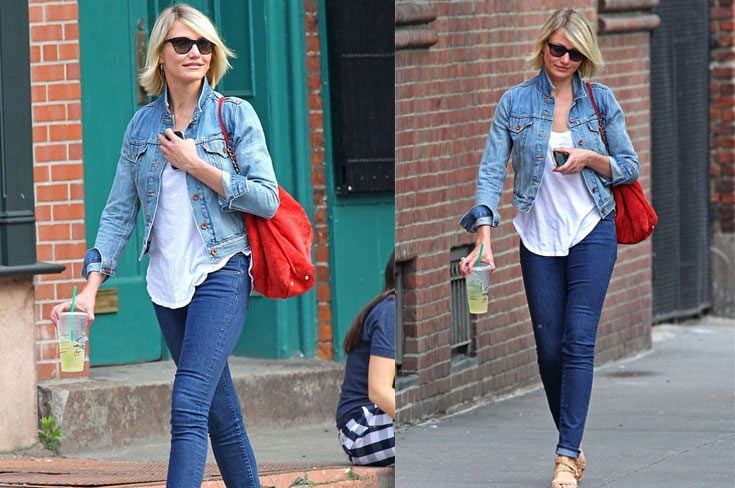 Team Them with Short Skirts:
Like we told you, denim jackets go with anything under the sky! The only thing you need to remember while styling yourself is to wear the right accessories- shoes and earrings or makeup. Short skirts too go extremely well with denim jackets. Team them up with any coloured skirts and see the magic happen! Here are some denim jacket outfit ideas with skirts:
This woman teams up her canary yellow skirt with a regular washed denim jacket and black brogues-Classic piece, worn with a high pony- very casual and carefree.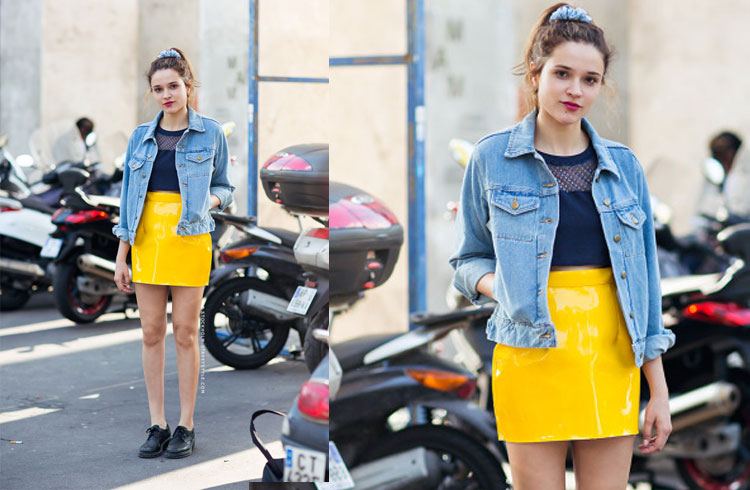 If you love floral skater skirts, wear a denim jacket to add more colour to your ensemble- The whole outfit screams SPRING! Additionally, accessorize your look with some pink pumps and a pink bag- It's just the right combination of flower power and pink child! We absolutely adore this!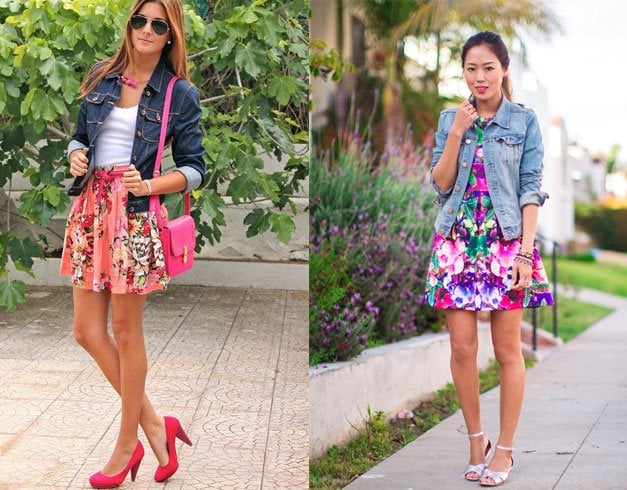 Shorts Go Well Too!
Feeling a little sporty? Add that denim jacket along with your shorts and you are good to go! Don't forget to wear sneakers with this look or some very hippy sandals. Other footwear may look jarring!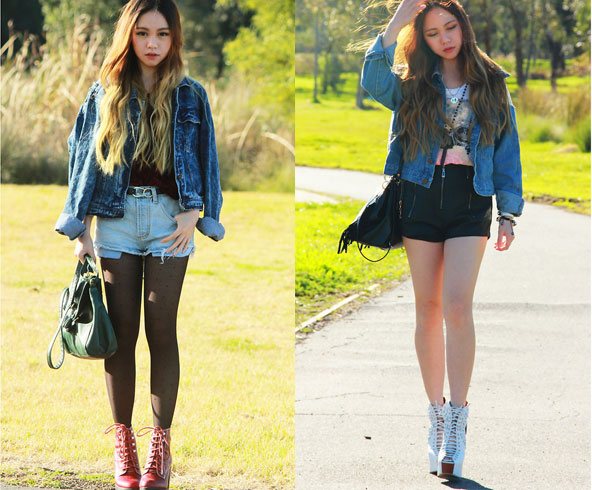 So here are the amazing ways you can style your denim jackets. Make sure you remember the key points!