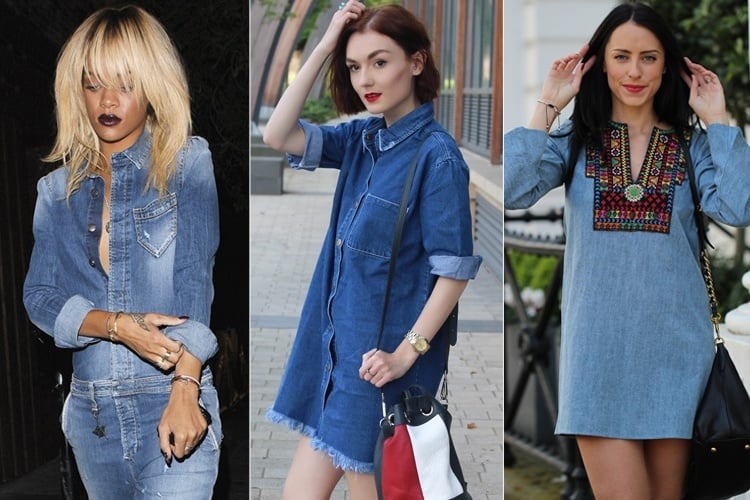 You've probably come across the phrase that denims are a girl's best friend. Even today, this phrase holds true. Initially designed for miners, Denim dresses have now made their way into the wardrobes of fashionistas, movie stars, teenagers and even the commoners. It's tried and true blue color and coarse texture has appealed many in a chic yet not-so-trying-hard way. Whether you wish to achieve a casual rock star look or chic runway look, there is a denim dress tailored for each occasion.
[Also Read: 10 Cool Ways to Style your Shirt-Dress]
Wondering What Re The Ways To Wear a Denim Dress?
Ways in which you can wear it? Don't worry we've got you covered. Read through to discover 5 exciting ways to make your denim dress ramp ready.
1. Boho-Chic Look
Inspired by the early '70s, the boho- chic look can be achieved by embellishing a worn-out bell sleeved denim tunic with some vibrant ethnic embroidery or a colorful piece of junk jewelry. You can easily couple it up with bare legs and pair of strappy sandals for the summer or thigh-high boots to bear the chilly winter. You may layer up this denim wear for women with an embroidered jacket to enhance its ethnic vibe.
Tip: To brave the cold blizzards, just pair up a denim shift dress with a swanky denim jacket.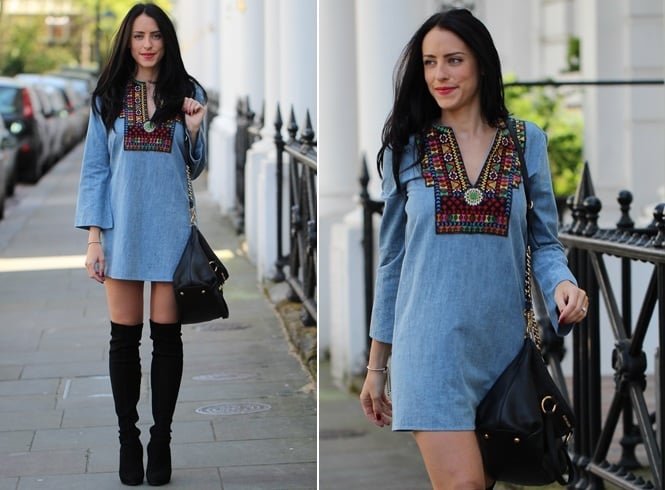 2. The Pinafore Look
Are you fond of dungarees/ overalls? Have them stacked in the back of your closet? If yes, then just take it out and achieve a picture-perfect pinafore look. In order to recreate an off-the-cuff cow-girl look just shred the old overalls from the bottom and wear them over a lightly colored top. You could also pick a trendy dressy top to wear with jeans dress. For an endearing appeal, just loosen up the top two pins of your overalls and flaunt your bandeau, crop top or those envious tight abs.
[Also Read: What To Wear To Your First Job]
Tip: For a casual boy-meets-girl look, try adorning a dungaree and a white tank top. You may also want to tie up your hair into a messy bun to complete the look.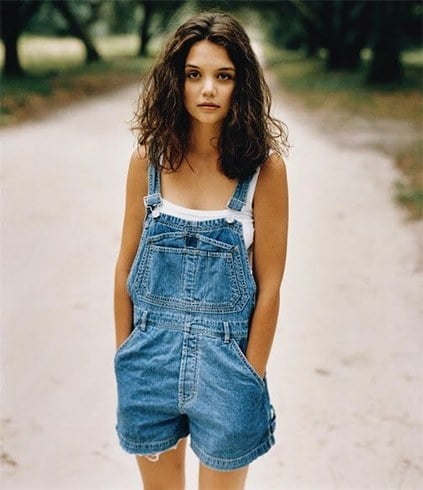 3. All-Covered-Up Riri Look
Drawing inspiration from singing sensation Rihanna's All-covered-up Overalls, we can conclude that light wash denim overalls and classic noire pumps are perfect match. Pondering what to wear with a denim dress to make it all the more stunning? Add a bit of bling (a golden ring and layered gold chains) and you are ready to hit a party.
[sc:mediad]
Don't have denim overalls? Fret not. You can make your own. Just pair up a full-sleeved denim shirt with a pair of washed out jeans and voila, you can achieve the all-covered-up Riri look.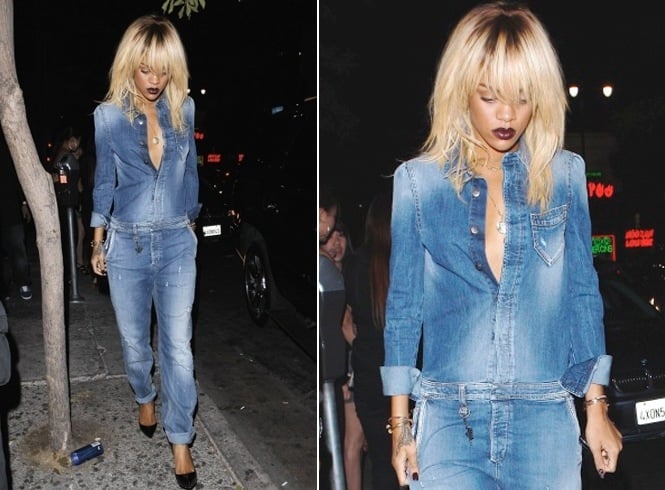 4. The Old Back-To-School Look
Have a weathered stone washed overall that you haven't worn in a while? If yes, then just team it up with a pair of white sneakers, straw hat and a shoulder bag to achieve a relaxed back to school look. This dress could also be come in handy to cover up your beachwear.
Tip: Tie a beaded belt along the waist of the pale shirt dress to add detailing to it. You may also consider wearing a pair of matching anklets and trinkets.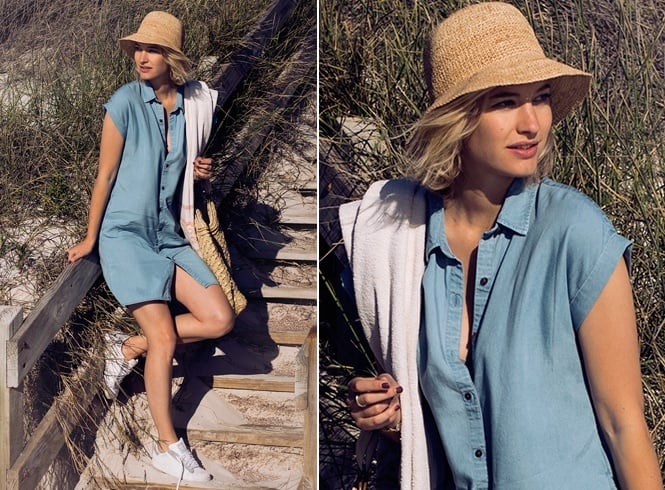 5. Oh-So-Chic Yet Effortless Ensemble
Have an old denim long shirt that you haven't used in a while? Do you consider it not-so-in-fashion? Then, it's time to revamp it up. Dig out for your slouchy or fitted denim shirt. Clip on a few glossy buttons or rivets (yes, these are the small pointy buttons present along the sides of the pockets of the usual denim wear for women) along the center of it or create your own pattern. Next, balance the richness of the denim with some easy-breezy slip-ons for a laid-back look or a pair of fancy wedges for a more sophisticated look.
Tip: Pair up your shirt-dress with a statement watch, a pair of sunglasses and a classy bag (cross-body bag, clutch or tote). Don't feel comfortable baring your legs? Then, team up this dazzling ensemble with some fitted leggings or tights and a pair of ankle length boots.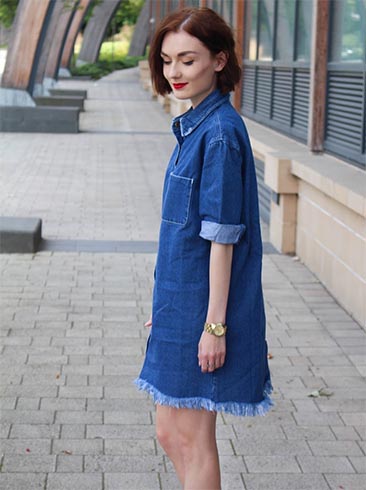 With a wide number of denim wear options available in the market; you need to choose the best one for you. Remember, lighter pale colors of denim are more suitable for a laid-back summery look, while the darker hues lend a more subtle and sophisticated look. What to wear with a denim dress is another dilemma that crosses over our brains when we pick our accessories. Hence, while picking accessories like Sunglasses, clutches, watches and much more remember that "Less is more".
Images Source: pinterest.com