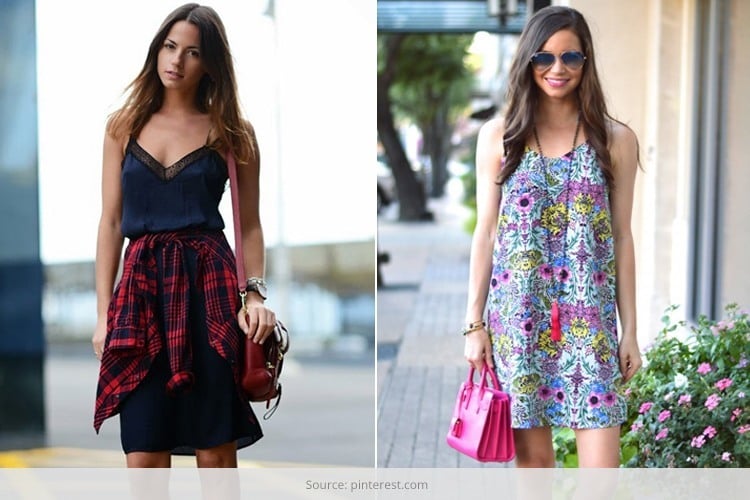 Is your sexy slip dress lying at some neglected corner of your wardrobe? If you are one of those feisty women who spring at the chance of putting on something trendy before it dies off, think about welcoming your dress back into use. Yes, the 90s trend is back with everyone looking for new ways to flaunt off their sexy slips at every opportunity. A simple slip dress can easily look tacky and more like fancy home-lingerie if not paired with the right additions. Understanding, you might need a little inspiration to get started, we have put together some valuable guidelines, you would love. Keep reading and learn how to wear a slip dress to make it look awesome!
Team It With A shirt
By putting something like a smart shirt over your slip dress, you ensure that it looks subtle and stylish. This is a good way to make it look acceptable wherever you go without feeling any hint of self-consciousness. The sneak peak of the slinky dress underneath actually makes it look sexier- tell us if you don't get date invitations for the night! Be your own inspirational star and add fun elements like a nice scarf or colourful shoes (as a tribute to the happy colour blocking days that are here).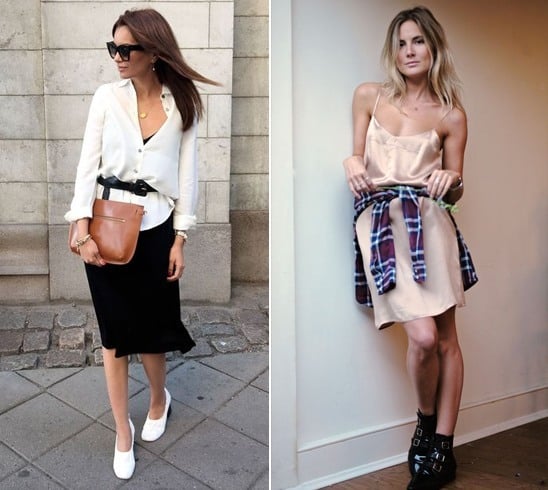 Choose The Colours Carefully
Summer demands that you wear fairy pastel shades like pale pink, peach, pale blue, lavender and yellow. However, shun thoughts of putting on many accessories as they would only clutter the look and kill the oomph factor. A simple pair of peep toes or nude wedges will go along just fine. The whole point of wearing slip dresses is that you exploit the no-hassle look, and summer is just the time to do it! Have a look at how she wears this amazing floral printed slip dress and pair it with slippers. An ideal summer look that can easily take anybody's breath away. Don't forget to get a funky pair of sunglasses to beat the heat, whilst making you look glamorous and chic!
[Also Read: Convert Your Slip Dress from Daywear to Eveningwear]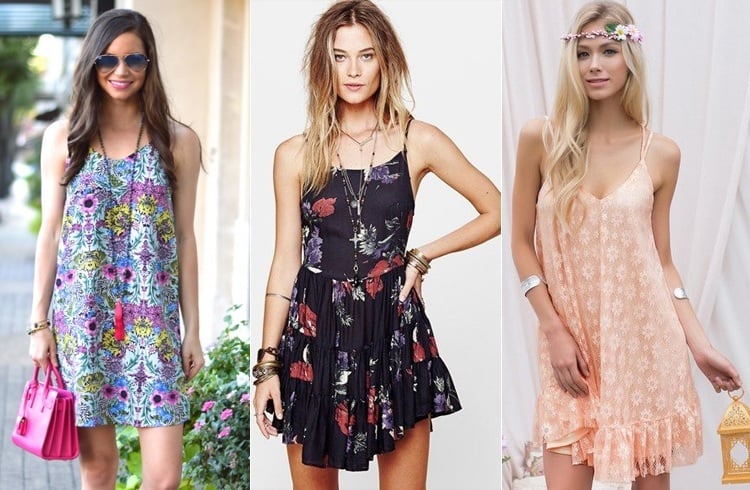 Make Youthful Additions
If your slip dress outfit is not a ticket for trendsetting in itself, pair it up with some funky accessories. You could do something offbeat like tie up a sweater or shirt around your waist and complete the ensemble by wearing great-looking boots! The ever-stylish sling bags are also available everywhere- so pick up something to go with your dress. Naturally, the combinations have to be top-notch for the look to achieve perfection and not ooze vibes of tackiness. This still here is a great mix of dark shades like black, navy blue and maroon that you could replicate for casual elegance.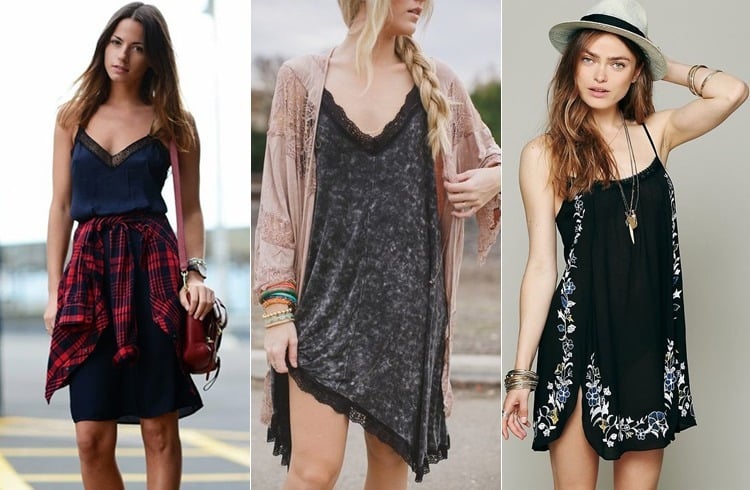 Pair It Up With A Cardigan
Pairing your slip dress with a soft open cardigan is a sure-shot way of making the overall appearance nice and dressy. If you are the classy feminine sorts, this is probably what you will head to assemble for your next day out. Choose an assortment of colours to make it look unusual and interesting. For accessories choose a nice pair of block heels or gladiator sandals. Draw inspiration from how Vanessa Hudgens matches her long white slip dress with a fluffy yellow cardigan. What is also noticeable is how she chooses an assortment of chains to cover most of her exposed neck, lending it a boho-edge. It doesn't take much to be a fashion genius – just a roaming twinkly eye for details!
[sc:mediad]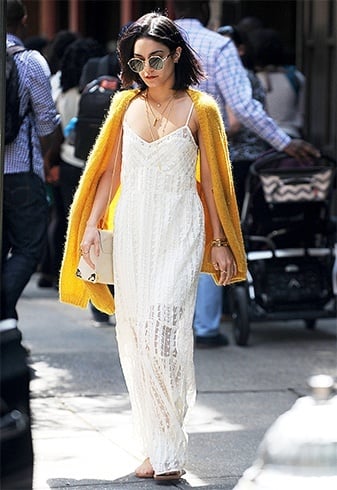 Two Words – Motorcycle Jacket!
You can go through plenty of ways to wear a slip dress, but none of them will be as thrilling as this one! Only girls with spunk and boldness can carry off a motorcycle jacket paired off with a sexy slinky dress. The ensemble needs to be classy at best wherein you pay special attention to what sort of look will do you justice. Just like it is demonstrated here, you can opt for a cute backpack and adorn it with a matching jacket. The ankle length boots are integral in making the rebellious street style look complete.
[Also Read: How To Be Stylish]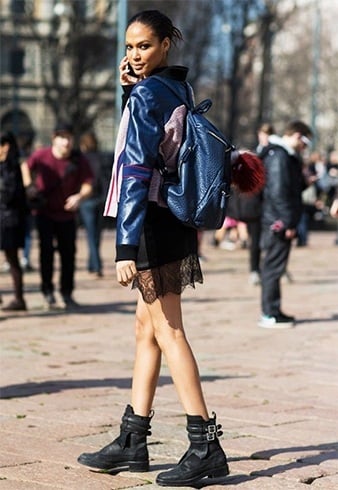 It's a sly secret that girls love to dress provocatively – as long as it is the right proportion of sexy! With the summer months, right ahead, you can do just that by going all out for the slinky dress trend within your shopping budget. After that what really matters is the self-confidence that you ooze and the effort that you put into your daily fashion routine. Try out the looks that go well with your persona and we're sure you will turn heads everywhere you go!