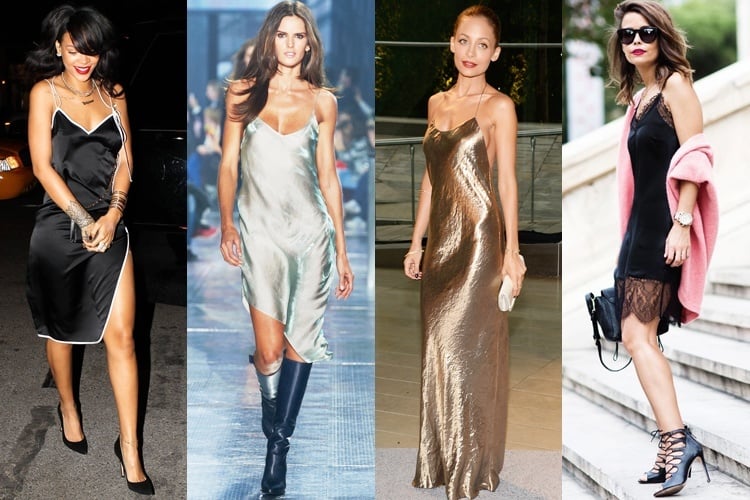 A slip dress is one of the sexiest outfits that you can wear. What makes them special is that they can work just as well as evening wear as they do as daytime wear. So you can wear your slip dress on a hot summer day to take a stroll in the park and then wear the same dress to a dinner party as well, talk about versatility. All you'll need to do is keep the following tips in mind to take your slip dress from daytime wear to evening wear with ease.
1. Add a Stylish Blazer
The main problem with a slip dress is that it can be a little too informal to be considered appropriate evening wear. The simplest way to counteract this is to add a chic blazer or jacket to make your slip dress much more dressy.
[Also Read: Styling The Blazer]
2. Get Your Makeup Right
Since slip dresses tend to be minimalistic, you need to get your makeup right to make them work as evening wear. Bright red lips and a sleek sophisticated hairstyle will work in your favour. So change from your nude fresh-face daytime makeup to a dramatic sultry makeup to take your slip dress from daytime wear to evening wear.
3. Wear It With Heels
The quickest way to take a slip dress from daywear to evening wear is to swap your comfortable flats for some sexy high heels. The heels will immediately take your dress from being cute to being sexy as hell. Mission accomplished.
[Also Read: Ankle Strap Heels Celebrity Style]
4. Get Rid of Extra Layers
Sometimes it is as simple as getting rid of a few extra layers. While a nice blazer will help your cause, a bulky jacket or a printed scarf will only make your outfit more daytime appropriate and less evening-worthy. So, lose any extra layers that add unnecessary bulk to your look.
[sc:mediad]
5. Wear Jewellery
Adding tasteful jewellery to your look will definitely make you look more sophisticated and glamourous. So be sure to add some nice bling to your look to give your slip dress an instant makeover.
6. Pick The Right Fabric and Print
Opt for fabrics such as silk and satin as such fabrics work better as evening wear. Also, try opting for solid colours in rich jewel tones such as ruby red and emerald green. Black and pastels are also awesome choices when it comes to slip dress. Solid colours work well as opposed to prints, as prints tend to have a very casual breezy look to them, making them not a great choice when it comes to post 6 PM. events. While prints are best avoided, there are some instances where prints can be carried off if they are subtle and not too bold. But in any instance, do steer clear of floral prints as they simply won't do.
Slip dresses will make a great addition to your wardrobe. They will cut down your dressing time and you will find it so easy to accessorize and find the right shoes for them as they are super simple to style. It's not surprising then to note that many Hollywood celebrities opt for slip dresses for red carpet events. And who can blame them? Slip dresses are comfortable, easy to style, sexy and are forever in trend. And with a few clever changes to your accessories and makeup, you can take a slip dress from daywear to evening wear in under five minutes flat.