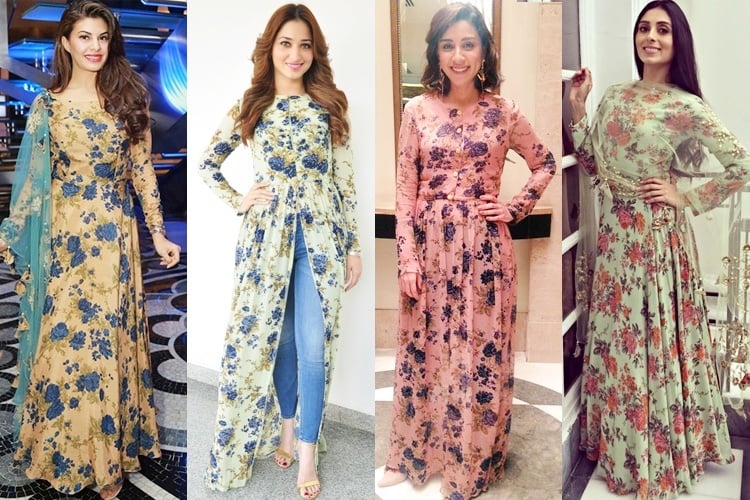 While on a promotional spree of her debut movie, Pernia Qureshi donned a gorgeous printed anarkali by Bhumika Sharma. While we loved the outfit on her, we couldn't help but think of other celebrities who wore outfits from the same range, but tweaked them a bit with their styling.
Let's see how did they all wear Bhumika Sharma's printed anarkalis
1. Pernia Qureshi
As mentioned earlier, Ms Qureshi was the last one to be spotted in a floor length anarkali by the designer in question. Pernia's anarkali was styled by adding a matching light worked duputta to her outfit. Other than this, her entire look was very understated. Straight hair, non-existent makeup and a beautiful smile finished off her look.
We are loving how she went the sans-accessory way and didn't overdo her appearance!
[sc:mediad]
2. Amrita Puri
Amrita Puri was another celebrity who was spotted in a cape by Bhumika Sharma. While Pernia's anarkali was pistachio green with rust flowers, Amrita Puri's was rust based with blue flowers. She on the other hand, styled her bob in wavy curls and added earrings for Outhouse to make her outfit BAM!!! Which we totes love!!
We also love how she wore nude pumps!
3. Tamannaah
The only thing that crossed our mind when we thought of Tamannaah's version of Bhumika Sharma cape was – WoW!! She looks HOT!!! Can you look at the confidence with which she's posing her thigh slit? Even though she's wearing jeans under? We love it!!!
[Also Read: Indian Celebrities in a Jolie Slit]
Tamannaah's quirky way of teaming up the outfit with skin fit jeans and ankle length jeans really got to us! Again, she went with the sans-accessory look!
4. Jacqueline Fernandez
Nothing is understated for our beloved Jacques! Nothing. While she was spotted in a Bhumika Sharma anarkali earlier this year, her version was much brighter. Perhaps it was the silk/satin finish that made it stand out in the crowd. Added to the fact, her on point red lips, huge smile and open burgundy hair? We love it!!
However, we are having a tough time picking a favourite. Though we like Pernia's understated look, we are also LOVING Jacqueline's loud look. And as for the cape, Amrita Puri did it for us with a sweet smile, but Tamannaah's attitude and confidence got us thinking!
[Also Read: Post marriage Appearances of Bollywood Divas]
Do you guys have a favourite?