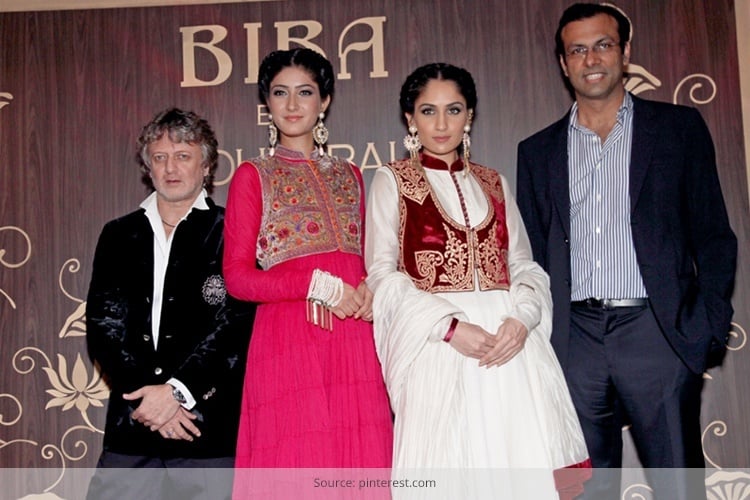 Rohit Bal's collaboration with the brand BIBA is definitely a great news for all the Biba's customers.
After being associated with high-end brands like Omega, Swatch, Hidesign, Mitsubishi Outlander and Oriflame, the golden locks designer has joined hands with the popular apparel brand, Biba to help the mediocre fahionista to be an en vogue while being in sync with her wallet.
Biba is one of my personal favorites. Their wide range of ROCKSTAR collection by Delhi based designer Shilpa Gulati has always been the major reasons to shop from here.
The salwar kameez collections, especially those in black with white embroidery and red color floor length anarkali to name a few, are attractive enough to provoke you to buy one.
The suits teamed with different kinds of jackets are also some of their highlights, which I specially like in their collections.
[sc:mediad]
Imagine when two greats collaborate, what would be outcome? While Rohit Bal is an eponymous international brand, whose clientele include Uma Thurman, Cindy Crawford, Pamela Anderson, Naomi Campbell and Anna Kournikova.
It's like a dream come true for the fashionista out there, who have always craved to wear a Rohit Bal. His line offers an exquisite range of ethnic wear collection including salwar-kameez sets at quite affordable rates, which are created especially to suit the current trends and requirements.
Rohit Bal had this to say,
"I'm extremely excited with this special partnership that BIBA and I have forged. India is a massive country with many people who have wished to experience my designs with BIBA's vast distribution and great pricing. My designs will now become available to a very large cross-section of people. This is possibly the first of many such collections I will create with BIBA."
The Biba's latest arrivals will come along with a touch of Bal's signature design sensibilities, whilst keeping BIBA's ethnic brand essence. This much-awaited launch is rightly scheduled for the upcoming festive season. So celebrate this Navratri and Diwali with a high quotient of fashion, coming straight from one of the most high-end fashion houses.
The exclusive Rohit Bal designs will be soon retailed at exclusive stores of the brand in prominent cities like Delhi, Mumbai, Kolkata, Hyderabad, Bangalore, Chennai, Ahmedabad, Pune, Ranchi, Patna, Lucknow, Cochin and also at select Shopper's Stop, Lifestyle, Pantaloons and Central stores.
"This innovative association has marked the introduction of yet another striking collection that I am sure would be a fabulous treat for our customers," said BIBA CEO Siddharth Bindra.
Why go for Biba
Biba enables women from all walks of life in India to wear designer creations at affordable prices. Before Rohit Bal, the brand had also collaborated with  Manish Arora. So, the brand is once again back with designer wear for all! For me, it is a one-stop shop destination to grab the haute couture exclusivity within budget.
Biba allows its customers to look fashionable while making millions for such designers. I think this is one of the most compatible match, may be a marriage made in heaven between the elite designers and brands like Biba, only to focus on the fashion-centric people, who have reasonable budgets. this collaboration anyhow is guaranteed to last for days to come.
These are some of my personal collections from Biba!
Now get trendy for less
This yet-to-be launched variety of Biba's collection of salwar suits, floor length wedding anarkalis and mix 'n' match kurtis, leggings with a silk or cotton tunic will be retailed at affordable prices  – Rs. 800 onwards. It is certainly a golden opportunity to wear an international label without spending a fortune on it.
Rohit Bal joins Jabong
In order to establish itself as India's one-stop online shopping solution, Delhi-based lifestyle portal Jabong has now joined forced with country's leading fashion designer Rohit Bal who is already associated with Biba label.
The website has launched an exclusive 48-piece online prêt collection by Rohit Bal.The Delhi-based lifestyle web store is also launching in-house brands covering apparel, shoes and accessories next month.
As per Arun Chandra Mohan, cofounder and managing director of Jabong and who was previously a senior analyst at global market intelligence and advisory firm IDC, "People now have access to global trends and our customers are demanding the latest in fashion."
When Gudda launches a new line, the launch is always grand and outlandish making headlines everywhere. This is what exactly happened when Rohit Bal chose the Ashiqui 2 actress Sraddha Kapoor as his muse for his Jabong collection.
Hope this post was useful!
Stay tuned to get updates on its launch!!