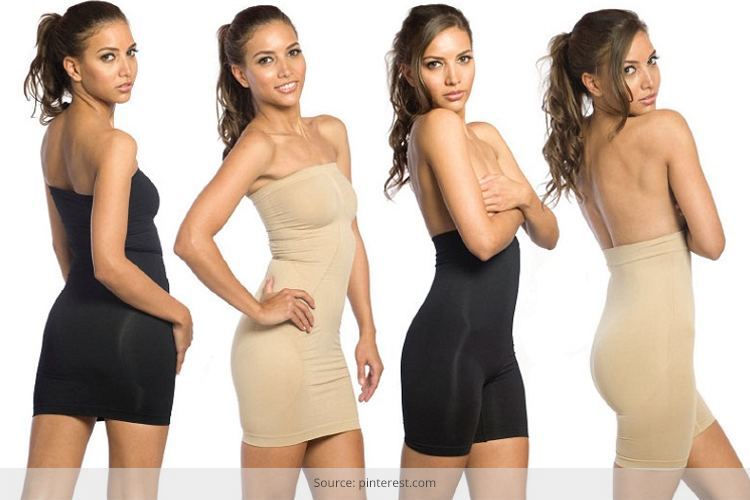 We all have our problem areas, don't we my dear fashionistas? From thunder thighs to flabby abs, we somehow want these to vanish overnight and never return again. You can actually make these problem areas disappear with the right kind of body shapewear. It helps you look slim, sleek and works miracles upon those flabby areas!
Whether you want to make a stunning style statement in a cocktail dress or wear a body hugging t-shirt,  it is possible to look nice and well turned out.
Gone are the days, when body shapewear used to squeeze the life out of you with the flab being pushed in  all the wrong directions. Now, it is all possible to wear comfortable shapewear which enhances your figure, smoothly covers up the problem areas and creates attractive curves!
Body shapwear can sculpt the shape of the body and give definition by highlighting the attractive features. Today's shapewear is form fitting, comfortable, easy to wear and lets you do regular stuff with ease & confidence.
[Also Read: Women's Bustiers And Corsets]
Ranging from fitted bras to stomach slimming shapewear, choose wisely and get the desired results.
The different kinds of body shapewear for women are
Full Body Shapewear
These help in smoothing up the bumps and problem bits on your entire mid section. Starting from the bust down till the tummy and hips, it helps in shaping and keeps you comfortable. This may also include a built-in bra which can be bought according to your size and offer the right fit.
Bust Shapewear
This goes beyond the functionality of your push-up bra and enhances your bust line by giving it the perfect shape. It also offers complete supports, looks absolutely natural and should be purchased according to your bra size.
Thigh Shapewear
It helps in shaping up your lower body and offers good support to thighs. Top-notch thigh shapewear come with a special grip or band at the bottom of the leg to avoid rolling and shifting.
[sc:mediad]
Tummy Shapewear
It features a support panel which runs over the front of the brief, hipster or thong and flattens the tummy to create a toned and defined silhouette.
[Also Read: Shapewear Guide For Women]
Here are some factors to keep in mind while deciding upon the right kid of shapewear for your body
Find out what works for you: If your motive to wear shapewear is to create a slimming effect in certain areas, then look for corsets, bustiers, thigh suits, slips or tummy shapers. But if your target is to offer a defined shape and accentuate the best features of your body while covering all the problem areas, then bodysuits and body shapewear will help you do so.
Look for the right fit: Though you might want to purchase a smaller size in shapewear for creating a slimming effect, it will not help you in the long run! Smaller size shapewear will make you terribly uncomfortable and hamper your movements or easy breathing.
The right thing to do would be find out your correct measurements for undergarments and find a shapewear size in sync with those statistics. body shaper for women are not something you should shy wearing if you want to look confident and slim.
Here's what you need to consider while shopping for body shapewear for women:
1. Fabric matter: In hot, sweaty summers, you will definitely not like the clingy and body hugging shapers which will make you sweaty. In such situations, it would be a smart decision to buy woman's shapewear in cotton and easy to breathe fabrics.
2. Special features: Most of the time, shapewear garments have control panels and seams which create the illusion of curves. Look specifically for shapewear which offers good support and enhancement in areas where slimming effect is required.
3. Say no to poorly fitted shapewear: Choose your shapewear carefully as poorly fitted one would cause troubles, not hold up properly or roll down. Try different sizes till you figure out what works best for you and gives the right shape to your body.
You would be surprised to know many Hollywood celebrities use these body shapers to look stunning in their gowns, dresses and other designer outfits. A quality body wear makes all the difference and will create a smooth, defined and problem-free silhouette. Invest in a good one and add value to your wardrobe!