One of the most important day's in a girl's life is no doubt her wedding day. There are hundreds and thousands of little things that she needs to take care of and mehendi is one of the most important tasks too. Getting the right bridal mehndi artist in the city is imperative. Nowadays, there is a full day dedicated to mehendi and every bride gets her legs and hands painted on this occasion. Mehandi designs for hands are available on the internet in plenty and sometimes in a rush to get the best design for her hands, she will forget about mehndi designs for legs.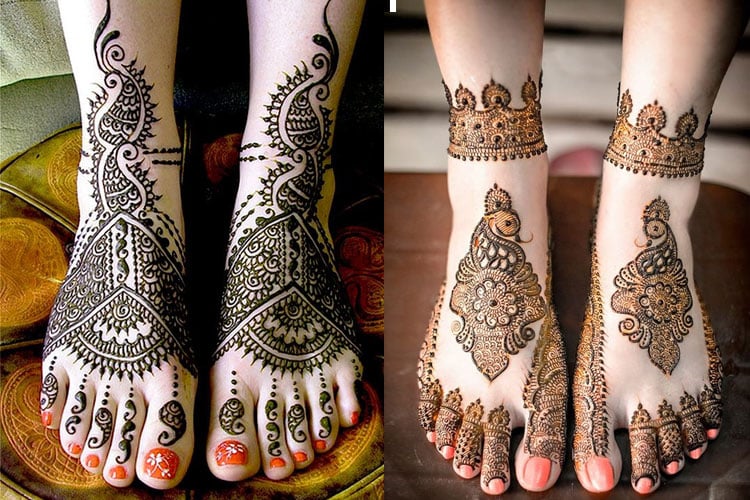 [Also Read: 43 Beautiful Punjabi Mehndi Designs 2016]
So here's our word of advice- Do not forget to select an artist who will give you the best bridal mehndi designs for feet too! Let's check out some of the most popular henna designs for feet. Another important point to keep in mind is the fact that you shouldn't let your feet mehndi designs overpower the ones in your hands.
Henna Designs For Legs:
Let's start with some of the simple mehndi designs For legs:
Simple Design For Your Ankle:
If your ankle is something that you would like to accentuate, then this is the design you should be looking at. The simple, yet elegant design covers the most of you ankles without being a too heavy design.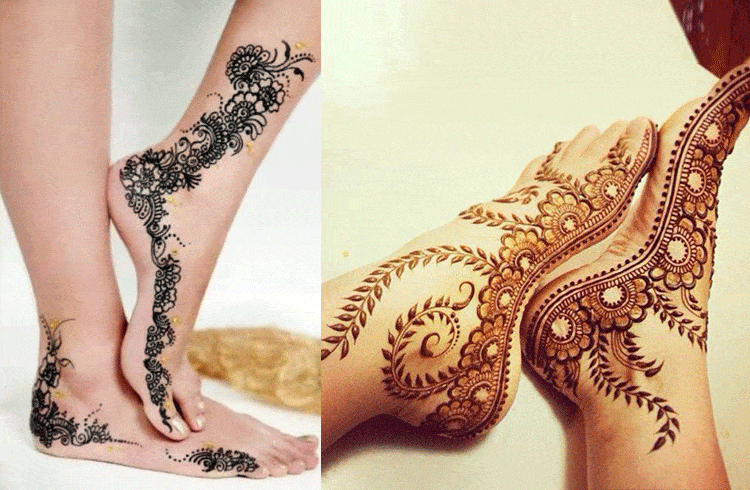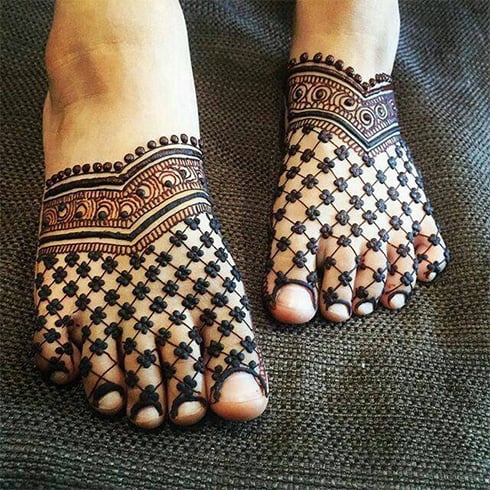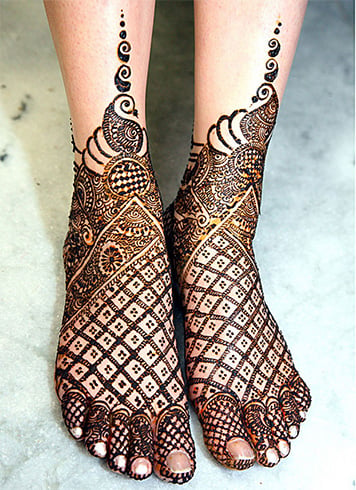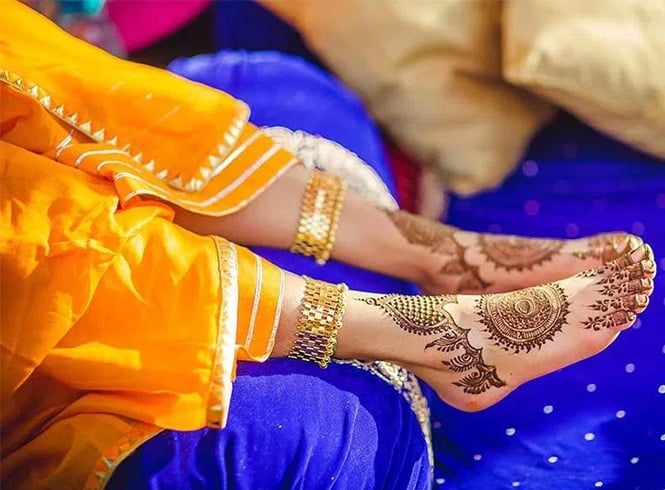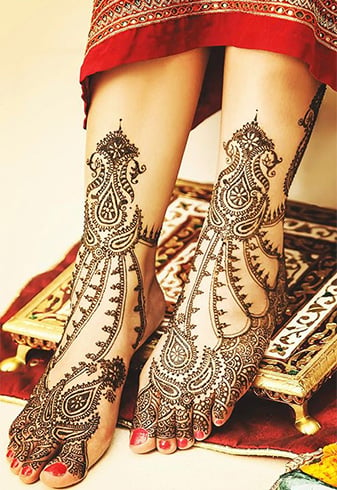 Sequins And Mehndi:
Sequins in mehndi- Most of you will think that it's not a good idea, but they can look amazing! The base design remains the same still and you just need to add a few sequins here and there.
The best things about Mehndi designs for legs is that they are versatile and if you have any ideas in mind, you can always incorporate your own styles- just like using glitter or sequins, you can use different props too!
[Also Read: Chunky Anklet Patterns To Flaunt At The Mehendi, Sangeet]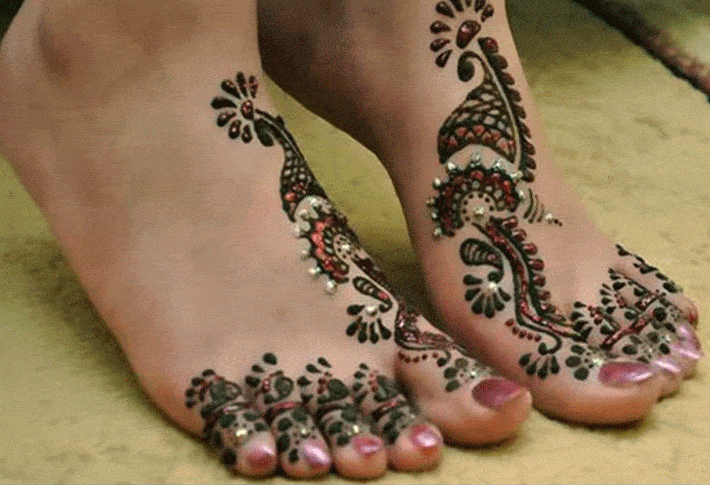 Some Gold Motifs:
This is a fairly new method being adopted in moist mehndi designs. This involves adding golden glitter to the design. If you are in the mood for something different, then you can go for this kind of a design. The base design remains the same and you can opt for the kind of design you want, except that your design is not infused in places by golden glitter.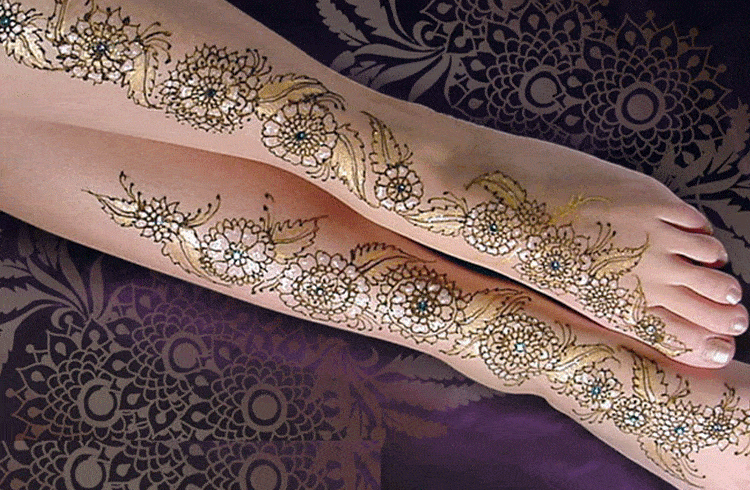 Full Leg Mehandi Design:
Tired of all the simple designs that we have been throwing at you? Well, don't worry because the mehandi designs from now on will be full mehandi designs which will literally take your breath away!
Here's one Gujarati Design mehandi for feet which can also be replicated on the hands. So you now have same types of design for both the hands and the feet.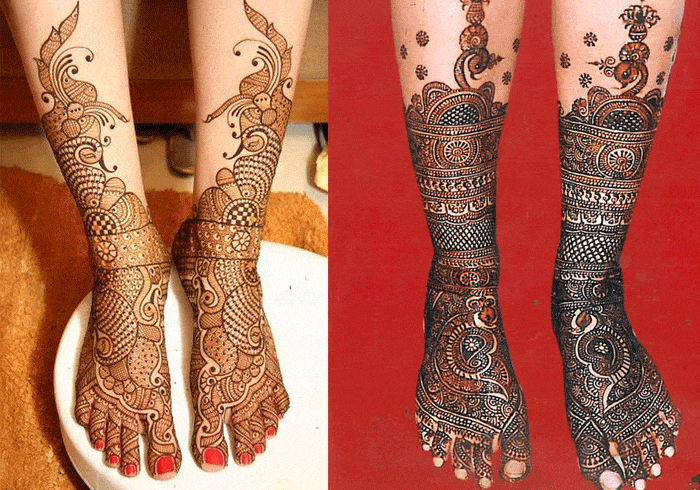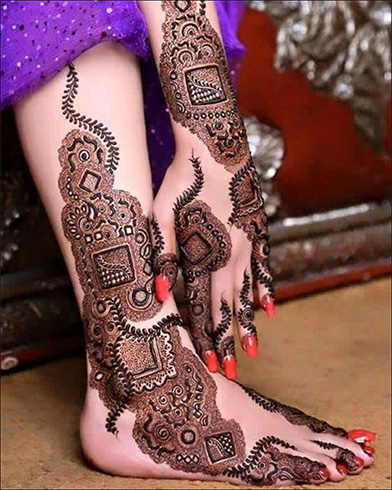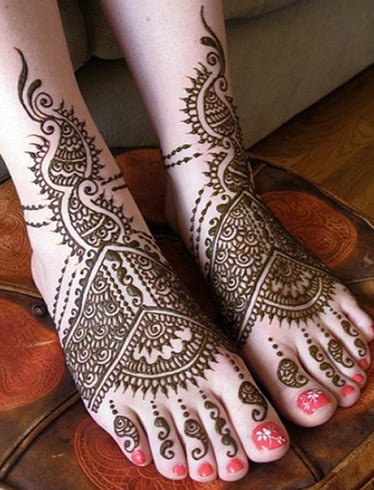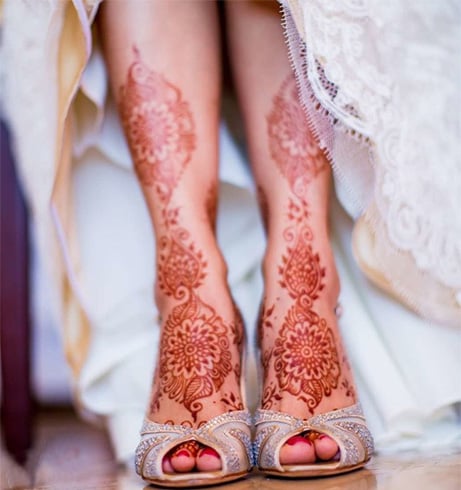 If you are not a fan of very heavy mehandi designs, you can also go for mehandi designs which are same for hands and feet, but a little less intricate than the one you saw above. It all depends on the kind of design you would like to have! Remember, the ball is in your court!
Colourful Mehandi Designs:
This is the newest kid on the block and a lot of people are curious about trying different colours in their mehandi. A lot of mehandi designers too are now incorporating colours in their mehandi designs. Blue, green and even maroon and pink, you can have all kinds of colours in your mehandi. Check these out:
This gorgeous pink beauty:
[sc:mediad]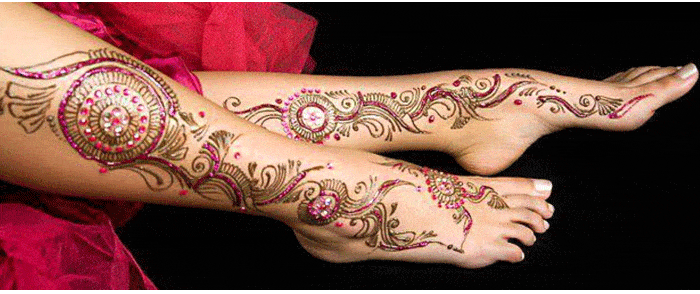 Sparkles and Stones:
This mehndi design is perfect for the brides who love a distinctive look. Use sparkles in various colors spreading over entire leg. Place tiny transparent stones for added sparkle and shine.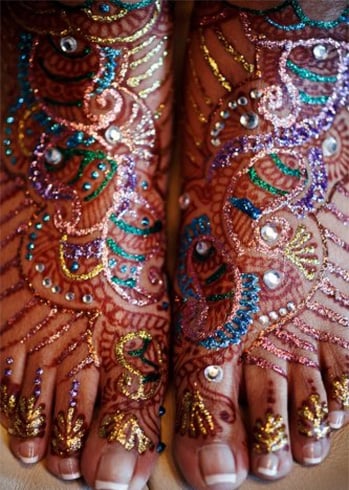 Black Mehndi:
Quite contrary to the traditional mehndi design, black mehndi can make designs look unique. The patterns on both the feet are contrasting to each other but are still stunning.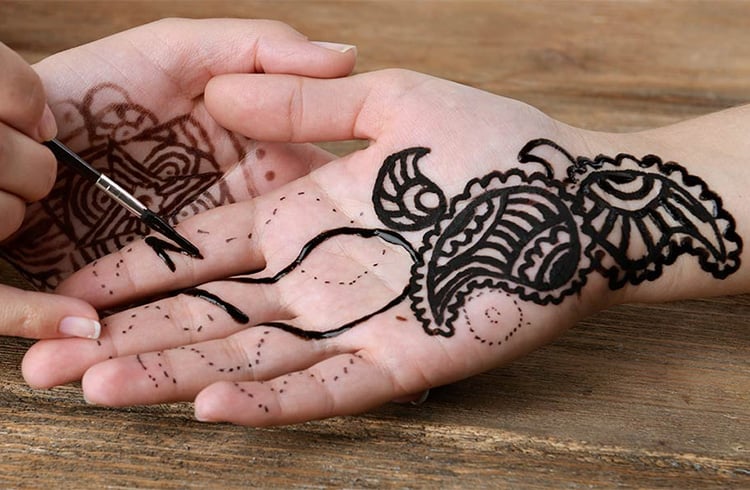 So, here are our best picks for mehandi designs for legs. Before you decide on your mehandi designer, make sure you have a trial session with him or her to know which design would suit you the best.
Images Source: pinterest