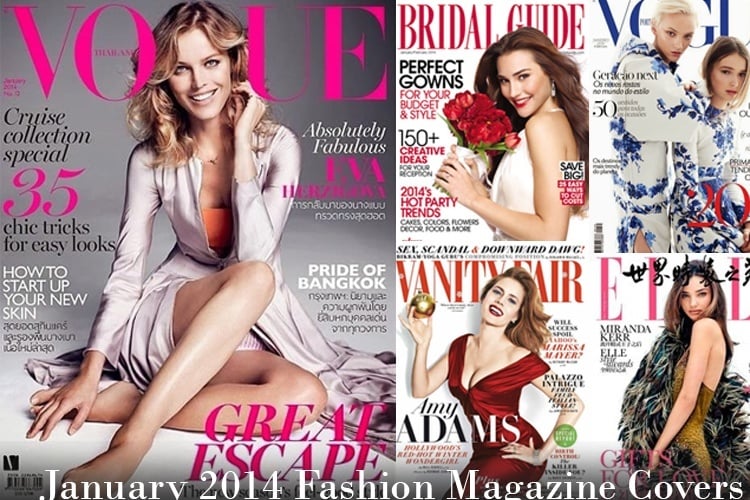 As per the tradition I am back once again with the best of January 2014 fashion magazine covers. While Britney Spears is back with a bang in Instyle, Natasha Poly kills the Vogue China with a gorgeous blonde mane and as more I take a look at some of this month's most notable covers, only to find out the ravishing Cate Blanchett graces the Vogue US for the fifth time.
With little surprise Victoria's Secret beauty Candice Swanepoel goes naked apart from a turban in racy photo shoot for Vogue Brazil. Probably, the Fashion Bible has decided to give a specific dose of entertainment to the every corner of the globe on this New Year Eve. Let's find out in detail what the New Year month has in store at the news stands. Do have a look!
The Australian actress, Cate Blanchett is gracing the Vogue cover page for the fifth time and looks ready in a graphics printed top from Phoebe Philo's Spring 2014 collection. Cate's last American Vogue appearance was in 2009. Every time I see the Elizabeth actress in any photo shoot, I find her younger and stunning than earlier.
After successfully running her Australian based theater company, the 44 year old actress has made a comeback to Hollywood with her brilliant performance in Blue Jasmine and Monuments Men opposite George Clooney.
The actress looks half of her age in the recent photo shoot by Craig McDean in splendid outfits by Michael Kors, Nina Ricci and Giorgio Armani Privé.
"I feel like I'm standing on the brink of something exciting," Cat says in her interview to the magazine.
On her relationship to time, Cat further adds on,
"I guess if I analyze it I could work it out in relation to my own age, but it's a piece of information that my brain won't let me compute."
The British model Cara Delevingne, who is hugely credited for the thick brows trend, is seen gracing the UK Vogue cover page for the second time. This time, Cara is donning a black tuxedo jacket paired with an animal printed shirt and leather pants by YSL.
Sharing her mantra, "New Year, new you," the thick browed 21 year old model personifies her rebellious image in this Vogue photo shoot yet in a sultry avatar.
The pop icon, Lady Gaga is the January cover girl for Fashion Magazine Canada. There is no doubt Gaga takes her fashion statement to the extremes, beyond imagination. The epitome of nerdy chic, Gaga poses with a weird black librarian glasses that don't quite seem like the reading glasses.
The magazine has referred her as "a living, breathing canvas" and covers the pop star's immense influence on the pop culture and on her successful career of 5 years. Gaga is also seen sharing about her friendship with Donatella Versace.
Lady Gaga had this to say,
"We don't mind being those blonde martyred icons as long as we have our champagne and our Marlboro cigarettes whenever we're together. I have somebody I can look up to and say 'I can be that' or maybe I can at least try."
Gaga, who is the only chart-hit maker having used the term 'transgendered' in her Billboard hit single, Born This Way, now has 40 million plus Twitters followers along-with a whopping 60 million Facebook fans. With such an enormous popularity, Gaga was listed as the second most influential person of the decade by Times Magazine. Whether it's her daredevil outfits or record breaking music records, the pop diva is going to rule the hearts for years to come.
The songstress, Britney Spears graces the January issue of InStyle Magazine. With her recently released album Britney Jean across the globe,it's been a roller coaster ride for Britney, who celebrated her 32nd birthday recently and was on Ellen to talk about her upcoming Vegas residency. The girl is just enjoying her good times and is glowing at the same time.
You can't ignore this cover page, where Britney looks fresh than ever. The mother of two, who is on the top of her game right now, gave an irresistible photo shoot for the magazine without any air brushing or photo-shop effect in a Dior outfit.
The British supermodel Naomi Campbell is the cover girl for Harper's Bazaar Singapore and sizzles the glossy cover in a Dolce & Gabbana Spring Summer 2014 dress. This is just another sizzling coup of the supermodel, with her Roman coins all over her bodice with billowy, layered sleeves! Not to mention it's rare to see this super model in all smiles!
Penélope Cruz, who graces the Allure magazine this January, has opened up for the first time. The actress, who is extremely private by nature, has shared about her marriage, kids and her career with the magazine. She talks about motherhood has changed her a lot and how she is now least bothered about her figure and is infact hogging on her delicacies. When she was asked how come she still manages to have such a great figure. She said breastfeeding helps her burn 500 calories a day.
Penelope had this to say on Salma Hayek,
"She's one of my best friends. We call each other huevos [eggs]. It was because when we were working together, we didn't have children yet, so we used to sleep much more than now. So it was a way to call each other lazy. We slept in the same bed so many times and it was like she was always trying to wake me up and call me huevos."
Hope you enjoyed this post!
Have a blessed year ahead!!