Even though November's most beautiful fashion magazine covers were already out one week ago, I thought it's the right time to publish this post, as we've been doing this ever since we launched this blog.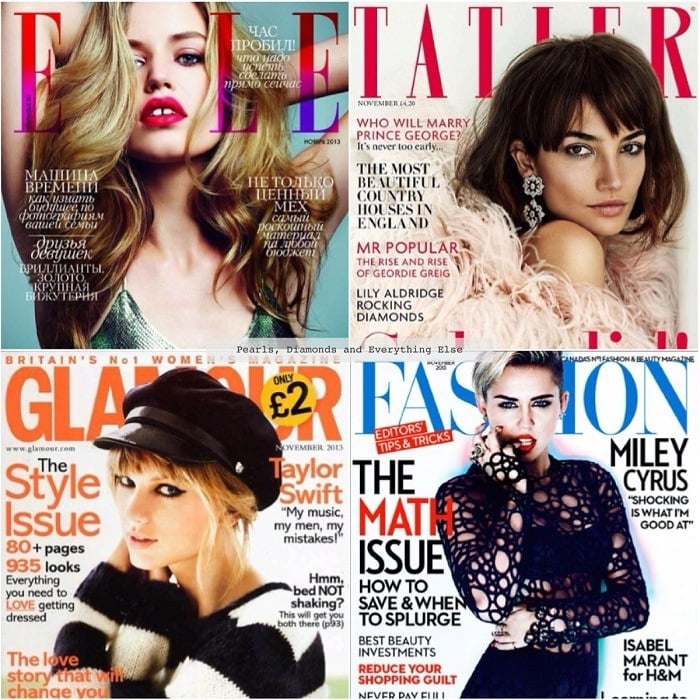 Just like September, this month also features some truly attractive covers. the major highlight of this month being the revealing cover shoot by Katy Perry for the magazine, Rihanna's flirtatious stare from the cover page of Glamour Magazine. Surprisingly, the much hyped pop icon Miley Cyrus has given a sexy and sensible pose for the Fashion Magazine, unlike her usual raunchy and weird expressions, which she has been showing lately in her almost every public appearance.
The covers are so promising that it's a sure bet that the inside stories in these magazines would be equally interesting and engaging. Meanwhile, the shots in the glass covers are a good place to start with. I've compiled some of the best magazine covers from this month. Keep scrolling and enjoy the glossy shots!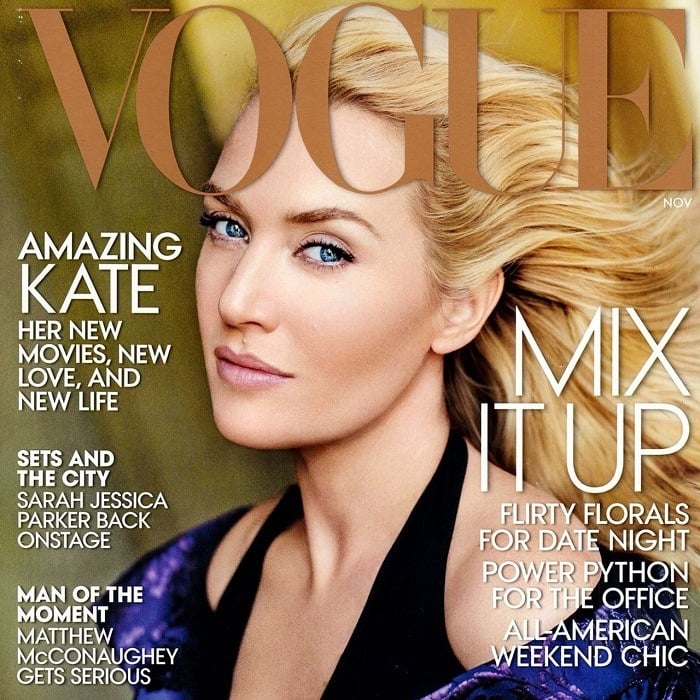 I decided to start this hit list with Kate Winslet, who is soon going to enjoy her motherhood days. It won't be wrong if I tag this as a holy photo shoot, where Kate, who is expecting her third child, has flaunted her gorgeous baby blues. The 38-year old Labor Day actress is enamored as nirvana and she is once again seen making love to the camera, in which she has always been an expert. Even with the air brushing effect and baby bump, she looks like a demigoddess!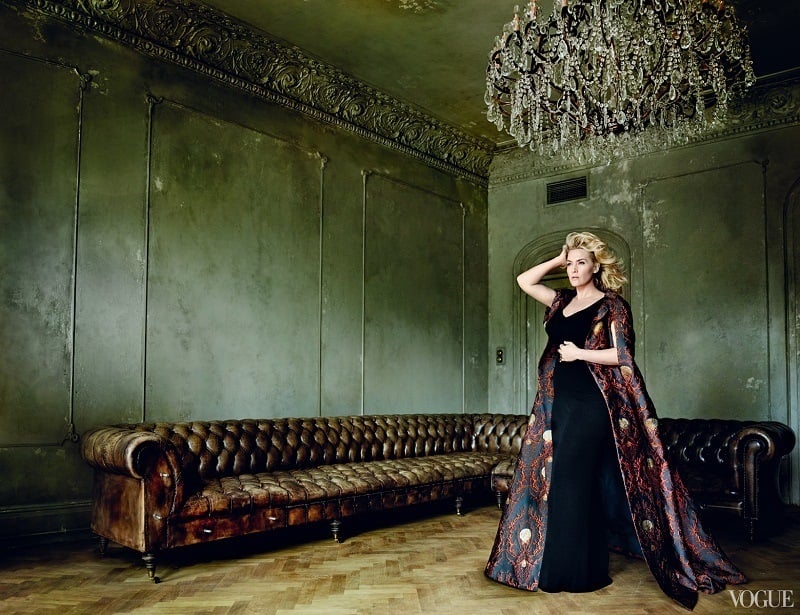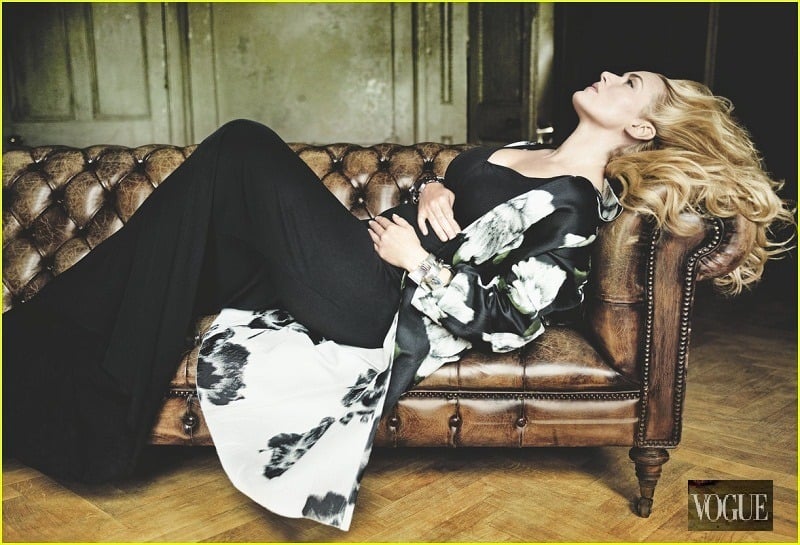 But I'm bit disappointed with Mario Testino, who has photographed Kate for this cover page. His works used to be so raw and natural, but these days his shots are filtered with more air brushing techniques. Because of this, his shots are rather looking vintage. Anyways, I'm quite enthralled to see the mother-in making. What's your views on the cover and airbrushing in general? Too much of a good thing?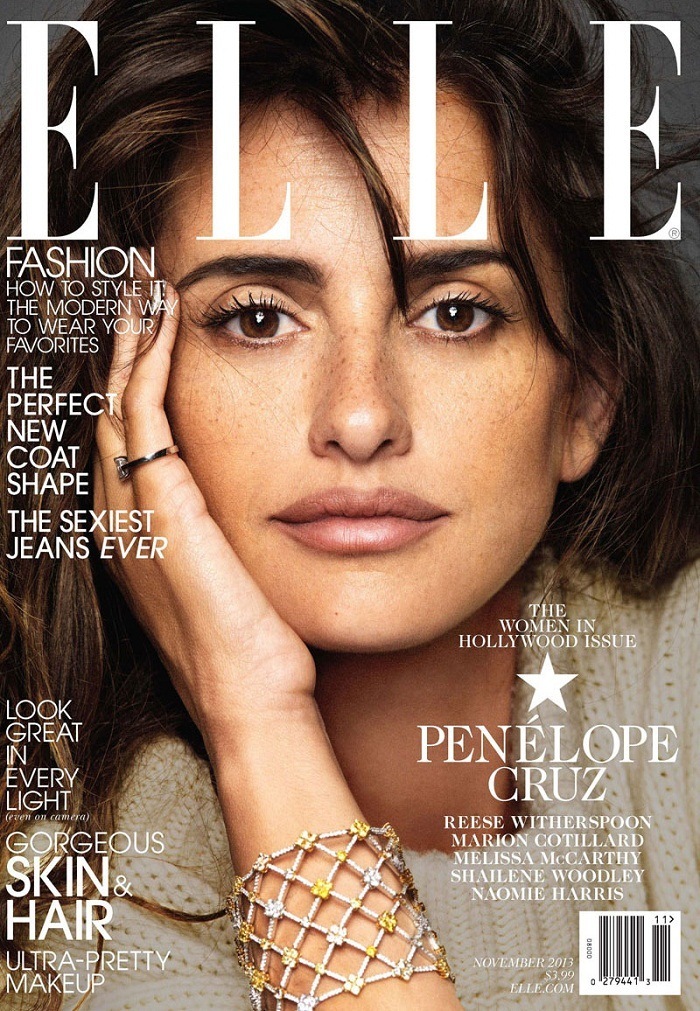 US Elle's Hollywood issue is one of my favorite fashion magazines to pick from the newsstand as they always offer a brilliant mix of Hollywood female icons. This year, they have maintained their legacy by releasing their annual "Women in Hollywood" issue starring actresses Penelope Cruz, Reese Witherspoon, Shailene Woodley and Melissa McCarthy; all gracing the cover.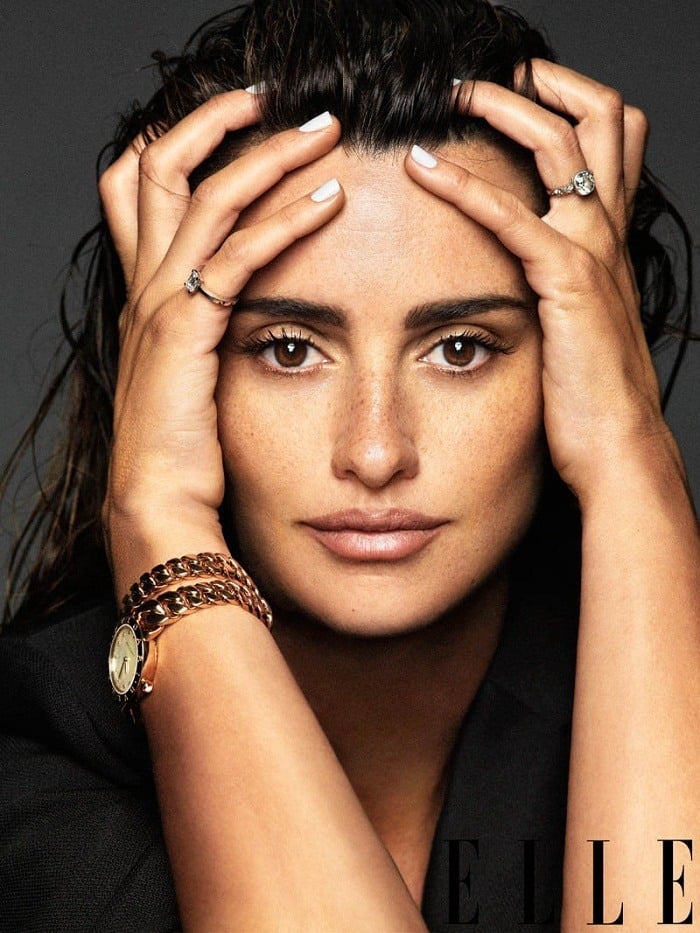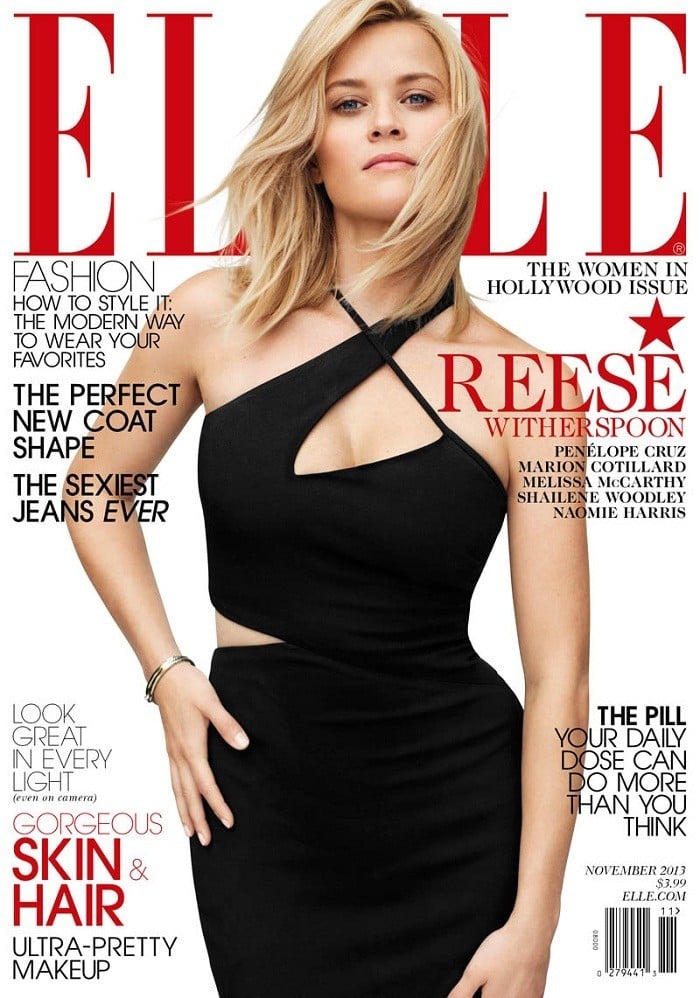 I just loved the raw look of Penelope Cruz for the cover shoot, especially the way they have kept her make-up minimal to flaunt her adorable freckles. Her bracelet from the Chopard Jewellery complements greatly her cashmere sweater by The Row.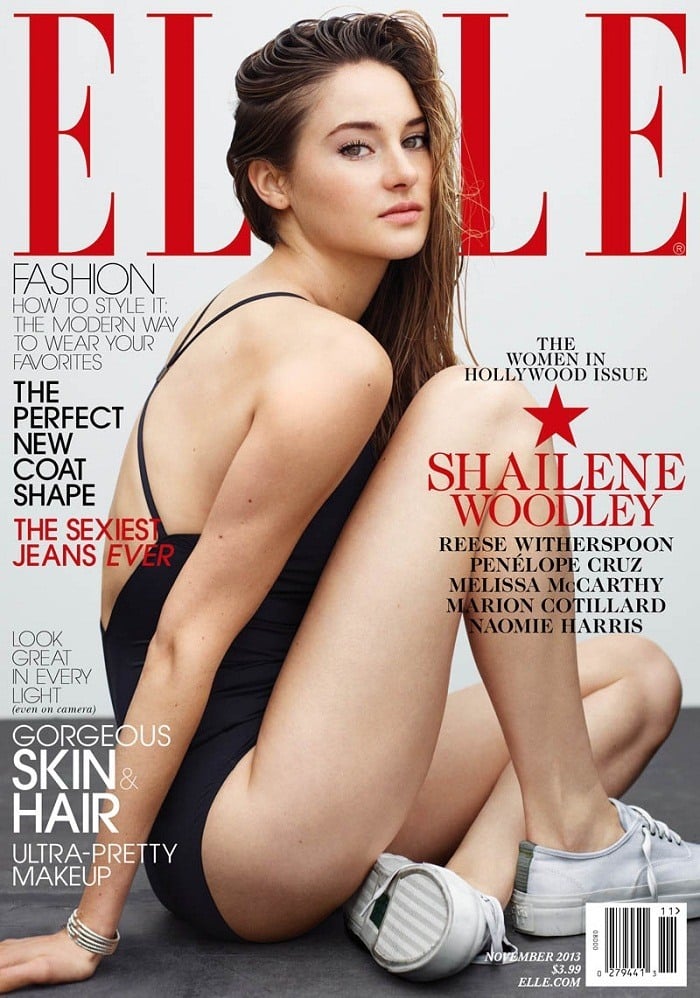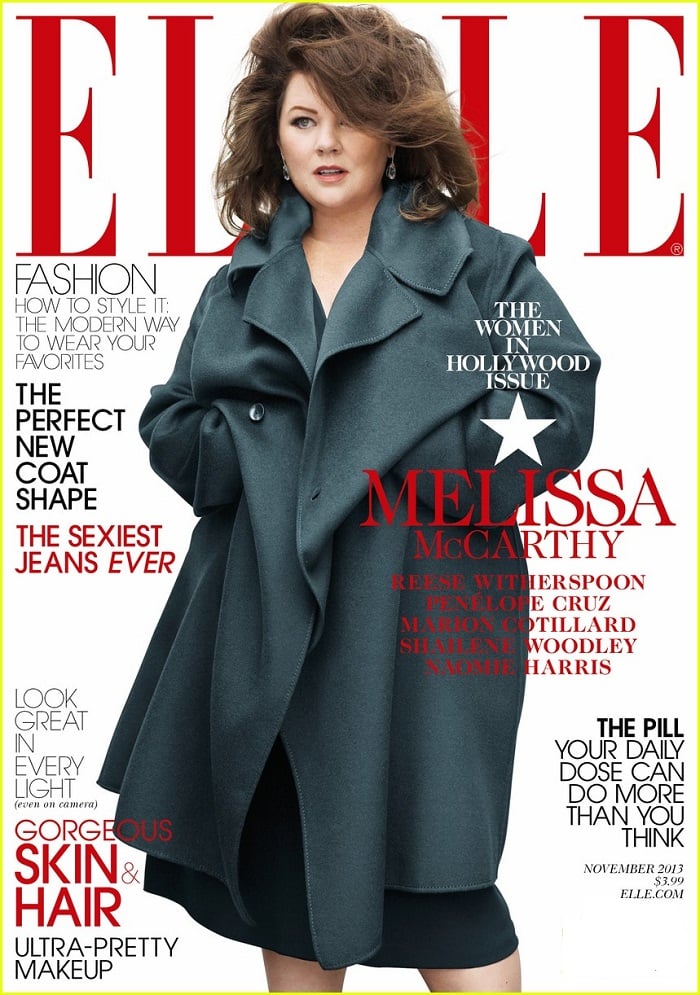 On the other hand, Reese Witherspoon looks stunning as usual in a sexy Versace number. I just can't understand why Melissa McCarthy is styled in an over sized Marina Rinaldi coat with OTT 80's hair. How much hair spray they would have used I'm just wondering!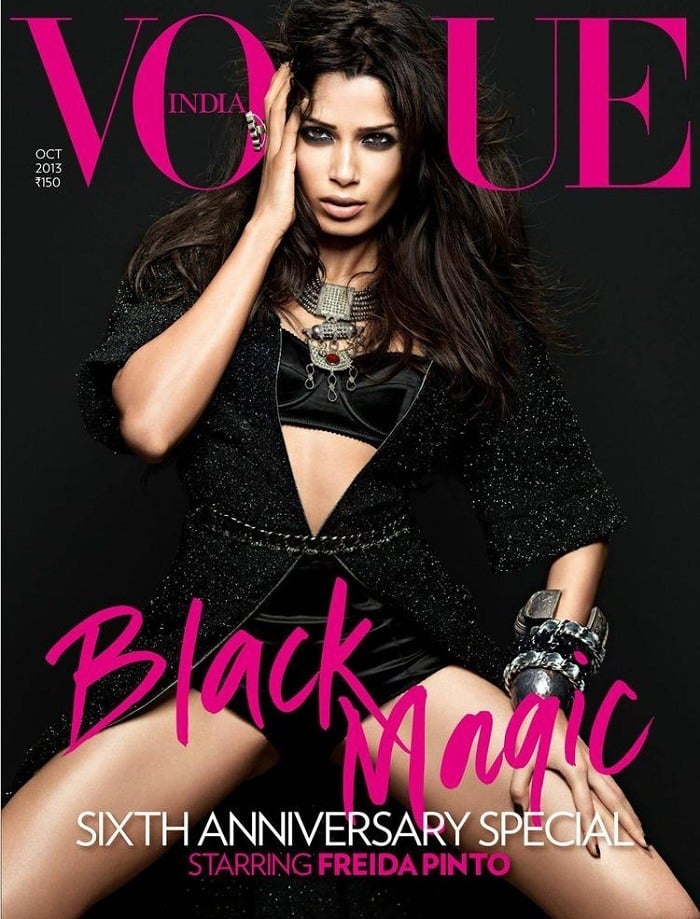 While you would have usually seen the Indian-born international star Freida Pinto sporting her radiant smile, this time the actress bares a brazen pout for Vogue India's sixth anniversary issue. This is for the second time she has covered a Vogue issue and this month's high-fashion gleaming takes provers far more seductive that her first take.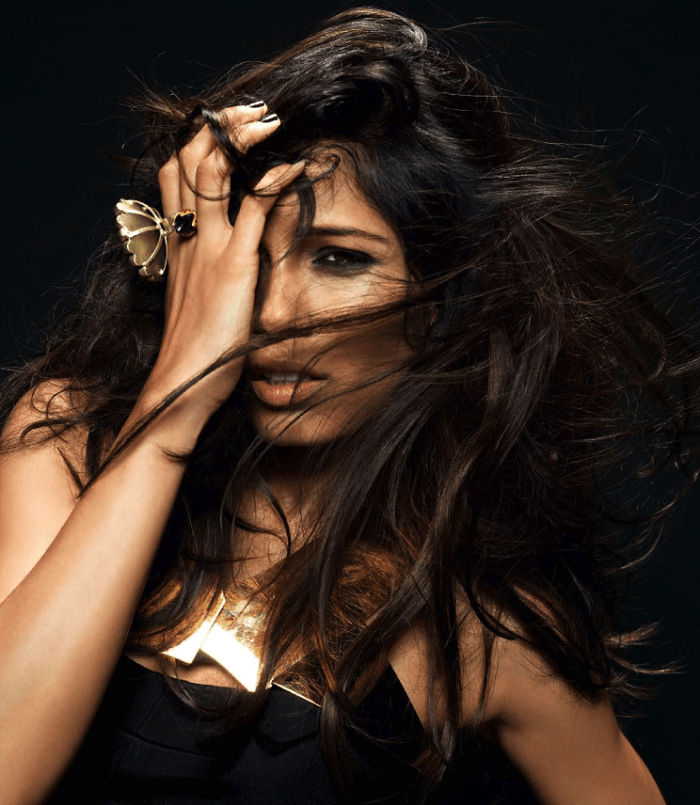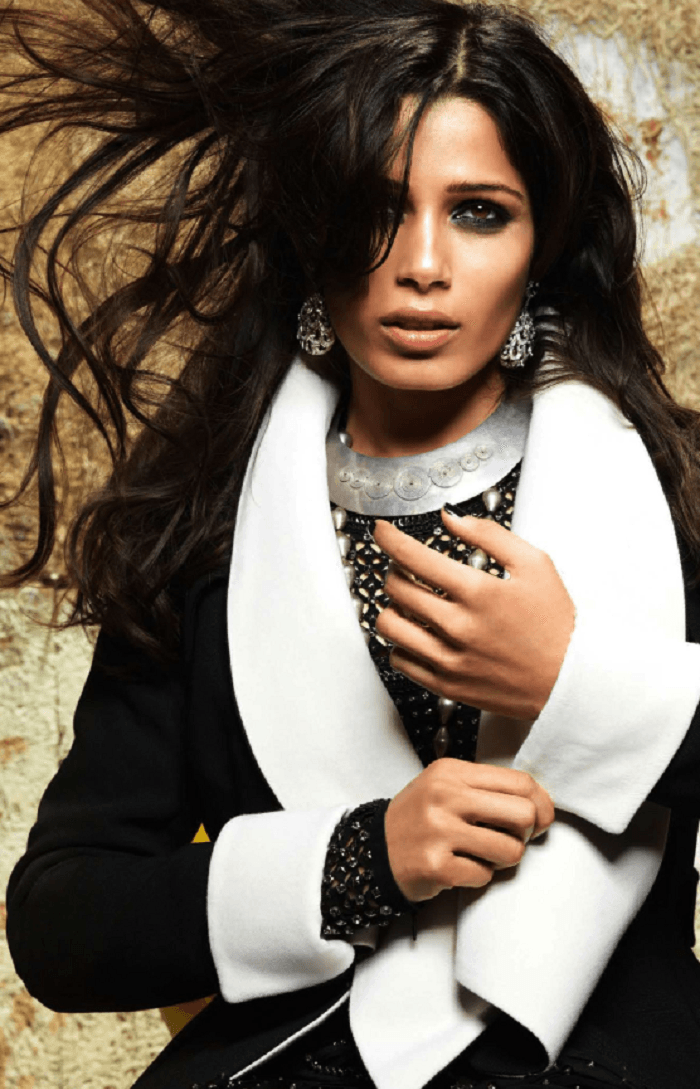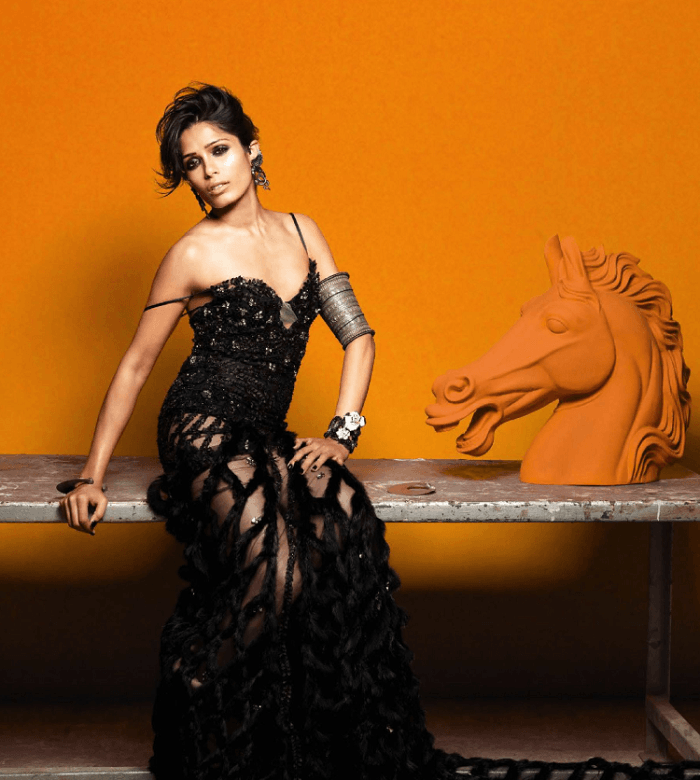 Just check-out all her looks and you would realize Freida has certainly come a long way since her Oscar winner, Slumdog Millionaire days.
The girl can serve up face; there's no doubt about that.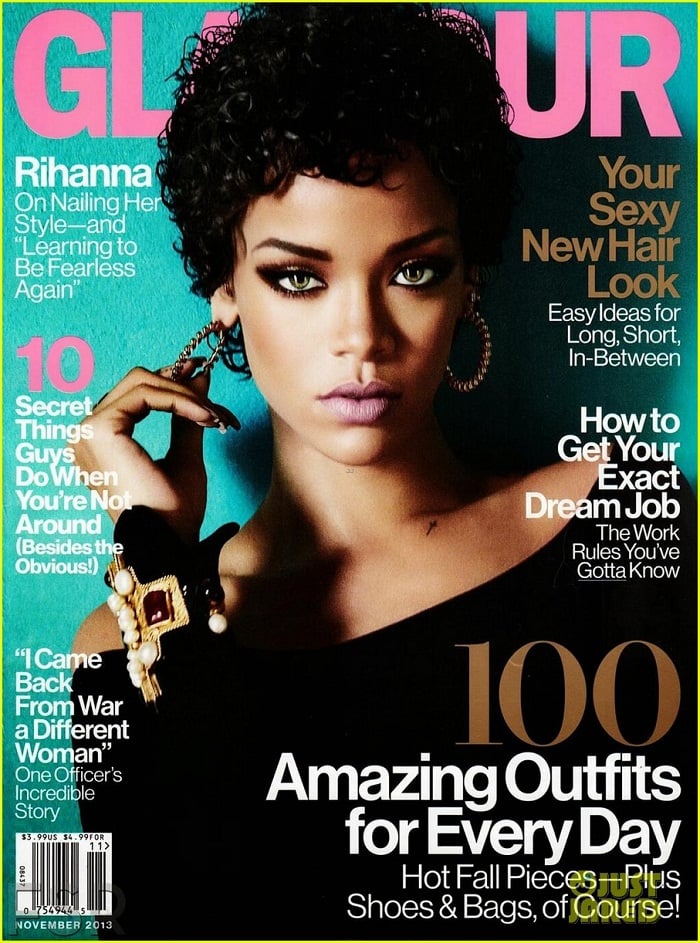 The face of the Bad Gal has finally undergone a good makeup session to give a subtle pose before the camera. After teasing the cover, the Glamour magazine finally releasing the Rihanna's intensive interview in bits and peaces.
Even though Riri rocks a strange Joseline Hernandez hair style, she still rocks through her curly coifs.
From the teasers, it's revealed how Riri opens up on the difference between Rihanna and Robyn.
This is what Riri had to say,
"When people call me Robyn, my head just flies around because I feel like that person knows me. But Rihanna, that tends to be people's own [creation]. Robyn is who I am. Rihanna—that's an idea of who I am."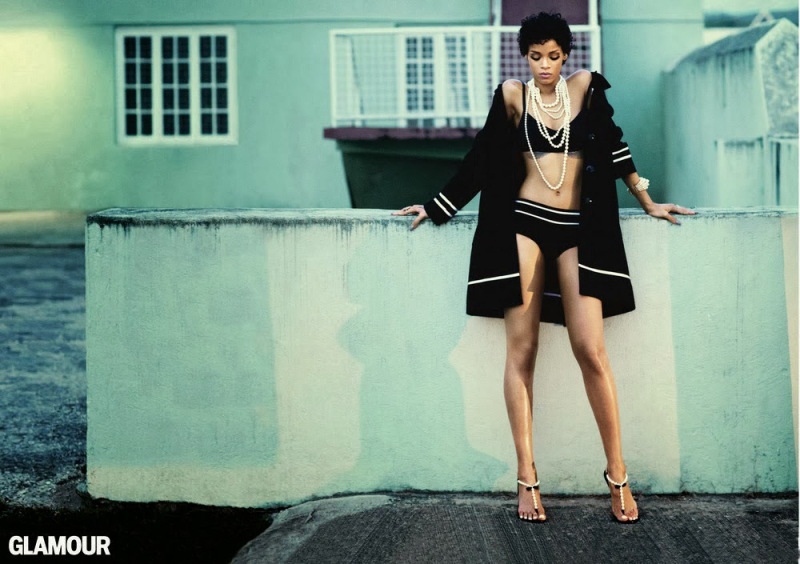 On her fashion inspiration
"My love for fashion—let me say, my admiration for fashion—started with my mom. I used to watch her get dressed. She was around my age right now, and she was so fly. So fly. I remember not even knowing how to do that because I was such a tomboy."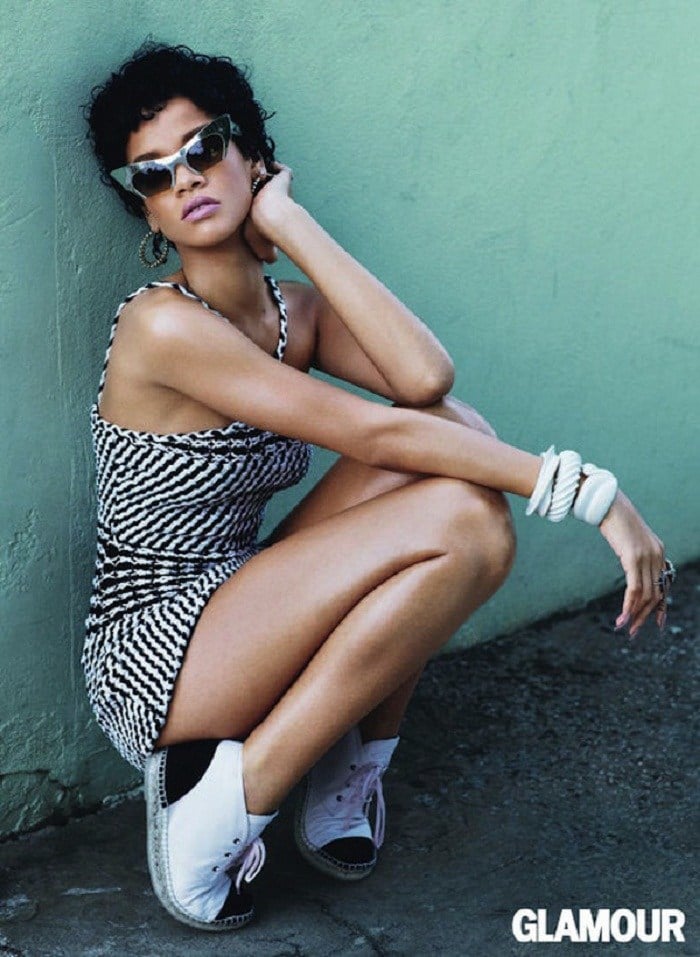 On who's on her best-dressed list
"Oh my God, are you kidding me? Nicole Richie. She just pisses me off, she's so good. But you know who is the best who ever did it? Princess Diana. She was like—she killed it. Every look was right. She was gangsta with her clothes. She had these crazy hats. She got oversize jackets. I loved everything she wore."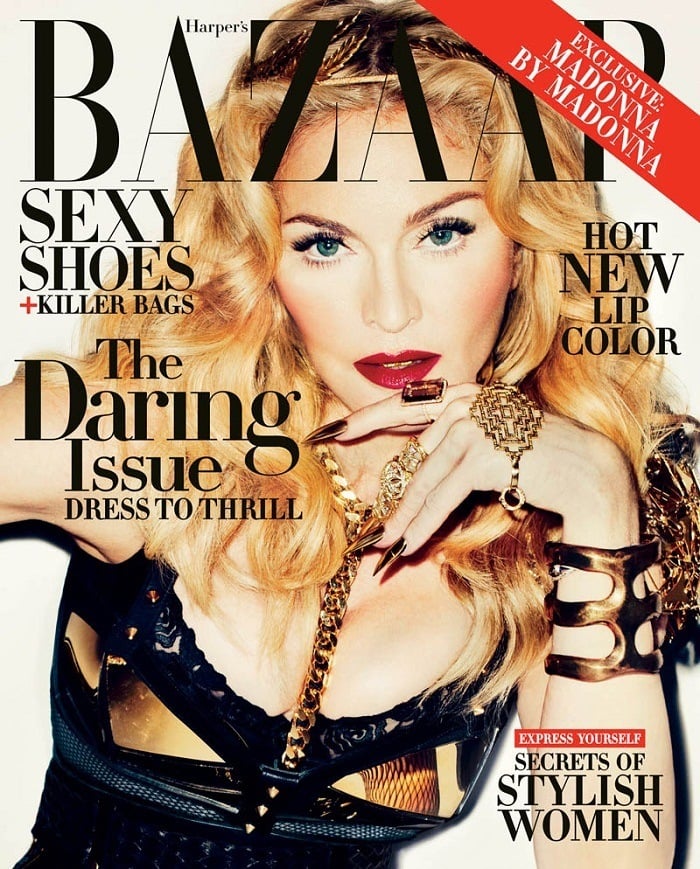 Did I forget to mention the maverick Madonna is another major highlight this month? The Queen of Everything has graced the glossy cover of Harper's Bazaar. Even though the pop icon has been teasing her photo shoots for months now on Instagram, this is for the first time a fashion magazine has captured some glimpses of the real deal.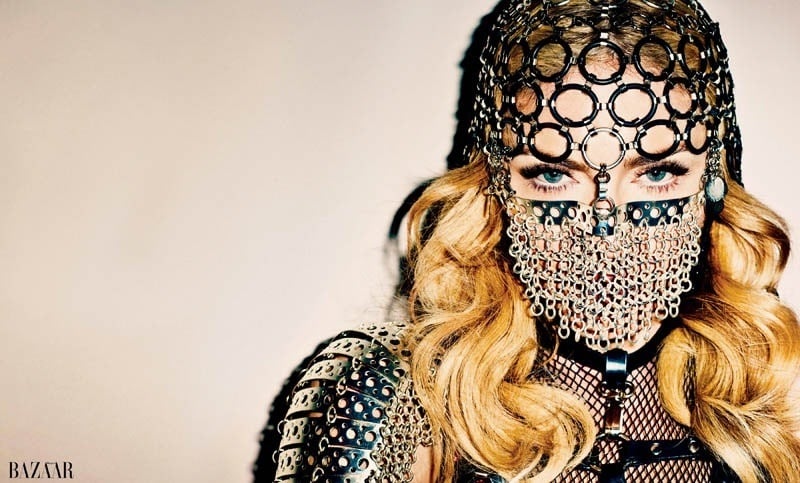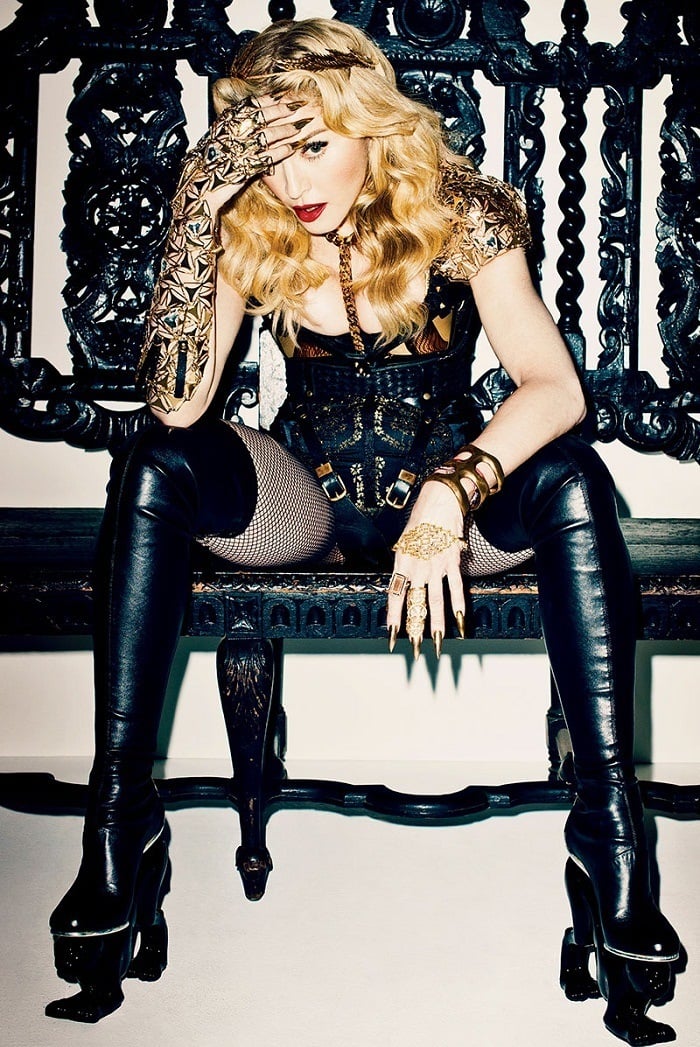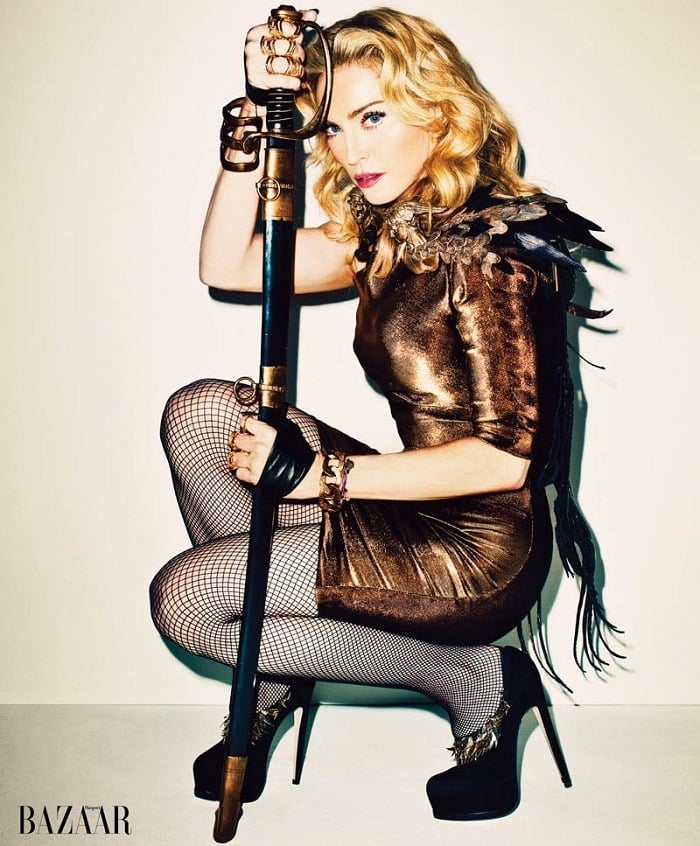 The interview focuses on Madge's newly established Art For Freedom project, which encourages up-coming artists to flaunt their politically-minded creative works.
Fashion is ingeniously connected to sensuality. Singer Katy Perry appears sultry for two different cover pages of the same magazine, W for November issue.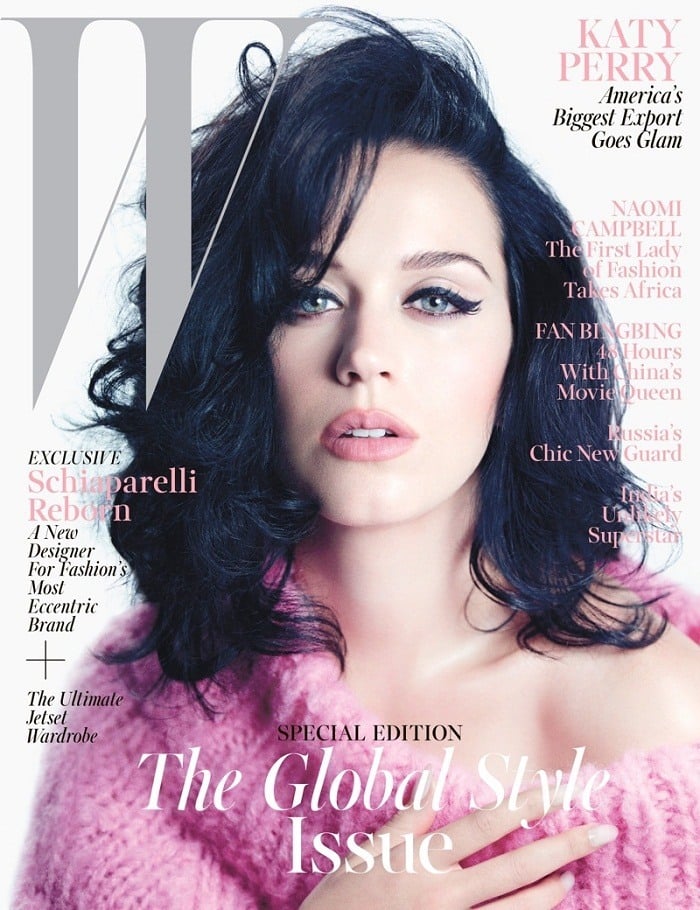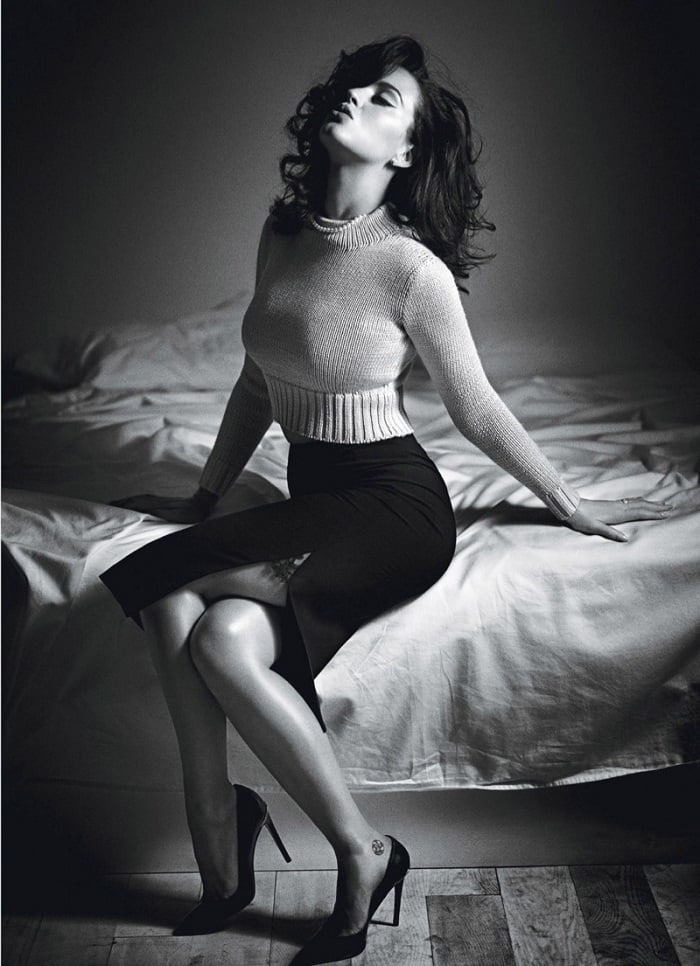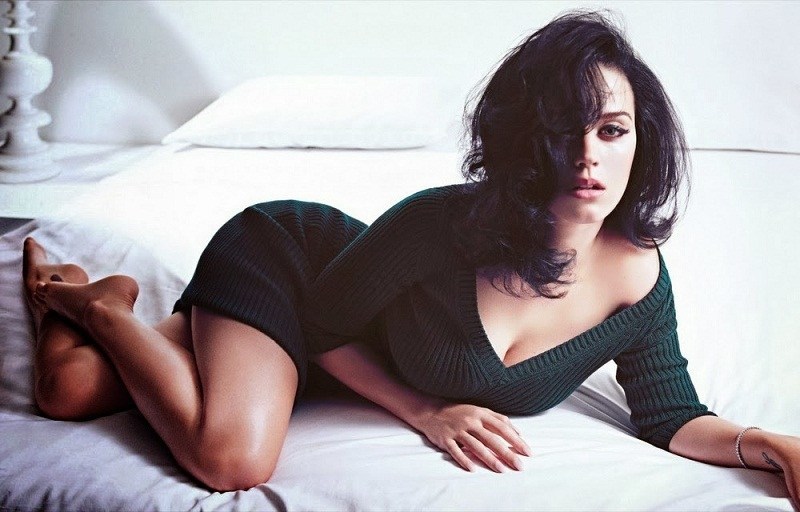 Donning various labels, including Louis Vuitton, Ralph Lauren and Marc Jacobs, the singer wows in the sexy spread. With hits like Roar and 'Unconditionally', the superstar has a new album in her belt, whilst her new fragrance 'Killer Queen' is all set to hit stores. The brunette star flaunts her curves in glamorous luxe clothing and sizzles the shoot.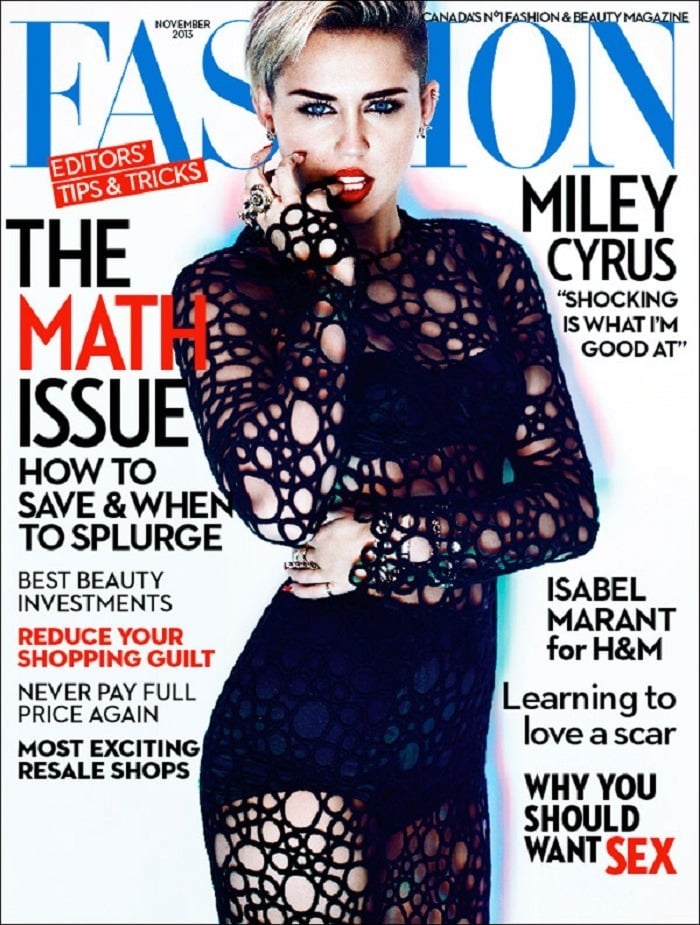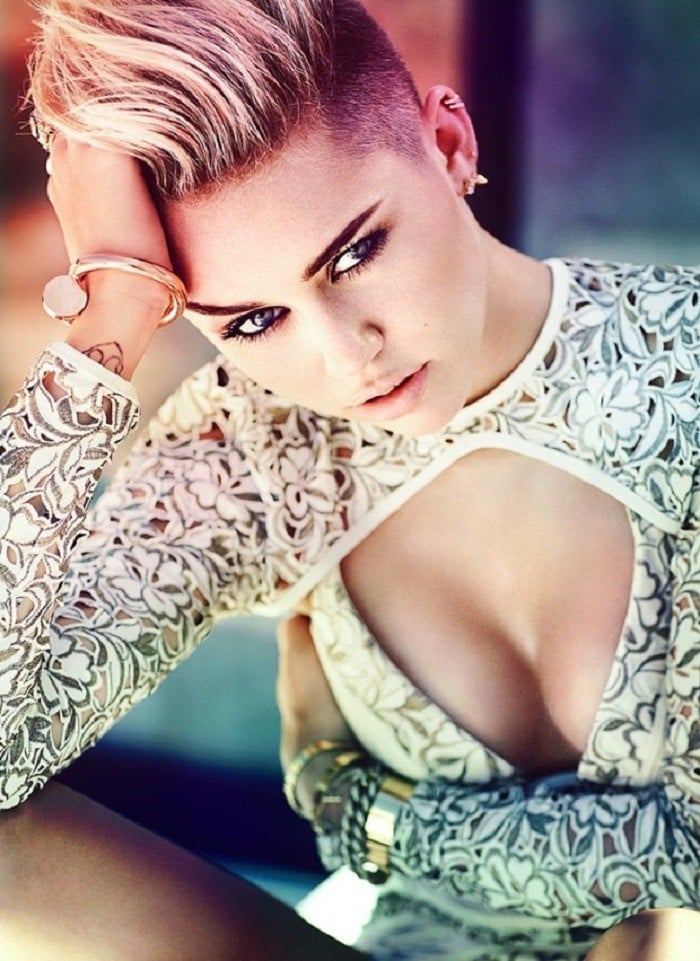 Last but not the least in my list is Miley Cyrus. I used to love this girl during her  Hannah Montana days and I loved to see how her maturing image progressed in her movie, The Last Song. These days, I just don't understand with her racy image and raunchy attitudes, which are more vulgar and insane than being trying to pose sexy. Whatever the reason is, the songstress is everywhere these days.
She is the cover girl for Fashion magazine issue of November and looks extremely ravishing and sexy. Even though the 20-year old singer looks edgy, but for heaven's sake she has spared us from her tongue show this time.
Hope you enjoyed this issue! Do leave a comment which cover girl you liked the best!