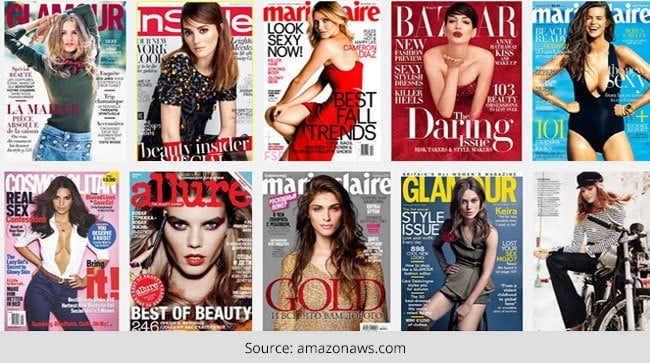 It's been two years since we have been religiously updating you about the cover girls gracing different fashion magazines. Every month we take a dig at our favorite celebs dominating the glossy cover pages and leave it to you to pick your best cover.
While winter has already arrived in the west, back home the chilly season has also started making its presence felt. In order to beat the cold we offer you November 2014 fashion magazine covers featuring the hottest fashion forwards and find out who reins supreme.
Now Amal Alamuddin's London Law Firm's website Doughty Street Chambers goes by the name of Amal Clooney. After having a fairy tale wedding at Venice last month, the couple has now taken vows for the second time and this time in England. As the newly wedded couple is gracing almost the cover page of every top journal, how could we have missed putting them on the top of our list of November 2014 fashion magazine covers.
After gracing the cover pages of People and Hello! Magazines last month, George and Amal Clooney have once again landed on the cover page and this time on the November 2014 issue of Vanity Fair Italy. The pair looks ethereal as they are featured in black & white. The bride looks enchanting as she flaunts Oscar de la Renta's last coup. Well here is a good cause behind these star studded wedding photographs. All the money earned from these images will go to a charity, Satelitte Sentiel Project.
Being the cover girl of five top fashion magazine covers for the November 2014 issue, Taylor Swift is definitely dominating the fashion journals this month. While Taylor shines in gold Louis Vuitton and looks festive on cover of InStyle magazine, she is all about elegance on the cover page of Fashion magazine. Taylor flaunts her porcelain skin as she debuts for UK Vogue and she offers a punk look for Blue Jean magazine.
One glance at the November 2014 issue of Elle Australia magazine and I bet you might assume November to be February – the month of love. Miranda Kerr looks extremely lovable as she flaunts a Valentino gown flanked by a cute heart that is strategically placed over one of her bosoms. Apart from her sweet gown, the backdrop is adorned by hand-drawn hearts that make the issue look much like a Valentine special edition.
Apart from gracing the Elle Australia magazine, Miranda is also the cover star of Vogue Japan, who are celebrating their 15th anniversary. Photographed by Mario Testino and styled by Anna Dello Russo, Miranda looks nothing less than a Geisha.
Supermodel Gisele Bundchen looks smoking hot as she flaunts her killer figure in yellow swimsuit on the cover page of Elle Brazil. She was photographed by Nino Muñoz, who had earlier photographed her for her eponymous lingerie line Gisele Intimates.
Diane Kruger looks ravishing as she scores the cover page of Harper's Bazaar Australia for November issue. Clad in a vibrant dress from Chanel's 2015, the 38 year old National Treasure actress looks every bit of a Bohemian perennial beauty, thereby prompting the fashion enthusiastic wannabe to go shopping.
Diane had this to say on fashion,
"Clothes to me are an external expression of a state of mind, or a reaction I want to get from people. Fashion is just a fun way for women to show our colours. Guys buy a car."
Of all the issues available at the newsstand, this Vanity Fair edition is going to be the spicy one. Not only because it's featuring our Mockingjay in a half clad avatar but for her exclusive interview where she has opened up about her nude photos which were leaked online and also where she has mentioned about 5 things which she would like to see in her boyfriend. This is a must-read issue especially for those who love Hollywood gossips.
Here is an excerpt from her interview,
"I was just so afraid. I didn't know how this would affect my career. It is not a scandal. It is a sex crime. It is a sexual violation. It's disgusting. The law needs to be changed, and we need to change. That's why these Web sites are responsible."
Cameron Diaz is my all time favorite. While Cameron has always maintained to not have children and even she was never sure about marriage, this time amid speculation she will be wearing an engagement ring from her long time beau Benji Madden. In her interview, she has made it clear that marriage isn't the be-all, end-all.
About having children, Cameron has confided that she lives in a society where everyone has kids. So, people expect others to have kids as well. However, she isn't going to do anything only because it's expected.
So these were my top picks on November 2014 fashion magazine covers! Hope you enjoyed it!