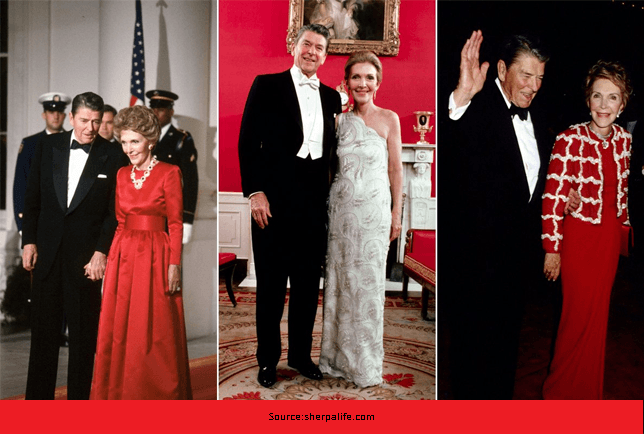 "The great thing about fashion is that it always looks forward ~ Oscar de la Renta"
Indeed he lived with this philosophy, a designer who took immense pleasure in designing for the clientele he doted upon. Undeniably, the world has lost one of its greatest geniuses this week, whose eponymous label only evoked magnificence and luxury. Oscar passed away this Monday. 20th October, 2014 at the age of 82 battling with cancer after he was diagnosed in 2006.
A private funeral will be held at the Church of St. Ignatius Loyola in New York City on Monday, 3rd November, 2014.
Oscar de la Renta – The Fashion Guru
There are only a few fashion designers who have earned the fancy title of 'household name' and Oscar de la Renta was one of them. He inarguably tops and his collection will continue to top the elite list of fashion deities who are worshipped by fashion followers and neophytes alike.
Oscar de la Renta for the First Ladies of USA
The designer was hugely credited for styling the first ladies of the United States right from Jackie Kennedy and Nancy Reagan to Laura Bush, Hillary Clinton and Michelle Obama. He had once said that he didn't really know how to do casual clothes. It was also the same designer who had confessed to making clothes that people would wear and not styles that made a big splash on the runway.
Oscar de la Renta, debuted in the fashion world somewhere around the 1950s in Madrid and spread across the opulent studios of New York and the fashion hub, Paris, was indeed the last reigning ruler from that generation that endorsed revolutionary and immortal tastemakers.
[Also Read: Republic Day Fashion]
Even though Oscar was diagnosed with cancer, the legendary designer was a stalwart. Surprisingly, it was during this period, his turn over grew by 50%, to $140 – $150 million in overall sales. Apart from designing dresses for US first ladies, Oscar was hugely associated with Hollywood as well.
Oscar styles George Clooney's Bride in Venice
Not only did he style celebrities like Sarah Jessica Parker, Penélope Cruz and Amy Adams, but his designs were a frequent at all the prominent celebrity events right from Oscars and Met Ball to celebrity weddings like the very recent Amal Alamuddin's wedding gown.
Oscar's most recent and probably his last accomplishment was the wedding gown for Amal Alamuddin who married George Clooney.
For such a fairy tale wedding in Venice to none other than George Clooney, only a dream dress would do.
When the British-Lebanese human-rights barrister said, "He is the man every woman wants to hug!" surprisingly Amal was not referring her groom George Clooney rather an equally nonchalant.
personality – Oscar de la Renta.
Oscar designed the most loved gowns including Hillary Clinton's fuchsia gown that she wore on her daughter's wedding, the Marquis de Cuevas's histrionic costume ball, and Sarah Jessica Parker's Met Ball gown with his signature encrusted on it. After debuting in Madrid, he polished his fashion DNA in Paris before he settled down in New York.
Anna Wintour remembers Oscar
As per Vogue's editor-in-chief Anna Wintour, Oscar was the most liberal and generous designer she knew. While he enjoyed dinner with the opulent, he was equally happy playing masquerade with his devoted staff. However, his designs always defined a class and reflected his extraordinary personality.
Oscar as a Philanthropist
He was a great philanthropist. Even his illness couldn't stop him from doing restless charities. With an estimated $100 million worth business, Oscar never forgot about the sufferings back in his motherland, Dominican Republic. He was awarded the Juan Pablo Duarte Order of Merit and the Order of Cristóbal Colón for his philanthropic and diplomatic efforts by the Dominican Republic government. The iconic designer was also associated with charitable institutions like New Yorkers for Children and the Americas Society.
Raghavendra Rathore's Tribute to Oscar de la Renta
Back home, Indian ace designer Raghavendra Rathore, who had the opportunity to work under Oscar de la Renta after getting a degree from Parsons The New School of Design, New York, offered his tribute to this legendary designer.
Here is what Raghavendra had to say about his mentor,
"Generous with an immaculate eye, Oscar de la Renta understood the very essence of fashion; he constantly maintained that it was a way of life rather than about seasons and collections. His true talent lay in understanding his clientele, the "lunching lady". I worked at his atelier for well over a year and it was an experience that changed my life. Being a young assistant to de la Renta, I only realized later the impact of the man, when people stopped to look, each time I presented my business card, which read: "Assistant to Mr De La Renta"."
Here is a quick sneak pick into the life of Oscar de la Renta:
Did you know: Oscar de la Renta was the first American fashion designer to show at Paris Fashion Week?
1932 – Oscar de la Renta is born in Santo Domingo, Dominican Republic.
1950 – Leaves his motherland to pursue a career at the Royal Academy of Fine Arts of San Fernando in Madrid.
1950s – Works in the Madrid salon of Cristóbal Balenciaga.
1956 – Designs the dress for Francesca Lodge, the wife of John Davis Lodge, who was the cover girl of Life magazine.
1961 to 1963 – Works as assistant under Antonio del Castillo.
1963 – Joins Elizabeth Arden.
1965 – Quits Elizabeth Arden to work with Seventh Avenue Company of Jane Derby.
1965 – Designs the wedding dress of the automobile heiress Anne Ford.
Late 60's – Starts his own line.
1967 – Marries Françoise de Langlade, a former magazine editor.
1973 – Receives the Coty Hall of Fame Award.
1973 – 1976 –Elected as the president of the CFDA (Council of Fashion Designers of America).
1977 – Launches his Oscar fragrance, which became on overnight success.
1980 – Appears on the cover page of The New York Times Magazine with the headline "Living well is still the best revenge" with his wife, Françoise.
1980 – Revamps the Boy Scout uniform.
1983 – His wife dies of cancer.
1988 – Designs dress for first lady Nancy Reagan.
1989 – Marries Annette Reed.
1989 – Given a lifetime achievement award by the CFDA.
1991 – Becomes the first American fashion designer to show at Paris Fashion Week.
1992 – 2002 – Works for Balmain.
1993 – Makes his debut as a couture designer in Paris, showing a collection for Pierre Balmain.
1997 – Starts working with Hillary Clinton to turn her into fashion icon.
1998 – Designs dress for Hillary Clinton as she becomes Vogue's cover girl.
2004 – Carrie Bradshaw, Sarah Jessica Parker's character in the "Sex and the City" series, flaunts his creation.
2005 – Designs Laura Bush's inaugural gown.
2006 – Launches first ready-to-wear bridal collection.
2008 – Uses plastic and sequins that resemble computer chips in his spring 2009 collection.
2013 – Receives Founders Award from the CFDA.
2013 –Works together with John Galliano for his fall 2013 line.
2014 – Makes the ivory tulle gown that Amal Alamuddin wore to marry George Clooney in Venice.
Oct' 2014 – Michelle Obama finally wears his design.
Oscar de la Renta was among the few designers who distinguished between the runway and fashion.
"Never, ever confuse what happens on a runway with fashion. A runway is spectacle. It's only fashion when a woman puts it on. Being well dressed hasn't much to do with having good clothes. It's a question of good balance and good common sense," he had once said.
Hope this post could bring our readers a little closer to the elaborate life of Oscar de la Renta.