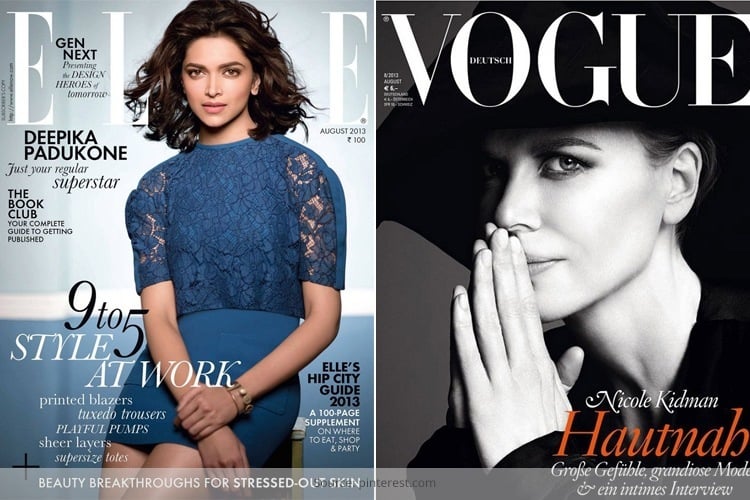 Fashionlady is back again with all prominent fashion magazine cover pages for the month of August. If you're in any plan to whisk away to nearby beach or linger near a lake the first weekend of this month then do not forget to check-out again this special edition.
While Dipika does cover page shoot for three leading Indian magazines for this month, Sonam goes Gucci to once again flaunt her fashionsita side, whilst Rita Ora and Demi Lovato dominating international fashion covers the following month. And let me tell you all those periodic journals promise you loads of beautiful things to look at and lots of interesting articles to read too!
Have a look!
This Bangalorean damsel who has made her benchmark so strong in Bollywood that every production company eyes on her is the cover girl for three leading magazines of India this August – Elle, Femina and Filmfare. Deepika Padukone continues to reign over Bollywood, while frequently being seen on all leading magazines as the cover girl.
Sonam Kapoor, who is considered to be the style diva of Bollywood goes Gucci this month to unveil this month Stardust magazine issue with Imran Khan. Although it's purely a Bollywood journal, I just couldn't afford to miss something which is all about fashion.
After going viral and creating heart throbbing mania with her platinum-selling single Heart Attack and smashing records with her fourth album, Demi Lovato graces the cover page of Fashion magazine this month. Apart from giving seductive photo shoots, she has given an extensive interview speaking about the highs and lows of her career and also her return as judge on X-Factor series this Fall.
Can anyone tell me anything about Rita Ora's music? It's only been a year since she debuted in singing and she is commonplace. This month the songstress is on fire, heating up the studio while photographed by Mariano Vivanco. She has gone topless for this month's cover page. Check out her racy spread!
This British singer has been embraced by the fashion world so much that she is the cover girl of another leading magazine, Interview of Germany. This is another latest glossy to cover this blonde dynamo. Check-out her rock-fitting looks.
The ever stunning Nicole Kidman gets a monochrome treatment and photographed for Vogue Germany issue for this month. Check out some of her stunning photo shoots!
[sc:mediad]
Amanda Seyfried sizzles red hot in a Dolce & Gabbana number on the cover of Elle magazine's August 2013 issue. the Lovelace actress gives an extensive interview about her personal and professional life.
Nickie Minaj graces the cover page of Marie Claire this month. She is one such girl who has never shied away from the spotlight. She rocked the photo shoot in a red and black dress from  Fausto Puglisi, offering tips on how to deal with men and her dream of becoming a mother in an exclusive interview.
While Nickie Minaj grace the cover page of US edition, Diane Kruger is the cover girl for the August issue of British Marie Claire, where she talks about her troubled relationship with her father, about her boyfriend Joshua Jackson and her work as a Chanel mode.
Taking a break from her hit series, "Modern Family," Sofia Vergara spared some of her time for an exclusive photoshhot for the cover page of Harper's Bazaar issue of this month.
And our very own Alia Bhatt dominating this month's Indian issue.
Jessica Alba is the cover girl for Glamour magazine France of this month. She looks stunning in a dun spread, showing off her chilled-out side in an array of skater-chic outfits .
JLO goes ultra glamorous for the coper page shoot of W magazine of this month. The 43 year old singer still looks divacious and sensuous in this photo shoot. In her interview she talks about her relationship with her mother, her childhood days and parenting her kids.
Beyonce once again goes raunchy for the photo shoot of Flaunt Magazine…