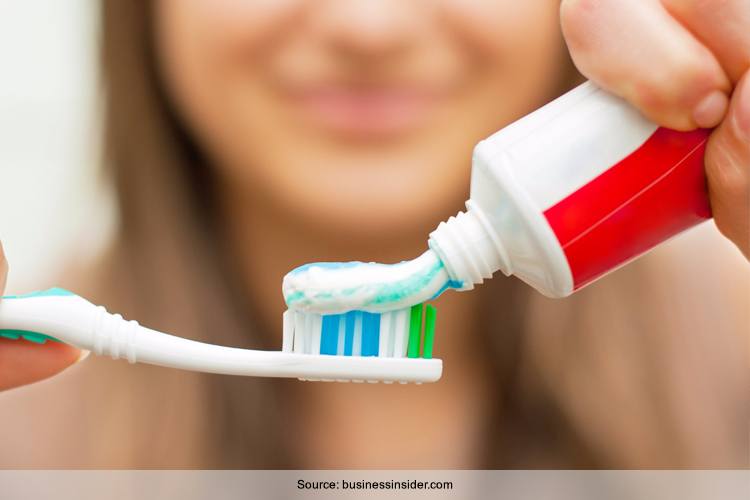 What do you need toothpaste for? Well, the answer is easy to guess: to maintain oral hygiene. In other words, clean the mouth and eliminate food lodging, whiten and strengthen the teeth and remove any mouth odour. The toothpaste helps fight cavities, plaque, dental discoloring and oral infections. In short, brushing your teeth is not just a routine exercise to maintain personal hygiene but a beauty regimen too.
Looking at the battery of toothpaste available, do you have any idea which is the best toothpaste in the market today? In the sense, what is the best toothpaste, best toothpaste for bad breath, world best toothpaste, best toothpaste for teeth? Many brands have a trust factor and a recall value. So finding what's the best toothpaste is definitely confusing. Let's help you find out the best toothpaste for teeth with our comprehensive list of the popular and best selling brands in the country.
Did you know about the different types of toothpaste? There are four of them – Best General Use Toothpaste, Best Toothpaste for Sensitive Teeth, Best Whitening Toothpaste, and Best Natural Toothpaste. By the way, "Fluoride" is a must in toothpaste. Why? Because it strengthens your tooth enamel (the top layer of the tooth) and protects it from decay. In fact, clinical evidence reveals that fluoride reduces both cavities and gum diseases. So much so that The American Dental Association won't award their "Seal of Acceptance" to any toothpaste that doesn't have fluoride. Wow! What a quality benchmark!
1. Colgate Toothpaste
Colgate kiya? The brand value of Colgate is such that it automatically means toothpaste. Needless to say, it is one of the most popular toothpastes available in India. A house without a Colgate tube would be as shocking as a home without water or gas. There is a vast range of products available for all age groups – from Colgate for kids to active adults to senior citizens. And there are different product formulations too – from clove, salt, lemon, neem and much more, signifying the large variety the brand offers to cater to myriad dental needs. That is why, Colgate toothpaste can be tagged as world best toothpaste, best toothpaste for teeth, and best toothpaste for bad breath. It protects teeth against harmful bacteria and gives you stronger teeth, refreshing breath and healthy gums.
2. Pepsodent Toothpaste
This is one of the oldest brands of toothpaste from the company Hindustan Unilever. Pepsodent cleans the plaque from the teeth. It also has peppermint in it to give you a refreshing feeling after brushing that keeps the problem of bad breath at bay. Pepsodent toothpaste protects gums from infection as it fights the bacteria in the mouth.
3. Close-Up Toothpaste
Another offering from Hindustan Unilever, Close-Up toothpaste comes in different formulations. In fact, this is the first toothpaste brand which also comes in "gel" form. And the claims of Close-Up? Refreshing smell, teeth whitening and keeping your teeth cavity-free.
4. Amway Glister Toothpaste
You must have heard of Amway's range of products sold through a chain of authorised distributors. Glister is an International brand (not an Indian one) from Amway a company which provides a range of home care products as well (not just cosmetics). This product can be safely labelled as best toothpaste and world best toothpaste because it prevents tooth decay and helps in plaque-removal from our precious teeth. Amway toothpaste contains "REMINACTTM Advantage" that helps strengthen the tooth enamel by replenishing the mineral loss. It caters to the oral care needs of the entire family.
5. Sensodyne Toothpaste
The name itself suggests that the toothpaste is perfect to prevent teeth sensitivity. Under the trademark of GlaxoSmithKline (GSK), Sensodyne toothpaste is well-known to reduce painful sensitivity, owing to the potassium nitrate in it. If you wince with pain after having a sip of coffee or a spoonful of ice-cream, this is a must-have in your dental kit.
6. Dant Kanti Toothpaste
Patanjali's Danti Kanti toothpaste is a matchless ayurvedic formula comprising of priceless herbs like Akarkara, babul, neem, timbaru, turmeric, cloves, mint, pipli, peelu and maju phal. It needs no introduction by now. The brand has given other popular toothpastes a run for their money and has emerged as a top-selling product within a short span of time. It is the best toothpaste available in the market today for effectively treating toothache, pyorrhea, bad breath, gingivitis, cavities, discoloring and staining of teeth. Baba Ramdev has established an example of a successful 'Make in India' initiative. Kudos to the Yoga guru for that!
7. Oral-B Toothpaste
This product from the P&G family not only brings relief from many dental problems like plaque, tartar, bad breath and sensitivity, it also takes care of teeth whitening.
8. Aquafresh Toothpaste
This toothpaste is manufactured by GlaxoSmithKline (GSK). Its striped pattern – in red, white and blue is sure to be a hit with your kids. It has the super-hero Captain Aquafresh as its brand ambassador who fights off the germs, cavities and plaque every time your child brushes. It's a cool way to teach your child about oral hygiene.
9. Himalaya Dental Cream Toothpaste
Brand Himalaya (No, am not referring to the snowy mountains, but to the herbal healthcare brand Himalaya) gets you this best toothpaste for teeth. An Ayurvedic formulation, this toothpaste contains pomegranate, clove and neem which help in fighting germs, dental caries, gum bleeding and mouth odor. In short, it provides complete oral care.
10. Meswak Toothpaste
Brought to you by Dabur, Meswak is a herbal toothpaste (scientifically formulated) with pure extracts of the Miswak plant 'Salvadora Persica', the famous 'Toothbrush Tree'. Credit the astringent and anti-bacterial properties of Meswak which help reduce tooth decay, fight plaque and prevent gum diseases. Truly, it is the best toothpaste for teeth and gums.
11. Crest Pro-Health Original Clean Mint Toothpaste
How many of us know that Crest Pro-Health is the only toothpaste with the Seal Of Acceptance from ADA for its effective cavity prevention, plaque and gingivitis control, sensitivity control, bad breath reduction, and whitening properties? The ADA also recognizes the tartar fighting benefits of Crest Pro-health. Isn't it awesome? The toothpaste uses "stannous fluoride", rather than the common sodium fluoride.
That rounds off our list of some of the best toothpastes. Tell us which of these brands you would recommend for complete dental care in the comments section below.