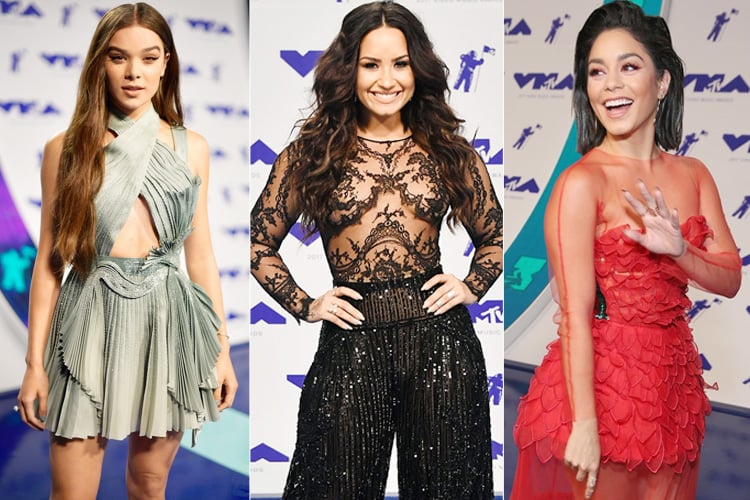 Music's biggest names showed up to the VMA's 2017, looking all blue carpet ready and we can't stop freaking out. Talk about feathers and lace and latex and we have everything here under one roof. Cutting out the delay, let's just dive in, shall we?
Katy Perry
In an ultra-white bodycon gown by Stephan Rolland, the 'Swish Swish' singer look just like the star that's ready to host the VMAs for a demanding audience. But again, looking like a tall glass of water in her statue-esque avatar Katy was dressed to take the light way (or at least try) from her arch rival unveiling one of the most awaited music videos of the century, aka, Look What You Made Me Do. (Keep an eye on this space as we break down all of Taylor's gorgeous looks from LWYMMD).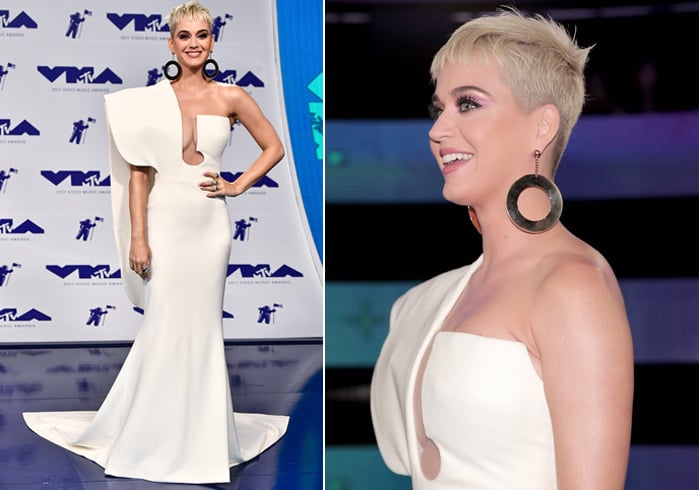 Demi Lovato
Daring doesn't even begin to describe Demi' VMA look but let's just give it a shot, shall we? The popstar showed up in a captivating sequin and sheer lace Zuhair Murad ensemble. The transparent top of the bodysuit was not supported by any bra making it a perfect 'Free the Nipple' piece, though the decoration were perfectly places to hide the nips. The Arab-styled pantsuit was styled with diamonds and hoop earrings.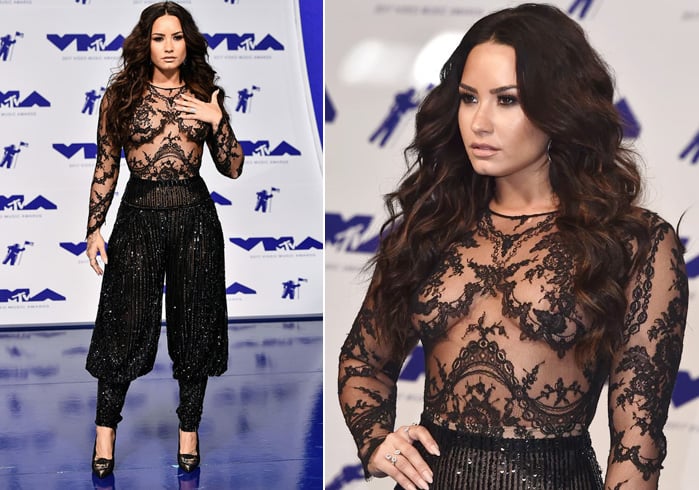 Fifth Harmony
Best thing about the girl group's look this year was, it seems as though each one of them were styled by individual designers that gave their individual styles enough area to breathe. Mostly seen coordinating clothes with each other till now, Fifth Harmony has lost one member on account of lack of individuality, and thereby we support what we see here. Our personal favorite is Normani, but can't deny its Lauren Jauregui who brought a pop of color to the team.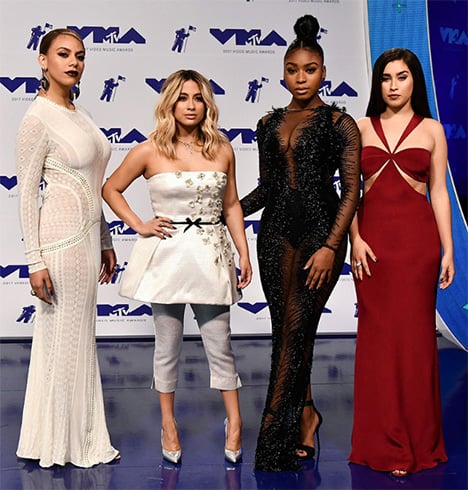 Lorde
Celebrated for her usual grunge fashion, the 20 year old went for an ethereal look this evening. Her strapless feather-embellished dress in the softest shade of lavender was a vision from heaven, and it's safe to say if the heaven's had swans they would look somewhat like Lorde who kept her make up minimalistic and hair tied away from that gorgeous face of hers.
Vanessa Hudgens
Leave it up to this young star to leave everyone dumbstruck – year on year, the singer and actress has amused us with an unbeatable fashion sense, and brought her dazzling self to the blue carpet this night in a scarlet Yanina Couture dress. The party sheer party petal-adorned dress was a work of art which her stylist aptly matched with Sophia Webster shoes.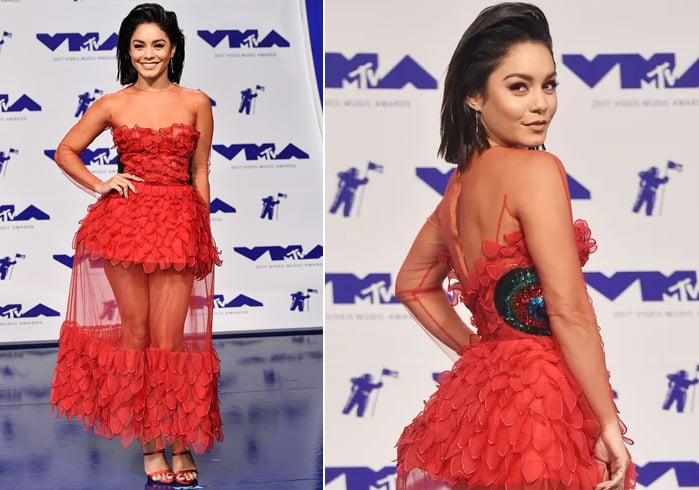 Nicki Minaj
She flew in to perform alongside Katy and totally killed it in a latex bodysuit that made us crave some bubble gums. We figure she called an entire village to have her get into that outfit which clearly looked like molting plastic mold on her – that is how well it fit her. With the strawberry blond miles long weave the 34 year old rapper was a Barbie doll from Mars.
[sc:mediad]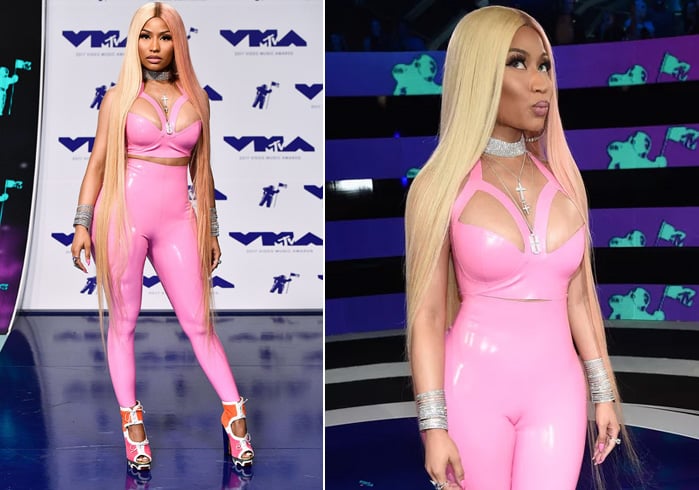 Paris Jackson
MJ's baby girl may have yet to make a musical accomplishment, girl sure knows how to make a head turning appearance on an eventful evening and proved it yet again in a very youthful Christian Dior embroidered dress, with nude shorts and bra underneath. She kept her make up neutral but it's impossible not to look deep into those eyes heavily underlined with green eye make-up.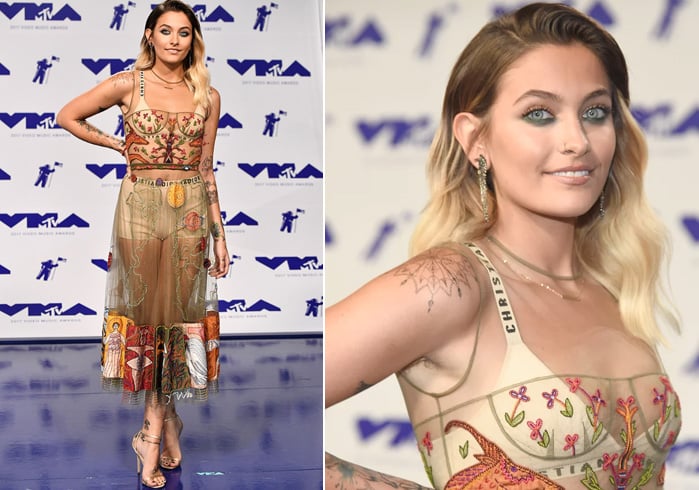 Millie Bobby Brown
She might be just 13, but the 'Stranger Things' star has her entire life mapped out better than we will ever be able to. After the Billboard Music Awards, she makes a storming red carpet again at the VMAs and the world can't stop fawning over this little diva in the making. Her gold studded tulle dress with layers of sheer fabric was very age appropriate with the natural make-up that worked its way all fine.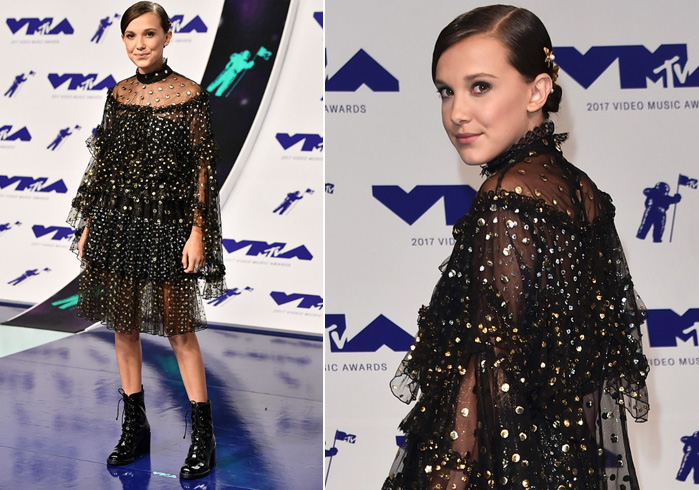 Hailee Seinfeld
In an adorable steel grey mini dress by Atelier Versace, the Pitch Perfect actress was just the right amount of edgy with very sophisticated cut outs added in a dash of sex appeal. To round up her look for the evening she picked matching strappy heels and basic bling.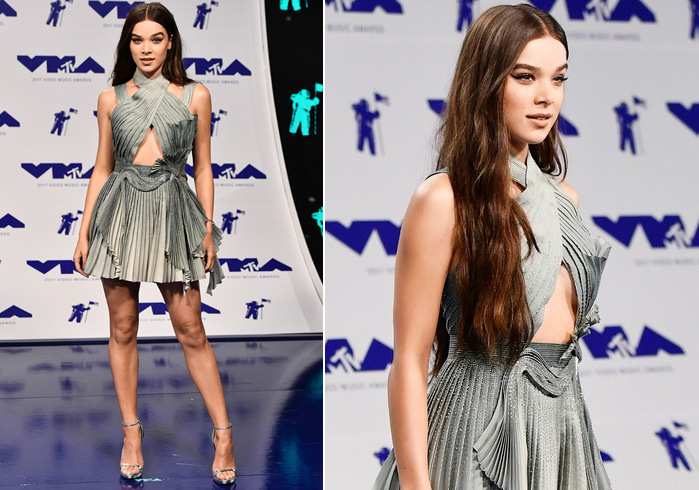 Miley Cyrus
No, she didn't walk the carpet, but can we dare leave her out? In her short bodysuit in pink, the songstress was quite the VMA transformation, we may say. The bright pink silky ensemble, accentuated by yellow and a bedazzled belt was everything the VMA state needs and designer August Getty did a perfect job making this happen.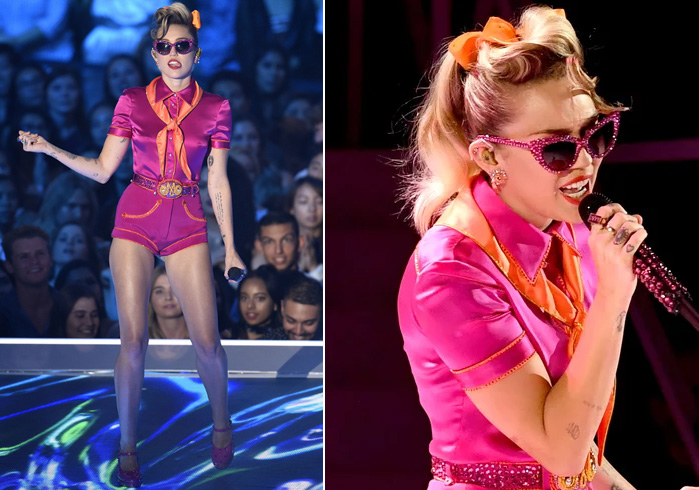 As much as we enjoyed these stunning appearances, can we even deny missing Taylor, Selena and Beyoncé in this star studded event? Don't know why they skipped but we'll take an educated guess that the twins kept Queen Bey busy, Weeknd kept Selena and Tay Tay just sat back counting her LWYMMD views.
Images Source: hollywoodlife