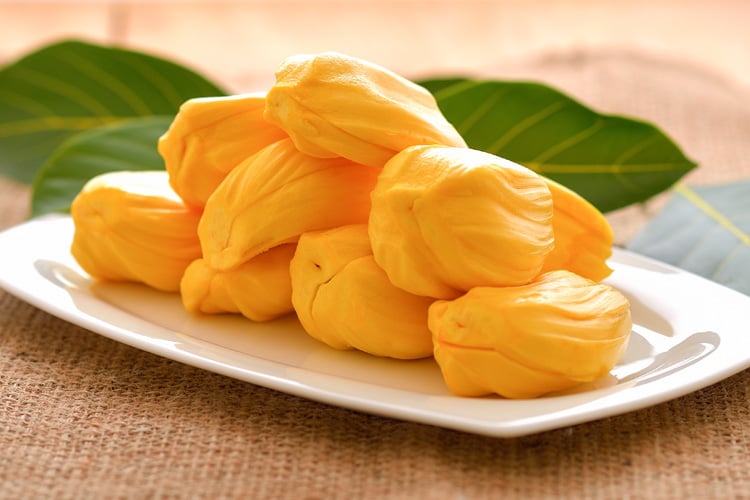 Jackfruit is a tropical Asian fruit and is considered to be the largest tree-bearing fruit in the world. It weighs around 3.5 kg and can go up to 10 kg and 25 kg. This fruit is sweet in taste, distinguishable, and has a nice fragrance. Most of its common names are jakfruit, jaca, and nagka.
Nutritional Chart of Jackfruit
One cup of raw, sliced jackfruit contains about:
11.1 milligrams vitamin C (18 percent DV)
0.3 milligrams manganese (16 percent DV)
0.3 milligram copper (15 percent DV)
61.1 milligrams magnesium (15 percent DV)
500 milligrams potassium (14 percent DV)
0.2 milligram riboflavin (11 percent DV)
490 IU vitamin A (10 percent DV)
0.2 milligram vitamin B6 (9 percent DV)
23.1 micrograms folate (6 percent DV)
56.1 milligrams calcium (6 percent DV)
1 milligram iron (6 percent DV)
59.4 milligrams phosphorus (6 percent DV)
0.7 milligram zinc (5 percent DV)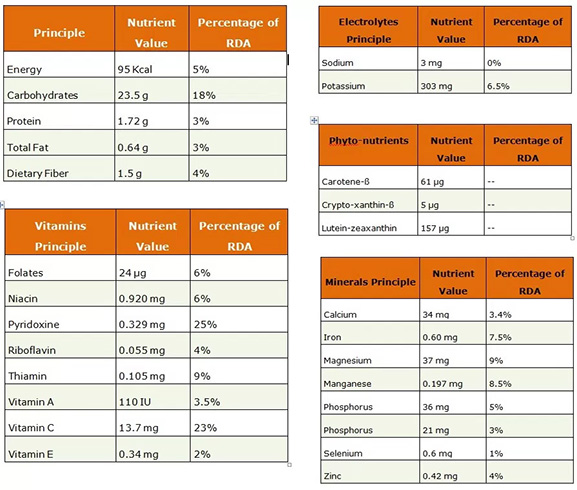 Benefits of Jackfruit:
1. Fights Cancer
Jackfruit has Vitamin C, antioxidant and phytonutrient properties useful for treating various types of cancer. It can treat lung cancer, breast cancer, gastric cancer, skin cancer, and prostate cancer. All these healing properties can help in the treatment of cell damage and develop a strong resistance.
2. Weight Loss
Jackfruit can help in weight loss as it is low in calories and fat free. This fruit can enable dieters to safely consume it without fearing for weight, and fully benefiting from all its nutrients.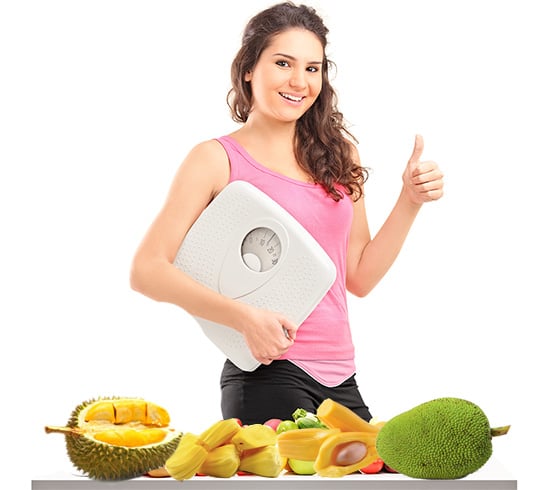 3. Reduce Blood Pressure
Jackfruit contains a high content of potassium, which can help reduce and control blood pressure. It can also limit the chances of heart attacks, strokes, and cardiovascular problems in general.
4. Improves Digestion
Jackfruit can allow improving the digestive system when consumed daily because of its fiber content. It does not cause any digestive issues even when eaten in huge quantities, and aids in bowel movement. Jackfruit can offer protecting the colon by removing carcinogenic chemicals from the large intestine.
5. Fights Insomnia
Jackfruit is known for curing sleep disorders because of its rich magnesium and iron content. These properties can help improve the overall sleep quality. The presence of magnesium in jackfruits can help to prevent anemia which is one of the main causes of insomnia.
6. Diabetes Friendly
Jackfruits have a sweet taste, and are safe for diabetic patients. It helps to absorb sugar in the bloodstream which can allow diabetic patients to safely consume it while absorbing all its health benefits. Jackfruits can also increase glucose tolerance levels for all both types of diabetes.
7. Fights Wrinkles
Jackfruit can work on wrinkles well. You can make a homemade remedy out of its seeds. Dip jackfruit seeds in a bowl of milk for one or two minutes. Blend the seeds well to fine powder. Apply the paste over the wrinkles. Wash off after 10-15 minutes. This remedy can help to reduce wrinkles in six weeks. Make use of it daily for effective results.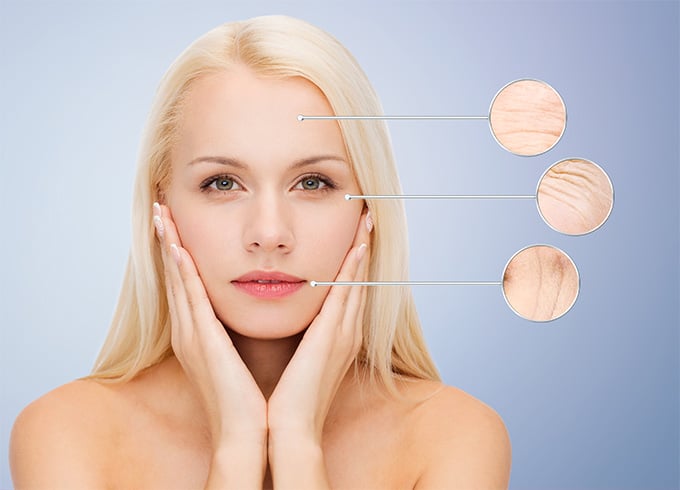 8. Glowing Complexion
You can add jackfruit in your diet as it is high in fiber content. This fruit can help to detoxify your system and thereby allow one to attain a glowing skin. It can also protect damaged skin caused by skin exposure because of its presence of anti-ageing component for radiant skin.
9. Flawless Skin
Jackfruit helps one to get a flawless skin. You can soak few dry seeds with milk and honey. Grind all these ingredients together into a fine paste. Apply the fresh paste over your face and neck. Allow it to dry. Wash off with lukewarm water. You will notice the difference within the first application. Try this remedy once or twice a week for lasting effects.
10. Enhances Eye Vision
Jackfruit is rich in Vitamin A, and allows one to maintain healthy eyesight. It can enhance your eye vision by acting as a protectant against macular degeneration and cataract formation. Because of the presence of Vitamin A, this fruit can also protect eyes from viral infections by increasing the mucous membranes that create a layer over the cornea.
11. Treat Ulcer
Jackfruit is one of the most effective methods to treat ulcer disorders as it contains powerful anti-ulcerative, anti-inflammatory, antiseptic, and antioxidant properties.
12. Healthy Bones
Eating jackfruit offers one with a good calcium supplement and aid in strengthening bones. Besides calcium, jackfruit also contains Vitamin C and magnesium which can help in calcium absorption.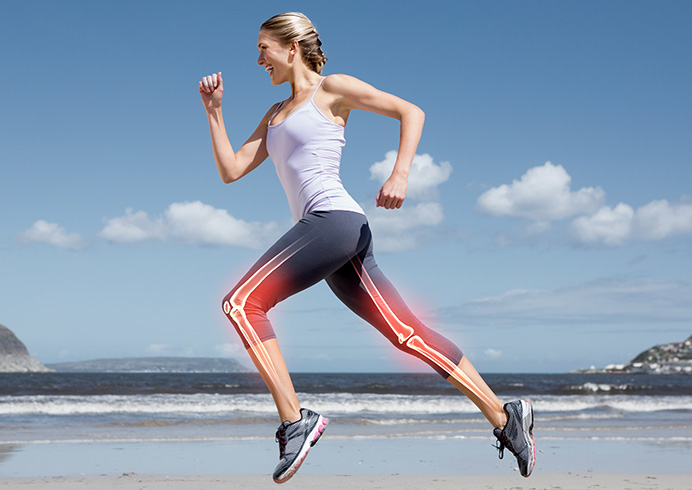 13. Fights Muscle Weakness
Include jackfruit in daily diet to assist in fatigue, muscle weakness, and stress. It is a great nerve system booster as it contains vitamins such as thiamine and niacin. For example, one portion of 100 g of jackfruit pulp offers 4 mg of niacin.
14. Boost Magnesium Levels
Consume jackfruit daily to boost magnesium levels. This is especially for women who are more at risk to develop magnesium deficiency. It is good to include jackfruit to your diet since magnesium can reduce the risk of several diseases. For example, one cup of jackfruit contains 15% of daily needed magnesium value.
15. Promotes Hair Growth
Consume jackfruit seeds to attain healthy hair growth. Its seeds can help in promoting blood circulation, and thereby aid in hair growth. The greater the blood circulation is, the better it becomes for the body to stimulate hair growth.
16. Prevents dry and brittle hair
The seeds in jackfruit have a high content of Vitamin A. This is one of the essential vitamins for promoting healthy hair and prevents dry hair.
17. Strengthen Immune System
Jackfruit contains Vitamin E, an essential nutrient needed for protecting against viral infections. This can help to strengthen the body's defense mechanism functioning and support the functioning of white blood cells. One pod of jackfruit for example can offer the body with a good amount of effective antioxidants.
18. Instant Energy
Jackfruit is an energy boosting fruit because of its high content of glucose like fructose and sucrose which can boost strength in an instant. Despite the fact that it is an energy enriched fruit, it contains zero saturated fats or cholesterol, thus making it a healthy fruit.
[sc:mediad]
19. Asthma
Asthmatic patients should include jackfruits in their diet because it has a rich nutritional content. One of the best ways of getting the fruit nutrients is by boiling the root of the fruit. This boiled root is one of the most effective sources to prevent asthma.
20. Anemia
Jackfruit has a rich content of iron which can prevent anemia and regulate blood circulation. This fruit is rich in Vitamin A, C, E, K, Niacin, Vitamin B6, Folate, Pantothenic acid, Copper, Manganese, and Magnesium essential for blood formation. This can also allow our body to easily absorb iron in our body and cure anemia.
21. Improve Thyroid Health
Jackfruit contains potent micro minerals which is vital for thyroid metabolism, and hormone production. It keeps your metabolism rate high and improves your thyroid health.
22. Prevents Night Blindness
Jackfruit is great for our eyes. This fruit contains a great amount of Vitamin A and help prevent night blindness.
23. Improve Cardiovascular Health
Jackfruit helps to keep your heart hale and hearty. The Vitamin B6 present in the fruit can help to decrease homocystein levels in our blood.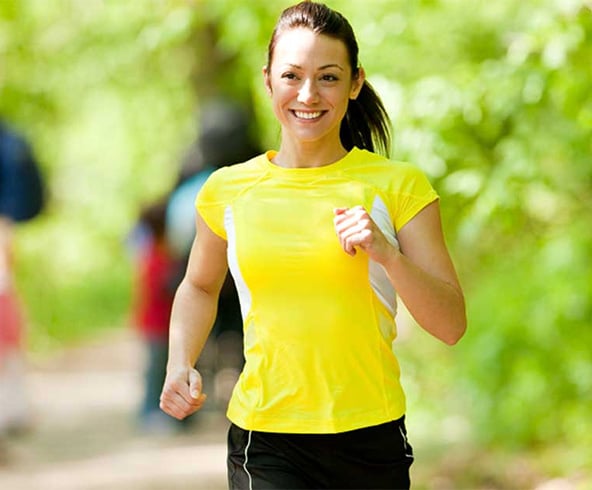 24. Cold and Infections
Jackfruit contains Vitamin C supplements that can prevent cold and infections. It is said that one cup of jackfruit can offer our body with a right balance of antioxidants, and strengthen the immune system.
25. Source of Iron
Jackfruit has a rich source of iron. It is a component of hemoglobin which helps in the regeneration of red blood cells and provides oxygen to organ systems. The daily intake of this fruit can lower the risk of blood disorders, and keep the brain strong.
26. Provides antioxidants
Jackfruit seeds are enriched with great nutrients, and offer antioxidant sources. It prevents the damaging effects of oxidation and free radicals. In this way, one can prevent the risks of various health hazards like heart strokes.
27. Option for diet menu
Jackfruit and its seeds make for a healthy diet because of its nutritional benefits. This fibre-rich food is great for dieters too and helps balance the body's health.
28. Healthy Snacks
Jackfruit can be a perfect option as a healthy snack. It not only tastes great but has great nutritional benefits as well. The fruit is low in calories and fat. So, you can snack on it whenever you feel hungry without worrying about your waistline.
29. Improve Sexual and Reproductive Health
This fruit is traditionally used in the treatment of sexual disorders. They are considered as an aphrodisiac as they help in the stimulation of sexual pleasure. Because of this, it boosts the sexual pleasure. Its seeds are highly beneficial for boosting sexual and reproductive health. Having boiled jackfruit seeds daily can improve any sexual disorders.
30. Loaded with Potassium
Jackfruits contain a high amount of potassium. This nutritious fruit can lower the risks of kidney disorders, blood pressure, and relieve anxiety and stress. Hence, you need to eat this potassium rich food as it offers the best health benefits.
Jackfruit Recipe
Here are five jackfruit recipes you can try at home:
1. Jackfruit Bacon
Ingredients:
2 cans young green jackfruit (unsweetened)
4 tablespoons liquid smoke
2 tbsps unrefined coconut oil
2 tbsps pure organic maple syrup
2 tbsps fig balsamic vinegar or molasses
¼ tsp ground black pepper or to taste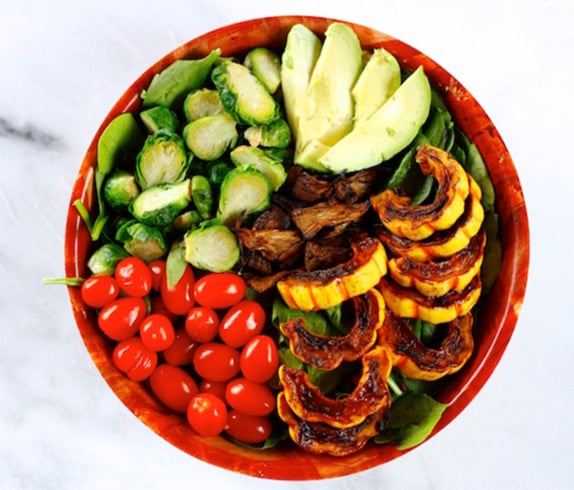 Preparation:
Preheat oven to 425 degree F. Line three baking sheets with parchment paper.
Open the jackfruit can, drain and rinse.
Allow the jackfruit to dry using paper towels.
Slice the bacon into thin slices.
Mix the other marinated ingredients into a bowl.
Add the jackfruit and mix again until the jackfruit is finely coated.
Set it aside in the fridge for 20 minutes.
Take it out and replace it in the baking sheets.
Put in oven for 15 minutes or depending on oven temperature.
Allow it to cool for 10-15 minutes after it comes out of the oven.
Store in a glass container and seal.
It can be eatable for one week.
2. Jackfruit salad with cabbage and lettuce leaves
Ingredients:
2 tbsps thin red shallot rings
1 scallion, thinly sliced
1 handful mint leaves, thinly sliced
1 handful cilantro leaves, roughly chopped or torn
1 twenty ounce can (10 ounces drained weight) green jackfruit in water or brine (not syrup)
1/4 – 1/2 teaspoon red chili powder
1 tbsp toasted rice powder (storebought) plus more for garnish
Several green cabbage leaves cut into approx 3″ squares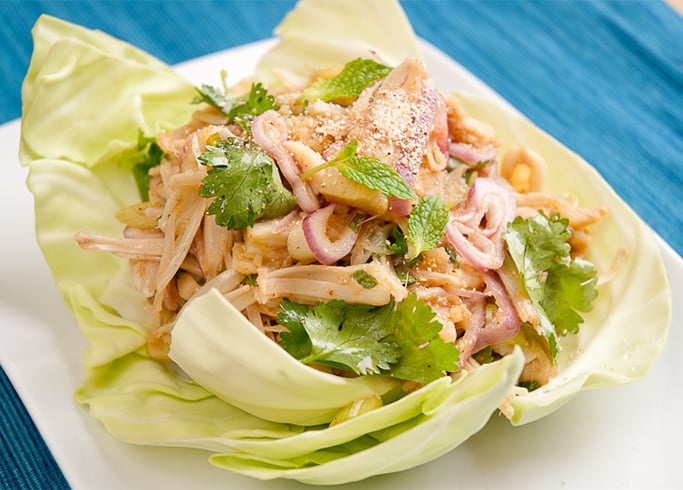 Preparation:
Mix shallot, scallion, mint, cilantro, garlic, soy sauce, lime juice, and a pinch of sugar in a bowl.
Drain the jackfruit water. Shred off the skin of the jackfruits.
Next heat skillets in medium heat.
When it starts to shimmer, add vegetable oil, shredded jackfruit, red chili powder, and salt.
Saute for one minute.
Replace the jackfruit into the dressing, add rice powder, and mix.
Add seasoning as per taste.
Add sugar, salt, and chili powder according to taste.
Place cabbage leaves on a plate and smear the dressed jackfruit on top.
Garnish using mint leaves and rice powder.
Serve hot.
3. Jackfruit Tacos
Ingredients:
2 20-oz cans of young green jackfruit in brine
2 small red bell peppers, chopped
1 cup yellow onion, chopped
3 green onions, white parts, chopped
1 habanero chili, ½ or ½ Thai chili
1 tbsp apple cider vinegar
2 tsp maple syrup, or agave or coconut nectar
1 vegetable bouillon cube + 1 ½ cups water (or 1½ cups vegetable stock)
8 corn tortillas, warmed before serving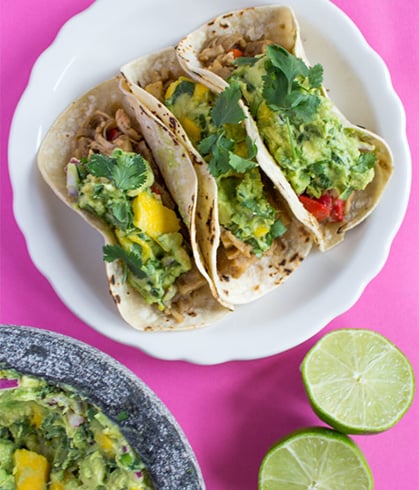 Mango guacamole
1 ½ cup ripe mango, cubed
Preparation:
Drain the jackfruit and set aside in a bowl.
Use a fork to shred the fibers.
Add chopped red pepper to the jackfruit and set aside.
Blend all the sauce ingredients like onion and bouillon to form a smooth liquid.
Pour the sauce over the jackfruit.
Place the pot on the stove and allow it to simmer.
Reduce heat to medium low and cover the pot.
Cook for 30 minutes.
While the jackfruit is cooking, start making the mango guacamole.
Mash all these guacamole ingredients in a blender, or mortar and pestle, or fork.
Serve it using the jackfruit instead of tortillas.
Spread with mango guacamole.
4. Jackfruit Pot Pie
Ingredients:
Filling:
1 can of Young Green Jackfruit in Brine
2 1/2 cups unsweetened almond milk, divided
1/2 of a yellow onion, diced
2 cloves of garlic, pressed
150g potatoes, diced into small chunks
150g carrots, cut into rings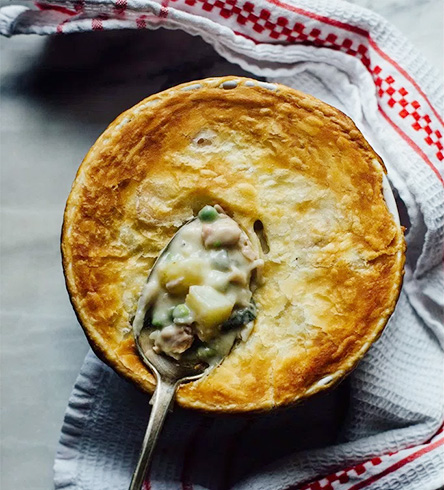 Roux:
Reserved almond milk from the cooked down mixture + excess to make up half a pint of liquid.
To assemble:
50g puff pastry – I use Jus Rol
1 tsp vegan butter, melted
Preparation:
Drain and rinse the jackfruit.
Cut the inner fibers and discard.
Heat olive oil in a saucepan on medium heat. Add jackfruit and onion. Fry until the onions turn golden brown.
Add garlic, bay leaves, rosemary, and two cups of almond milk. Bring the heat down to low flame and cover with lid.
Allow it to simmer for 25 minutes or until the jackfruit softens.
Make use of a fork to shred the jackfruit.
Add half a cup of almond milk.
Add carrots, potatoes, and peas. Turn up the flame to medium heat.
Simmer for 15 minute more or until the vegetables soften.
Discard bay leaves and rosemary.
Remove the pan from the heat and use a spoon to scoop out the vegetables and jackfruits.
Keep the vegetables in a large bowl.
Strain the mixture using a sieve atop a large jar. Set this infused almond milk mixture aside for later use.
Preheat oven to 375 f.
Heat butter in a pan on low flame. Add flour once the butter melts.
Whisk the flour and butter until it forms a smooth paste.
Cook for two minutes.
Pour in half of the stored almond milk and allow the mixture to boil.
Allow it to boil for two minutes on low flame until the whisk starts to thicken.
Add the left almond milk after the lumps disappear. Whisk until smooth.
Remove the mixture from heat and add the vegetables.
Transfer the mixture into a bowl or casserole.
Place the puff pastry over the dish and press down using a fork.
Brush the pastry with melted butter and cut two slits in the pastry.
Cook in oven for 15-20 minutes or until the top turns golden brown.
5. Sweet Potato Fries with BBQ Jackfruit
Ingredients:
Red cabbage and apple slaw
1/4 head of red cabbage thinly shredded
1 tart apple (such as granny smith or pink lady), chopped into thin matchsticks
Sweet potato fries
2 medium sweet potatoes, peeled and chopped into fries
A few dashes of smoked paprika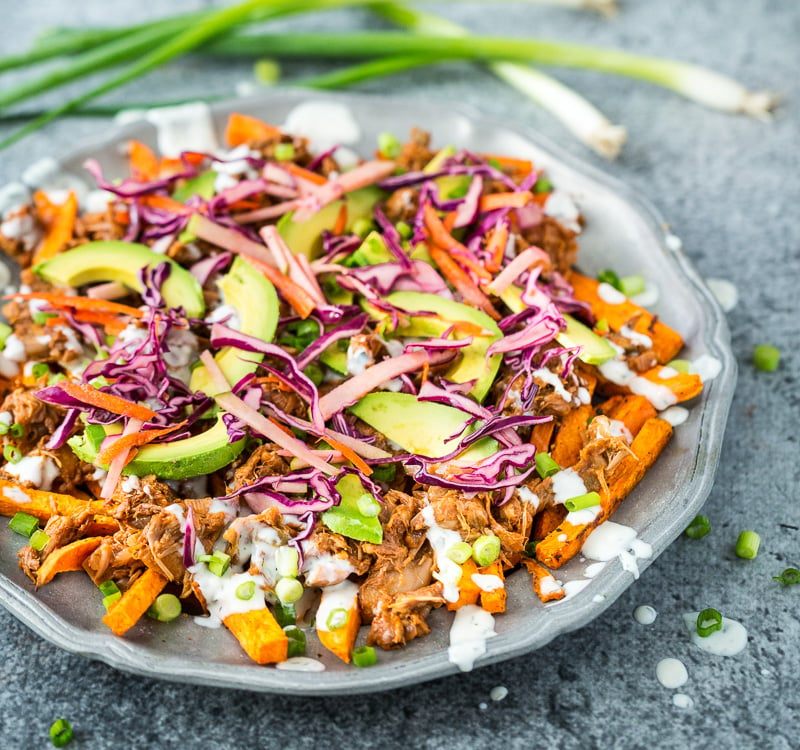 BBQ jackfruit
Two 20-ounce cans of jackfruit, rinsed and drained
2 tbsps liquid aminos (or tamari/soy sauce)
1 cup Jalapeño Plum BBQ Sauce (or BBQ sauce of choice), divided
Assembly
1/2 avocado, pitted and thinly sliced
2 scallions (green and white parts), chopped
Zesty Ranch Dressing or Basil Ranch Dressing (or vegan ranch dressing of choice)
Preparation:
Red cabbage and apple slaw
Prepare this at least one hour prior to serving.
Mix cabbage, apple, and carrot in a large bowl.
In another cup, mix sherry vinegar, maple syrup, and Dijon mustard.
Pour the liquid mixture over it.
Cover with lid and refrigerate for at least one hour.
Sweet potato fries
Preheat the oven to 425 F and line a baking sheet with parchment paper.
Place the fries out on the baking sheet and spread olive oil over it.
Finish using paprika, salt, and pepper.
Mix until combined. Place the sheet on the top rack of the oven and bake for 25 minutes.
Turn the fries halfway through to make sure it is evenly cooked.
BBQ Jackfruit
While the sweet potato fries are in the oven, start preparing the jackfruit. Tear the jackfruit into shreds. Add a 1/2 cup of BBQ sauce with arrowroot powder in a bowl. Set aside. Line another baking sheet with parchment paper.
Preparation:
Heat olive oil in a sauce pan over medium heat.
Add onion and cook until translucent.
Add the jackfruit and liquid aminos and cook until the liquid absorbs.
Add 1/2 cup of BBQ sauce to the jackfruit and stir until combined.
Allow it to cook for five minutes while stirring occasionally.
Mix BBQ sauce/arrowroot mixture to the jackfruit and stir.
Spread out on the prepared baking sheet.
Allow it to bake until the sweet potato fries are done cooking.
Spread sweet potato fries in a flat platter.
Add BBQ jackfruit, avocado slices, and chopped scallions.
Spread the ranch dressing over the top.
Serve immediately.
Side Effects of Jackfruit
Jackfruit contains a number of health benefits, but it also has its side effects. A few of the common side effects are mentioned below:
Allergic reaction- People with birch pollen allergies tend to develop an allergic reaction.
Increased coagulation- Patients suffering from blood disorder might experience an increase in coagulation.
Sugar imbalance- Diabetic patients can observe an imbalance in glucose levels.
Immunostimulative Effect- Patients undergoing immunosuppression therapy should avoid taking jackfruit seeds.
Conclusion:
Jackfruit is a nutritious fruit and is a great addition to recipes. This fruit can act as an extra supplement on your daily diet. It can enhance immunity, boost magnesium levels, prevent heart disease, improve digestive system, and improve bone health. In addition, jackfruit is also known for fighting off cancer cells. All in all, it is a fibre rich food, and offers great nutritional benefit to our body.
Images Source: pinterest