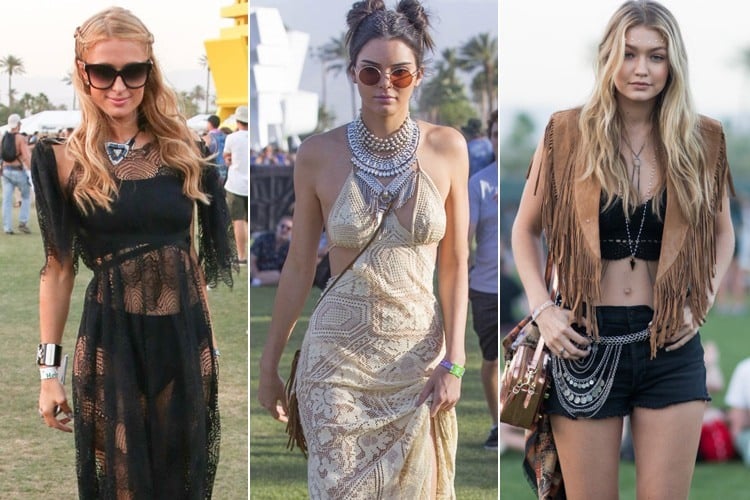 When all the busy stars decide to party down they gather at the Coachella music festival, that one time of the year when even the regulars like you and me can dance and freak out knowing that we are actually breathing the same air as our stars. The 10 daylong celebration gives an opportunity to Hollywood's who's who to take a break from their make-up, designer couture, and high heels; and dress down. These are the most stylish stars we are talking about, we are too silly if we think they won't make the most of this event too.
Eye-Catching Coachella Outfits
These are the most stylish stars we are talking about, we are too silly if we think they won't make the most of this event too.
1. Taylor Swift
This was Taylor Swift's first time at Coachella and she managed to debut in an extraordinary way – well, extraordinary is all that we expect from her, isn't it? After a Vogue photoshoot, the singer decided to stick to her bleached bob for a while and walked straight into the musical festival rocking it. Rightfully as she hash tagged on her IG account #BLEACHELLA.
2. Kendall Jenner
Just a nude lining away from a serious wardrobe malfunction, Kendall wowed at the music fest in a cream crochet dress lengthed to the ground, matching with tan stringy sandals. The next day she rocked a black lace bralet, leaving nothing to the imagination, and lil sissy Kylie was mischievous enough to post a pic of the super model flashing her nipple ring.
3. Alessandra Ambrosio
Like the desert was not hot already, Alessandra Ambrosio had to heat it up even more with her very Coachella-appropriate choice of outfit. That tan fringed shorts with twinning sling bag and boots were a perfect contrast to the frilly blouse that she secured secured with a couple of strings.
4. Kylie Jenner
The sun was too bright for Kylie's eyes – so she chose to shut them for this pic. But just so you know, she has eye balls on her boobs and even her crotch. That means, she is watching even when she is not. By the way, the distinct look did attract quite some shade as she had allegedly 'stolen' it from a lesser known New Zealand based Instagramer.
5. Paris Hilton
Moving on from the Jenners, do you guys remember Paris Hilton? Well, she might have fallen out of the popular circuit lately, but the original socialite who introduced Kim Kardashian to the world also showed up at the fun fest this year, and with her two impeccable looks she did turns some heads also. Staying true to the theme of Coachella, she was seen wearing a multi colored flared gown that kissed the ground. For a second show the 35 year old heiress slipped into a black lace gown, paired up with cat ears – meet our new Goth Bride, people!
[sc:mediad]
6. Vanessa Hudgens
She is the uncrown queen of Coachella, and for years now, we are just awaiting her coronation. Keeping up with the trend of owning the festival, the High School Musical star rocked a bright floral kaftan dress. As flower crowns were a matter of last year, she substituted them with a single hibiscus and threw on a bunch of neckpieces.
7. Katy Perry
Katy Perry was totally feeling her look at the fest this year, hand in hand with new love Orlando Bloom. Looks like the duo deliberately color matched their outfits too – Orlando's shirt and shorts unmistakably echo Katy's romper and that is certainly not a co-incidence. When you are done admiring the black and red full sleeved outfit, turn at the chunky waist piece and necklace the singer is sporting.
8. Gigi Hadid
It is a little tough to round up Gigi Hadid in just one snap, so we got two of them, and something tells me you don't mind. The VS angel rocked her signature blonde waves throughout the fest. Her black shorts and bralet were seamless with her tan jacket featuring some crazy fringes. For her second look she went full on boho wearing a head scarf and an airy mid length white frock showing a major slit.
9. Emma Roberts
I won't say Emma Roberts was reflecting the vibe of Coachella in her white knitted top, but her jean shorts made up for the lack of fest mood. The white flats helped too.
10. Bella Thorne
Bella Thorne was another celeb completely drunk in the festivity mood. We love the purple wig and the numerous uncoordinated necklaces which went impeccably with each other. The extensions of the black lace blouse tied around her waist brought back memories of Britney Spears' Slave. The distressed denim shorts and its crazy graffiti were screaming Coachella and we heard it all right!
Phew! That was quite a task – gathering the best dressed celebs from the desert and decoding their styles. One can only wish….