Like the beauty pageants for the upcoming models, like auditions for aspiring actors, the fashion weeks are conducted to bring forth the exemplary artwork of aspiring to well-accomplished designers. One such fashion week of the recent times that drew out a picturesque image in the minds of onlookers was the Delhi Times Fashion Week.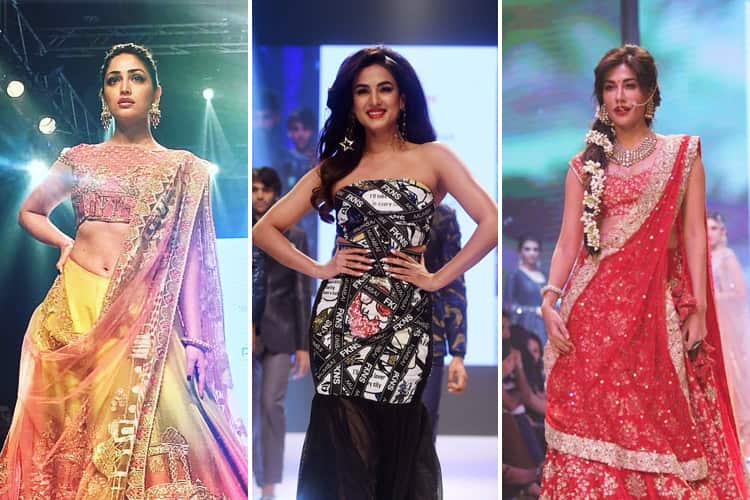 Delhi Times Fashion Week 2018:
And we are here to walk you through day-to-day fashion buzz. Savor every moment!
Day 1:
The Delhi Fashion Week 2018 began with a bang on Saturday with few of the finest designers in the industry. From Ritu Beri's khadi show to Sulakshana Monga's stunning collection, it was a show worth capturing.
Khadi India by Ritu Beri:
In honor of Mahatma Gandhi's 150th birth anniversary, Ritu Beri chose to present her collection 'Khadi from Pret to Couture', a true abode to the Father of the Nation. The designer brought the traditional fabric to light with a modern touch. From dramatic styles to quirky numbers, the collection brought together bold yet romantic styles. From structured and asymmetrical hemlines to intricate threadwork; floral embroideries to soft hued styles, the designer's compilation was heartwarming.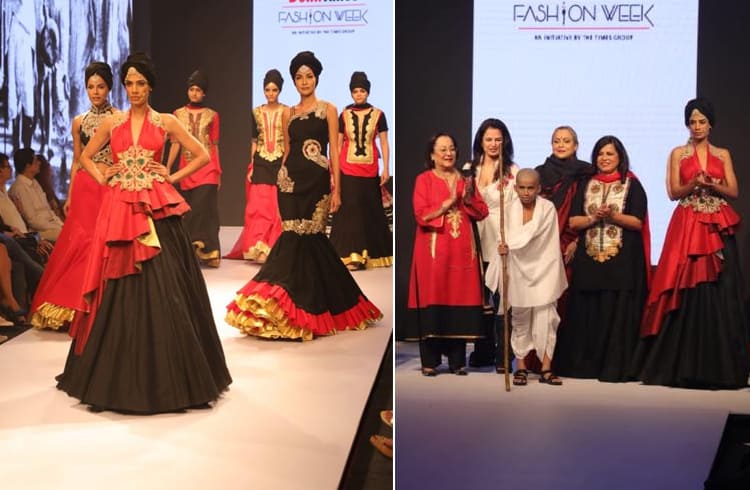 ATDC – Apparel Training & Design Centre:
50 students from Apparel Training & Design Centre brought together 35 outfits that showcased Indian fabrics with contemporary vibe. From lehengas, saris and comfy dresses, they did it all in vibrant hues. The collection included digital printing, weaving, origami, applique and many more imbibed on the outfits which brought great eye catchy factor to them.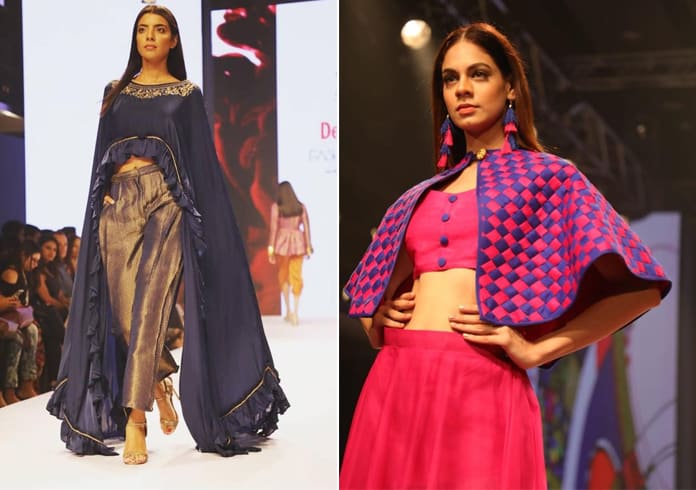 Shreya Rao Kamavarapu, fbb Colors Femina Miss India 2018 second runner-up walked the ramp in a pretty shimmering green lehenga style and set the ramp on fire.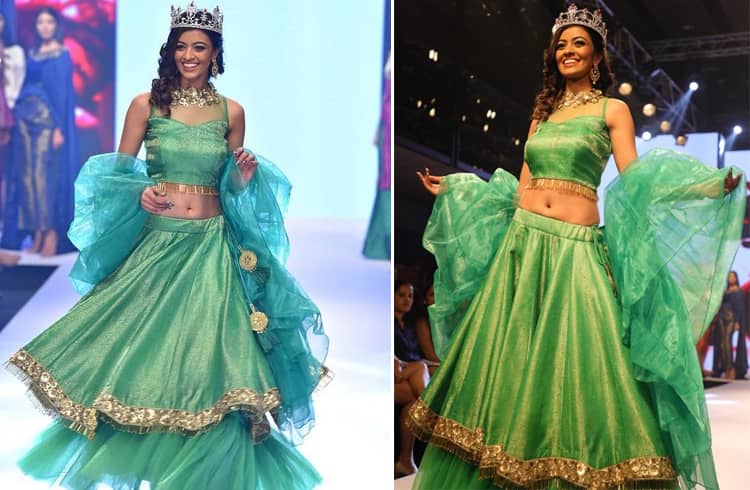 Orient Electric presents Narendra Kumar:
Fun and peppy was Narendra Kumar's collection with a touch of athleisure and a hint of pyjama styles. In printed jackets, embroidered bombers, and comfy pyjamas, the models walked the ramp rolling out a refreshing vibe. Steve Madden shoes were a part of the collection that added a spicy factor to the styles.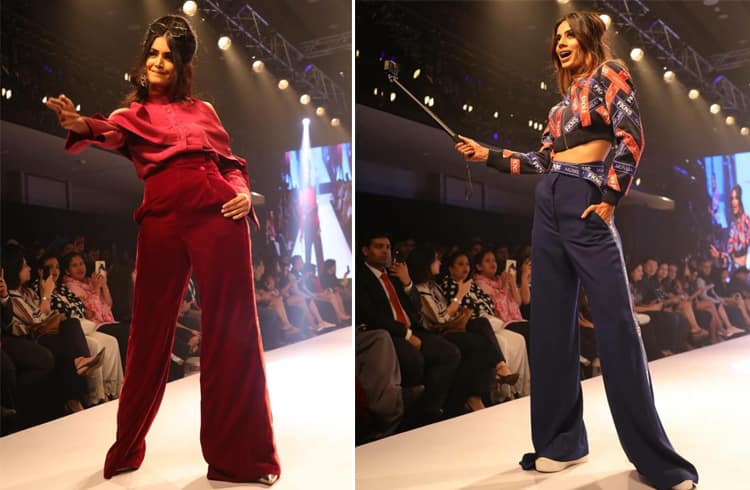 Sonal Chauhan was captured walking the ramp for the designer in a printed strapless outfit.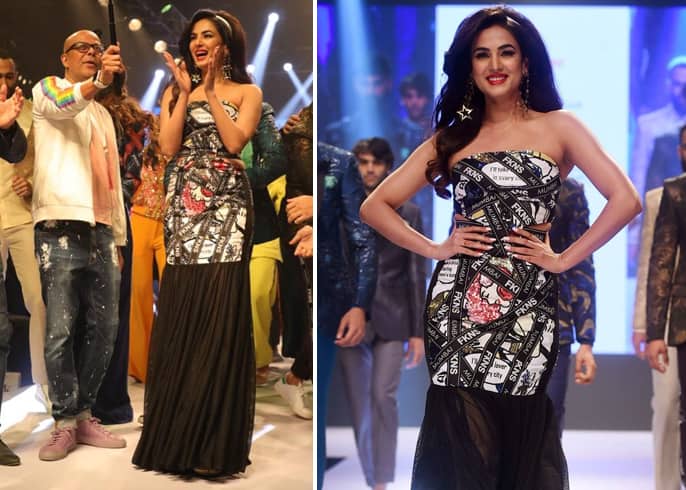 Sulakshana Monga:
Lastly, Sulakshana Monga closed the day 1 of Delhi Times Fashion Week with her modern bride theme. Catering to every festive occasion of an Indian wedding, the designer created this collection in Assam silk, raw silk and mixed fabrics. In bright hues, ethnic styles were designed with a pinch of modern spice and every style was worth more than one glance.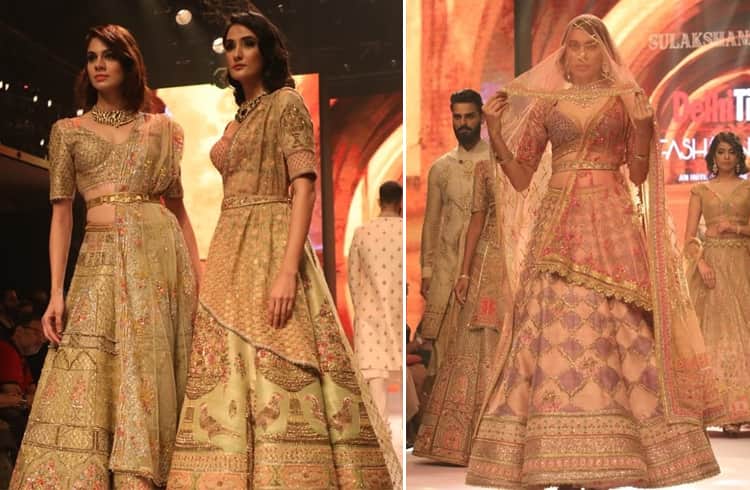 Yami Gautam walked the ramp for the designer in a pink and yellow lehenga, adorning dazzling jewel pieces.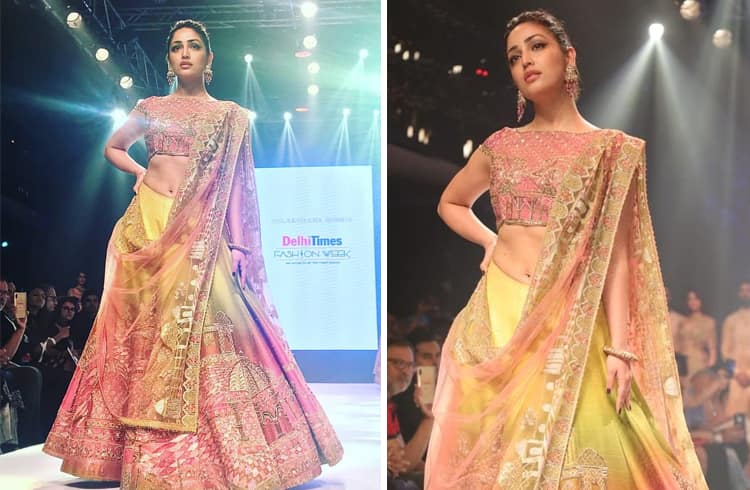 Day 2:
Unlike day 1 of the Delhi Times Fashion Week which was an assortment of ethnic styles and peppy quirky styles, the day 2 was truly a compilation of ethnic styles. From Joy Mitra who began the show to Ashima-Leena who ended the show, the fashion show turned out to be a celestial evening. Here are some snippets-
Joy Mitra:
Joy Mitra presented his collection titled 'Monsoon Wedding' at the Delhi Times Fashion Week 2018. Designed with intricate embroideries in chanderis, silks and chiffons, the collection spoke inexplicably about the traditional bridal theme.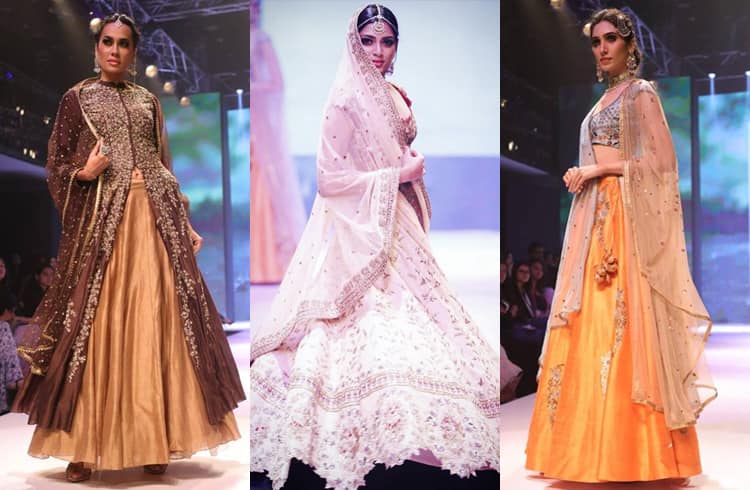 Chitrangada Singh walked the ramp looking splendid as an Indian bride. In a red lehenga that was highlighted with floral prints and embroidered details, along with a kundan necklace, shining danglers and bridal nose ring, she looked stunning.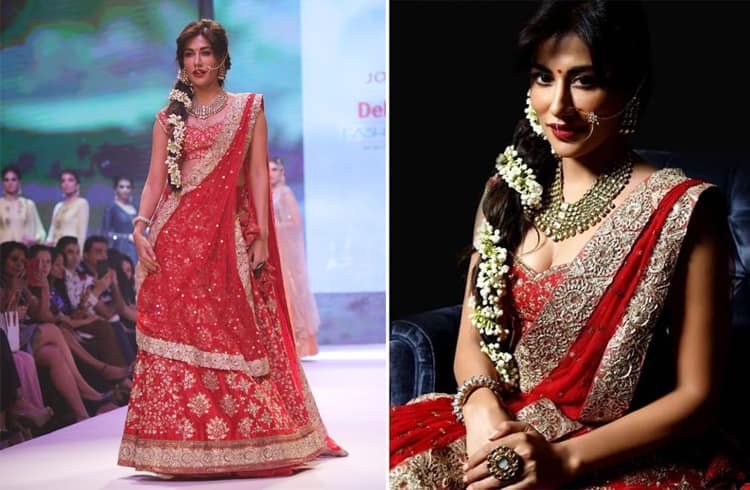 Krishna Mehta:
The second show on day 2 was presented by Krishna Mehta at the Delhi Times Fashion Week 2018. The collection was an inspiration-driven from the Mexican artist Frieda Kahlo. In long skirts, metallic styles and ethnic prints in modern silhouettes, the collection drew everyone's eyes to it. Vratika Singh walked the ramp for the designer in a bronze shirt patterned top, red lehenga and floral headgear.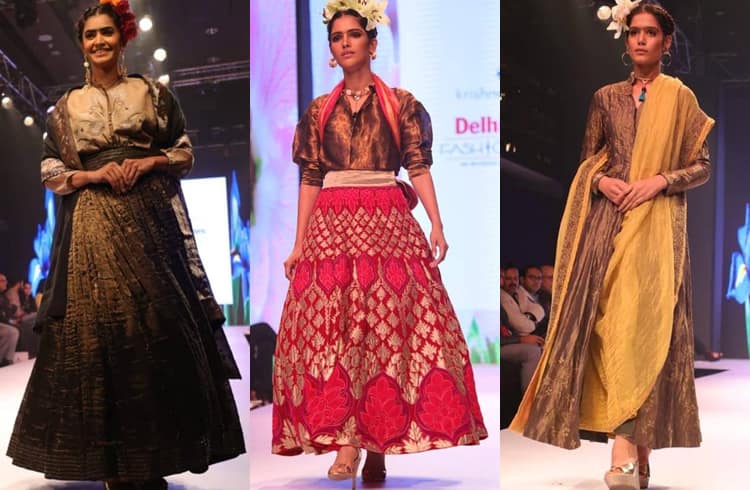 Bharat Reshma:
Bharat and Reshma Grover, the designer duo presented their men and women collection at the Delhi times Fashion Week 2018. Checkered outfits, off-beat cuts and clean finish were the major part of the compilation. Randeep Hooda walked the ramp for the designer duo in a black asymmetrical hemlined kurta, cigar pants and brogues.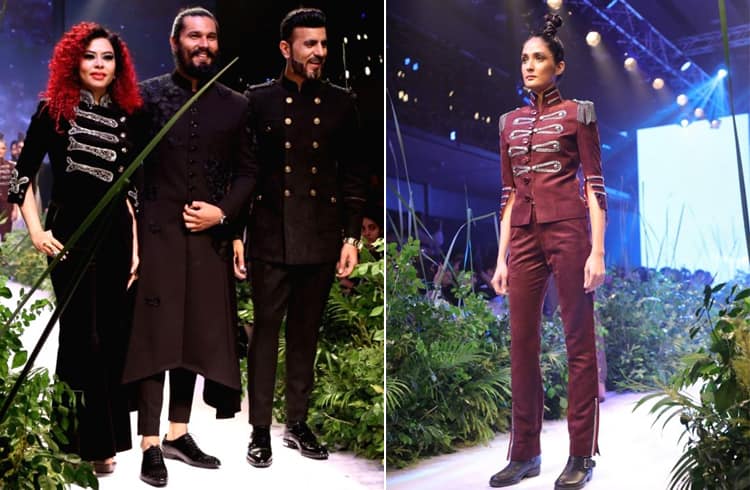 Mehraab:
Mehraab by Arun Ahuja, Arti Talwar, Anu Seth and John Marya was a collection worth falling in love. The collection comprised of embroidered bandhgalas, shawls and intricately detailed ethnic styles. Mr. World 2016, Rohit Khandelwal and Shreya Roy walked the ramp for the designers.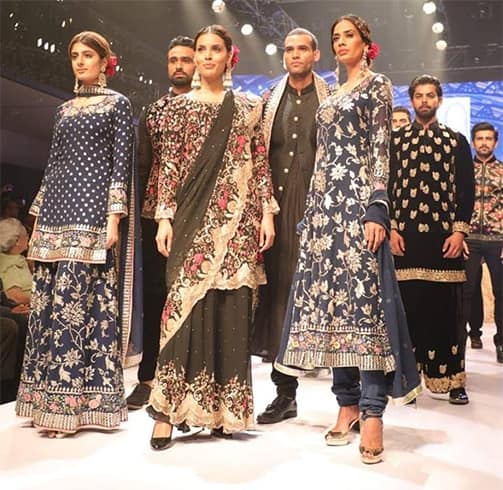 Ashima-Leena:
Finally, day 2 came to a dramatic end with Ashima-Leena collection. The collection comprised of hues like pinks, blues, peaches and black that brought the perfect wedding festive look on the wearer. Anukreethy Vas, Miss India World 2018 walked the ramp for the designer looking fab!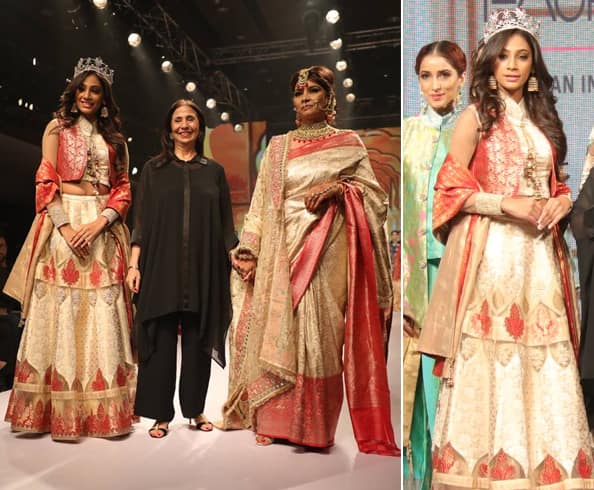 Day 3:
After the rich royal flavors of day 2, the day 3 brought much glamor and glitz-filled styles to the fashion event giving us a fun fashion spin.
[sc:mediad]
Seema Kashyap+ Madame+ Timsy Dhawan:
The show began with Seema Kashyap's floor-sweeping gowns, velvet midis, lehengas, and casuals. And for Timsy Dhawan's show, shimmering lehengas, and cut-out saris took the lead. Madame, however, showcased casual styles in comparison with the other two designers. From denim styles, cotton dresses and cigar pants, the compilation defines a modern Indian woman.
Sangria by Jabong:
From bright yellows, pinks, and purples, the collection of Sangria by Jabong brought contemporary Indian outfits to light. The collection was built for working Indian women, keeping the style in balance with comfort.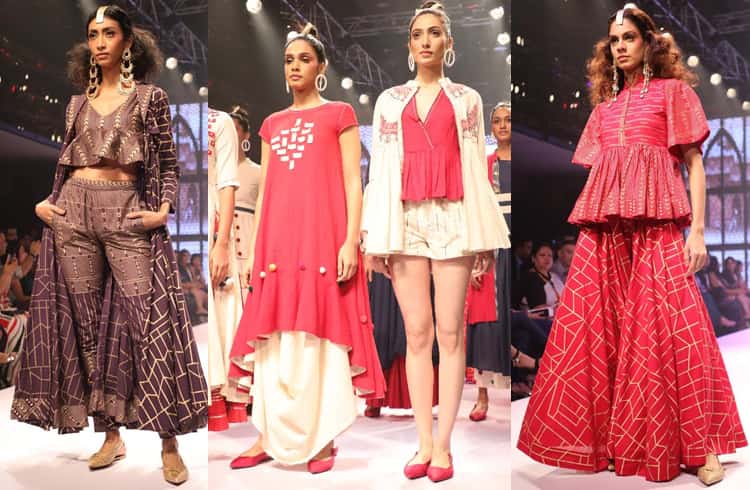 Poonam Bhagat + Nida Mahmood:
Poonam Bhagat presented her collection 'Taika' at the Delhi Times Fashion Week 2018. In bright pink, black and teal, along with metallic embroidery and layered styling themes, the designer showed drop-dead gorgeous styles.
Unlike Poonam Bhagat, Nida Mahmood opted to present quirky styles with colorful glasses, and floral headgears. It had both fun and trendy styles that kept us rooted to their spot!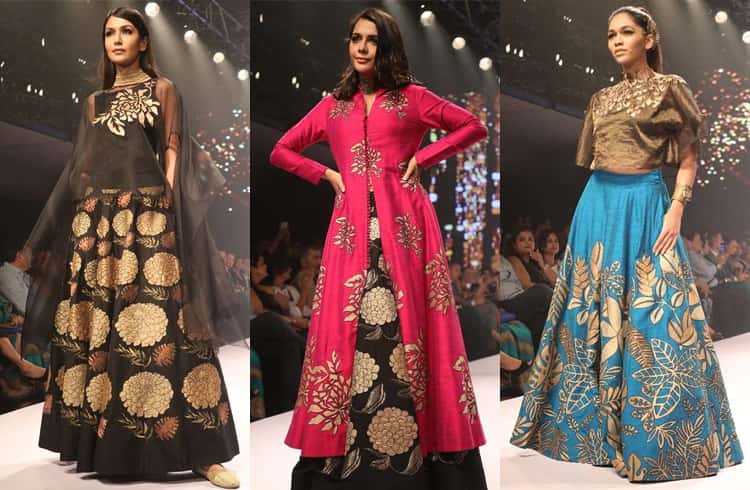 Malini Ramani:
It was graphic styles and minimalistic patterns for Malini Ramani's show. From delicate embroideries and gentle shimmers, the compilation comprised of a perfect blend of traditional creations and modern silhouettes.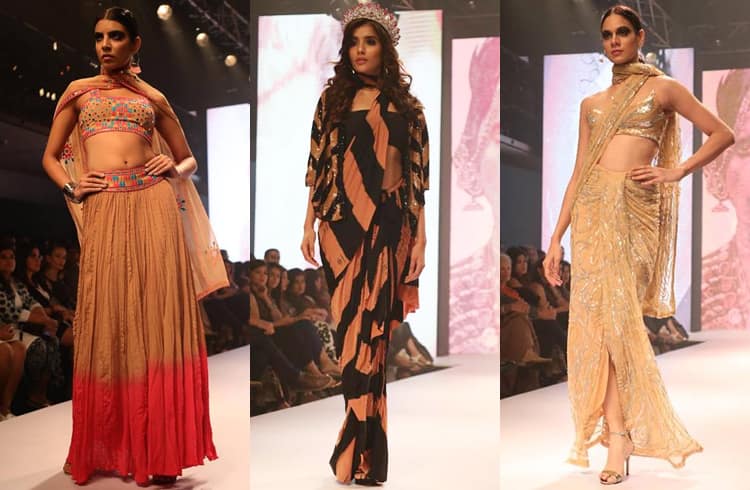 Suneet Varma:
Lastly, Suneet Varma presented his collection, the finale at the Delhi Times Fashion Week 2018. His Elixir by SV collection brought the modern Indian woman of present times embracing the traditional Indian couture.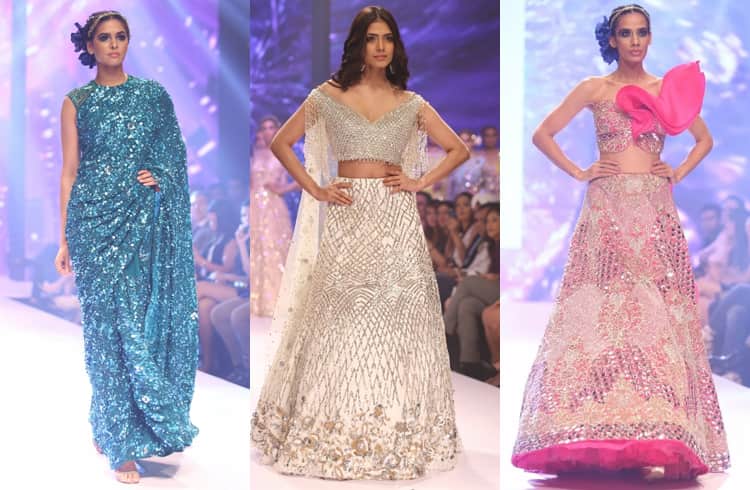 Hope you enjoyed the post!
Images Source: facebook.com/TimesFashionWeek/