Start of a new month and we don't do a featurette on magazine covers? Impossible! Just like people start their day with positive thoughts, yoga and meditation, we start our month with a lot of fashion, beauty and tips from various magazine covers.
[Also Read: Fashion Magazine Covers – March 2015]
It just sits so well with us that we kick start our month with phenomenal beauty. Gracing the covers of various magazines are beauties like Rita Ora, Nimrat Kaur, Sonam Kapoor, Jacqueline Fernandez, Kareena Kapoor, Michelle Williams among others.
Are you guys excited? Let's do this!
Nimrat Kaur on GQ
We love Nimrat Kaur to bits alright. Her roles in 'Lunchbox' and then 'Homeland' left us wanting for more. But what can we do other than wait? While we were waiting for some miracle to happen – GQ happened. God bless their souls! On the cover of GQ India, Miss Kaur looked totally ravishing. In her Atsuko Kudo low cut-figure hugging-leather dress, she looked God sent. What do ya say? Love her simple make up and wayward hair. 10/10 Miss Kaur!
Sonam Kapoor on Vogue
Sonam Kapoor looked equally gorgeous on the cover of Vogue – Indian edition. Wearing a super low-cut, lavender Armani dress with a thigh slit, Miss Kapoor sent our hearts beating faster than ever. Her highly contoured bronze make up, sleek hair and those long earrings were all on point. Generally, the stuff celebrities wear on magazine covers, are reserved only for magazine covers. But we can totally picture Sonam walking the red carpet in this dress.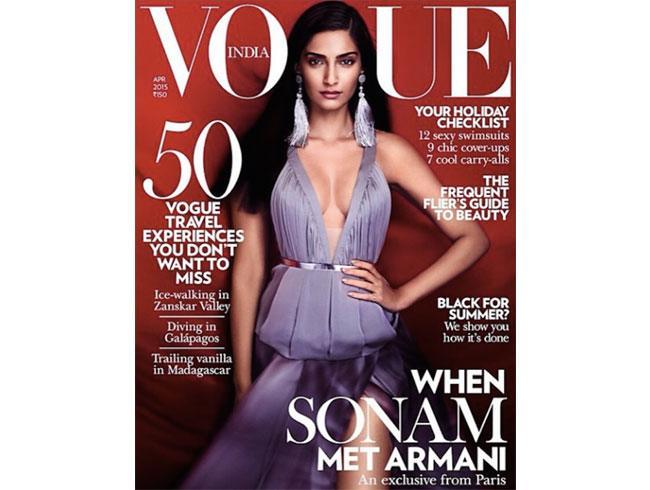 Hillary Duff on Cosmopolitan
While we were kids and were watching Lizzie Maguire, did we ever think that little Lizzie will grow up to be a bombshell? She is perhaps the only Disney child actor who didn't forget her roots and didn't let fame and publicity get to her. On the cover of Cosmopolitan, she looked HOT in a sexy fitted leather jacket and shorts by American Eagle Outfitters! Her blonde hair with darker roots look so much sexier now. And can you guys see her figure? She's been working very hard off-late and looks like her hard work is paying off! Can't wait to see her in a movie!
Jacqueline Fernandez on Harper's Bazaar
Another beauty, another reputed magazine. What's not to like about Jacqueline on the cover of Harper's Bazaar? We totally love it! Her Valention play suit, her tie-up sandals, the sultry look, on point makeup, gorgeous tresses. It's like Wah Taj! Honestly. We have no words to describe how perfect she looks. The silky finish of the playsuit and those dynamic prints are leaving us J ti bits! To be honest!
[sc:mediad]
Kareena Kapoor on Woman This Month!
While on the cover of 'Woman This Month', Ms Kapoor did a fantastic job of looking classy and regal. Is she taking tips from her mother-in-law? Or has she always been so beautiful and graceful? Let's keep that debate for another day and absorb how gorgeous this one looks on the cover. Wearing diamond and rubies, Ms Kapoor says she's going for Gold. We guessed as much, when she wore gorgeous sets during Soha Ali Khan's wedding. Love her makeup and jewellery! Do you guys feel the same?
Rita Ora on InStyle
Rita Ora made waves with her music and then her acting skills and finally set fashion trends with her sense of style. So many young girls relate to her and that's saying something. Her recent appearance on InStyle magazine had us dropping our jaws on the floor. She looked super sexy in just a lighter than tan leather jacket and sleek blonde hair. Love her dark brows and bold lips. You guys like?
Michelle Williams on ELLE
She started her career with guest appearances and slowly made her way on to the top. What we love most about her is how she never gave up, even when the times were tough. On the cover of Elle magazine, Ms Williams dazzled like a total diva. Wearing a cute black and orange strategically striped dress, she looked like a million bucks. Open bob hair and minimal makeup completed her look. Like what you see?
Do you guys have a favourite yet? It is so difficult to choose. But if we have to select one based on their sex appeal, then definitely Nimrat Kaur wins! Hands down!