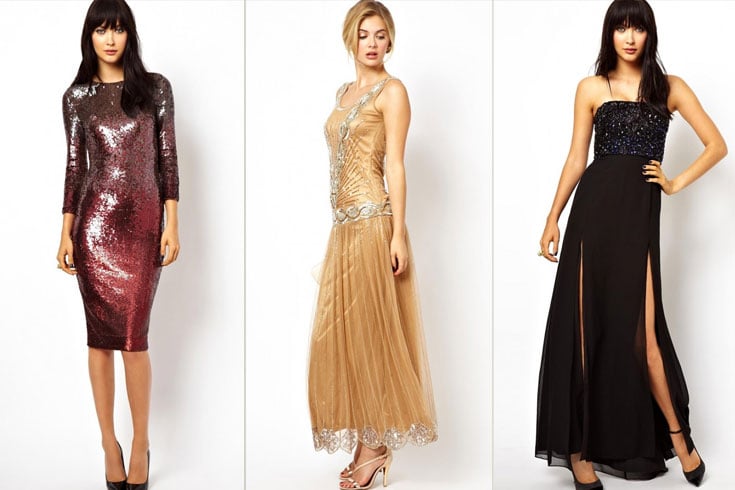 Christmas is nearing and so are goodies and celebrations. New Year's Eve is just a few days away too. How are you going to say goodbye to 2016? Just with plum cake and wine or the best and hand-picked New Years eve dresses.
I know I know most of you at this time of the year are left wondering what to wear on new years eve. Should it be traditional or modern, or something in-between?
Read the ideas below and you will happily get your answers on new years eve outfit ideas, dresses for new years eve, new year party dresses, how to dress for new years eve, new year's eve fashion.
[Also Read: Vivacious Outfit Ideas for New Years Eve]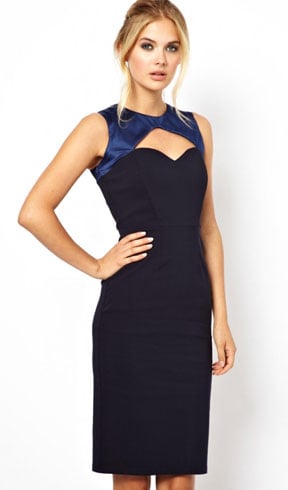 Navy Dress And Silver Accessories
I guess the best definition that comes to one's mind after having a look at this new year party dresses is "sexy and refined". Navy we know is a conservative colour but it still comes across well and ravishing in the form of navy wrap dress. When teamed up with silver accessories in the form of shawl, jewelry, clutch or high heeled sandals, this new years eve outfit ideas is good to go.
If you fear the nippy cold, worry not. Just wear a coat outside or shawl inside.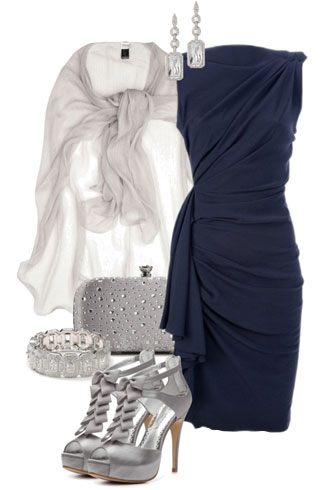 Gold All Over And Velvet Clutch
Going opera has its own sense of joy. And so this is a dress that you will be extremely fond of. Might look a bit conservative to few of you but you can always add the oomph appeal by pairing this new years eve dresses with gold metallic shoes and a velvet clutch.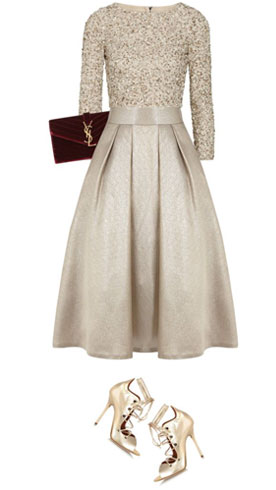 Crimson Dress, Fur Coat And Gold Accessories
Have you any idea how gorgeous you are gonna look in this crimson colored new year party dresses? Crimson is a colour that not only signifies love, but also power. Pair this wrap dress with gold accessories such as a gold brooch on the dress and the imposing white colored fur collar coat and you will look absolutely ravishing.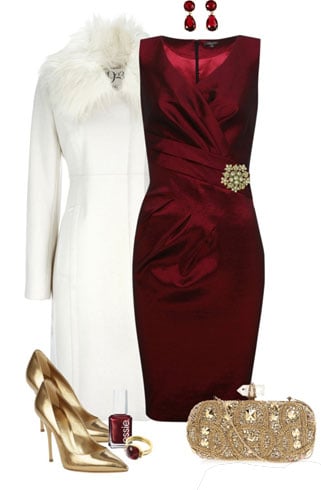 Black Top, Skirt And Jacket
Look a black magic woman by donning this new year's eve fashion. If going for a romantic dinner is on your mind and you don't wanna look extremely formal, then this black beaded top, black flare skirt and ankle boots with stiletto heels. Put on a coat like this and you will rock with the amazing colour of the fur.
[Also Read: Celebrity Outfits That You Can Wear For New Years]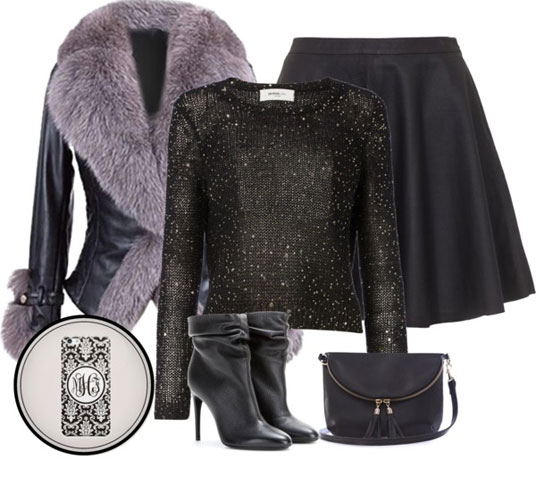 Long Royal Blue Tale
If you are in the mood to celebrate New Year's Eve in utmost style, then go for a longer gown in royal blue such as the one shown. It will go well with gold, silver, even copper.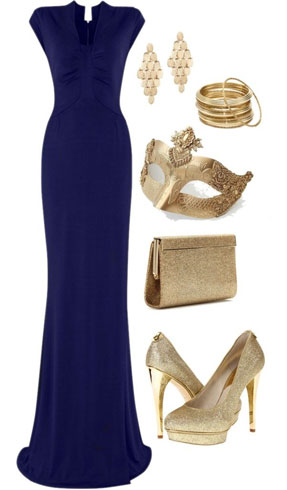 White Suit And Silver Tank Top
See white in a new perspective (and no, it is not meant for summers only) with this winter white new years eve outfit ideas. With silver beaded tank, whoever said looking hot was difficult?
[sc:mediad]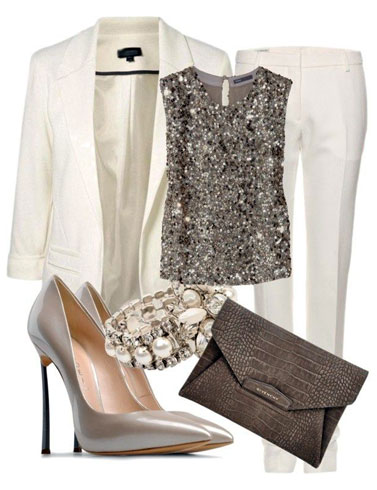 Black Dress With Kimono Cover-Up
A kimono look is not only meant for the Japanese dolls, it can easily pass off as dresses for new years eve when worn over a black dress with bell sleeves. Honestly, it's a signature look which will glam up your new year party dresses several notches up.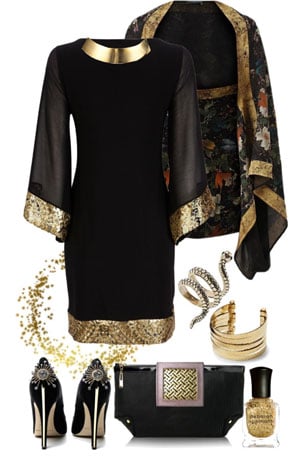 Red Silk All Over
Whether it's an official party do at the work place or a casual celebration of the New Year, slip into this red silk evening suit with red silk strap heels and you know you are going to look every bit the mysterious red.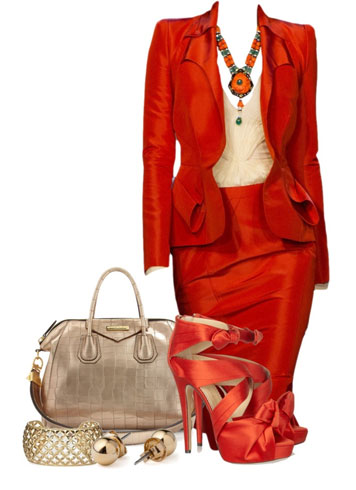 Rose Gold Wrap
If you have plans to dance the whole night, don't sit and wonder how. This sequin one-shoulder dress in rose gold accompanied with pearls and clutch will help you do just that. Remember, rose gold was rocking last year and one-shoulder dress has always been in the limelight (more when worn by celebs and social butterflies).
[Also Read: Cold Shoulder Dress]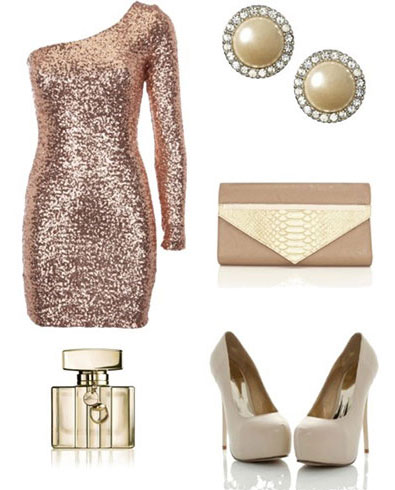 Gold Beaded Dress
Gold is all about power, wisdom and wealth (something which all of you agree on). So when you wear a gold beaded dress and an off-white blazer on New Year's Eve, you are surely bound to look as glam as gold.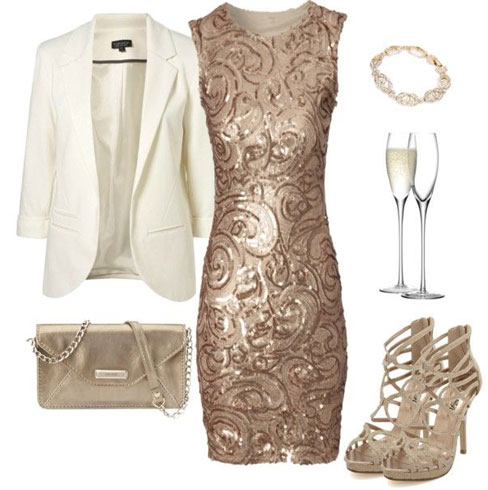 Strapless Black And Gold Dress
If you are a social bird, then drop all the barriers and slip into this strapless black dress (which will make you look one of the ravishing Hollywood babes we see on magazine covers). Yes, a clutch made of any type of material will complete the outfit (but you can also go in for a glitter-some clutch). Because New Year's Eve is meant to show some shine, isn't it?
Marsala Jeans, Black Top And Faux Fur Jacket
When you talk of new year party dresses, this outfit ensemble ensemble shown might look casual but it looks crazy, sexy and cool too. Marsala skinny jeans go with any outfit, even in winters, just as much as summers. Get a sequin tank and a faux fur jacket like one like the one shown and you are ready to rock.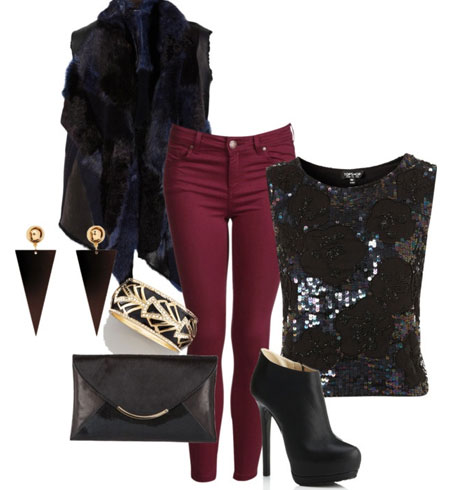 So what are your ideas on new year's eve fashion, what to wear on new years eve and how to dress for new years eve. I hope I was able to show you interesting and mod ways in new years eve outfit ideas. Share with us your views and comments.
Images Source: stylesweekly.com