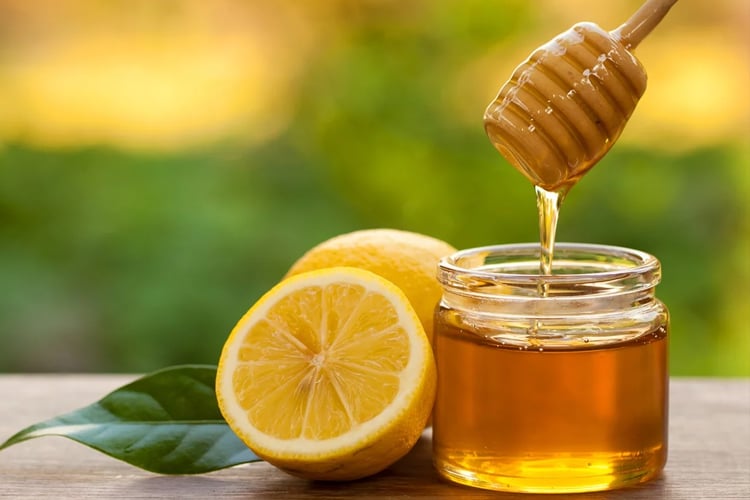 Call it a miracle potion, or magic mix Honey Lemon Water is a powerhouse of antioxidants and flavonoids, that help boost one's immunity. It is low on the glycemic index and hence does not contribute to calories.
While Lemon is a very rich source of Vitamin C and works as a detoxifying agent, the pectin fibres present in lemon slow down the digestion of sugars and starches, and improve the health of your gut.
What is Honey Lemon Water?
The concoction of lemon-honey-water when consumed every morning on an empty stomach is aimed to boost metabolism. This in turn helps you lose weight. All you need is a lemon squeezer, honey, water and lime. So simple, even a kiddo can do this!
Nutritional Values of Honey Lemon Water

Serving Size: 1
1 Cup Water
1/2 Lime
1 Tbsp Honey
Calories
75
Sodium
0 mg
Total Fat
0 g
Potassium
0 mg
Saturated
0 g
Total Carbs
0 g
Polyunsaturated
0 g
Dietary Fiber
0 g
Monounsaturated
0 g
Sugars
0 g
Trans
0 g
Protein
0 g
Cholesterol
0 mg
Vitamin A
0%
Calcium
0%
Vitamin C
0%
Iron
0%
*Percent Daily Values are based on a 2000 calorie diet. Your daily values may be higher or lower depending on your calorie needs.
Here is the List of Honey Lemon Water Benefits:
Ok, here we go. Don't forget to jot them down:
1. Lemon and Honey for Face:
Absolute must-haves to get clear and glowing skin.
How to Use:
Squeeze half a lemon in a bowl.
Mix 2 tsp honey and stir it.
Clean your face and apply this mask thereafter.
Note: Don't exfoliate your facial skin before applying this mask, as lemon juice can cause stinging sensation on the face.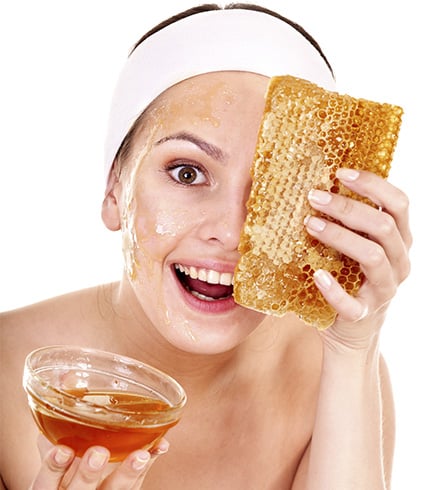 2. Lemon and Honey for Cough and Chest congestion:
The combination of honey and lemon is a traditional cure for treating mild to stubborn cough. Honey has anti-bacterial properties and lemon has strong anti-bacterial and anti-viral properties.
How to Use:
In a saucepan, put 2 cups of water, ginger and lemon juice
Boil it and then let it cool for 20 minutes
Transfer it into a glass and add honey
Drink this concoction once a day for few days till the cough subsides
Note: If you are a busy bee and don't have the time to prepare the solution every now and then, then add double or triple the garlic and lemon juice portion and adjust the honey accordingly. Store the solution in the refrigerator.
3. Lemon Honey Water at Night:
Lemon water with honey is good for losing weight.
How to Use:
In a glass of warm water, add half of lemon juice and 2 tsp honey.
Drink it at night before going to bed.
Note: There is no hard and fast rule. You can also drink lemon honey water in the morning.
4. Lemon Honey Water for Weight Loss:
This is the best recipe (or tonic) coming from grandma days to reduce pounds and flab.
How to Use:
Extract the juice of a lemon
Pour it in a glass containing warm to lukewarm water (not hot)
Mix 1 tsp raw honey and stir it well
Now drink it on an EMPTY STOMACH
Note: Repeat this remedy every morning till you find satisfactory results.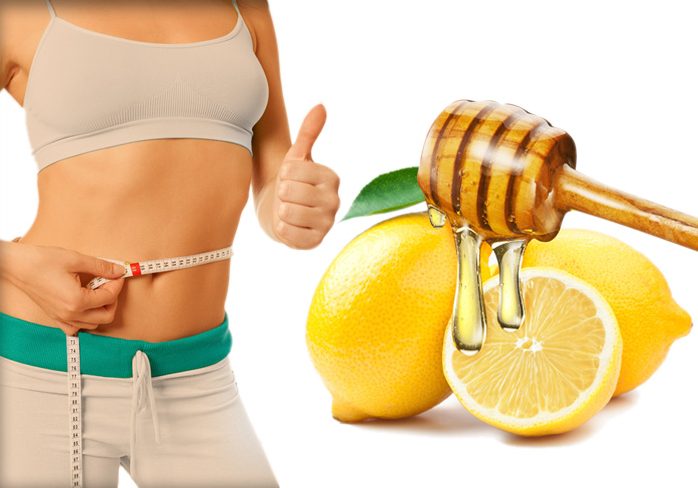 5. Lemon Honey Water melts down fat:
Shrinking your waist was never so easy, thanks to the lemon honey water home remedy. The diuretic effect of lemon-honey-water removes toxins from the body. Hope you know toxins which stay in the body add to obesity.
How to Use: Drink a glass of lemon honey water on an empty stomach. It will get you in the fat-burning mode.
6. It Improves Digestion:
This is one of the prominent and noticeable benefits of drinking lemon and honey water. The "miracle" drink ups the stomach acid production and bile secretion. This causes breakdown of food materials and helps in faster absorption of nutrients, thereby faster digestion.
Note: Food consumed and undigested stays in the digestive tract leading to bloating. This causes acidity and an array of digestion problems.
7. Gives You a Natural Glow:
Lemons help in removal of dead skin cells whereas honey is a natural anti-bacterial agent. This combined package gets you beautiful clear skin.
How to Use:
Mix its juice with 1 tbsp organic honey
Apply this mask over your face and neck (avoid the area under your eyes)
After 20 minutes, wash it off with warm water first, then with cold water.
Dry the face by patting it with a soft towel.
Note: Some skins are particularly sensitive to lemon juice. So do a patch test before applying lemon juice to the face.
[sc:mediad]
8. Promotes a Healthy Weight:
Says Dietician Anshul Jaibharat "The combination of honey and lemon makes you feel full for longer, and reduces cravings, thus helping you maintain a healthy weight". Well said! And how do you do it – mixing few tsp of honey with few tsp of lemon juice in warm water and drinking it.
9. Helps Improve Oral Health:
Even the best of qualifications and attire fail in front of bad breath. The acidic part of lemon along with the beneficial properties of honey and water clear up foul breath immediately.
10. Energy-Booster:
The plus point about lemon honey water combination is that it has very few calories (unlike other drinks for weight loss). While honey boosts our energy levels, the water cleanses our digestive system. As for lemon, being rich in antioxidants, it helps in beating fatigue. How can you forget the scent of a lemon? It is mood-uplifting and is a natural relaxant.
11. Healthy, Low Calorie drink:
Drinking Caffeine (the humble tea and adventurous coffee) gives our brain a temporary high. But it also causes acidity and digestive disturbances. Fruit juices have sugar, even when unsweetened. Lemon honey water gives you the right calorie mix from "natural" sugars in the honey, along with amino acids, vitamins, minerals and enzymes.
Note: Lemon honey water gives you no more than 20 to 25 calories – most of it from the honey and just 1 calorie from the juice of lemon.
12. Acts as a diuretic
The word 'diuretic' means agents that flush out water from your body. Where does honey-lemon-water come in? Honey plays the role of an antibacterial agent, getting rid of many a common infection. Lemon and water act as great diuretics that increase the production of urine.
Note: Lemon honey water helps get excess of fluid out of the body, and reduces edema and hypertension in the process.
13. Detoxifies the body
Unknowingly, so many toxins enter our body in the course of the day through environmental pollutants, and contaminated food and drinks. Over a period of time, they get accumulated in the tissues (especially in the liver and kidney) and play havoc with the proper functioning.
How to Use: Drinking citrus fruit juices (especially lemon water with honey added to it) acts as a good detoxification agent.
14. Clears the skin of acne
One of the best things for acne control is taking lemon and honey water early in the morning. Expect your skin to get clearer within 2 to 3 weeks of this daily practice as citric acid of lemon is a good chemical exfoliating agent.
Note: .Applying lemon juice on the face does help control acne, but this treatment is not for everyone.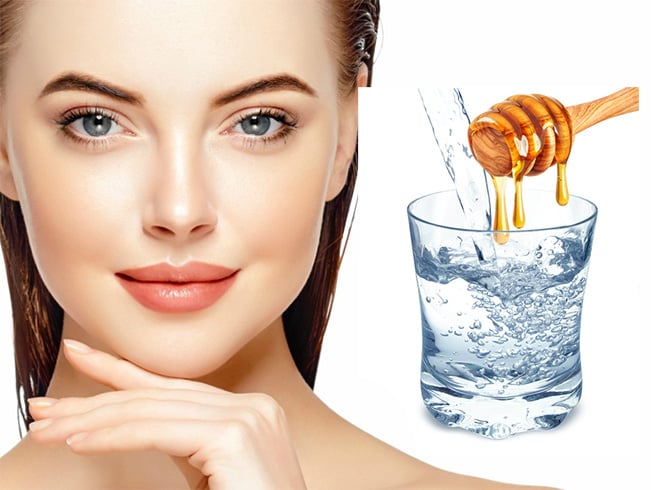 15. Increases Immunity
The immuno-modulating effect of lemon-honey-water drink has the power to protect your body from seasonal infections and allergies.
How to Use: Take this drink every day. This will reduce your chances of getting colds and flu.
16. Honey Lemon Water for throat infections
Yeah, a sore throat is very disturbing and irritating. A warm drink of lemon honey water is there to give you instant relief.
Note: The peroxides of honey are good disinfectants. Which is why, honey when applied to wounds and burns helps in healing.
17. Relieves constipation:
Nothing beats warm water with honey-lemon when it comes to tackling constipation. According to nutritionist, Naini Setalvad, "Water helps in digestion and hence can help in relieving one from constipation. Warm water also gets absorbed by the hardened stool making bowel movements easier and preventing constipation."
Note: Stick to taking warm lemon-honey water every morning as it helps promotes regularity in bowel movements and goodbye to constipation.
18. Urinary tract Infections and Kidney Stones:
Flushing out kidney stones and UTI seems a tall and complicated task. Trust lemon-honey-water to set things right.
Note: Sodium citrate and potassium citrate are mostly prescribed as a first line of treatment for kidney stones and infections in the urinary tract. Lemon juice as you know is acidic. The citric acid content of lemon gets converted to sodium citrate in the body which gives an alkalizing effect. This makes drinking lemon water a promising solution for kidney problems
19. Enhances Metabolism:
Water with honey and lemon is indispensable for the smooth functioning of our body metabolism. It promotes digestive health and sustains the energy throughout the day.
Note: Metabolic rate maintained at optimal level helps in burning calories and fat, and therefore weight loss.
20. Helps In Cleansing The Intestines:
Ever heard of MASTER CLEANSE of body? This recipe is perfecto.
How to Use:
Mix 2 tbsp lemon juice, 2 tbsp raw organic honey, 1/5 tsp cayenne pepper and 10 ounces water
Drink this lemon, cayenne and honey concoction 6 to 12 times a day for 1 to 2 days
Note: Avoid eating solid foods or sugar when your system-cleansing of your body is on.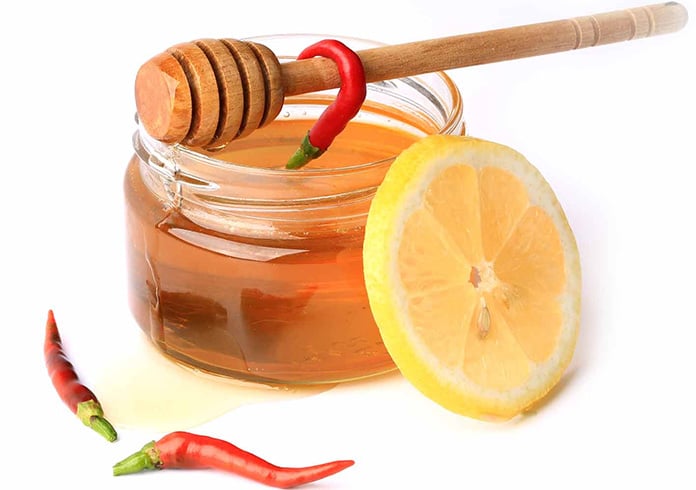 21. Balances pH Levels:
Did you know that when our body's pH levels up, our body tends to become more acidic. This makes us prone to high cholesterol and diabetes. The good news? Drinking water infused with fresh lemon juice is a great way of balancing pH levels and lowering acidity levels.
22. Promotes Healing:
Honey when applied to minor wounds prevents infection and speeds up healing. Lemon juice is always a natural cleanser and antiseptic. It's a WIN-WIN situation, thus!
23. Freshens Breath:
Get rid of unpleasant and awkward situations when you open your mouth by taking lemon – a natural, long-lasting breath freshener. Lemon and honey boost the production of saliva in the mouth. This reduces bad breath.
How to Use:
In a glass of lukewarm water, add juice of 1 lemon and 1 tsp honey.
Stir it well so that honey gets completely dissolved
Drink it twice a day for 10 to 14 days (without a break).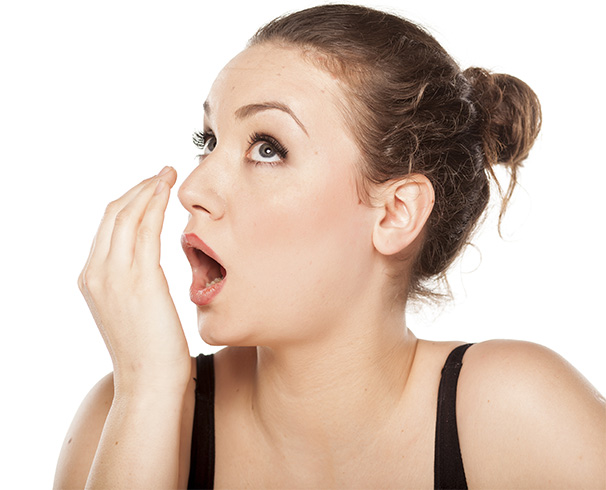 24. Hydrates Your Lymph System:
Did you know, dehydrated lymphatic system makes us susceptible to disease? Honey-lemon-water helps in flushing out the toxins from the body that have built up in the lymphatic system. In addition to cleansing, it also hydrates the lymphatic system.
How to Use: Drinking lemon honey water in the morning hours hydrates our lymphatic system. This leads to higher immunity and better energy levels.
Honey Lemon Water Recipe:
It is simple and easy-to-make!
Ingredients: A cup of water, 1 tsp organic honey, half a lemon
Directions:
Boil a cup of water
Let it cool down to lukewarm temperature
Add 1 tsp of organic honey to the water
Stir it well so that the honey dissolves
The honey-water is ready
Now squeeze the juice of half a lemon in this honey-water preparation
Stir it and drink.
Note: Make sure you drink this preparation on an empty stomach. Also, do not reheat the mixture (as according to Ayurveda, heating honey can make it toxic).
Lemon Honey Water Side Effects:
Side effects of Lemon Juice crop up due to "overdose" – when you are taking 3 cups of it a day.
So, don't ignore these if they happen:
Nausea, Vomiting and Upset Stomach
Dehydration and frequent urination
Precaution for Honey Lemon Water:
Never have more than 3 cups of lemon Juice in a day. It is an acidic fruit, with a pH of around 2.
Always dilute the lemon juice before drinking it. Since it is acidic in nature, it can cast a strong decay effect on your teeth
When using it as a cooking ingredient, follow the standard amount of lemon juice which is 5 ml
Use the lemons immediately after cutting it. Never postpone its use.
Avoid lemons that do not have a shiny and firm appearance
In summers drink lemon honey water daily, but in winters reduce its consumption
Final Words about Honey Lemon Water Benefits:
Kickstart your day with this unique combination of lemon juice, honey and water. If by any chance you are acidic or allergic to lemon or honey, do consult a specialist before consuming them. If you are on a weight-loss trip, kindly make a note that honey is also a source of sugar, so consume it only once a day.
Hope you enjoyed reading this informative blog on lemon honey water. Write in and tell us.