If you love Asian cuisine, then you are most likely to be familiar with red bean paste. But are you aware of which small red beans are used for creating this unique flavor? They are the adzuki beans. These beans are a rich source of essential nutrients, vitamins, and minerals.
Studies have associated beans with slow ageing signs, improved heart disease, cancer prevention, lower cholesterol, reduced waistlines, and increased energy. With their nutty flavor, even the complex of palates complement with the adzuki bean.
Keep reading to take a look at how impressive adzuki beans can truly benefit your health.
What are Adzuki Beans?
Adzuki beans are native to East Asia and the Himalayan region. It is most commonly consumed in Japan, Korea, China, and other Asian countries. The name 'adzuki' is derived from the Japanese dialect, although the pronunciation often sounds like 'azuki.'
These beans are red in color, but there are white and black beans also available in certain areas. The scientific name for adzuki beans is Vigna Angularis, which are grown annually.
Adzuki beans are primarily used for sweetened Asian cuisines. When these beans are boiled and sweetened into a red bean paste, it can be added to multiple dishes, including savory, sweet, sushi, cakes, candy, desserts, or topping for waffles, bread, and biscuits. The beans can also be used for ice-cream preparation.
Most people take beans as savory, but adzuki beans are meant to be sweet.
Adzuki Beans Nutrition and Origin:
Adzuki beans are an annually grown through East Asia and the Himalayas. The varieties, mostly common in Northeast Asia, are red, but black, white, and gray, and mottled varieties are also existent. The adzuki beans have a high nutritional content. One cup of cooked adzuki beans has about:
278 micrograms folate (70 percent DV)
1.3 milligrams manganese (66 percent DV)
386 milligrams phosphorus (39 percent DV)
1,224 milligrams potassium (35 percent DV)
0.7 milligram copper (34 percent DV)
120 milligrams magnesium (30 percent DV)
4.1 milligrams zinc (27 percent DV)
4.6 milligrams iron (26 percent DV)
0.3 milligram thiamine (18 percent DV)
0.2 milligram vitamin B6 (11 percent DV)
0.1 milligram riboflavin (9 percent DV)
1.6 milligrams niacin (8 percent DV)
64.4 milligrams calcium (6 percent DV)
Adzuki Beans vs. Kidney Beans:
If you are wondering about the difference between adzuki beans and kidney beans, then here are several facts about them.
Adzuki beans contain more calories than kidney beans, but they also have more protein and fiber per serving.
When it comes to vitamins and minerals, adzuki beans have more value.
Both beans have equal content of thiamine and Vitamin B6.
The consumption of adzuki beans and kidney beans can increase antioxidant intake and protect against inflammation, boost heart health, and maintain a healthy blood sugar, which make them excellent for diabetes.
Adzuki beans contain more protein compared to kidney beans. Vegetarians or athletes looking to increase protein intake can opt for adzuki beans.
Adzuki beans are a better option for people suffering from anemic symptoms or low energy, since they have high iron content as compared to kidney beans.
Kidney beans have lesser calories compared to adzuki beans. If calories are a major concern, then kidney beans can be a better choice.
Kidney beans can be found in any local store but adzuki beans are difficult to find.
Health Benefits of Adzuki Beans:
The adzuki beans have a unique flavor and full of nutrient content. Let us take a look at the adzuki beans health benefits: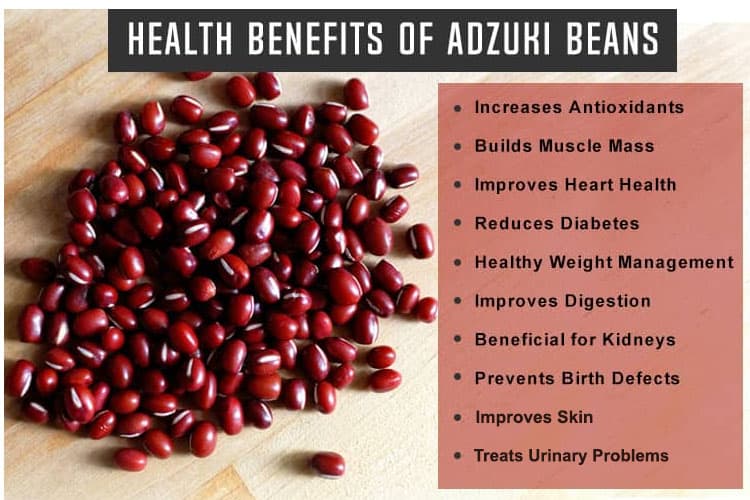 1. Increases Antioxidants:
Adzuki beans are not only tasty, but they're packed with disease-fighting and health-promoting antioxidants. Studies have identified at least 29 different compounds present in adzuki bean, making them the highest antioxidant foods present. These compounds include bioflavonoid that is known for their antioxidant and anti-inflammatory health benefits.
2. Builds Muscle Mass:
Consume protein foods like adzuki beans, to build muscle mass. One cup of adzuki beans contains 17.3 grams of protein, making it rich in protein content.
Our muscles are made up of protein. Hence, protein is essential to build and maintain muscle. Without sufficient protein, muscle loss occurs.
If you do heavy-lifting, then your protein requirement should be higher. Combining daily workout routine with an increased protein intake is an awesome way to get your body not only lean, but stronger.
3. Improves Heart Health:
Adzuki beans have a high concentration of dietary fiber, folate, potassium, magnesium, and B vitamins. Including adzuki beans in your daily diet can reduce chances of coronary heart diseases.
The dietary fiber regulates cholesterol levels while their potassium relaxes blood vessels and increases blood flow, which can reduce blood pressure and heart strain.
4. Reduces Diabetes:
Adzuki beans have a high content of protein and fiber. They can help in balancing blood sugar levels. A research conducted on animals have shown that the protein present in adzuki beans can inhibit intestinal α-glucosidases, which are enzymes engaged in breakdown of complex carbohydrates like starch and glucogen.
In addition, adzuki beans act like alpha-glucosidase inhibitors that are known to control diabetes. This makes the adzuki beans a great addition to any diabetic diet plan to treat, manage, and prevent diabetes.
5. Healthy Weight Management:
Adding adzuki beans to our diet can help us to eat lesser and keep you feeling full for longer hours. Feeling full for longer means you eat lesser and reach satiety without taking too much food.
Adzuki beans also have high fiber content and keep you satiated for longer and have less energy dense. This means you have gain fewer calories for taking the same amount of food.
So whether you're trying to lose weight or maintain a balanced weight, we suggest you to take adzuki beans as part of your daily diet.
6. Improves Digestion:
Similar to various bean varieties, adzuki beans are high in dietary fiber, which is one of the essential elements for digestive health. The fiber can stimulate peristaltic motion, transferring food through the digestive tract and enabling the smooth intake of food nutrients.
The fiber can also help in eliminating constipation, diarrhea, and bloating, and also other serious conditions like colon cancer.
[sc:mediad]
7. Beneficial for Kidneys:
Adzuki beans greatly benefit your kidneys. According to experts, it can help to regulate kidney functioning and restore moisture balance. It is best to consume adzuki beans twice a week for maximizing its benefits.
8. Growth and Repair:
There is a sufficient amount of protein present in adzuki beans, which is an important element of our diet, particularly for vegetarians and vegans who do not get enough protein from animal sources. The adzuki beans protein can breakdown into essential amino acids that our body requires for creating new cells, tissues, and organs for growth and repair.
Adzuki beans can also provide an energetic boost due to the content of high protein.
9. Detoxification:
Adzuki beans contain a mineral known as molybdenum in high concentration. This is a trace mineral and is present in several foods. But it plays an important role in liver detoxification. Even a half-serving of adzuki foods provides 100% of the daily recommended intake of molybdenum.
10. Prevents Birth Defects:
The high content of B vitamins, especially folic acids, can help in preventing the development of birth defects in unborn babies. The neural tube defects are a direct resultant of folate deficiency. Hence, the high content present in adzuki beans can help in promoting a healthy delivery.
11. Better Bone Health:
If you want to prevent osteoporosis and delay the onset of old age, then increase the intake of minerals like zinc, copper, and magnesium into your daily diet. This can boost your bone density strength and prevent bone demineralization. Adzuki beans also contain these essential minerals, which help in maintaining a fit body.
12. Improves Skin:
Adzuki beans are excellent for exfoliating and skin cleansing. You can make use of bean powder with aloe gel to make a nourishing face mask. Thus adzuki beans can thereby reduce skin infections and swelling.
13. Reduces PMS Symptoms:
Manganese is present in adzuki beans, which is an essential mineral for performing vital functions in our body, including nutrient absorption, reducing PMS symptoms, and strengthening immune-system defense system. Consuming adequate amount of adzuki beans daily can help in improving several PMS symptoms like muscle pain, anxiety, sleep problems, mood swings, and tenderness. Studies revealed that women who have lower manganese levels within their bloodstream may experience pain and other mood related problems during pre-menstruation stage. One single cup serving of adzuki beans (230 g) has 57.30% of the daily required intake.
14. Treats Urinary Problems:
Adzuki beans can help to treat urinary problems. It contains nutrients and fiber to treat urinary infections. The beans can also improve the health of urinary tract in both men and women. Hence, you can protect yourself from bladder problems by consuming these beans.
15. Prevent Skin Cancer:
Women can prevent breast cancer by taking adzuki beans. These beans are rich in nutrient content and have anti-cancerous properties. It contains ingredients that make the cancer cells die. Consuming these beans can help to prevent breast and colon cancer.
Interesting facts of Adzuki Beans:
According to a research, adzuki beans was primarily cultivated in East Asia and later spread to native species in the Himalayas. The earliest known evidence of the adzuki beans is derived from Japan around 4000 B.C. In China and Korea, the adzuki bean specimen dates from 3000-1000 B.C. which is believed to be cultivated ones. In East Asian cuisine, the adzuki bean is commonly sweetened before consuming.
It is often boiled with sugar to make a red bean paste which is a common ingredient in all of these cuisines. It is also common to add flavoring to bean paste, like chestnut. Red bean paste made from adzuki beans is used in a variety of Asian cuisines. There are few Asian cultures that enjoy red bean paste as a filling or topping for making several types of waffles, pastries, biscuits, and baked buns.
Where To Buy Adzuki Beans?
It is best to purchase organic adzuki beans in dry and uncooked form. Most healthy stores use readily available whole adzuki beans. There are health stores that supply adzuki bean flour, a protein rich, gluten-free flour alternative.
How To Prepare Adzuki Beans:
Once you are ready to use your dry red beans, you will need to soak them:
Directions:
Transfer dry beans in a bowl covered with several inches of water. Then cover it using kitchen towel. Allow it to sit for eight hours.
After eight hours, you will notice the dry beans may have extended.
Transfer the beans in the refrigerator. Use it within the next few days because it spoils easily.
To further increase the digestibility and nutrients, you may want to sprout the beans.
Adzuki Beans Recipe:
Adzuki beans are absolutely delicious and can be made in different ways. They are also known as healing foods and are essential for daily diet. There are many ways to make adzuki beans. Here are few recipes that are total crowd pleasers:
1. Turkey Chili with Adzuki Bean Recipe
This turkey chili includes adzuki beans, the red bean used commonly in Asian cuisine. These beans are part of the healing diet as they contain adequate iron, magnesium, folic acid, zinc, and potassium content. If you are suffering from iron deficiency, you will know that you are not getting enough of this essential mineral to keep you energized, sleep better, and maintain a positive mood.
Ingredients:
¼ cup whey from yogurt or 1 tablespoon apple cider vinegar
4 cups low-sodium chicken or turkey broth
½ pound smoked turkey, pulled
32 ounces diced canned tomatoes, sugar & BPA free
1 tablespoon chili powder
2 teaspoons smoked paprika
1 tablespoon grass-fed butter or coconut oil
3 medium garlic cloves, pressed or minced
Directions:
Soak adzuki beans overnight in the filtered water with vinegar. Drain and rinse after soaking.
Combine the beans with the broth and salt in a pot or Dutch oven. Bring it to boil and reduce heat. Cover and simmer for 30 minutes.
Add the pulled smoked turkey, tomatoes, chili powder, smoked paprika, and cumin to the beans. Stir to mix and continue to simmer while completing the next step.
In a skillet over medium-high heat, sauté the ground turkey and onion in butter or coconut oil. When the turkey is half-done, add green peppers and garlic. Continue to sauté until the turkey turns brown.
Add the ground turkey and veggies to the chili and simmer uncovered, for 15-20 minutes, until the chili is slightly thickened.
Taste for seasoning and add salt for flavor or chili powder for extra spicing.
Have with avocado, milk, yogurt, salsa or green onion. The flavors will become richer over the next few days.
2. Cucumber, Tomato, and Sprouted Adzuki Bean Salad
The interesting addition twist to this salad is cooked sprouted adzuki beans which bring out a full nutritional balance. All the ingredients like cucumber, tomato, and sprouted adzuki bean have a healthy dose of balanced protein. All this makes a great light meal. The sprouting beans are a common nutritional technique, especially popular in North Indian cuisine.
Take a look at the recipe of the salad below:
Ingredients:
¾ cup sprouted adzuki beans
2 medium sized cucumbers, peeled and cut into small cubes
2 medium sized tomatoes, cut to match the cucumbers
½ medium sized red onion, finely chopped
1 jalapeno, seeded and minced
1 teaspoon black or sea salt
2 tablespoons chopped cilantro
Directions:
Place the beans in a pot with water and salt. Cook for eight minutes. Drain and cool.
In a mixing bowl, add in the cucumber, tomatoes, and red onions, and mix well.
Add in the jalapenos and beans.
Squeeze in the lime juice, add in the olive oil, black or sea salt. Then mix in the cilantro.
Finally add in the cooked adzuki beans.
You can serve the salad immediately or wait for an hour. The flavors can improve considerably up to an hour.
Side Effects Of Adzuki Beans:
The most common side effect of consuming adzuki beans is gas problem. If you are not a bean eater, then you should introduce adzuki beans into your diet slowly.
If you opt for dried beans, you need to soak them. Do not use the soaked water to cook them, as it will become gas-producing.
Digestive enzymes come to help if you have digestive problems. The good news is that adzuki beans are easier to digest.
Adzuki beans are an excellent source of essential nutrients, vitamins, and minerals and are used for making red bean paste. In order to use adzuki beans, you need to soak them and sprout them too. This can bring about an optimal nutrition and taste. Have you tried Adzuki beans before? Give your comments in the box below.