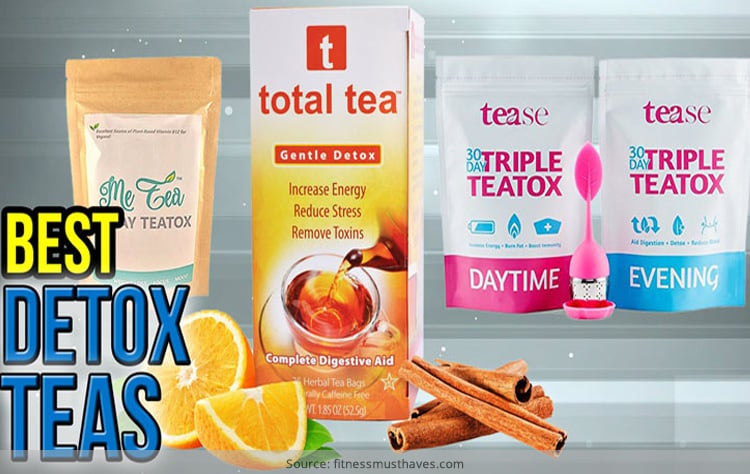 With the cup of daily stress brimming, most of us are on the lookout for ways and means to keep us healthy, relaxed, charged, and invigorated. Yes, tea and caffeine seem to be the only options available. But having a cup of detoxification tea can bring a series of health benefits – from boosting your immune system to improving your liver functioning, purifying your bloodstream, and regulating your bowel and bladder movement. Isn't a detox program much-needed after those holiday get-togethers and cocktail parties? Come, let us know more about this superfood that can work wonders for our health.
What Is A Detox Tea?
As the name suggests, detoxification tea is meant to 'detoxify' your body i.e. remove impurities from your system and help you lose those extra pounds (which happens in the long run, not immediate). A pack of detox tea is usually an exotic combo of various types of herbs – all of them aid digestion and detoxification.
Did you know, Detox tea is also known as TEATOX?
Why Do You Need Teatox?
The sad part is that many people complain about a sluggish digestive system. And there are many reasons for it – starting from overindulgence to bingeing on junk food, unhealthy snacks and 'eating on the go'.
Detox teas or Teatox have polyphenols and other antioxidants in them which benefit individuals who suffer from cardiovascular illnesses and other health problems. Before you go gaga over this food trend here's a word of advice –
Having detoxification tea is not enough. It is important to make major lifestyle changes whether it's related to having a balanced diet or exercising regularly or cutting out on alcohol, caffeine, and cigarettes. Moving on here is our pick of the Best Detox Teas you must include in your health regimen in 2018.
Top 15 Detox Teas You Must Have In 2018
Enjoy reading as much as drinking best cleansing teas that are a must-have in 2018! Don't forget to share it with your friends and family members.
1. Yogi Berry DeTox Tea:
Yogi Berry DeTox Tea is a sweet blend which combines the exotic flavors of the Hibiscus with the superfruit Açaí Berry. It supplies you antioxidants to combat the adverse effects of free radicals. Vegan, Kosher, Caffeine and Gluten-free, this tea is a fav among first-time detox tea drinkers. Its fruity notes leave you feeling revitalized.
2. The Republic Of Tea Get Clean Herbal Supplement:
This 3-pack is a two-week detox supply of gentle herbal teas that can be used along with a cleansing program or alone to detox the body. The Get Clean AM is a morning herbal tea blend made with dandelion leaves, spearmint leaves, organic cucumber, and other flavors to remove the toxins in the kidneys, the Get Clean All Day tea blend made from organic rooibos, milk thistle, dandelion root, and other natural flavors targets liver purification whereas the Get Clean PM made from organic Amla berries, organic ginger root, organic hibiscus flowers, and more builds reserved energy while helping the body manage stress.
Honestly, you will look forward to each cup of detoxification tea when you sip The Republic Of Tea.
3. BaeTea 14 Day TeaTox Detox Herbal Tea Supplement:
This 14-day pack means it has 14 tea bags!
The good thing about this detox tea is that it reduces bloating. Thereby helping you achieve that fitness goal of having a flat belly.
This best cleansing tea is sure to witness a surge in popularity in 2018 as it also doubles up as one of the yummiest cleansing teas for weight loss. Thousands of reviewers have claimed this detoxification tea has fought back daily digestive issues, contributing to weight loss. This herbal tea supplement made with green tea leaf, matcha green tea, and guarana seed is not to be sipped before bedtime since it is "caffeinated".
4. Maté Factor Detox Medley Tea With Ginger & Turmeric:
This caffeine-free herbal tea blend has the goodness of organic ingredients like sarsaparilla, fennel seed, turmeric, and ginger. The perfect time to sip it is after a weekend of holiday feasting.
5. Pukka Detox:
20 tea sachets individually wrapped to retain the freshness of the flavor, this top-rated detox tea blend from Pukka is a fusion of organic aniseed, fennel, and cardamom. Connoisseurs of this detoxification tea are happy to say how this comforting tea helps in treating minor digestive issues.
6. Choice Organic Teas:
This caffeine-free, certified organic herbal dietary supplement makes it to the list of Best Detox Teas for 2018.Choice Organic Teas is the first tea crafter in the US to produce exclusively organic, Fair Trade Certified, and Non-GMO Project Verified teas. This earthy cup has a liver cleanser in the form of the roasted dandelion root which supports a healthy liver function and digestion at the same time it helps to detoxify the skin. Purifying burdock root and full-bodied rooibos contribute their bit too. So sip on it to get a healthy body and a glowing visage.
7. Gaia Herbs Cleanse & Detox Herbal Dietary Tea:
What do orthosiphon leaf, licorice root, fennel fruit, and artichoke leaf have to do with this detoxification tea? This dietary tea from Gaia Herbs aids in the body's detoxification process and supports a healthy liver function that is essential to maintaining wellness. This gentle herb blend has essential oils of lemon and peppermint which give this healthy tea a unique flavor that is sure to tantalize your taste buds.
[sc:mediad]
8. Yogi DeTox Tea:
As one of Yogi's best-sellers, this detoxification tea cleanses organs like your liver and kidneys for an overall healthier you. The unique flavors of ginger, black pepper, long pepper (all these three improve blood flow), juniper berry (supports kidney function), burdock and organic dandelion (enhances the liver function), and Indian sarsaparilla (adds the spicy flavor) are promising enough. Naturally caffeine-free product!
9. Kusmi Tea Detox:
Made in France by the "gourmet" tea maker, Kousmichoff, this amazing tea is invigorating at its best. It is a unique blend of mate, green tea, and lemongrass. Refreshing and delicious if served with ice in the summertime. This cute tin makes this a perfect gift for any tea-lover.
10. Traditional Medicinals EveryDay Detox Tea:
This herbal supplement has a blend of all five tastes: sweet, sour, bitter, pungent and salty. It has 6 boxes, each box containing 16 sealed tea bags (total 96 tea bags). Ingredient-wise, it has burdock and the weed of dandelion root (yes, the weed!). Promotes healthy liver function.
11. Triple Leaf Tea Detox:
Made with over 20 potent Chinese purification herbs, this oriental herbal tea is meant to eliminate the toxins from your body and promote healthy skin.
12. Yogi Soothing Rose Hibiscus Skin DeTox:
Welcome rose and hibiscus not just in your garden but in your teacup too. This soothing tea blend kicks off a healthy daily skin care regimen. Reduces internal impurities, helps promote clearer, glowing skin. The combo of rose petals and hibiscus cools the skin and its fresh, floral fragrance adds to its appeal. This green tea supplies antioxidants to promote rejuvenation; burdock, yellow dock, and red clover promote cleansing.
13. Afterglow Detox Tea Combo:
Two Teas – one for mornings and the other for the night!
Promising weight loss in 14 days, this is one of the perfect cleansing teas for weight loss. It contains Garcinia Cambogia, guarana and green tea as components believed to boost metabolism and energy. This fat blocker does more than just help you burn fat – it also helps reduce sugar cravings and keeps you energetic throughout the day.
You know something??
Each purchase of Afterglow Detox Tea Combo comes with a nourishing meal plan to help you get the most out of the detox program.
14. Hint Wellness 14 Day Detox Tea:
Toxin build-up in the body is bad. Hint Wellness brings you antioxidant-rich ingredients like Honeybush and Rosehip which fight free radicals for a simple, effective body cleanse! Dandelion and Burdock flush out any toxin build-up and excess water so that you get a trimmer tummy.
15. Gaia Herbs Liver Cleanse Tea:
This Liver Cleanse tea' with a pleasant minty taste' supports the liver function daily. Its natural detoxification formula also improves digestive health. Dandelion and Artichoke are purifying herbs' Schisandra provides antioxidant support, while Chinese Skullcap prevents inflammations.
Now that you know the Best Detox Teas for enjoying a good health in 2018, which one will you go in for right away? Or have you had any of the detoxification tea brands in the past? Share your feedback in the comments section below.