It was all Short, Sequined and Sporty at the first weekend of Coachella's 2017 edition, at Palm Springs,CA.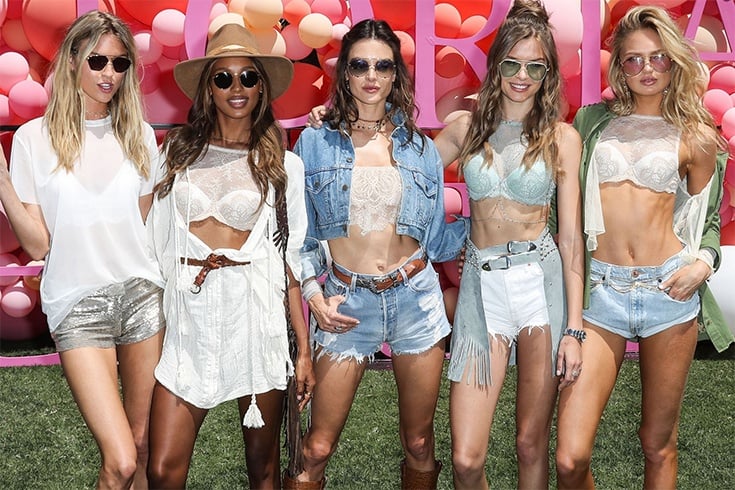 With some great music underway at the year's most popular music festival, it was the festival's fashion that bloomed in full swing under the bright Californian sun from the 14th to the 16th of April.
If you truly aspire to dress up like a global starlet, then you need to rev up the Coachella way. Take notes from the 10 top sightings at this fashionable weekend.
10 Best Dressed At Coachella 2017
1. Rihanna
Well, Rihanna is not a carrier of fashion, but its creator. At the Coachella weekend, "Shine Bright Like A Diamond" superstar did exactly what you would expect from her. Rihanna worked punk cool wearing a sparkling mesh bodysuit from Gucci layered with a tank top and ripped denim shorts. To amp up her stardom status, the woman completed her dazzling Coachella special with a studded black frame and heavy black Fenty X Puma platform sneakers and that rockstar attitude. Sigh!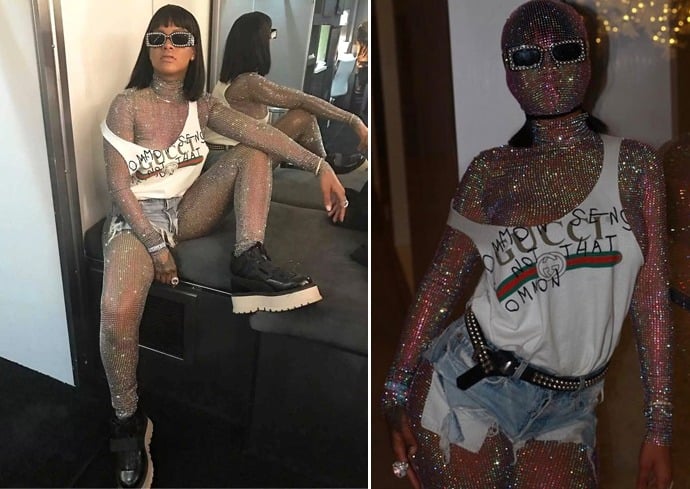 2. Kendall Jenner
The ultimate street style superstar just knows how best to work up a casual look with some dramatic accents. With sleeves being the new game changers, Kendall Jenner chose to flaunt a whole lot of volume on her arms, taking off the load from her shoulders in a black off-shoulder.Pairing her attention seeker blouse with a pair of chic denim shorts and a black choker, the woman boasted of being in a sporty and edgy mood completing her look, the tomboyish way, with a pair of black trainers and a black cap.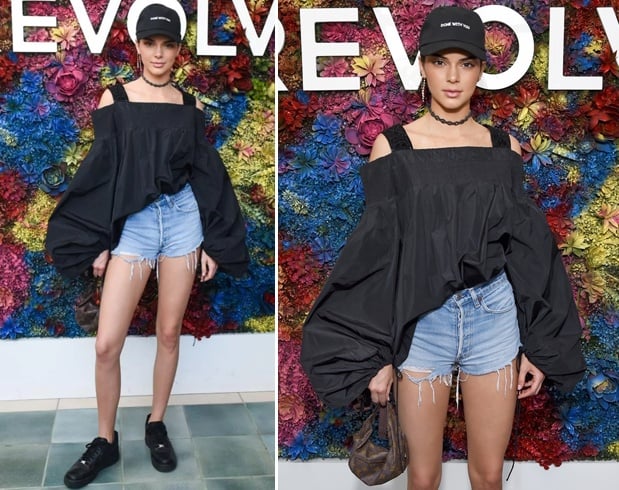 For the Bumble's Winter Wonderland themed party on Saturday, Kendall Jenner chose to highlight her assets wearing a silver sequined bralette. To complement her blinged brasserie, the street style superstar layered up in a blue striped shirt and a pair of striped high waist white trousers. A hat, chunky chokers, and white trainers made for perfect tail enders to this glitterati.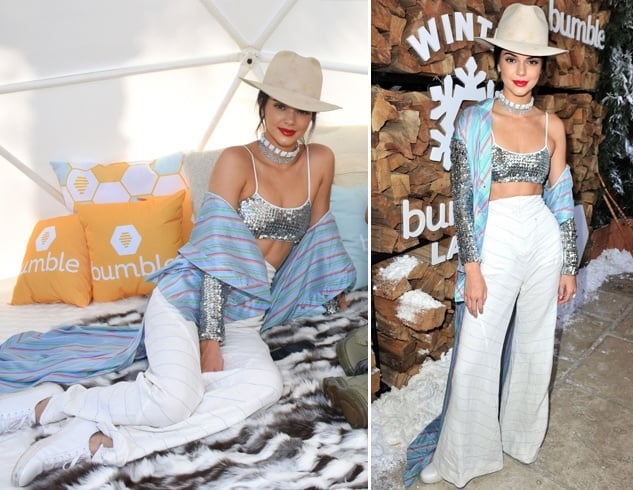 3. Kylie Jenner
While her golden bodycon highlighted her curves to perfection, it was Kylie Jenner's yellow hair that caused a rampage at the Coachella carpet. The youngest of the Kardashian wolf pack, summed up her ultra glamorous appearance with a pair of black boots.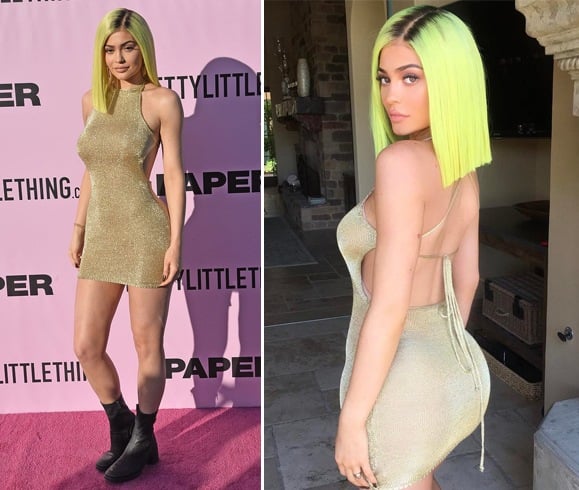 At the winter wonderland party at Coachella weekend, Kylie Jenner displayed her fierce animal instincts wearing separates in animal prints. Making headlines yet again was Kylie's hair stories, this time a complementing electric blue finding space in Kylie's Coachella special hair stories.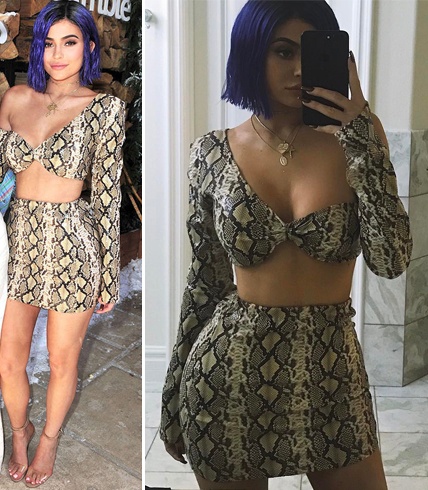 4. Lady Gaga
Lady Gaga's style needs no introduction. The lady dresses to kill, and never fails to create headlines with her ott statement appearances. For her performance at the first weekend of Coachella 2017, Miss Gaga opted for an all black on-stage wardrobe. Transitioning from a bodysuit with mesh covered legs, into a biker chic look wearing leather jackets with gigantic shoulder pads and a corset belt, Lady Gaga reminded us of her unusual yet attention seeking dress up.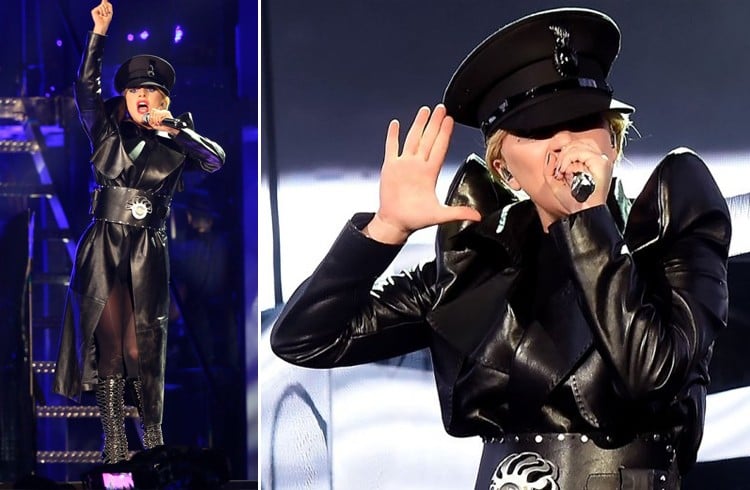 5. Rita Ora
Stark silver chainmail dress, meets sailor hat and floral boots, in this appearance by Rita Ora at the Moschino party. As quirky as she could get, to compliment the hosting brand, Rita caught us completely off guard with her exceptional pairings. Seeing her we are sure the brand must have earned all new inspiration and direction for an exciting autumn winter collection. Hats off girl!
[sc:mediad]
6. Alessandra Ambrosio
Victoria Secrets angel, Alessandra Ambrosio, chose to beat the heat at the Coachella festival, keeping her style files short and summer friendly.
Wearing a geo-print off-shoulder playsuit, Alessandra channeled her Coachella vibe just right. A pair of black boots and black hat played perfect accompaniments to the model's music festival appearance. The two plaids rendered extra cuteness to the VS angel. Sweet!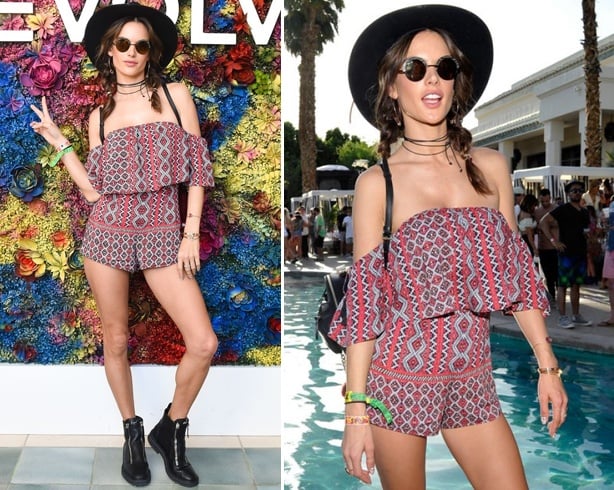 On the first day of Coachella, Alessandra led the VS pack, wearing her denim shorts with a lacy cropped top. To add some edginess to this otherwise beachy look, the model opted for eye-catching cowboy accents in the form of a pair of tan boots and belt. To complete her music festival look, Alessandra accessorized this denim look with trending layered chokers. All stars to this star!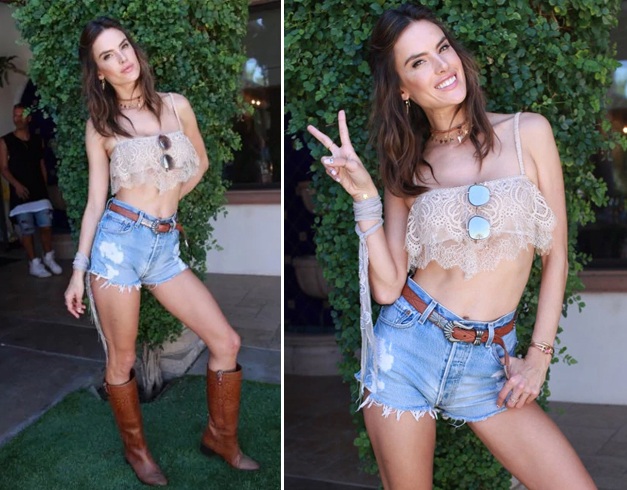 7. Selena Gomez
With the Weekend by her side, Selena looked more like a pretty maiden made for romance vis a vis her usual rock chic look. Wearing a blue tea-dress from Harley Viera Newton blooming with flowers adorned and completed with a neckerchief, Selena cut a pretty picture as she posed with the current love of her life. Appearing to have come straight out of a perfect summer romance setup, we are all awe's for that much in love vibe, Miss Gomez gave off at Coachella.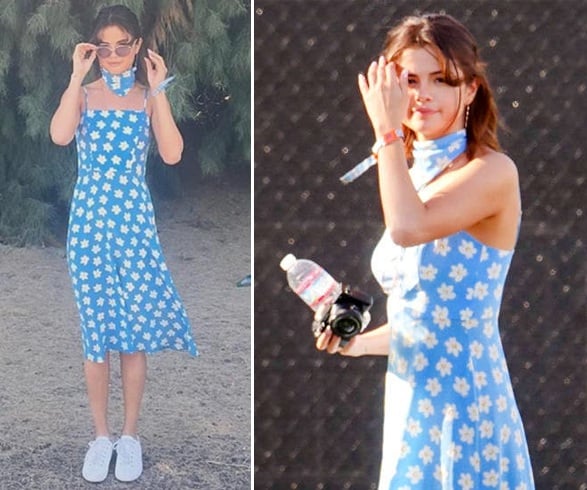 8. Hailey Baldwin
Denim on denim got a new definition in this look sported by Hailey Baldwin. Working a double dose of denim, Hailey layered her sparkling mesh tights with a pair of frayed denim hotpants. The denim jacket sluggishly worn off the shoulders with a cool black fear factor tee underneath gave off that vibe of a perfectly relaxing weekend. A topknot and black high boots rendered a happy ending to Hailey's Coachella look.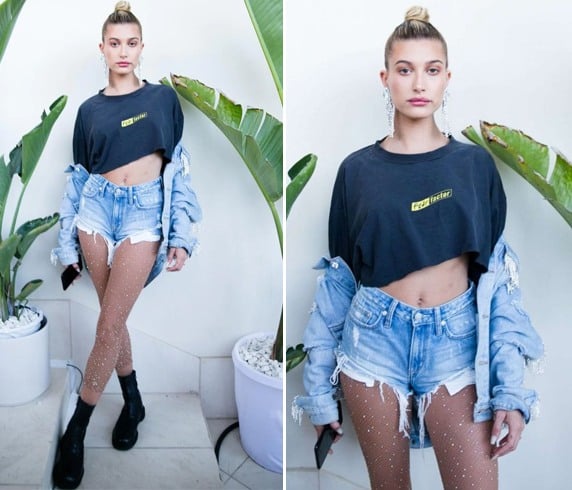 9. Sofia Richie
Making a strong case for cool tracksuits, Sofia had us crushing big time on her bright orange tracksuit. We are all hearts for the way the woman styled up her athleisure, having the bodice knotted up at her skinny waist, with a hoodie add-on to provide some cover to her bare shoulders. The white bikini giving that staple Coachella touch up to this hot chic appearance. The trainers, orange frames and that LV purse hanging onto her waist made way for this appearance to be listed as one among the top 10.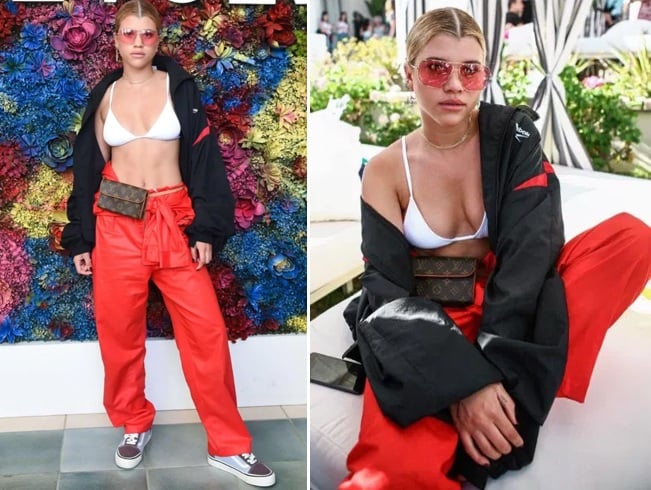 10. Jourdan Dunn
Model Jourdan Dunn looked all set for the night in her Pyjamas at the Midnight Garden Party, at Coachella 2017 weekend. The esque pantsuit in shades of mustard nurtured Dunn's complexion with the tribal prints totally amping up her cool quotient.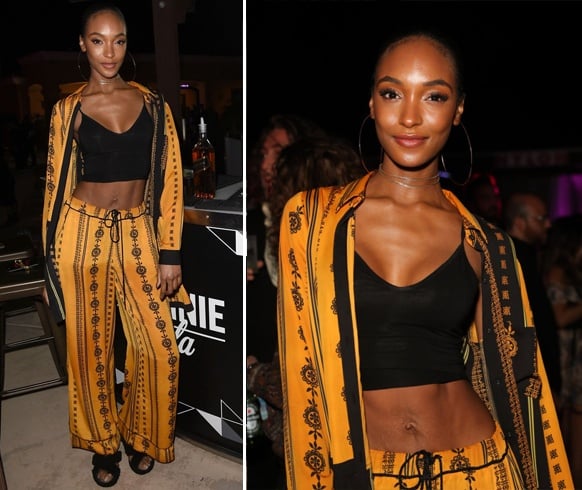 With celebrities displaying exceptional taste in fashion, the Coachella Festival was yet again a fashionable hit.
Images Source: telegraph.co.uk, justjared.com