The best shampoos for frizzy hair leave hair soft and manageable. It has the ability to repair your hair from strength to strength. We scoured through the best shampoos suitable for frizzy hair on Amazon. Here are the top ones users have sworn on for giving them smooth, shiny, healthy hair like never before.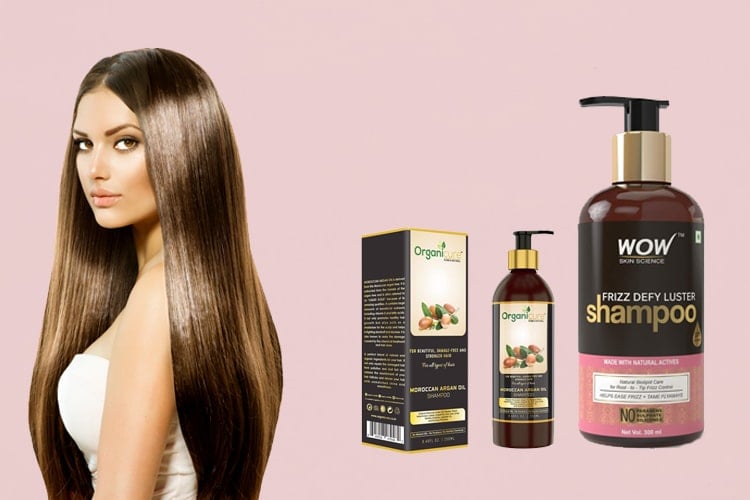 The Top-Rated Shampoos for Frizzy Hair:
Scroll ahead to read about our best picks:
1. Anveya Hydrate & Nourish Shampoo:
This nourishing shampoo is enjoyed by many users because of its natural ingredients and enticing cost. The product lathers nicely onto the hair and cleanses the scalp without drying it out. All in all, it is an awesome product as it tames frizz, smoothens hair, and smell incredibly nice.
2. Khadi Natural Herbal Moroccan Argan Hair Shampoo:
This shampoo by Khadi Natural is a savior as it repairs frizz and restores hair back to its healthy form. This is also a great option for overworked, dried out strands. The argan infused therapy shampoo goes a long way and is gentle enough not to strip off hair's natural oils.
3. Organicure Moroccan Argan Oil Shampoo for Dry and Frizzy Hair:
Looking for a great smoothing shampoo for frizzy hair? Well, you may just find your answer in this Holy Grail product by Organicure Moroccan Argan oil shampoo. This one cleanses hair thoroughly, removes build-up, repairs from hair shaft, and is totally worth the money. It is so powerful that it keeps hair shiny, soft, and squeaky clean. Smooth, eh?
4. Kaytra Shampoo for Frizzy Hair:
Using a suitable shampoo is an absolute must to fight frizz and keep hair in control. What we like most about this product is the silky, soft finish it gives coarse strands, and allowing smoothing them.
5. Briogeo Don't Despair, Repair Super Moisture Shampoo:
Give this shampoo one week, and your frizzy hair story will be a thing of the past. The strengthening formula like biotin, B vitamins, and algae extracts leaves hair nourished, healthy, and invigorated. It is a relatively affordable priced shampoo which provides similar gratification to other treatments.
6. Godrej Professional Quinoa Smooth Shampoo Moisture Balance for Frizzy Hair:
If you want gorgeous, bouncy tresses, we suggest you to try this smoothing shampoo by Godrej Professional. It washes off residue without stripping hair off its natural moisture oils. The shampoo is also excellent for taming frizz and restoring smoothness. Reach out for this one if you wish for that dreamy feel.
7. Nuray Naturals Vegan Hair Growth Keratin Shampoo for Frizzy Hair:
This is again an effective shampoo for frizzy hair and preventing breakage. From the first usage, you'll notice a difference in your hair texture because of its rich infusion of germanium and keratin. Your hair will instantly be softer, shinier, and manageable.
8. WOW Frizz Defy Luster Shampoo:
Everything about WOW products is amazing including this shampoo for frizz and flyaways. That aside, it is a wonderful product for delivering tangle-free hair and leaves hair soft as hell. Plus the smell of it is ah-maz-ing. What more could you ask for?
9. OGX Quenching Coconut Curls Shampoo:
Anyone with untamable, frizzy hair would understand, finding a suitable shampoo that smoothes flyaway without weighing the volume down is tough. That's where this moisturizing shampoo by OGX comes into play-it has hydrating coconut oil and honey to calm down fluffy hair minus the residue.
10. Living Proof, No Frizz Shampoo:
This shampoo by Living Proof is a Godsend for rough, frizzy strands. The formula effectively blasts off with needed nutrients and smooth off frizz every time you wash. Even the driest of hair are left softer, smoother, and shinier.
Try any of these moisturizing shampoos if your hair frizzes the second you step out. What are you doing without these anti-humidity formulas in your life anyways?