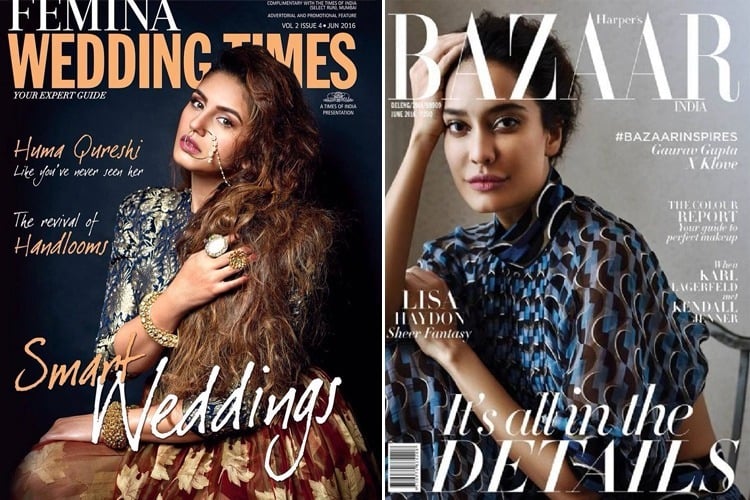 The magazines are out on the stands and we can't wait any longer to flip through them for the gossip, drama and fashion, of course.
[Also Read: We Are Back With May 2016 Magazine Covers]
Let us take a moment to know who is on what-
Aishwarya Rai On Filmfare
The Queen is finally back, right onto magazine covers, film festivals, movies and back straight into our hearts. Aishwarya Rai, the lady of royalty pulled an entire Victorian fashion in a vintage backdrop.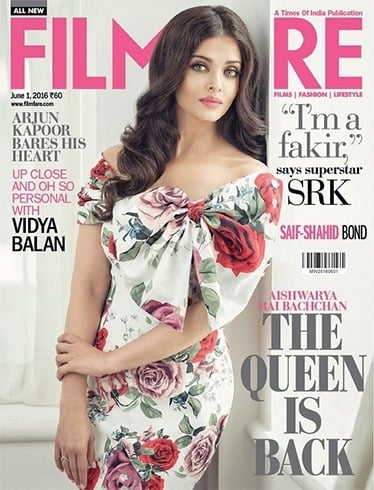 On the cover, she dressed up in a floral gown from Bambah Boutique. The Bambah Boutique's unique bow style, right over the bosom, makes the ensemble interesting as always. The angelic eyes, the well-carved features and the glowing skin were her only asset on the cover. Bianca, the hair and makeup artist gave her tresses lovely waves and swirls all along the shoot.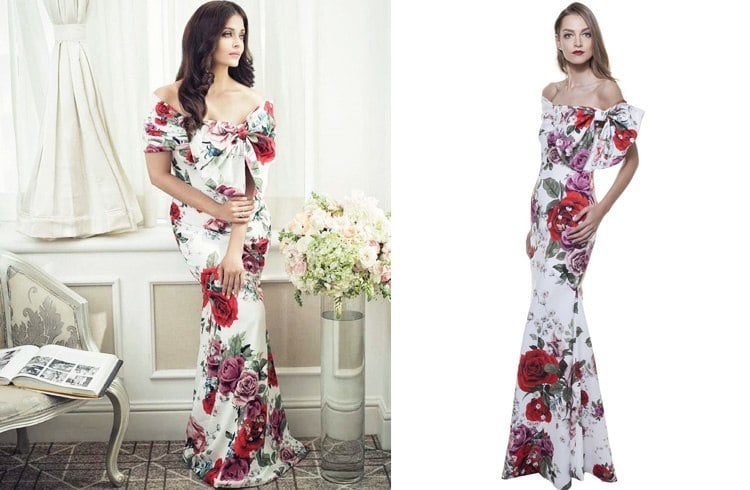 During the shoot, she was clicked in Theia Couture gown. The lacy crop top style over the gown made the solid toned outfit more arresting. Holding a white rose, she looks majestic.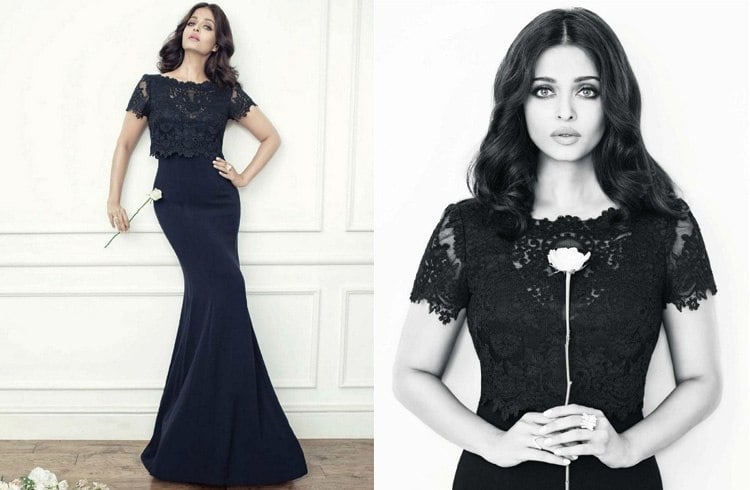 The olive green Bambah Boutique gown that she donned complemented her green lit eyes like magic. Aastha Sharma, the stylist, simply focused on bringing the diva with her enticing looks and hence accessorized her bare minimum.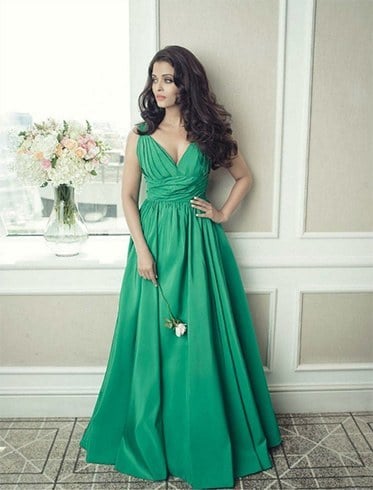 She looked like a stream of water in this teal colored Theia Couture outfit. The outfit had an aqua cool vibe to it, which the diva embraced beautifully.
[Also Read: Hollywood Celebrities Sparkle On The Magazine Covers For June 2016]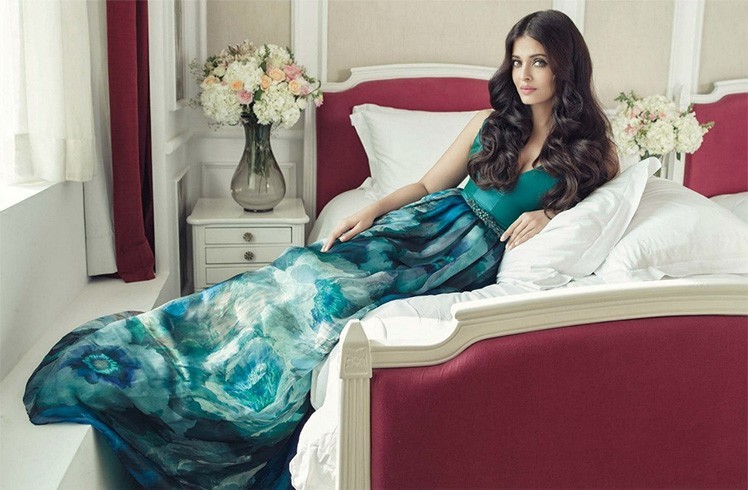 With just gowns and subtle makeup, she conquered the hearts and million more.
Bipasha Basu, Malaika Arora and Sussanne Khan On Femina
Femina magazine have decided to make their cover shoot not just fashionable but also fun. They brought on board Bipasha Basu, Malaika Arora and Sussanne Khan who simply rocked the shoot.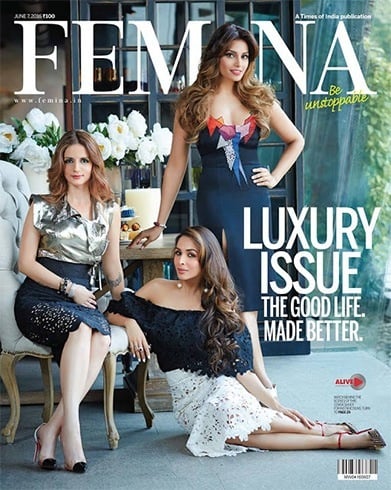 On the cover, Bipasha Basu donned a Christopher Kane outfit. With her hair in nice and neat swirls, she looked as defined as a bottle of ink.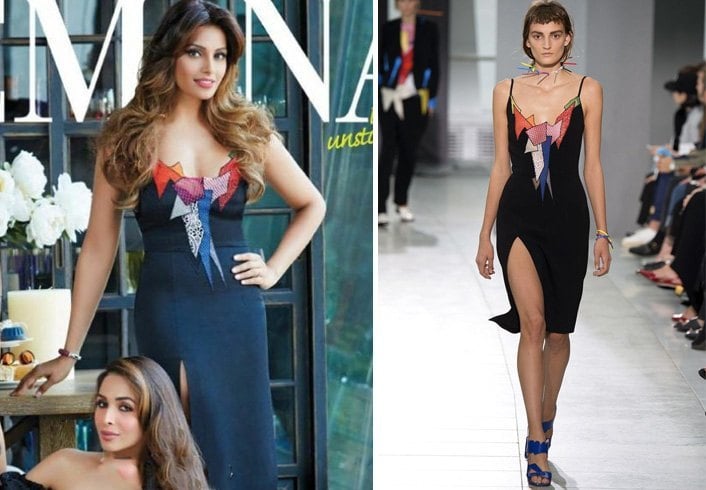 The sizzler of TV shows, Malaika Arora picked separates from Bambah Boutique. The off-shoulder lacy top and the skirt were a change from her usual gown style. And this change is extremely refreshing and welcoming. She strapped her feet in a pair of Louboutin shoes and added a pair of pearly Ferragamo earrings.
[Also Read: July Magazine Covers 2016]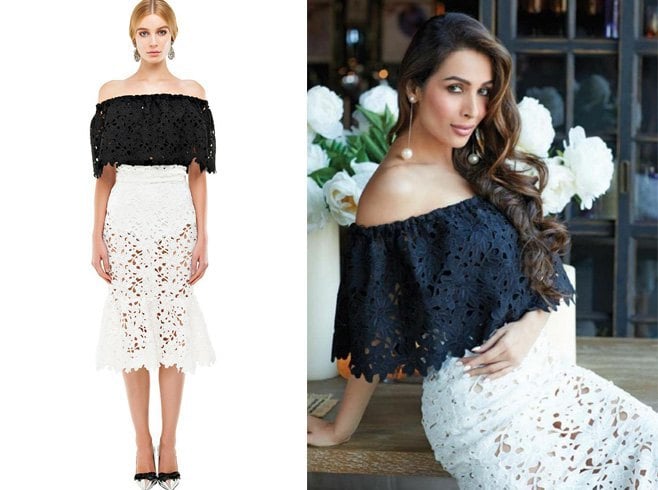 Sussanne Khan looked delightful on the cover in Isabel Marant glaze top and Bambah Boutique skirt. The top reminds us of the Lisa Haydon's pants from the same label at one of her movie promotions. The Louboutin shoes made their way even on to her pretty feet.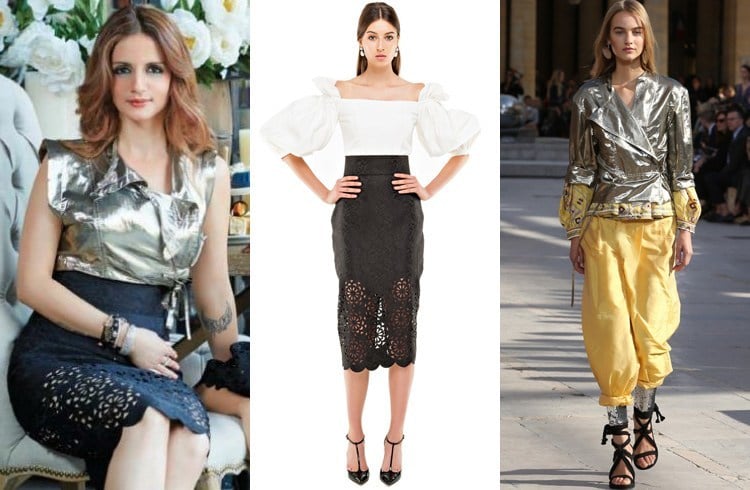 Isha Bhansali, the stylist for all the three lovely ladies made sure the makeup remains intact and the hair swirls perfect.
Click on the link below to watch them strike these sizzling poses-
Here is a glimpse of their fun-filled photo-shoot-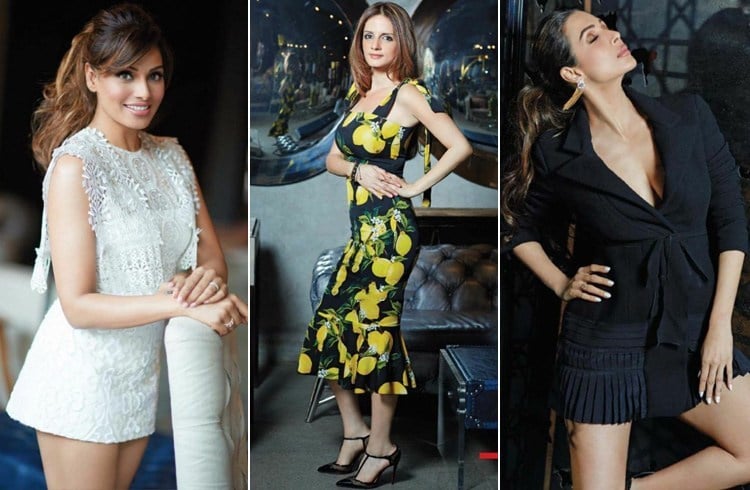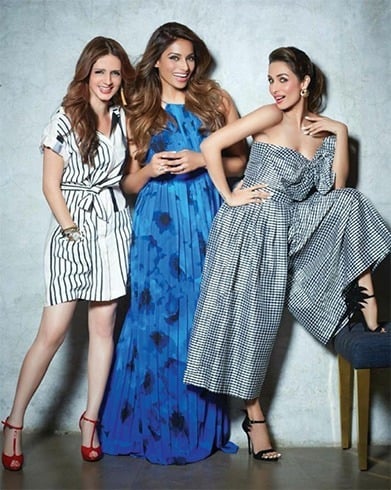 Sonakshi Sinha On L'Officiel
The actress gave herself a birthday treat by flashing on the L'Officiel magazine cover. The 'teekhi mirchi' looks are commendable and a bit 'Chandni Chowk To China' style. Sonakshi picked a Shantanu and Nikhil gown along with Louboutin printed heels. She added unique Swarovski crystals to complete the look. She looked fierce and strong in the fiery red outfit with a power girl attitude.
While Sheetal F Khan, the hairstylist, experimented a sleek braid style with a half bun, Nilesh Parmer, the makeup artist gave her an all bronze contoured touch-up. Great job put to show by Trishla Chadha, the stylist and Anushka Menon, the photographer.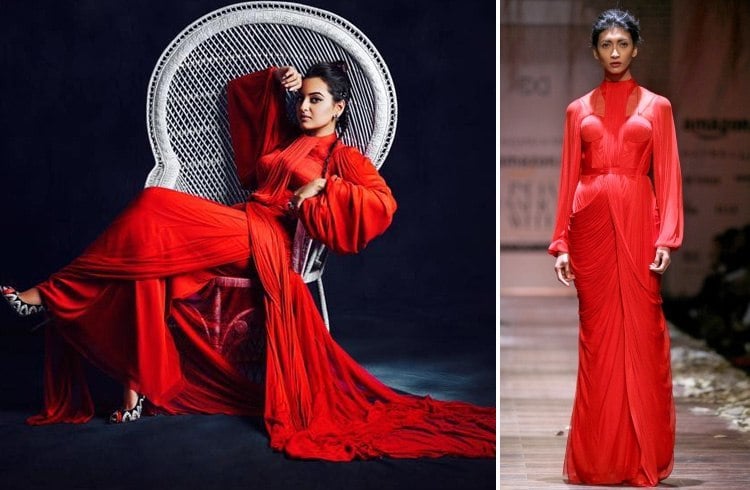 In Jani Khosla ruffled outfit, Arkish jewels earrings, Swarovski ring with neatly done hair and flawless makeup, she looked lovely.
During the shoot, she was seen holding many props in various outfits. Sonakshi looked magnetic in a Tibi black shimmer dress holding a tape.
In House of Viviano Sue outfit and Outhouse jewelry, she looked angelic and adorable with a key boring into her back.
In Nachiket Barve top, jacket and skirt along with Swarovski choker and a wire binding her hands.
In Rutu Neeva off-shoulder black body snuggling outfit with broad tape circling her waist and tapering off near the hips, she looked magnificent.
Here is a video for your delight-
Shraddha Kapoor On Filmfare, Second Edition
Make space on your table for the Filmfare second edition with Shraddha Kapoor speaking a metallic rock style on the cover.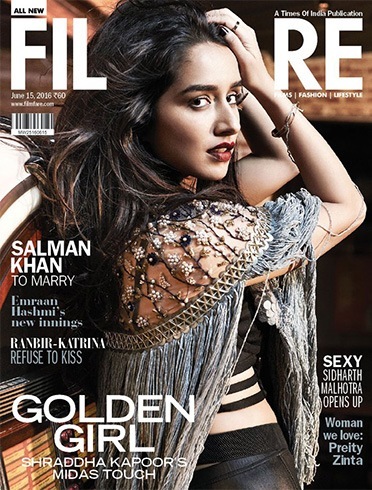 For the cover image, she cast a seductive look in an Esha Sethi Thirani cape over a Farah Sanjana bralet and Aura Hub tights. Though it's a total chic style, she added unique Bungalow 8 and Rara Avis necklaces to make it more quirky. She slid easy and smooth into a pair of Intoto shoes for the shoot. She looked as intoxicating as wine on the cover.
Along the shoot, she was clicked in the most rocker style way possible. Glimpse through the shoot here and read along to know more about the outfits.
She wore a Zara jacket over a Flirtatious bikini top and Shivan And Narresh pants. She sparkled in Outhouse jewelry earrings. With a hazed look and dark red lip, she was alluring and enticing.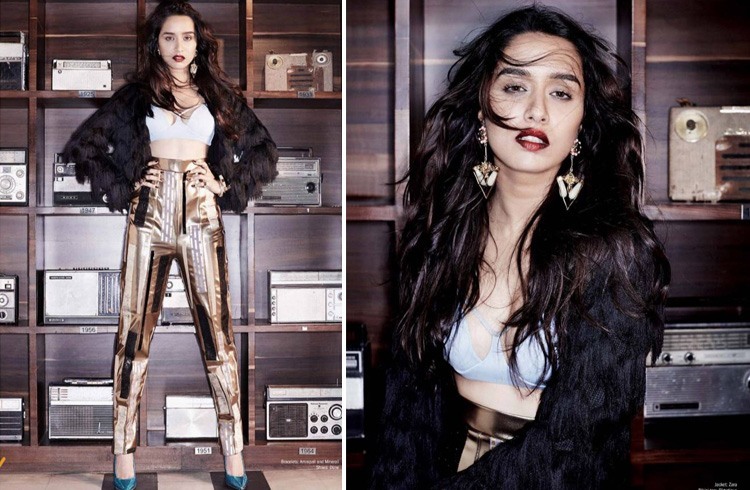 Speaking about rumors and romance in her cover story, she looked as striking as a thunderbolt in a Monisha Jaising jacket over a cool looking white Zara top. She slid multiple Forever 21 rings over her black manicured hands. To top it all, she added Aldo heels to the ensemble and finished classy.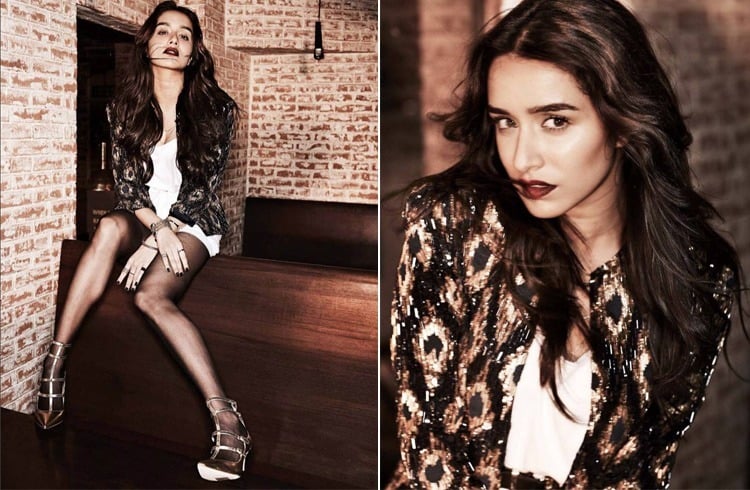 Lastly, she picked a Shivan And Narresh dress. Adding Rose Room Couture glaze jacket, Aquamarine jewelry and Forever 21 rings, she rocked the style.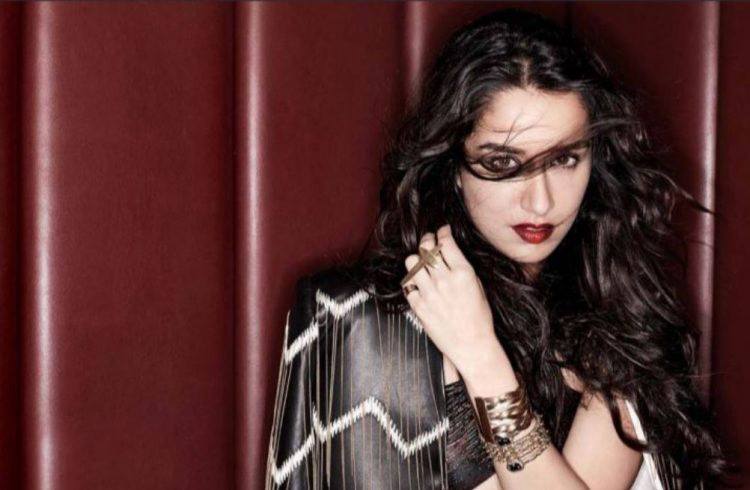 It's an altogether great theme that was compiled perfectly by the stylist, Shaleena Nathani. The hairstylist, Amit Thakur, spent a good amount of time in setting it wavy and voluminous. Shraddha Naik, the makeup artist, decided to keep her look sensuous with a deep red lip while maintaining evenness all along.
Katrina Kaif On Vogue
Katrina who we assumed was too busy with her 'Baar Baar Dekho' and 'Jagga Jasoos' and hence not been seen, suddenly popped up on the Vogue magazine cover looking sensational. She took us all for a deep dive with her hottest ever photo-shoot with Vogue. We have seen Nargis beach looks and Alia's too, but Katrina has not just kept it sexy, but also enthralling.
She sat on the beach in Cebu, Phillipines in a multi-colored sequin cover up from Tom Ford. Anaita Shroff Adajania, her stylist picked a rocking neck-piece and interesting rings to match the theme. Daniel Bauer, the hair stylist kept it simple with her hair. Bianca, the makeup artist, worked smooth touch up on her keeping it natural and fresh.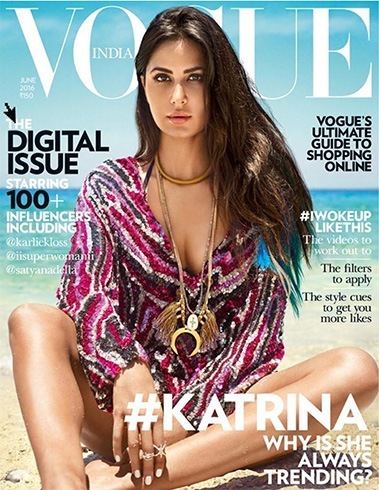 Katrina seared in an Emilio Pucci sequined dress over a Chromat bikini top. She added an Isabel Marant shirt over the outfit. Lovely beaded jewelry from Karli Buxton, Rachel Entwistle, Amrapali and Top shop found its way onto the gorgeous diva. With beach wet hair and in-place makeup, she rocked the style.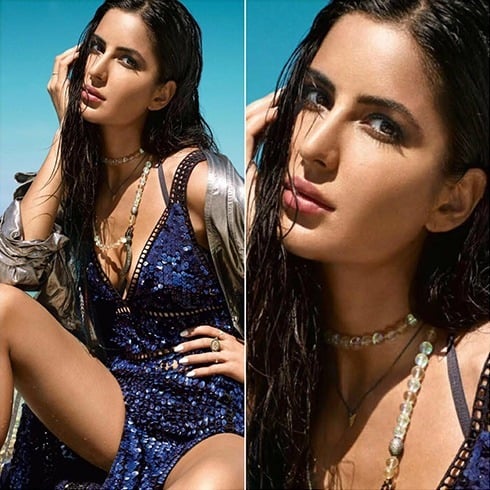 She flaunted her long sensuous legs in a Rochas outfit with funky jewelry from The AnaRae store, Amrapali, Sydney Evan, Gretchen Ventura.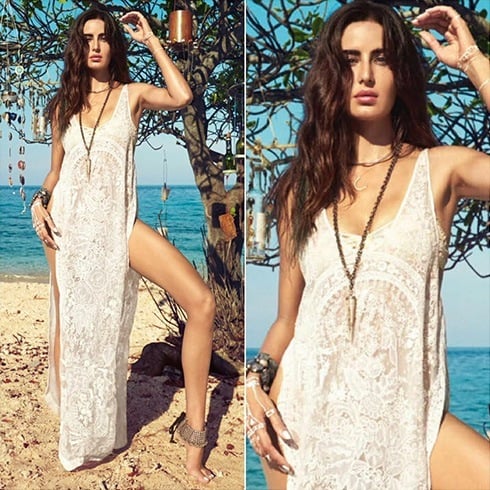 In Zimmermann swimsuit and Musiclegs shorts, this is one of the best pictures of the entire photo-shoot.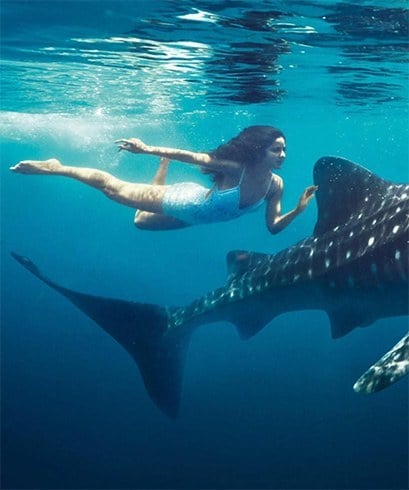 She posed folksy and sumptuous in a Chloe pleasant hued dress over a Melissa Odabash bralette with Fiona Paxton, Deepa Gurnani, Karli Buxton and Amrapali jewels.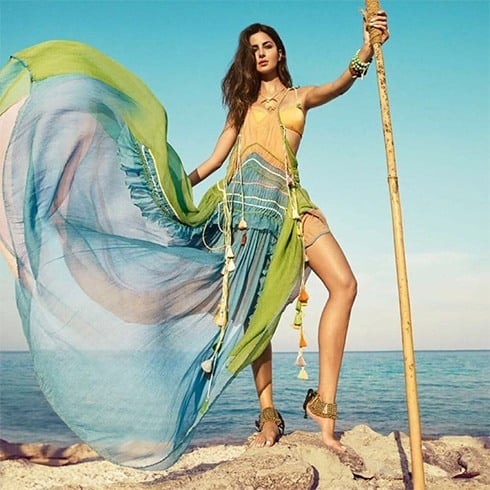 Katrina walked out on the beach starting a fire in our hearts in a sizzling Chromat bikini top and Moeva bottom. We also find on her, Agent Provacateur net coverup and unique quirky jewelry pieces from Rachel Entwistle, Pascale Monvoisin, Anupama Dayal, Marte Frisnes, Top shop and Deepa Gurnani.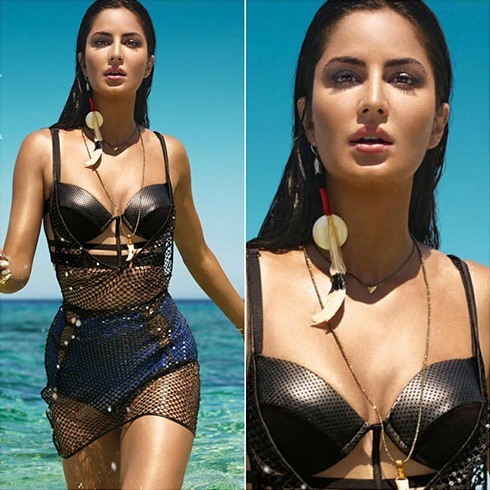 Here is a video where she takes us for a dive into the sea as she swims alongside a whale.
Huma Qureshi On Wedding Times
Huma, who is always seen looking delightful and adorable, took up bridal theme for a change. She graced the Wedding Times magazine cover looking ethnic and royal. After Parineeti on Harper's Bazaar, Huma sported competitive modern bride looks.
On the cover, she wore a blouse by Payal Singhal over a skirt from Shruti Sancheti's 'Kaashi to Kyoto' collection. She flaunted gracefully the rich and royal nath and kada from ra Abta jewels, and over size rings from Zoya Jewels and a bracelet from Dwarkadas Chandumal jewellery.
Shaan Muttathil, the hair and makeup artist, Lynn Ann Lobo, the stylist and Rohan Shrestha, the photographer are the people behind this perfect cover photo of Huma.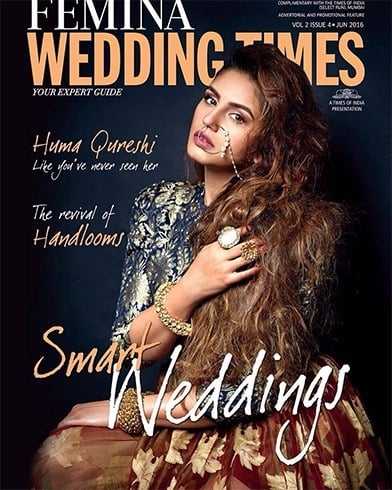 Here is another look from the shoot: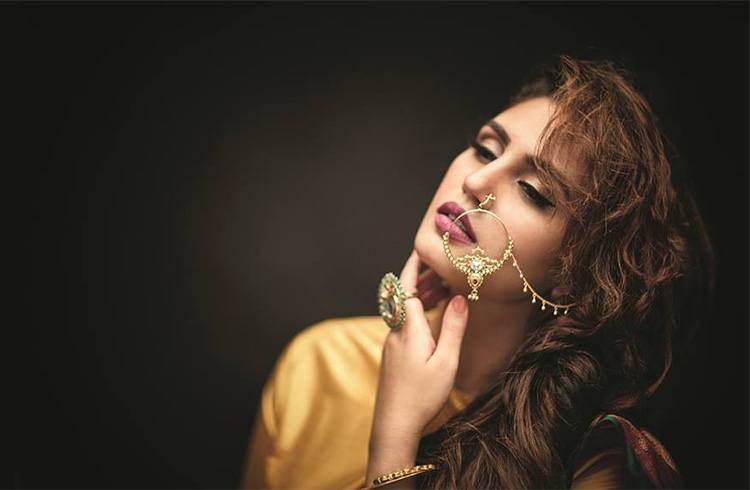 Lisa Haydon On Bazaar India
Lisa, the lady of sheer, makes it onto the cover of Bazaar, India this June in a Fendi outfit. With hair pinned up, and lazy pink pout, she looked charming. The outfit was also seen sported by Kangana Ranaut and Karlie Kloss.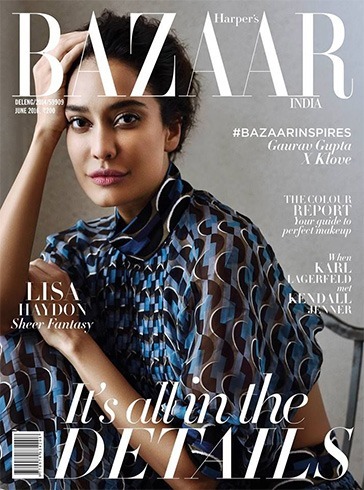 [sc:mediad]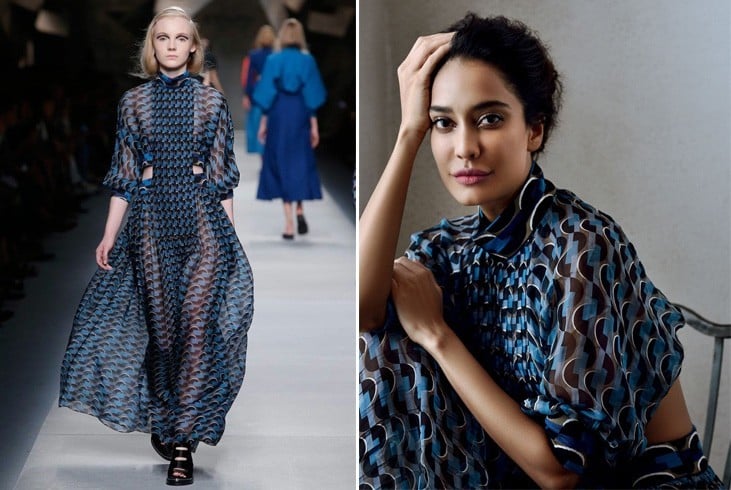 The photographer focused entirely on Lisa and her awesome contoured figure and the stylist, Edward Lalrempuia picked the right outfits that suited the theme. She barely accessorized and was seen flaunting her curves in shades of gray. Take a look here at her photo-shoot-
In Agent Provocateur corset, Chanel skirt and Melorra earrings.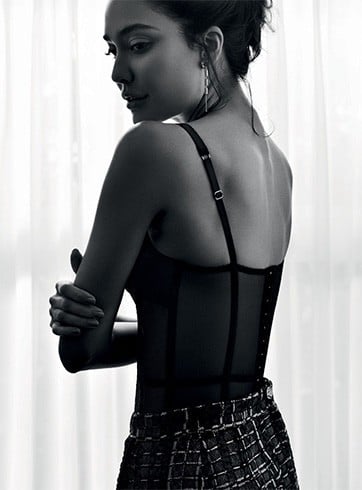 She flaunted her dusky toned body in Agent Provocateur body suit and Hugo Boss dress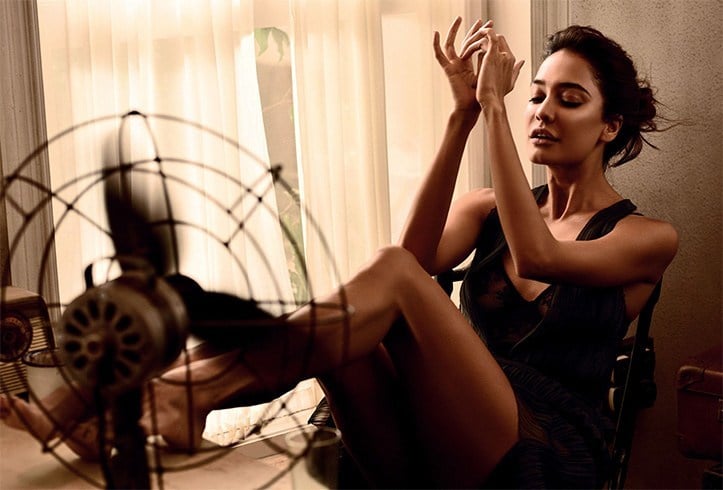 Lisa as beautiful as a painting in Gucci sheer dress.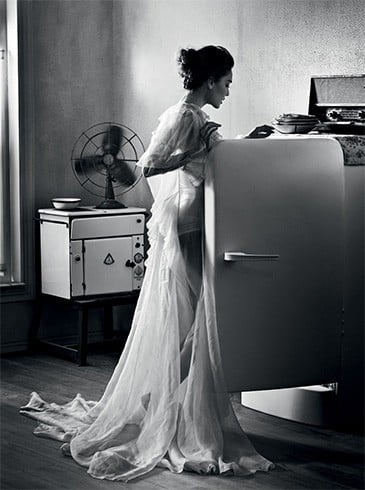 She looked pretty cool and laidback in a Chanel jacket over LaSenza bodysuit and Hemant and Nandita shorts.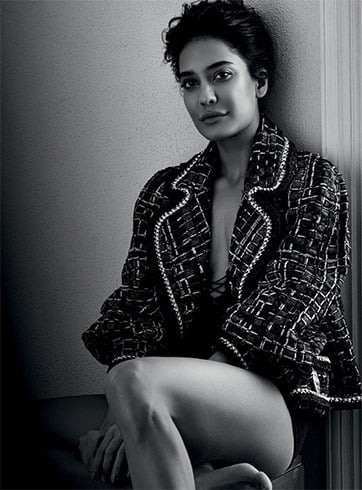 In Gauri And Nainika dress and Louis Vuitton cuffs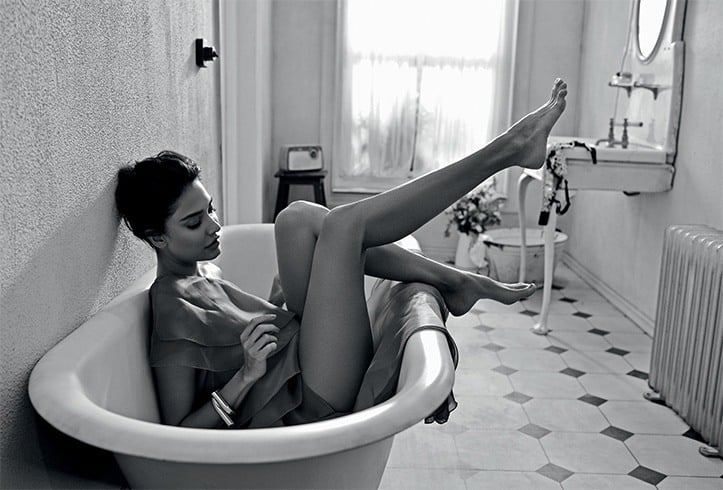 In Vineet Bahl jumpsuit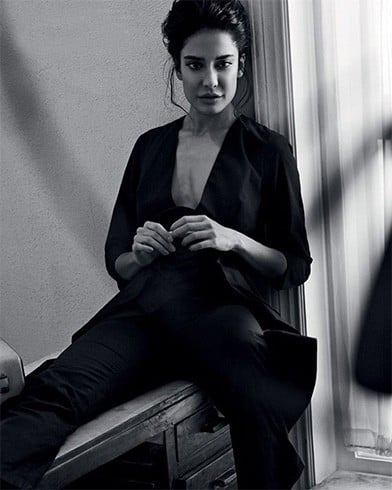 In Ferragamo dress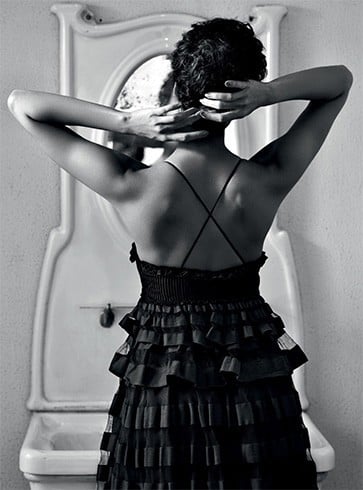 In ATSU off-shoulder top and 31 Phillip Lim high waist shorts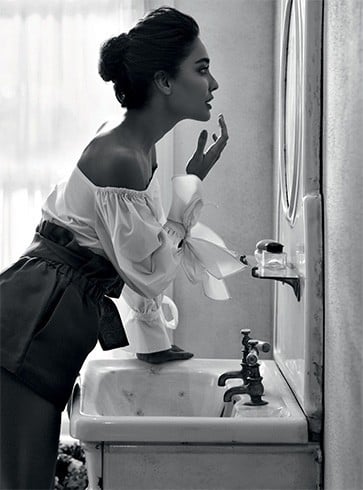 In Dior crop top and shorts with Melorra necklace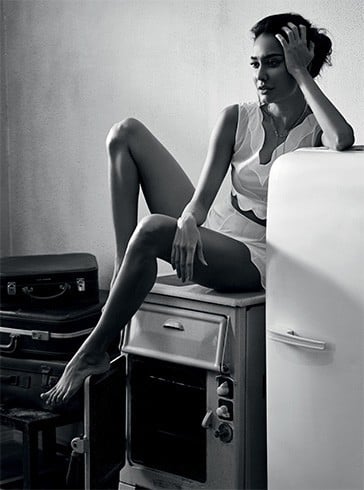 Finally, she brought color to her photo-shoot with a red Michael Kors ruffled dress.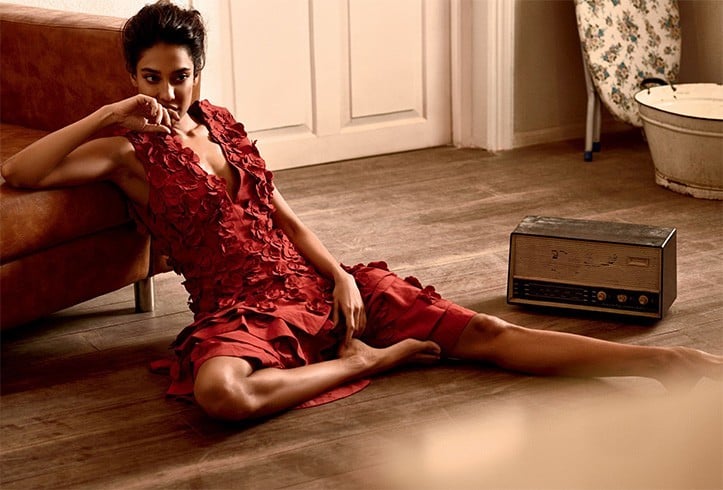 We loved them all! What about you?
Images Source: instagram.com