Haven't got the hang of red carpet? Well, we have more. The 72nd Cannes Film Festival is underway in Cannes and it has the standing for bringing out the opulence in celebrities and designers, alike! Meanwhile, the festival also showcased the highly anticipated arrival of Indian actresses like Priyanka Chopra Jones, Deepika Padukone, Kangana Ranuat, and Hina Khan's major debut. They bought in all the class to the French Riviera!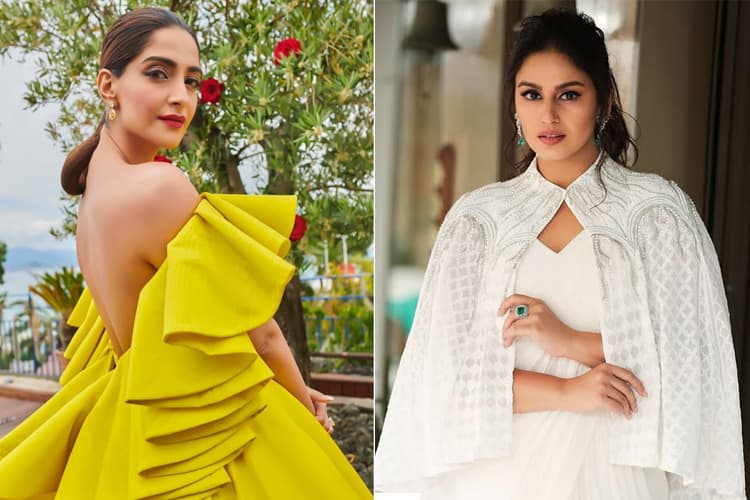 Must-see Outfits from the Iconic Cannes Film Festival:
Catch up all the stunning outfits from the 2019 Cannes Film Festival:
1. Deepika Padukone:
Day 1:
The actress had a princess moment on Day 1 of the film festival, in her Peter Dundas gown, show-stopping jewels by Lorraine Schwartz, and sandals by Aquazzura. The dramatic gown was given a larger-than-life charm in the form of an enormous black bow, angled over the shoulders, exaggerated cat eyes done upside down, and Egyptian inspired ponytail. It completely justified for her minimal accessory look.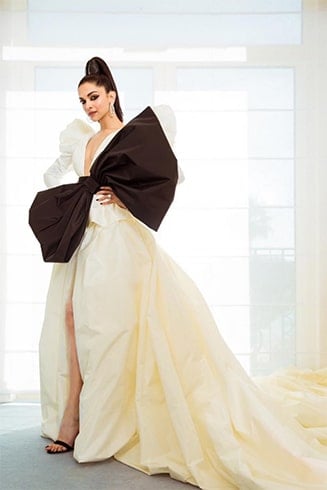 Day 2:
Look 1:
No dress, no problem! Padukone makes her own style rules, skipping the dramatic-train gown for a chic suit by Loewe. She adds retro sleek hairdo with earrings from Misho Designs and Stuart Weitzman shoes to complete her look at the Day 2 of Cannes Film Festival.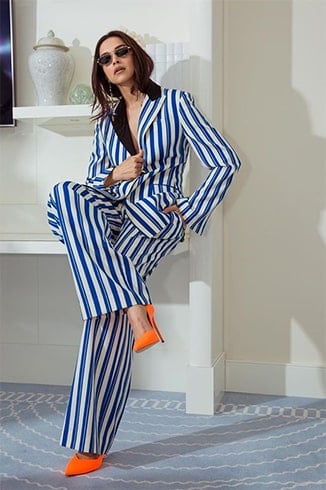 Look 2:
Deepika's second look was quite relaxed compared to her dramatic beginning. She wore a black tulle dress by Off-White featuring snakeskin, neon-green neckline paired with black platform sneakers. Her green sunnies and snakeskin printed handle bag added to her tropical allure.
Look 3:
The Philosophy di Lorenzo Serafini sheer ensemble is simple-but still look fabulous on Deepika. Lessons learnt in how to make a sheer outfit look edgy, ethereal, and perfect!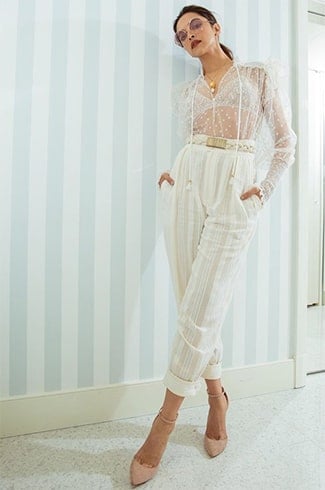 Look 4:
The actress continues to serve the style treat in her Erdem floral dress with a black bow detailing draped over your shoulders. Looking like an actual garden, in a good way!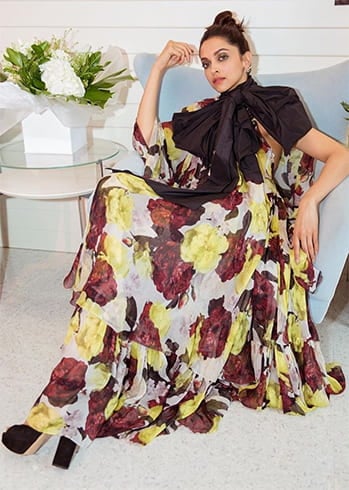 Look 4:
Deepika Padukone ended her Cannes journey and how! Wearing the most naturally, captivating tulle Giambattista Valli lime gown with the longest train and a beautiful face to match up with! If anyone has deployed design to upshot slaying, it's this woman. The Stuart Weitzman sandals, Lorraine Schwartz jewels, and pink turban from Emily-London completed her look on a highest note.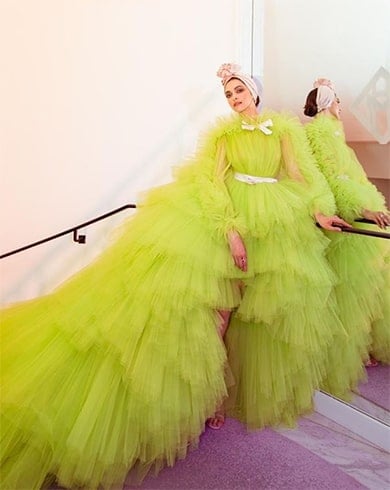 2. Priyanka Chopra Jonas:
Look 1:
Credits for her outfit-Honayda! One word: Angelic.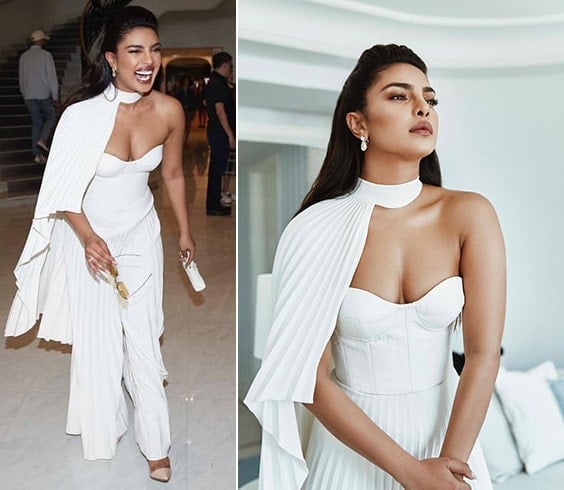 Look 2:
Shine, bright like a diamond or like Priyanka Chopra? Her highness had an alluring moment in the Roberto Cavalli Couture gown matched with Chopard jewels at the premiere of Rocketman. We can't help but be totally into her!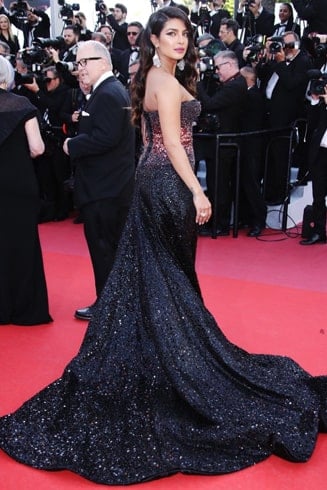 Look 3:
The actress is seen wearing a blue silk dress and laser cut belt, paired with Aquazzura white sandals. She was joined by husband Nick Jonas.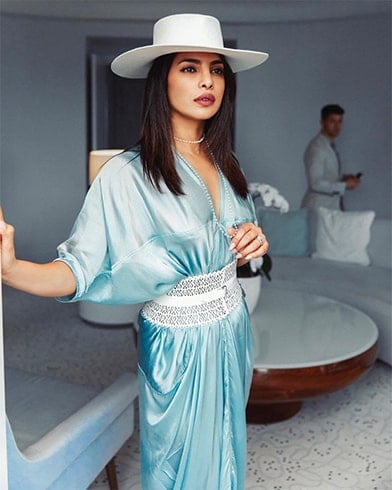 Look 4:
This lavender Fendi dress is still to Chopra's credit. We'd never pegged this from the designer's collection, but it plays well with the occasion embracing contrast. Even though the turquoise eyes and nude lips were bang on at, we still maintain her hubby was her best accessory at the Chopard Cannes party.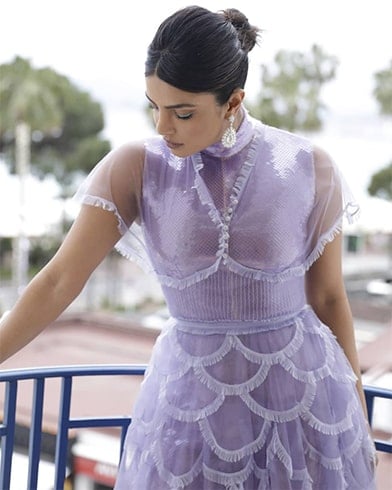 Look 5:
Priyanka stole every ounce of attention on the red carpet with her stunning looks, and it seemed impossible how she would top that. But knowing her well by now-we were kind of expecting a look that does not defeat her. The white Georges Hobeika couture white gown matched with Chopard diamond drop earrings and necklace is magnificent and will be lingering in everyone's mind for a long-long time. She was accompanied by Nick Jonas who complemented her look with a white pantsuit.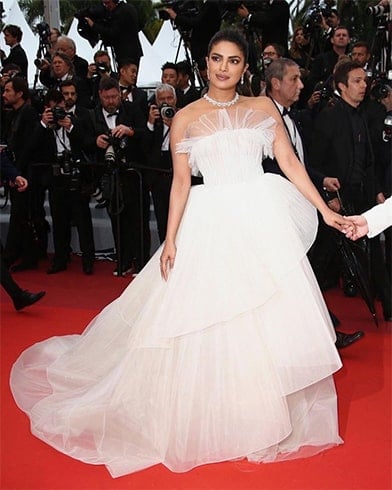 Look 6:
Priyanka often sticks to low-cut; body-hugging silhouettes-in all tones-that the detail of the Philosophy number is no surprise. The intricate shape is fabulous on the actress, and she's supremely (always) confident looking.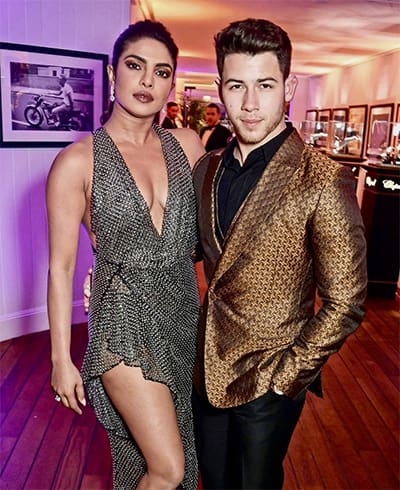 Look 7:
For her seventh look at the French Riviera the actress chose a stunning orange Tommy Hilfiger. She paired it with Chopard earrings and a neat ponytail.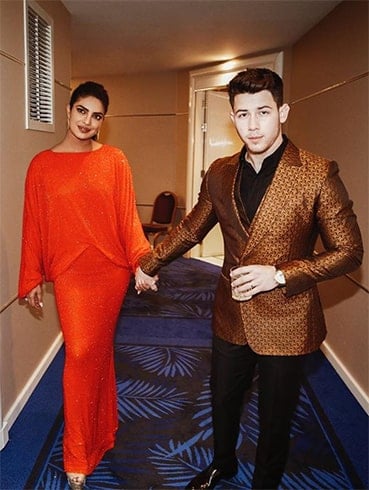 3. Kangana Ranuat:
Look 1:
Now that's one way of wearing saree! Quite an out-of-the-ordinary match, isn't it? And this is exactly what we expected from the Queen of sass herself. The beautiful saree worn by the actress is by Madhurya Creations, while the corset and gloves are from Falguni and Shane Peacock Collection. Traditional Indian look, but make it royal-dance elegance!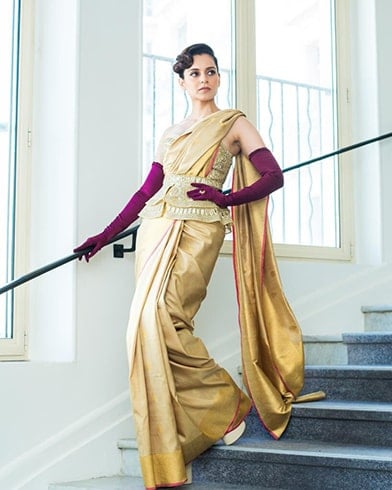 Look 2:
We love the black Nedret Taciroglu suit on Kangana which adds a little something different from the classic tweed suit style worn with a beige corset top.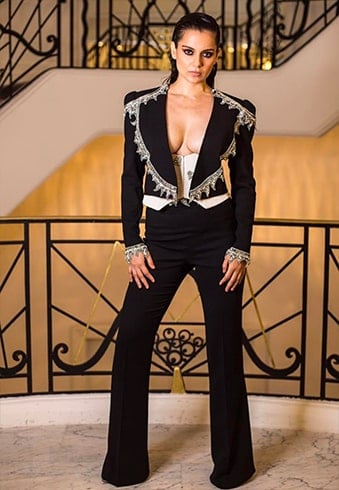 Look 3:
Kangana Ranaut just knows how to make an entrance! On Day 2 at Cannes, the actress ensured all eyes were on her, thanks to her Micheal Cinco gown. Strapless with a strategic train, the look popped on the red carpet. All she needed was jewels from Chopard to complete the transformation of a goddess.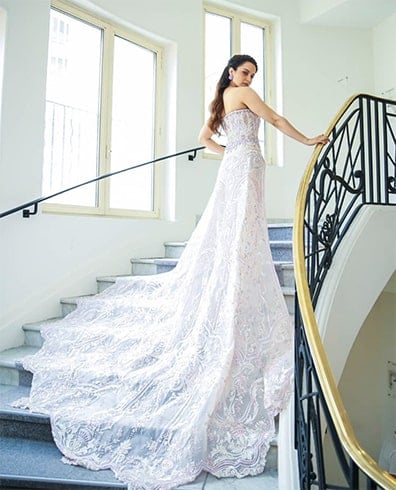 Look 4:
Kangana made quite a splash again at the Chopard Cannes soirée. The actress arrived in a classy white Toni Maticevski gown with jewels from Shweta Mehta. The headline making styling easily becomes one of Kangana's most memorable instantly and earned her the repo of wearing the event's classiest outfit.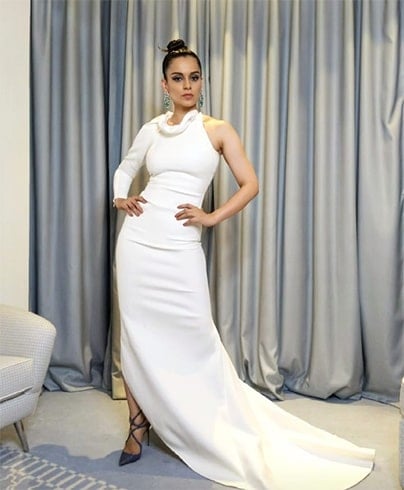 Look 5:
Gown-free but no less alluring, Kangana went relatively simple in an Alexis off-shoulder, Tomford sunnies, and Jimmy Choo sandals.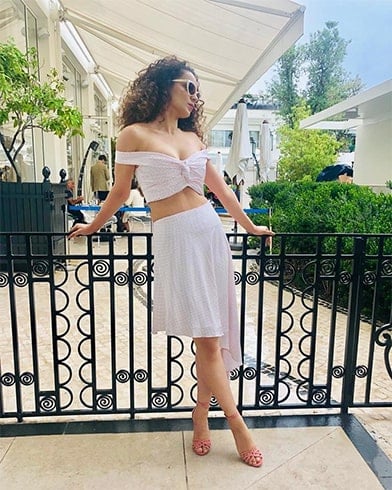 Look 6:
Because hey, you might as well bring on the drama if it's Cannes! The mood of her look is dedicated to the dreamy gown by Ralph and Russo. And lets' not even start with how it played to her strong points to create an impactful moment.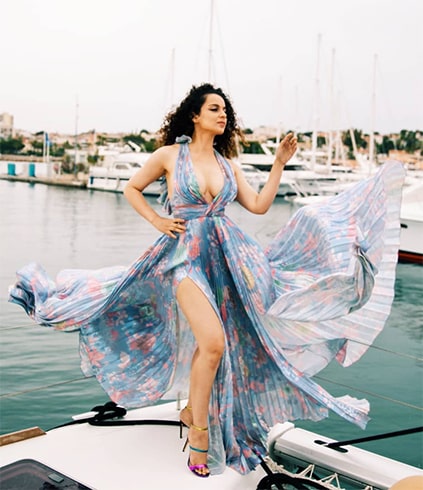 Look 7:
The actress finally ended her Cannes Film Festival fiesta. Seen at Mumbai airport wearing a skirt & overcoat by Miu Miu, Prada skirt, and Jimmy Choo heels!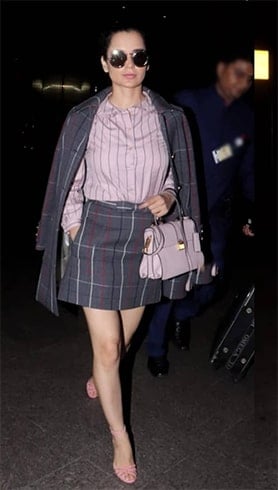 4. Hina Khan:
Look 1: 
Keeping the naked dress thing going strong, TV starlet Hina Khan made her much-anticipated debut at the Cannes Film Festival this year. Wearing a Zaid Nakad gown matched with Azotiique earrings, and Nidhi Bhandari heels, the actress fitted the bill.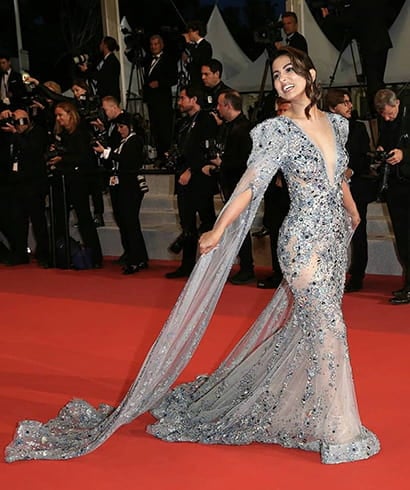 Look 2:
An Armine Ohanyan lavender dress in shape- and it's incredible! The Aquamarine jewels and heels by Truffle Collection make everything better.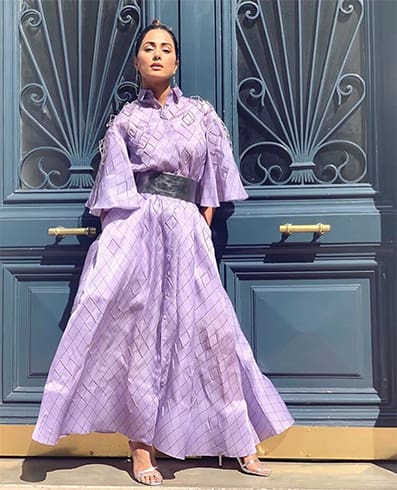 Look 3: 
Looking like a real-life Barbie, Hina Khan looked more regal than ever in her Sahil Kochar pantsuit. Those, jewellery by Sapna Mehta though!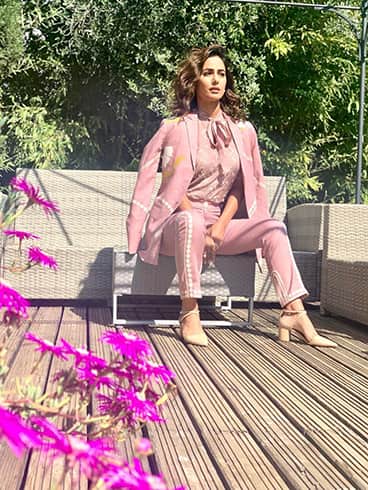 Look 4:
Trust the angelic Hina Khan to show up dreamy. Seen beautifully put-together in a sartorial outfit by Armine Ohanyan paired with Outhouse Jewellery and Dech Barrouci heels!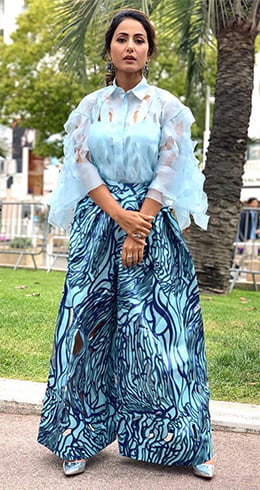 Look 5:
The green dress by Rami Al Ali is pleasantly pretty so are the heels from InToto Collection.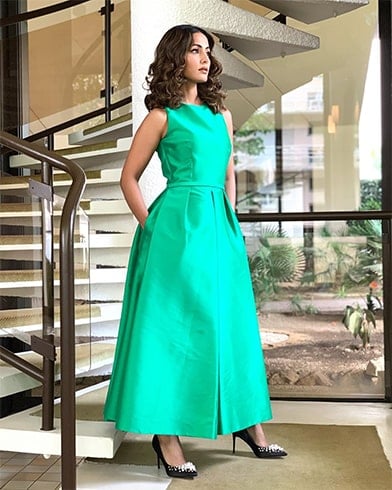 Look 6:
The Alin Le'Kal gown worn by Hina Khan feels sincere, and equally memorable. All that sass and volume is on-theme. The Azotique jewellery and Dech Barrouci heels create a fun blend to all that girlishness.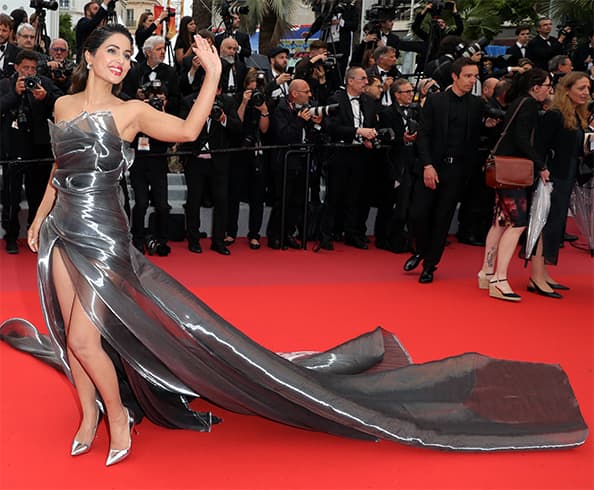 5. Diana Penty:
Look 1:
The Celia Kritharioti gold sequined number and boots is a classically party exemplar for the actress who was in attendance for the Chopard soirée. Take a closer look, and the dress has endless fringes. Keen on the hair and makeup-too-shimmery eyes suits Diana.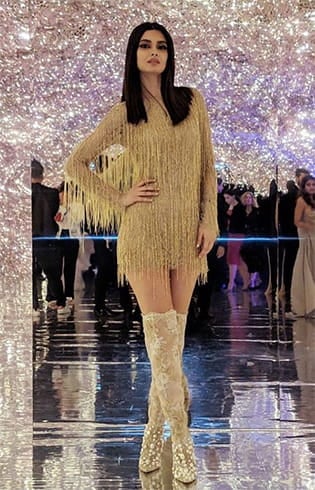 Look 2:
Look to Diana Penty for a master class in bringing out that graceful, conventional sultry thing. On Day 2 at Cannes, the actress wore the most white, silky saree by Amita Aggarwal that accentuates her svelte form. Plus she's paired it with Aquamarine Jewellery and Sergio Rossi shoes.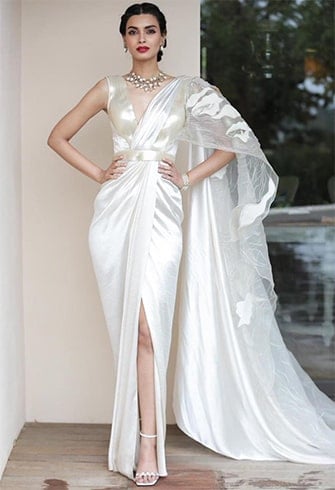 Look 3:
Ever seen an enlarged bow with a dress? Us neither, but Diana makes this Celia Kritharioti black number look like normal in easy-elegance. Extra points for her black clutch from Be Chic Clutches and Accessories!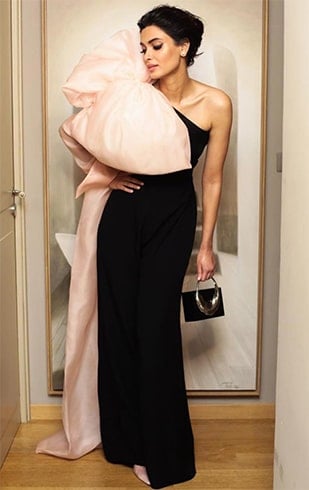 Look 4:
Forget gowns designed out of thousands of bonded floral. Who else could create an avant-garde look as pleasing as Diana Penty in a Blumarine trench coat? The vintage Givenchy earrings and Louboutin bag were added bonus.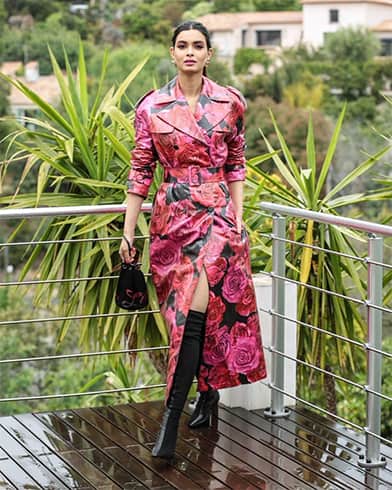 Look 5:
This look propelled Diana Penty into the big leagues. She sported a knock-out neon lime ball gown embellished with ostrich feather confection. Consider this as a spectacular take on the theme.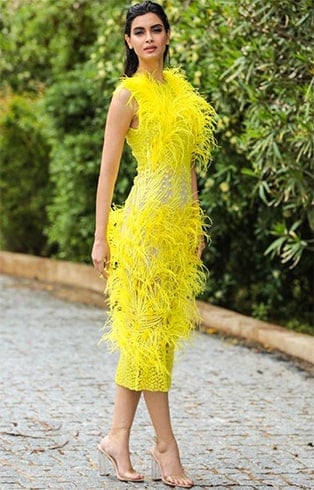 Look 6:
The actress shut down the Cannes Film Festival in style. She did not disappoint, donning a sculptural featured piece. This was the most faithful take on the dress code for the occasion. Her matching earrings and retro sleek-up hair made this style-up Diana Penty. Encore!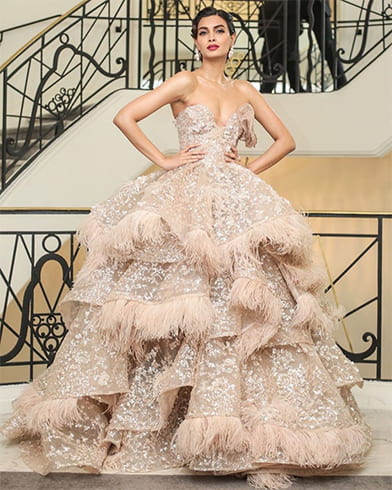 Look 7:
Actress Diana Penty in Atsu Sekhose is a dream in blue. Check out the pomp of the top and Lladró jewellery.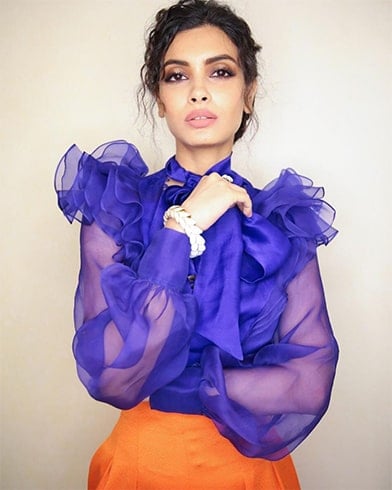 Look 8:
Diana Penty shines in a metallic Graine dress with shoes by Balencia.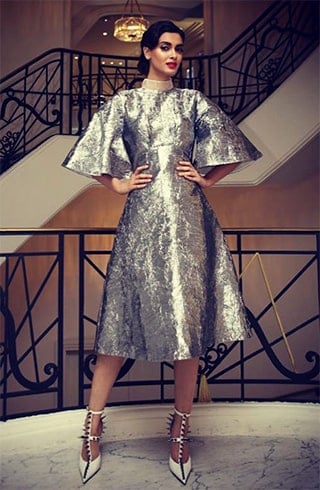 6. Huma Qureshi:
Look 1:
Huma Quershi first look was this stunning blazer dress by Balmain. Shoes by Stella mc Cartney, bags by Alexandar Mc Queen, and hair pins by Misho Design finished the look.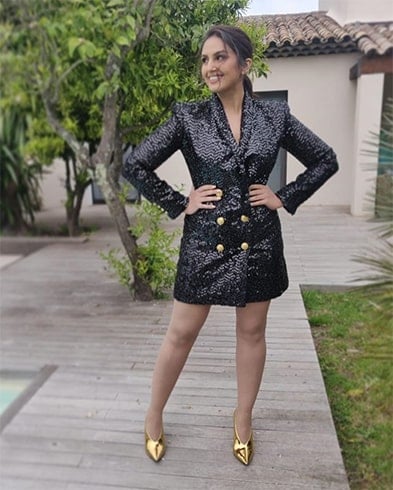 Look 2:
The Cannes Debutant actress stole our hearts with this Nauman Piyarji red blazer dress. One of Chopard's best party looks belongs to the Indian starlet. Channeling a vintage glamour with complementary jewellery by David Morris and shoes by Sophia Webster, we love this look!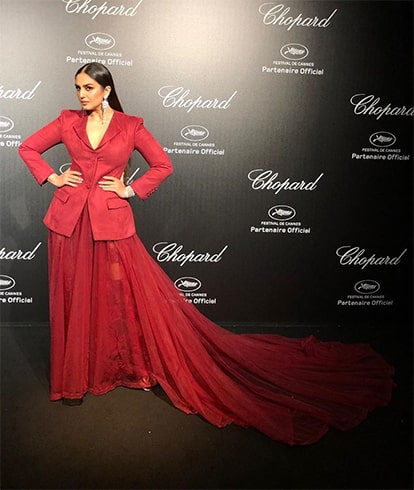 Look 3:
Huma Qureshi sashayed for the photo shoot despite the rains with a grin as dazzling as her white-silver dress by Angus Kirkby. The earrings by Fabergé and Sophia Webster perfectly matched her OOTD.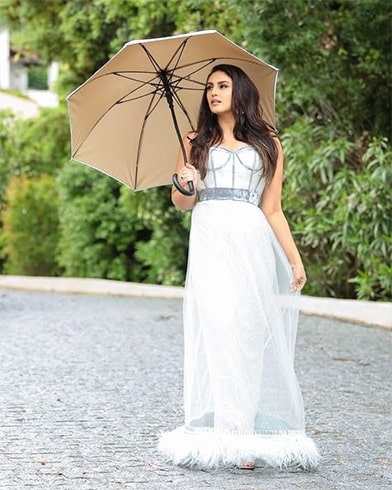 Look 4:
Never an actress to do anything divided into two. Huma's dramatic red carpet ensemble is from MAË Paris, and included jewellery by David Morris and additional opera-ruffled sleeves.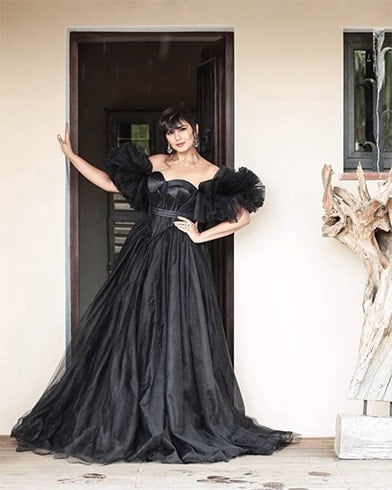 Look 5:
The Ralph Lauren jumpsuit worn by Huma at the Vanity Fair after-party pulled off polished classiness with just the right hint of playfulness. She kept it neat with rocks on her finger from David Morris jewellery collection.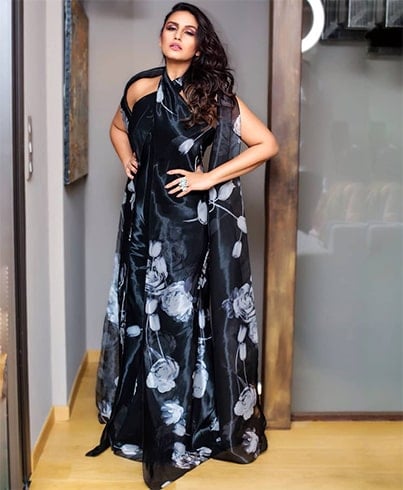 Look 6:
While we were dazzled by Huma's Nauman Piyarji red blazer dress, it is the soft-focus Gaurav Gupta gown that made our hearts skipped a beat collectively. The Chopard jewellery was worn to perfection.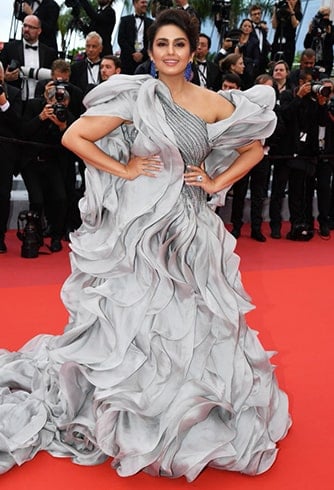 Look 7:
The actress stunned in an ensemble from Gaurav Gupta accessorizing the look with Sophia Webster shoes and earrings from Fabergé.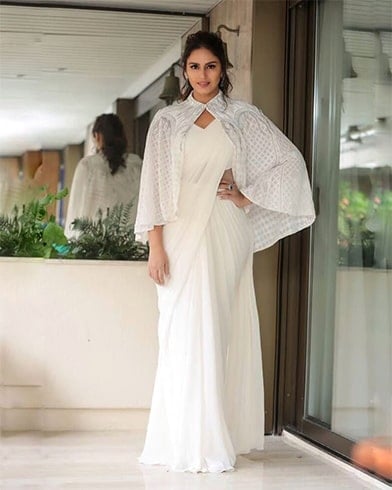 7. Aishwarya Rai Bachchan:
Look 1:
The intensely gold-foiled, metallic number has been waiting for a celeb to do it justice since its debut at the runways this year. L'Oreal Ambassador and Indian actress Aishwarya Rai Bachchan is the woman to take it on-and score big. The Jean-Louis Sabaji couture gown paired with Boucheron rocks and studs is nearly as captivating as her face.
But the biggest attention stealer was her seven-year-old daughter Aaradhya who accompanied the actress wearing a striking asymmetrical dress.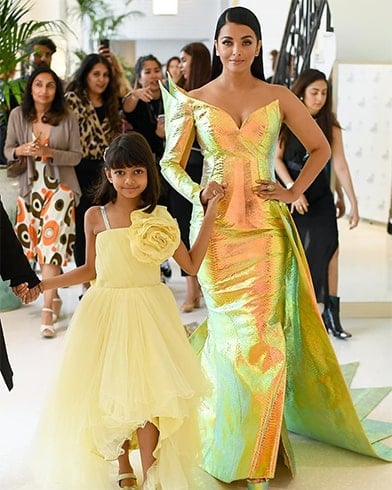 Look 2:
Aishwarya Rai is always one to dress in sync, and won the red carpet as one of the attendees to wear a white feathered and ruffled gown by Ashi Studio. The actress looked equal parts angelic and fresh-wowing us from every angle with a sharp slit. Rai earned points for wearing matching sandals and drop earrings.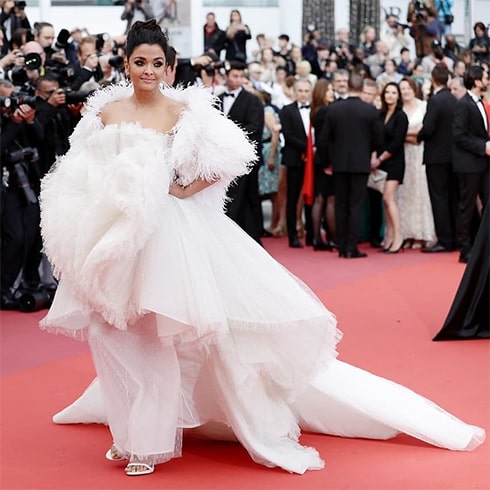 Look 3:
Standing out with a stripe on stripe Leal Daccarett gown!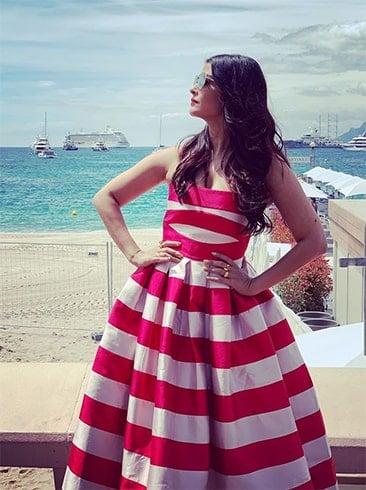 Look 4:
Now that's a head-turning denim suit.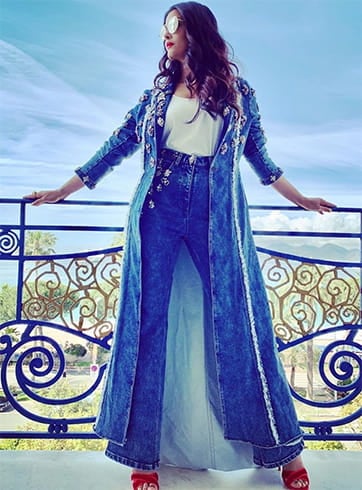 Look 5:
Yachting in style!!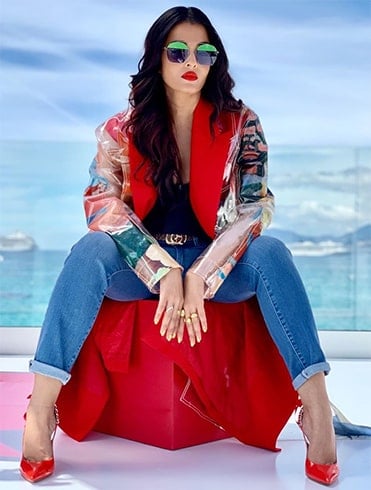 Look 6:
Elegantly, mesmerizing, in sea blue!!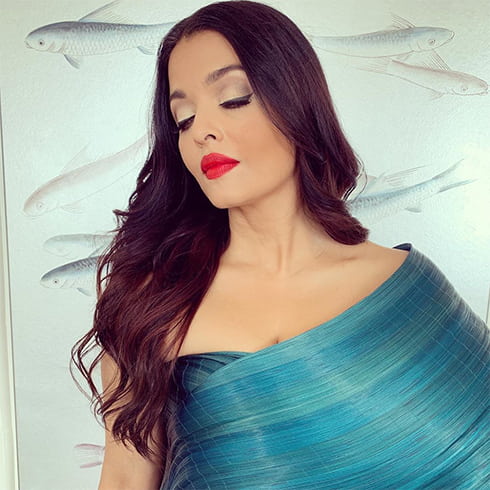 Look 7:
Aishwarya Rai reminds us that vintage is still alive in this old-Hollywood-inspired charm look.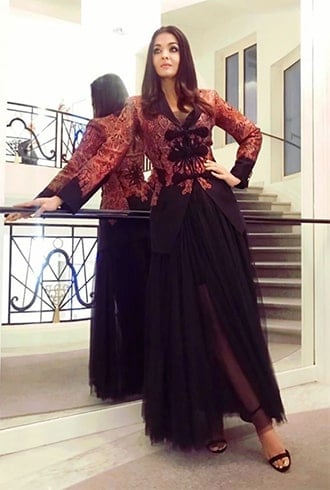 8. Sonam Kapoor:
Look 1:
Yet again, Sonam Kapoor did the damn thing for her first look at Cannes Film Festival wearing the airy ruffled red gown by Maison Valentino. The Indian actress probably just put as much thought into her styling as she did anything else.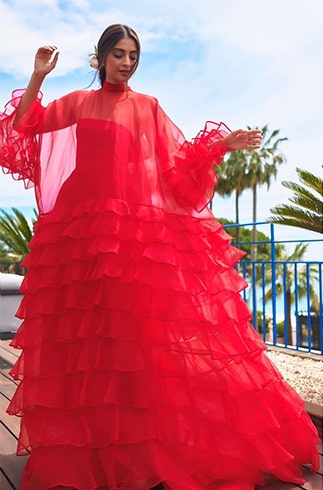 Look 2:
If that's not how one bring the red carpet to a standstill, then we're not sure how. Sonam is sleek all over in Elie Saab as she prepares herself for press.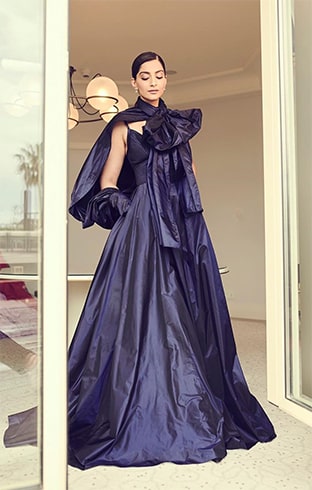 Look 3:
Can we all take a moment of silence to adore the badassery of Abu Jani Sandeep Khosla gold ensemble? Take as much time as you need.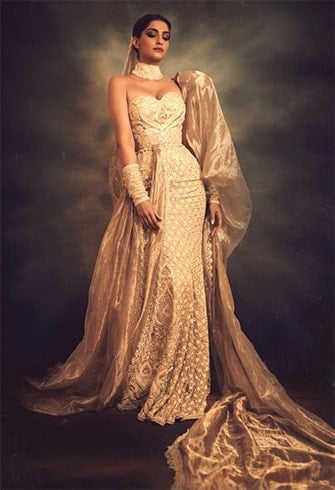 Look 4:
Everywhere she goes Sonam Kapoor much shuts it down. (Take this look for example) And this dress from Ashi Studio is another golden win. Slay on, woman.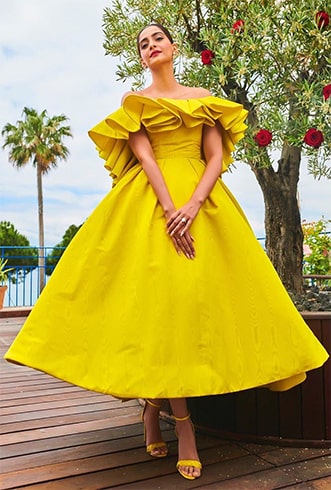 Look 5:
For her first red carpet appearance, the actress proved she knows how to make an entrance in the Ralph and Russo white tuxedo. Also, a refreshing break from all the floor-length gowns! Thanks, Sonam. The tuxedo with the long stunning train paired with Chopard jewellery and Jimmy Choo shoes looks great. Good luck in getting this Ralph and Russo haute couture out of your head.
These are all the incredible looks from the Cannes Film Festival 2019 so far. Watch out this space for more.
May 22nd, 2019
Author: Lima Aier
Images Source: Official instagram profiles of the celebs/designers mentioned with in the article.
---
Top 5 Insane Accessories Bollywood Wore To Cannes 2018
As much as an outfit runs the show for our star fashionistas, so does the accessories that go with it. They may be minuscule, they may be attention seekers, but they always complement the overall look of our divas.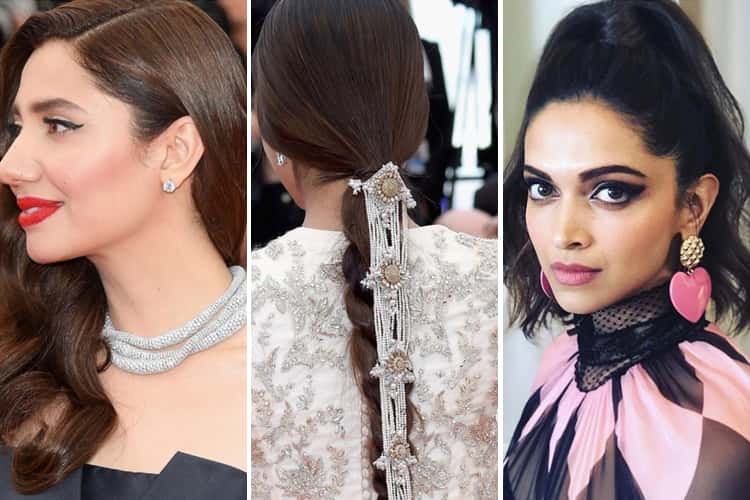 While enough has been discussed on the outfits our leading ladies wore for their appearances at Cannes, we want to get your attention to the accessories that played a major role in their outfits.
Top 5 Accessories At Cannes:
Sonam Kapoor at Cannes:
Heart earrings are having a moment now, with the divas willing to wear their heart on their earrings. To add to the streak of sunshine, stylist Rhea had Sonam complete the Veera Wang outfit with jewellery from Chopard. The heart earrings, in particular, grabbed all our attention.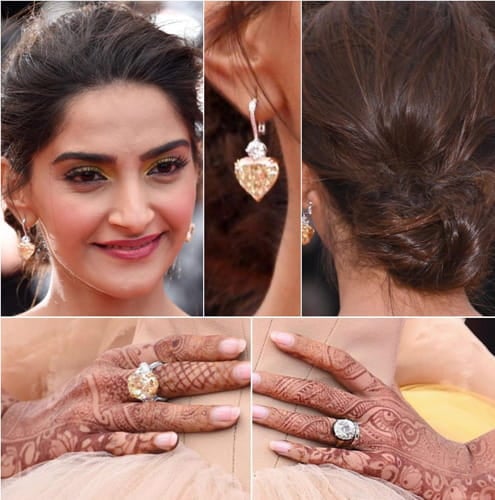 To take her customised ivory Ralph and Russo ensemble to an all new high, stylist Rhea had her muse wear it with a headgear that looked sufficient enough to absorb all the limelight at the dramatic Cannes red carpet. The Amrapali piece Sonam lined her braid with had the shutterbugs flashing continually.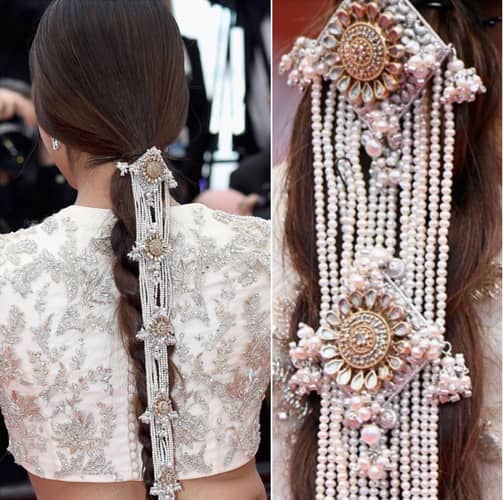 Mahira Khan at Cannes:
Mahira Khan's fabulous fashion choices are doing rounds in the fashion circuit. With every outfit, the woman goes a notch higher. Mostly playing minimal with her accessories, for one red carpet appearance, Mahira pleasantly surprised us with her triple lined Chopard necklace. The silver sparkle added all the sparkle to her black Alberta Ferretti gown.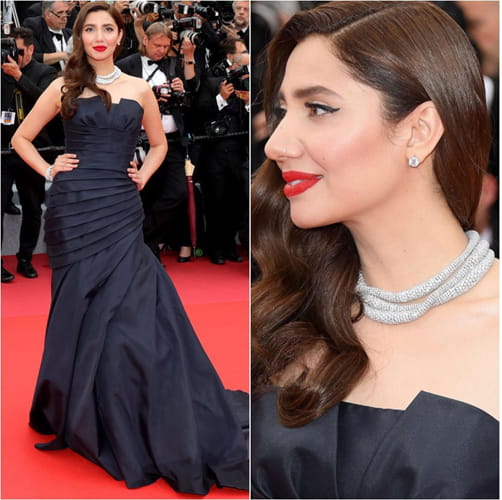 Kangana Ranaut at Cannes:
Kangana has taken over her followers with the range of our looks. From boho to classy to futuristic to pretty, Kangana's fashion versatility is commendable. While her outfits are much in the news, we admire her casual look in a short Elisabetta Franchi dress. Adding to her cool were a pair of cat eye Dior shades and a cute lemon handbag from Tods. Summer's perfect accessories!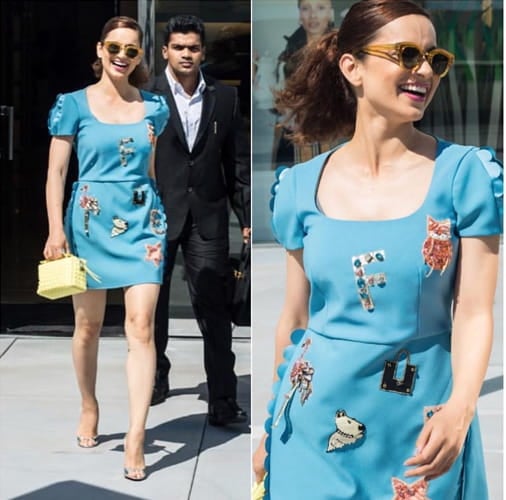 Deepika Padukone at Cannes:
Deepika's powerful Cannes wardrobe is worthy of appreciation. Keeping it simple with her accessories, the woman has given us back to back wowness. For one look, we loved how her black and pink printed dress from Philosophy was amplified with a pair of pink hearts strung to a diamond ball on both her ears. All hearts for these hearts.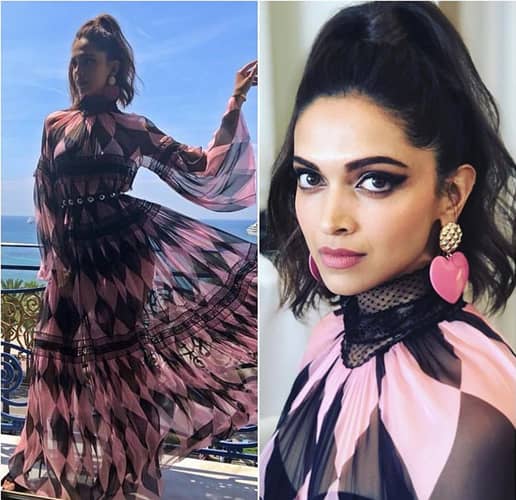 That was all the prettiness that sashayed down at the Cannes Film Festival 2018, along with the stars and their outfits.
May 18th,  2018
Author: Sonam Maheshwari
Images Source: instagram.com/deepikapadukone/sonamkapoor/Mahira Khan/Kangana Ranaut

---
Deepika And Sonam Show Some Major Denim Love At Cannes
For us, the Cannes Film Festival has always been about dramatic, over-the-top red carpet gown looks. With the aesthetics progressing and continually undergoing changes, fashion today is more streamlined and simple with much emphasis on comfort.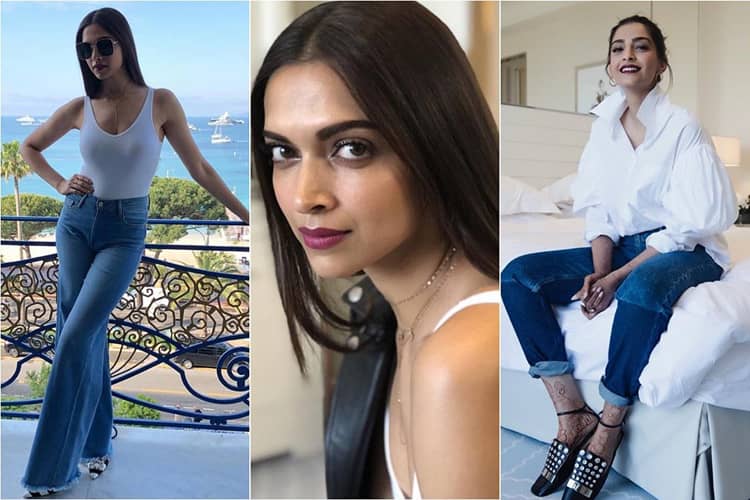 But what we were just not expecting to see at such a fashion-oriented event, was to spot our fashion forerunners in denim. Bringing the cool blues back in vogue with an uber chic touch were India's two leading divas, who currently are busy swooning everyone across the world with their looks at the Cannes Film Festival.
Deepika And Sonam In denim:
At the Festival De Cannes playing ambassador to L'oreal India, Deepika Padukone and Sonam Kapoor are doing everything right as far as dressing up is concerned. With their suitcases packed with mighty silhouettes, they are giving us more reasons to cheer and hoot for them every day.
Sonam Kapoor:
Sonam Kapoor's denim look is a wow-ness overload. Riding high on punk chic, Sonam's cool look for a photo shoot with Loreal gave us all new blue goals. The fashion leader showed us exactly how fashionistas wear their classic, white shirt, blue denim pairing. Sonam wore her Bhane high-waist denim with a white shirt that boasted off oversized-pleated-sleeves from Simone Rocha.
Collar up, shirt tucked in, tresses rolled up in a top knot and Sergio Rossi metal-studded shoes rendered a look better than most of her red carpet gowns, picked exclusively for Cannes. A deep-plum pout lining her perfect Colgate smile added the final touches to this impressive, casual style.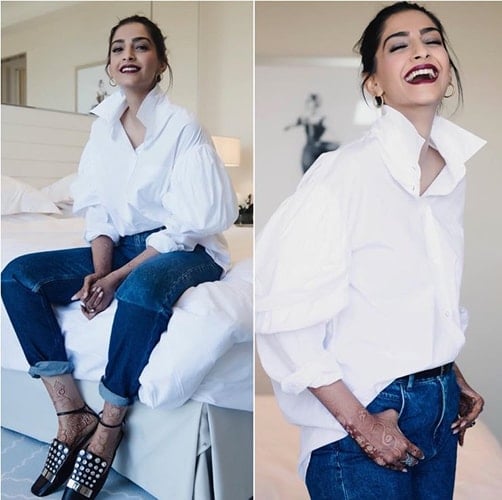 Deepika Padukone:
For a casual shoot, Deepika Padukone preferred to keep it minimal with some touch up of understated glamour. Working the classic white tee and blue denim look, the diva added her glamorous touch, making it a look worthy of being mentioned in her Cannes lookbook this year. The Bollywood's leading lady wore her plain white t-shirt knotted up with a pair of high waist fitted ankle length, light-washed denim.
Sending off cool vibes, the woman topped her classic combination with a pair of oversized brown shades and a pair of nude peeps. To add some sparkle, Deepika adorned her wrist with a watch and wristband and a pair of hoop earrings, all in gold. Fabulous blown tresses and a muted makeup finished her look.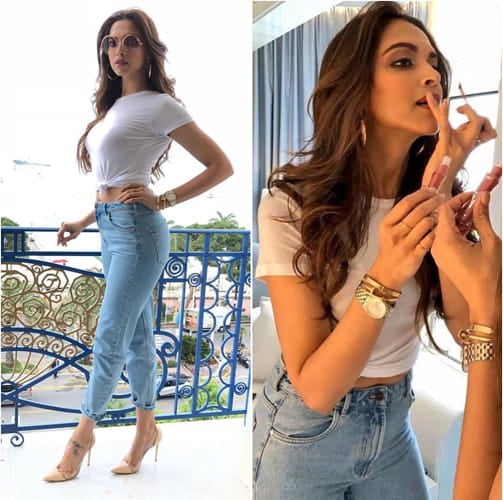 [sc:mediad]
Spotted yet again, chilling in her balcony against a breathtaking backdrop at Hotel Martinez, Deepika gave us cool goals wearing a white vest from ATM collection with a pair of high waist flared denim from Frame. A pair of monochrome peeps from Roger Vivier and layered strings in gold sealed Deepika's denim soiree at Cannes. Due credits go to stylist Shaleena Nathani.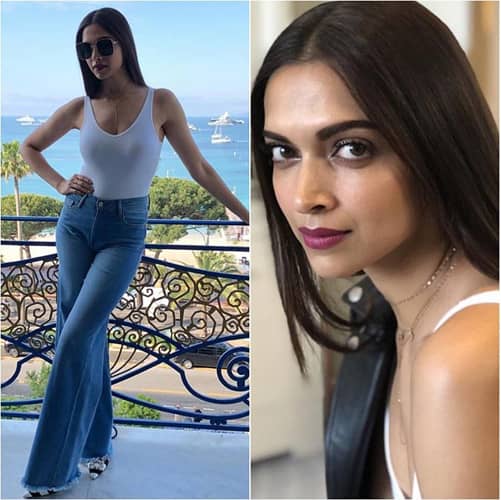 We are sure of binging on the white shirt – blue denim pairing for our next special day out.
Images Source: instagram.com/deepikapadukone/sonamkapoor

May 17th,  2018
Author: Sonam Maheshwari
---
Top 3 Looks From Bollywood At Cannes
With the Festival De Cannes in full swing, we are quite hooked on to the looks coming through from our B-town beauties, out on the shores of France. After a fashion-packed kickstart, here are our top picks for the best dressed.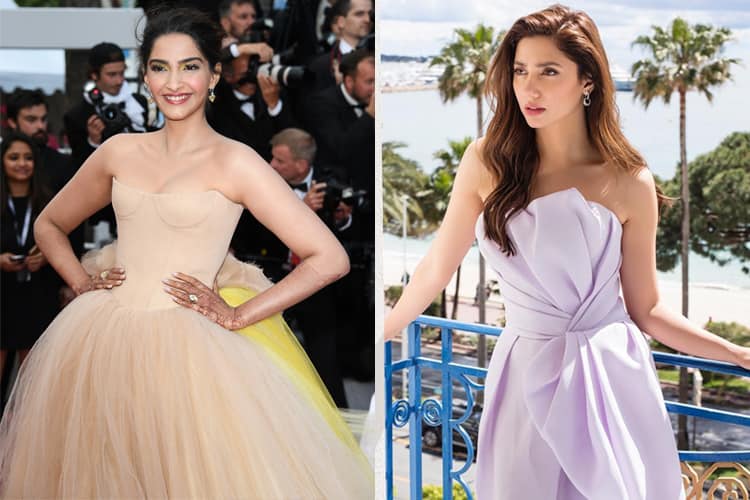 Mahira Khan:
Mahira Khan has a certain exotic aura around her. The lady from Pakistan has a worthy Indian fanbase, courtesy her charm. Apart from her A-class acting skills, the woman's fashion aptitude has always been appreciated. Stealing the show with two steamy looks was Mahira Khan at the Cannes Film Festival 2018.
Posing with the sea as a perfect backdrop was Mahira Khan, suited up well in a powder blue from Ermanno Scervino. Looking like an absolute power-packed poser, Mahira added all the stars to Loreal playing their ambassador.
Refreshing and summery was Mahira's second pick for the day. A lavender flowy gown from Maison Yeya. Pairing with "chaand sitara" earrings, stylist Maneka Harisinghani amped up the woman's glam quotient.
Sonam Kapoor:
Sonam Kapoor at Cannes has always been dramatic and this time too, she has her wardrobe packed with spotlight-worthy silhouettes.
Yesterday, with a streak of happiness, Sonam Kapoor Ahuja stepped on the Cannes red carpet. Picked from Veera Wang, her nude gown sported a corset, blown out into layers of net with a yellow trail to add all the oomph needed. Styled with beautiful pieces of jewellery from Chopard- heart earrings and ring- Rhea sealed Sonam's Cannes look.
Posing for Loreal, Sonam had the internet swooning with her red and white pinstriped dress from Emilia Wickstead. Long collars and belted waist gave us retro feels. Rhea completed Sonam's Cannes look with a pair of heels from Sophia Webster and round black Bottega Veneta shades. Tresses done up in a ponytail completed her look to the T.
Tillotama Shome:
Tilottama is making her presence at Cannes felt with her immaculate sense of fashion. Her saree look has absorbed all the spotlight from fashion insiders.
At the Festival de Cannes, Tilottama did her desi girl look just right, in an ivory saree from Abu Jani and Sandeep Khosla. A braided bun along with pearl earrings from Azotiique, had our lady go viral.
Spotted in a saree against the beaches, Tilottama earned brownie points wearing a beige number from Pero. Azotiique necklace and a pair of white sunglasses sealed her draped look at the beach.
We bet you agree with our top picks from the Cannes Film Festival. Let us know!
May 16th,  2018
Author: Sonam Maheshwari
---
Bollywood Celebs Ruled The Cannes Film Festival 2018
Cannes Film Festival 2018 has finally come to an end and oh my! What a show! Unlike the previous years, we had a lot of Bollywood celebrities gracing the festival.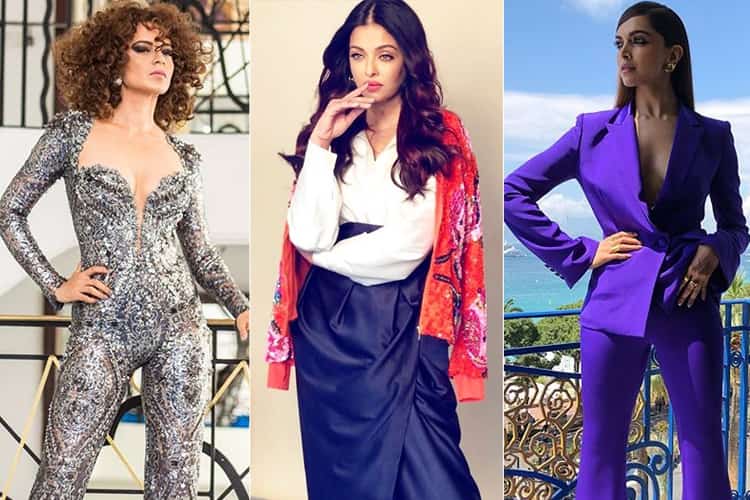 Right from Aishwarya Rai to Deepika Padukone, every style that the celebrities rolled out were breathtakingly beautiful. Clogging our glam cam with their fashion updates, the divas sprinkled their pixie dust.
Celebs Who Ruled The Cannes Film Festival 2018:
Dig in for details here!
Mahira Khan:
One other celebrity who marveled us with her breathtaking appearances at the Cannes Film Festival 2018 was Mahira Khan. The tall beauty showcased three styles that left us asking for much more. With grace in every frame and a killer attitude, she spoke fashion out loudly.
She was spotted doing a bright yellow number over a pair of high waist trousers by Solace London. Classy Louboutin heels, a wide cream belt, and dangling earrings were striking features of the style.
Mahira was captured enjoying the bright sun in a halter neck cream-toned Elan outfit. Contemporary Zohra Rahman jewelry, a black anti-fit floral cape, and neutral shoes rounded her style.
In a satin colorful printed outfit by Leonard Paris and Tom Wood, Mahira was clicked perched on a high chair. Mid-parted sleek hairdo and bronze finish makeup rounded her style.
Aishwarya Rai:
Finally, the most beautiful diva in the world, Aishwarya Rai, graced the Cannes 2018 Film Festival. Unlike the last year's bizarre quirky styles, Aishwarya surprised us with pleasant notes of fashion.
She began her journey at Cannes 2018 with Manish Arora sequined outfit. With wavy, colored hair, luscious lashes, and coral matte lips, she looked pleasing.
Aishwarya Rai walked the red carpet wearing a 3-meter train Michael Cinco butterfly gown. Adding sparkling jewels, shimmering winged liner, and matte finished red lips, she was glamorous.
Elegant and professional was Aishwarya in Giorgio Armani pantsuit during one of the Cannes 2018 festival events. Jimmy Choo clutch and Racine Carree jeweled ankle strap heels were her choice of accessories to the black suit. Mid-parted sleek ponytail, red hot lips, and smokey eyes rounded her style.
Beauty-overloaded was Aishwarya posing at Cannes 2018 in a Manish Arora colorful bomber jacket, over a white crisp shirt and high-waisted wrap around skirt. With wavy hair and fresh and dewy makeup, she looked fab!
Aishwarya Rai also walked the red carpet wearing a shimmering white strapless Rami Kadi gown. The diva chose to keep minimal with Boucheron jewelry and shimmering eye makeup- she looked stunning. While last year it was purple lips that baffled us, with this year, she surprised us with the quirky hairstyle.
Huma Qureshi:
It was all shimmers for Huma Qureshi at the Cannes Film Festival 2018 events. Wearing a shimmering Manish Malhotra beige colored gown, and topping it with cream colored long Drome cape, she balanced out the look. Mele and Marie, Outhouse jewelry added much more shine and sparkle to her style. Mid-parted sleek hairdo, shimmering smoky eyeshadow, and red lips rounded her style.
Dressed like a wonder woman in a metallic silver embellishment-rich outfit by Falguni & Shane Peacock, she looked drop dead gorgeous. The cape over the pantsuit was an interesting and catchy addition to the style. Side swept wavy hair, shimmering eyeshadow and deep red lips finished out her look.
Styling credits go to Mohit Rai and beauty credits go to Manjari.
Neena Gupta:
Neena Gupta attended two of the Cannes Film Festival 2018 to promote her movie, The Last Color, wearing her daughter's label, House of Masaba. The golden touch that the diva added with her accessories rolled in a classy vibe.
For one other event at Cannes 2018, the veteran beauty welcomed summer in a Raw Mango yellow sari. With blue bangles and potli, she gave the style a quirky contrast finish.
Kangana Ranaut:
The pool of styles that Kangana spread out at Cannes 2018 got our eyebrows to disappear into our heads! Spiking up the heat of the festival, the diva rolled out heart-racing styles. Dig in for details-
Bossy and sassy was Kangana at one of the Cannes Film Festival 2018, in a red leather patterned Nanushka wrap around dress. Sleek Poppy Lissiman shades, quirky Neous shoes looked spectacular with her red-hot style.
Enjoying the hot sun was Kangana, spotted in a Trussardi bra, trousers and jacket. Statement necklace by Alighieri jewelry, Poppy Lissiman shades, and Manolo Blahnikhq, were her accessories that nailed the style. A messy updo and deep colored gothic style lips rounded her style.
She looked sweet, adorable, and peppy and was out and about at Cannes 2018 in Elisabetta Franchi. Cutesy Tods in the mellow yellow shade, Dior sunglasses, and printed Louboutin pumps sweetened the style.
The diva rocked a retro disco style on the red carpet in a shimmering Nedret Taciroglu. The plunging neckline, the bodycon jumpsuit looked intoxicating on her and by adding smokey winged eyeshadow, baby pink lips, shimmering makeup and mesmerizing curls, she looked irresistible.
In a black shimmering Halpern mini dress, she stepped out party-ready for one of the Cannes 2018 events. The killer feature of the style is surely the cobalt blue neck and sleeve pattern, don't you agree? Navy blue Louboutin heels were a striking add-on to her style. With blush toned makeup, and with her curls tied into a pony, she looked peppy and sexy.
Deepika Padukone:
After a long, exciting time at Cannes 2018, Deepika was spotted looking smart and uptown in a Maxmara outfit. Nude colored Gianvito Rossi ankle strap heels, Burberry handbag, and Marc Jacobs sunglasses spiced up her style.
Majestic and royal was the diva in a Marcellvon Berlin gown. Plunging neckline, the cape falling off the shoulders and the train were striking features of her style. Chopard jewelry and Louboutin heels were her picks for the evening. A sleek updo and kohl-defined eyes rounded her style.
Deepika Padukone was captured on the red carpet in a ruffled fuchsia Ashi Studio outfit. Looking like a pretty enigmatic butterfly, she knocked us off our feet. Emerald Lorraine Schwartz jewelry added a contrasting vibe to her style. With a sleek updo, winged liner and pink eyeshadow, she was breathtakingly beautiful.
She was captured enjoying the sun in an Alberta Ferretti dress. Misho Designs earrings, matte finish lips, and casual hair rounded her style.
Bossy yet sassy was the diva in a purple colored pantsuit by Victoria Hayes during one of the Cannes events. YSL shades and Misho Designs earrings were her choice for the style.
Mallika Sherawat:
The lovely lady, Mallika Sherawat, was caught on our glam cam, walking the red carpet at Cannes 2018, looking stunning in a strapless, fit and flare Yolancris gown. The soft pastel shade outfit with the black lacework and the neat pleats were totally engaging features of the style. Wish she added a pop of red to her lips, however, the nude lips played along well with her choice of outfit.
In a magenta one-shouldered outfit by Wendell Rodricks, Mallika was out and about at Cannes 2018. Maison Valentino beaded shoes and Hermes handbag were her accessories for the evening.
Hope you enjoyed the Cannes 2018 journey!
May 14th, 2018
Author: Sai Bhargavi Chintaluri
---
Day 1 At The Cannes Film Festival 2018
As promised, we are back with more updates on the fashionable styles of our Bollywood divas at the Cannes Film Festival 2018. It seems like just yesterday Priyanka Chopra and Aishwarya Rai walked the red carpet and now we have new faces setting the red carpet on fire at Cannes 2018.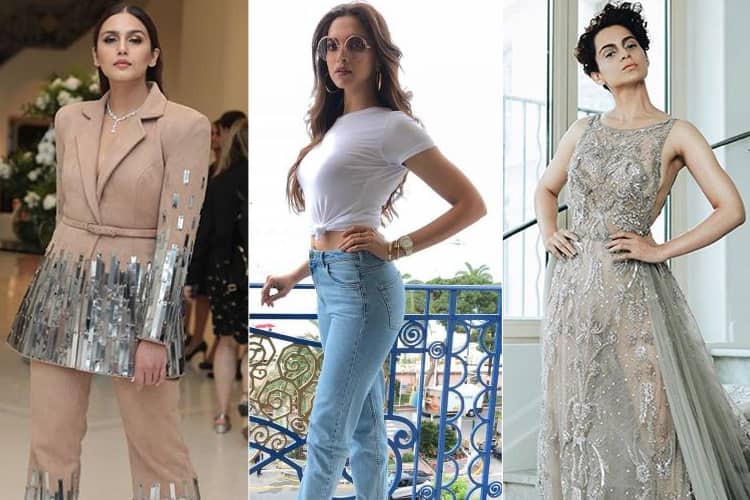 It is evident that besides walking the red carpet, the divas also take this opportunity to showcase their fashion choices and beauty themes.
Cannes 2018 Day 1:
Let's jump on the bandwagon of Cannes 2018 and have a feast.
Deepika Padukone:
It was a floral, pleasant-looking maxi dress by Monique Lhuillier for Deepika Padukone at one of the events of the Cannes Film Festival 2018. The cape in the same print as the dress and the knot around the neck gave her style a dreamy look. Valliyan earrings were her sole choice for accessories. Getting comfy in Maison Valentino shoes, she rounded a summery style. Sandhya Shekar, the makeup artist, gave the diva the perfectly-contoured makeup touches with L'Oreal products and Georgiou Gabriel, the hairstylist, gave her tresses lovely waves that rolled down her shoulders.
For day 1 of the Cannes Film Festival 2018, Deepika was captured looking fabulous as always, in a Zuhair Murad outfit. In a cream-toned lace, self-embroidered outfit with a flowing cape, Deepika was every bit sensuous and trendy. 70-carat emerald cut diamond earrings and diamond rings by Lorraine Schwartz sparkled her style. Nicholas Kirkwood shoes, side-parted wavy hair and glossy glowing makeup finished out her style.
During her stay at Cannes, Deepika rolled out quirky, fancy styles. Wearing a sheer high-necked Philosophy outfit along with Alberta Ferretti shoes, she snowballed fashion at the film festival. Her hairdo and makeup surely reminds us of the Om Shanti Om look, don't you agree?
Stripes overloaded was the diva in a Tome NYC outfit. The blend of differently-directed stripes looked quite interesting and the diva carried it with great panache. Viange Vintage earrings, Misho rings, and red classy and sassy Louboutin heels added a killer vibe to her style.
For a shoot at Cannes, Deepika picked a casual white tee over high-rise denim capris. Totally chic, wasn't she?
Huma Qureshi:
For day 1 at Cannes 2018, Huma Qureshi did a bizarre, yet beautiful pantsuit in Nikhil Thampi label. The glaciers style hemline along the pants and the blazer were noticeable features of the style that made the avatar click. Adorning Piaget jewelry and wearing Carven shoes, she looked smart and confident. Mid-parted sleek hair, smokey eyes, and glossy lips achieved by Manjari Singh on the diva was commendable.
While we were hoping for flowing gown styles with long capes on the red carpet, our Bollywood divas chose to keep it simple, maxi-styled, and easy-breezy. Huma Qureshi slid into a peach, ivory, and powder blue colored outfit by Paule Ka. Love the satin peach waistband! It was an interesting add-on to her style.
Mallika Sherawat:
As always, Mallika Sherawat was in attendance with the Cannes 2018 dressed gorgeously in a pastel-colored applique work Tony Ward gown. Since the neckline was high, she surely skipped the necklace. But instead, she brought to light her Piaget jewelry. Ferragamo shoes accompanied her ensemble.
Kangana Ranaut:
Kangana made her first debut appearance at Cannes 2018 film festival dressed spicy and hot in a Zuhair Murad outfit. The pastel color of the outfit, the sheerness, and embellishments created a strong ripple effect in the fashion world.
While out and about at Cannes, she was spotted looking utterly casual in a Gucci gray-toned tracksuit and shoes. With her hair curly and natural, a cool pair of shades and neutral makeup shades, she looked uber cool.
Hope you enjoyed day 1 at Cannes 2018. Stay tuned for more styles!
May 12th, 2018
Author: Sai Bhargavi Chintaluri
---
Cannes Film Festival 2018: Here's A Sneak Peek!
With the Cannes Film Festival 2018 on its way, we are way too excited. This year, besides Sonam Kapoor, Aishwarya Rai, and Deepika Padukone, many other Bollywood celebrities are making their debut at Cannes 2018 red carpet!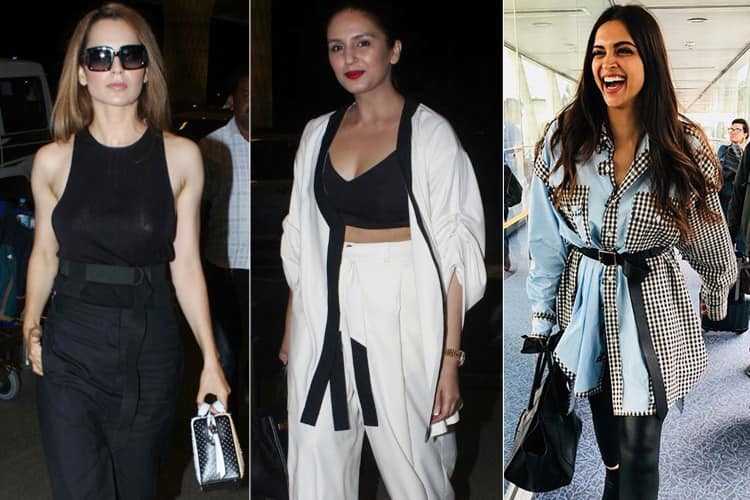 Let's welcome them and explore their fashion choices to our heart's content. Most of the divas rolled into killer styles while jet-setting and we bring to you their fashion from the airport to the styles at French Riviera.
Cannes Film Festival 2018:
Enjoy the show!
Deepika Padukone:
From Met Gala 2018 event, Deepika Padukone is now headed to the Cannes Film Festival 2018. The diva was spotted at the airport doing one of her best fashionable stories in a Maison Margiela shirt dress. The bizarre blend of solid color and checks was purely trendy and wearing it with leather pants and black belt, she raised the bar for travel fashion. Ankle length boots, a black tote and casual let down of hair rounded her style. Styling credits go to Shaleena Nathani.
Kangana Ranaut:
While jet-setting for Cannes Film Festival 2018, Kangana Ranaut dressed to the nines in a black Tibi top and skirt tapered along the waistline with a belt. Adding a white and black box style handbag from Tods and with white Neous shoes, she looked rocker chic.
While the former was a trendy style, the diva later rocked a retro-chic ethnic style in Sabyasachi label at one of the Cannes 2018 events. The puffed hairdo, the winged liner, and nude lips played strongly for the retro theme of the diva. Oh my, my! The hotness is too much to handle, don't you agree?
[sc:mediad]
Huma Qureshi:
On her way to Cannes, Huma was spotted wearing black and white separates from Two Point Two label. Adding a red-hot lip and Birkin tote, she looked fancy and upbeat.
On reaching Cannes Film Festival 2018, Huma kick-started her first day in a custom corset, white skirt, and a delicately embroidered cape by Varun Bahl. Suhani Pittie earrings gave her style a statement. Sliding into Malone Souliers mule, the diva nailed the style with ease. A sleek updo, red hot lips, and well-contoured makeup rounded her style.
Stay tuned for more updates on Cannes Film Festival 2018!