The theme for the Met Gala 2019 was Camp: Notes on Fashion inspired by Susan Sontag's 1964 essay, which defines camp as "love of the unnatural: of artifice and exaggeration." Everyone speculated how hard celebs would chime with the mood. And they sure didn't dishearten! Sure, the construal meaning of each ensemble varied widely but it yielded a sense of accuracy. And even something better. Scroll down to know.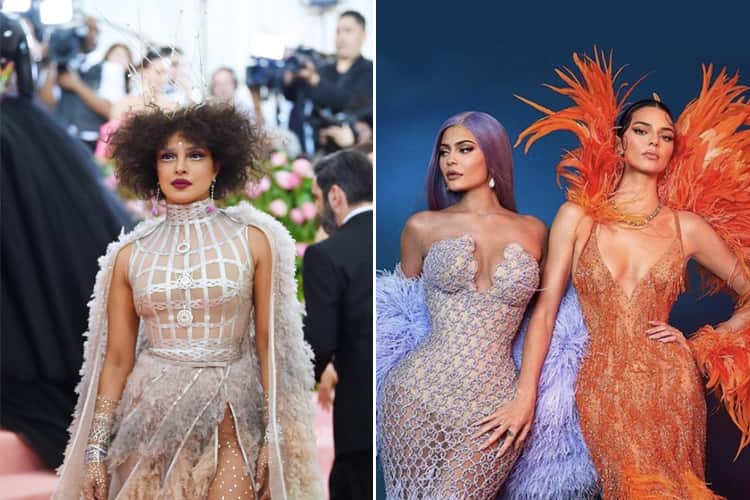 10 Best Dressed Celebs At The Met Gala 2019:
It was tough to select only 10 stunning looks from the spread of extravaganza, but our pick sure won't disappoint. Take a look.
1. Emily Ratajkowski:
Wearing: Peter Dundas
Why: The model looked like the ultimate goddess in this bold gown by Peter Dundas. The drape silver gown had the deepest cutout on the torso, completed with a winged headpiece. Emily took major inspiration from songstress Cher, who she referred to as "Queen of Camp" in her IG stories when teased about what she was going to wear.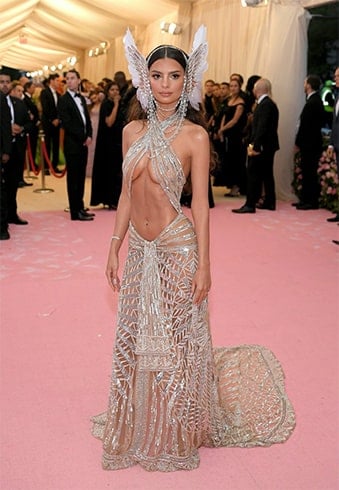 2. Priyanka Chopra:
Wearing: Dior
Why: Following the theme, Priyanka pulled all the stops in her Dior Haute Couture froth gray gown with cage detailed corset and multihued feathers. And, of course the cape! The makeup was far from subtle-bold fuchsia eye shadow, bold berry lips, frosted lashes, and face gems. Above it all, she teased her hair with a sky-high crown. Quite matches her fearless demeanor, don't you think?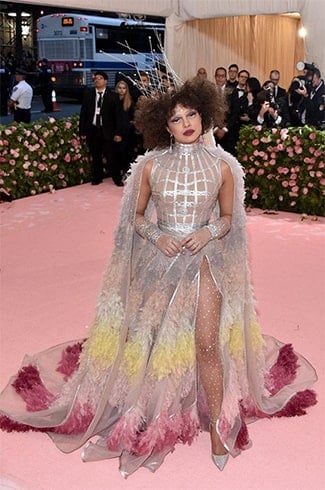 3. Kim Kardashian:
Wearing: Thierry Mugler
Why: Because every woman wants that look for herself, duh! The entrepreneur's mood for the night was clearly wet and wild. Needless to say, she totally captured that in the body hugging Thierry Mugler dress dripping with sequins and beads. Wet waves rounded her look.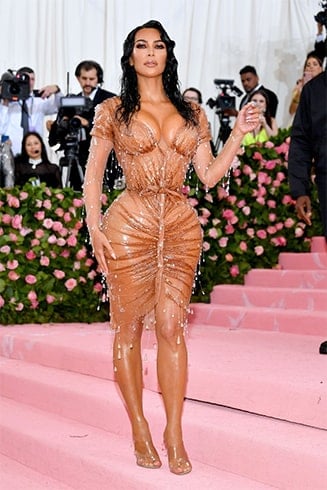 4. Kylier Jenner and Kendall Jenner:
Wearing: Atelier Versace
Why: We quite agree to Kendall's IG stories indicating their look to Cinderella's Wicked Stepsisters. But of course, they made it fashion. The duo didn't shy away from the theme. Kylie wore a purple wig and a matching mermaid dress with featured sleeves. While, Kendall held her own in a brunette sleek bun and orange sheer dress with matching feathered cape.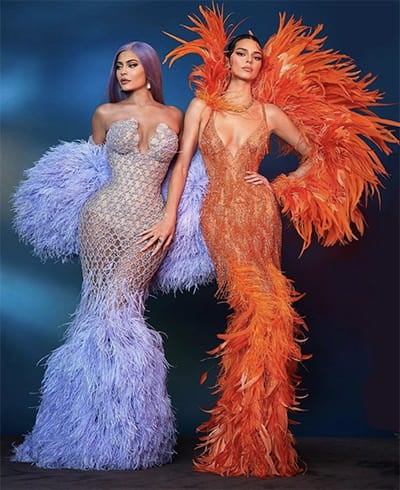 5. Gigi Hadid:
Wearing: Michael Kors
Why: Channeling the ice queen look, the model stunned in a silver and gold streaked Michael Kors catsuit with a feathered coat paired with Lorraine Schwartz jewellery and Stephen Jones head dresser.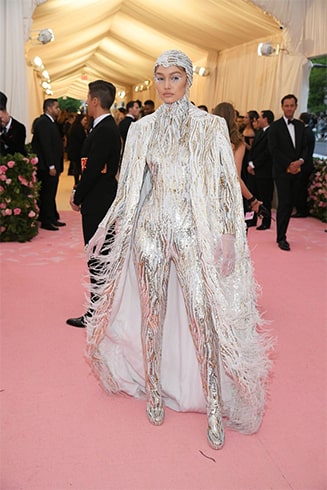 6. Lady Gaga:
Wearing: Brandon Maxwell
Why: Lady Gaga followed the Camp theme for 2019 to the 'T. We mean she was in her element showing up in not one but four looks: A giant pink gown with a dramatic bow, a black gown, a pink slip dress and a pink toy phone, and hip lingerie with gleaming tights. Let's just say, Gaga committed to the theme generously.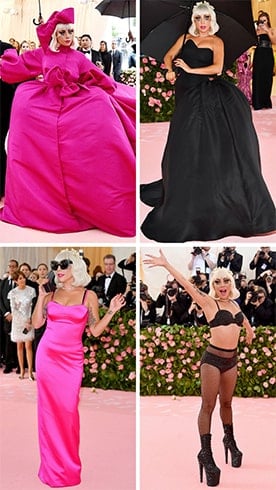 7. Dakota Johnson:
Wearing: Gucci
Why: We are totally digging the bleeding gem heart berry dress worn by Dakota at the pink carpet. The slightly dark and romantic look with the silver headpiece gave the actress a major drag queen finish.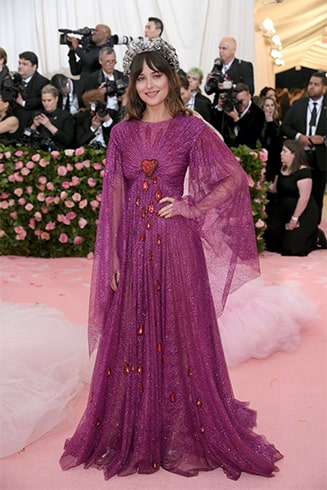 8. Gemma Chan:
Wearing: Tom Ford
Why: The Crazy Rich Asians actress dazzled in a chainmail Tom Ford dress drizzled with crystals and matching cape. Ahead of the event she talked about her look, "It's quite full-on. I was happy to go all out. If you're invited to a party and there is a theme, it's good manners to have a go at it."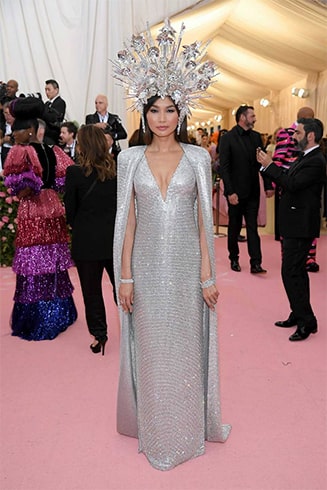 9. Winnie Harlow:
Wearing: Gold ensemble inspired by Caribbean Carnival
Why: Feather boas and exaggerated headpieces were the highlights of this year's camp theme. And the supermodel had it all going. She stunned in gold bejeweled dress with cutaway features matched with a decked out bra, headpiece, sheer skirt, and feather shrug, Rene Caoville heels, and Chopard gems.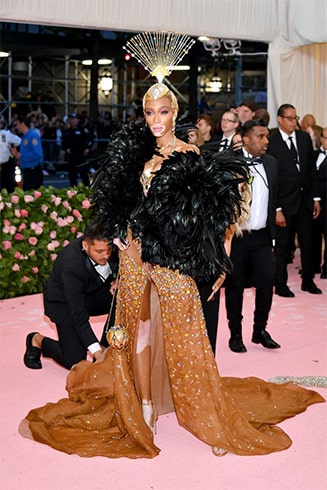 10. Cardi B:
Wearing: Thom Browne
Why: The grand Met Gala finale was all Cardi B's for the taking. Because technically the singer wore a red feathered gown with a dramatic large train-all topped with 30,000 burned and dyed coque featuers and ten feet of tulle! Speechless!
Who are you lauding the most from this flashy mix? Tell us in the comment section below.
May 7th, 2019
Author: Lima Aier
---
Deepika And Priyanka Chopra's Alluring Styles At The Met Gala 2018
It was the first Monday of May and there it was, the Met Gala 2018 event. Also known as 'The Oscars of the East Coast', the annual party set the perfect platform for the celebrities to push their limits of fashion and style.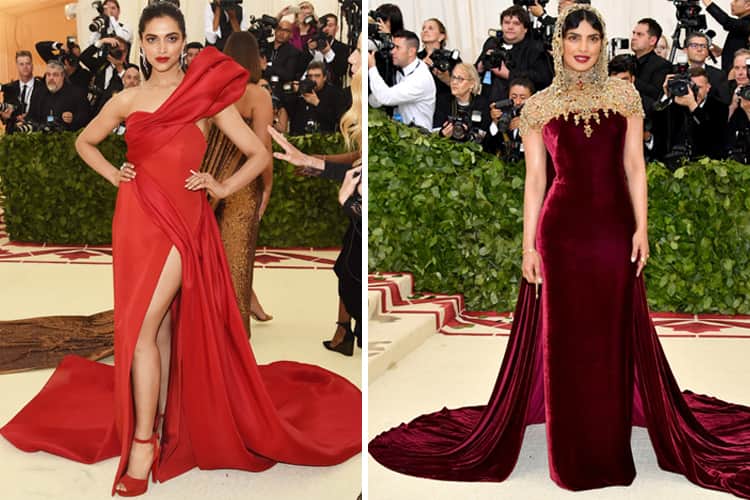 Although Met Gala is not a religious affair, this year, the theme was "Heavenly Bodies: Fashion and the Catholic Imagination", encouraging the celebrities to channelize the church.
Of all the celebrities who walked the red-carpet, we had eyes only for our Indian beauties, Priyanka Chopra and Deepika Padukone. Let us unveil their styles and take a moment in savoring the beauty of these crafted design patterns and suggestions.
Deepika Padukone
This is Deepika's second time at the Met Gala 2018 event and looks like she nailed it yet again on the red carpet. In a flowing, thigh-high slit Prabal Gurung red outfit, Deepika spilled sensuousness through every frame of paparazzi.
Red ankle strap heels, sparkling over-sized earrings, and the dramatic one-shoulder sleeve were the striking features of her ensemble. Sleek hairdo, racing red lip shade, and luscious lashes were her winning points with her red hot avatar. Styling credits go to Shaleena Nathani.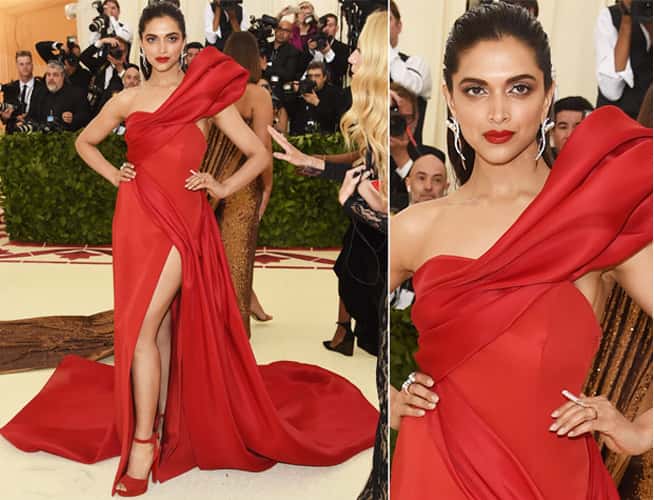 Priyanka Chopra
While Deepika Padukone chose to feature a killer style, Priyanka Chopra embraced the theme with a Ralph Lauren design. The diva has become as much a New Yorker as she is a Mumbai person.
To the grand event, she picked a scarlet velvet outfit with a long cape and coupled it with jeweled hood, berry lips, and retro hairdo. Flaunting her curves, the diva looked at ease with her style. Cristina Ehrlich takes the credit for playing PC's style along the theme.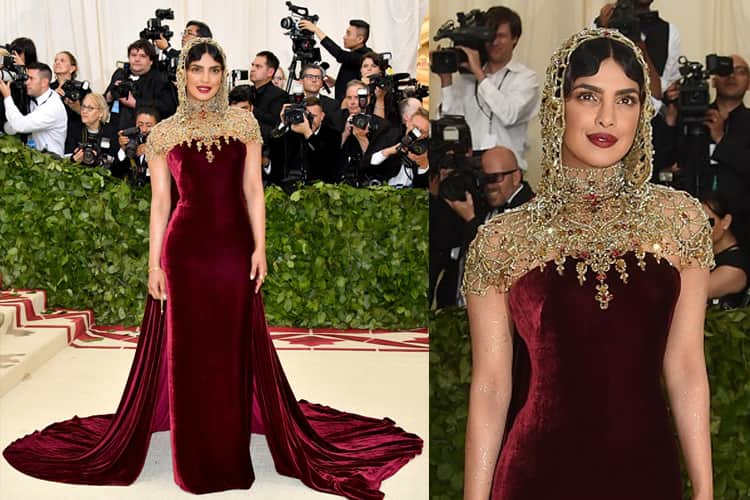 Which global icon style would you prefer?
May 8th, 2018
Author: Sai Bhargavi Chintaluri
Images Source: Official instagram profiles of the celebs/designers mentioned with in the article.