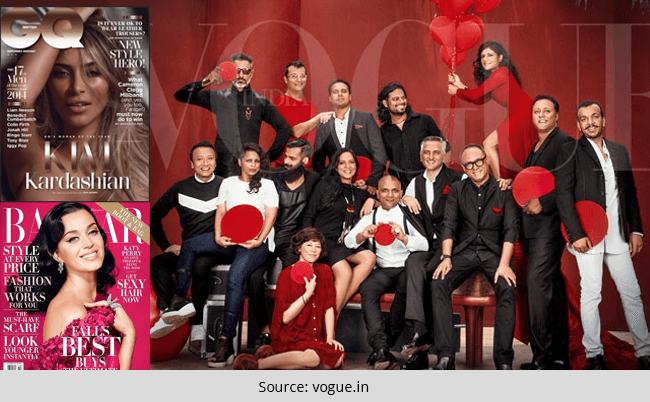 The time of the month again, when we bring you the glossy covers of the magazines published all over the world on a single page! It appears as October 2014 is the big month for women empowerment be it Vogue India celebrating its 7th anniversary by launching social campaign for women to Kim Kardashians being honoured with the GQ's woman of the year award to Katy Parry revealing her musical ambitions to Drew Barrymore highlighting her views on business, parenting and feminism.
Let's take a look!
Vogue Empowers – 7th Anniversary!
One of the most influential personalities in India including Bollywood celebrities like Aamir Khan, Ranbir Kapoor, Alia Bhatt, Ranveer Singh, Deepika Pdukone, A R Rahman and Karan Johar to personalities from other fields like Barkha Dutt, Yuvraj Singh, Sudha Murty and Tanya Dubash, all have been featured on the cover of Vogue India, October 2014, celebrating the fashion magazine's seventh anniversary.
On the occasion of celebration, Vogue has launched an awareness campaign for women empowerment called #VogueEmpower, on social and digital platforms. The issue contains features and fashion editorials that speak of powerful women. A group of designers also came together to raise a toast for the women in their lives.
Priya Tanna, Vogue India's editor, excerpts from her editorial in the issue –
From actors, musicians and filmmakers to doctors, lawyers and human rights activists—everybody came on board in whatever way they could to help us make noise and raise money as part of our social awareness initiative, Vogue Empower.
In '50 ideas to empower you' we have icons like Christiane Amanpour, Margaret Atwood, Taslima Nasreen, Sheryl Sandberg and Kiran Bedi sharing their recipes for empowerment—there are 45 more!
Kim Kardashian in GQ UK
The Hollywood star, Kim Kardashian, has been honoured with GQ's Woman of the Year award. Hence, she is celebrating the honour on the magazine cover of the GQ (UK) with her bold baring shoot. It has been quite a happening year for the star with her completing the ninth and finale season of her reality show 'Keeping Up With The Kardashians', getting married to her rapper boyfriend Kanye West on Memorial Day, celebrating her daughter North West's first birthday and earning an estimated $85 million from her iPhone video game, Kim Kardashian: Hollywood. That's what make her 'GQ- Woman of the Year'.
Kim Kardashian on winning the award –
What a huge honour to win Woman of the Year. It's so special. I want to thank my husband for making me feel like the Woman of the Year every single day.
Drew Barrymore in Elle (Canada)
"I'm imperfect!" says the bubbly and cutest Hollywood actress, Drew Barrymore who is having a taste of success and power at the age of 39. Having her own production company with the name Flower earning revenues in billions to producing eponymous vintages of Pinot Grigio to getting into creating a line of cosmetics with the name Flower, the star lady has too much in her kitty to boast about!
In her exclusive interview with Elle Canada, the actress got candid about her beauty, love, business, feminism and family!
I'm not the same person I was when I was 16, thank God! Everything does change and evolve—I don't want to fight any of it. I like life so much more every year.
I love being a leader—but I never think of myself as the boss. There's a huge difference," she says. "I love to passionately, articulately fight for my ideas. I know that I can push my beliefs, even if it's annoying and staunch.
We, as women, are so hard on ourselves. I want us to be as good to ourselves as we are to each other or our kids or the people we love. In your quietest moments, when nobody is looking and no one can hear you, say something less mean to yourself. Stop comparing yourself to everyone and focusing on what you wish you could change.
Katy Parry in Harper Bazaar (US)
Pop queen Katy Parry is the cover girl of Harper Bazaar's US edition this month. On the cover, Katy Parry looks every bit of a red lady in Schiaparelli Haute Couture dress, accessorised with Bulgari earrings and Parulina ring.
In her interview with the magazine, Katy Parry says that she still has 90 more concerts to do in her Prismatic world tour after finishing 38 concerts. She also talked about her break up with husband Russell Brand in 2012 and what love is she looking for now.
What I've learned is that if you don't have the foundation of self-love first, you really have nowhere to pull love from to give it away. I had to learn about taking care of myself before I could take care of others. I want to mommy everyone. I want to take care of them. I want to save them, and I forget myself in the meantime. I learned that through therapy.
[sc:mediad]
Katy Parry has 54.9 followers in twitter and the pop sensation is not freaky about it.
Whenever the Internet will put me on blast about whatever I wore, I'm like, 'I ain't dressin' for you. I don't dress for you bloggers who are still wearing bandage dresses.
Lena Dunham in Marie Claire (Australia)
The American actress, producer and director, Lena Dunham is the cover girl of Marie Claire Australia edition this month, where she talks about her life in totality. On the cover, the 28 year old flaunts her tattoos and her winged eyeliner with a bob hairdo gives her an edgy look.
Jennifer Garner in Instyle Magazine (US)
Jennifer Garner looks an absolute fresh in Instyle magazine's cover! She is wearing Burberry Prorsum, which is styled by Melissa Rubini. In the magazine, the American actress shares about her parenting rituals and relationships.
For better or worse, I tend to be the one who says, 'This is what needs to happen.' I know who wants what lunch, and I've done all the school paperwork and filled out the emergency cards.
Chloe Grace Moretz – Teen Vogue (US)
The 17 years old, high school senior, model and actress, Chloe Grace Moretz has been featured on cover of US' Teen Vogue. When she was 13, she got the chance to work with Martin Scorsese and recently has appeared in off-Broadway play directed by Oscar Winner, Steven Soderbergh.
Blake Lively in Fashion (Canada)
The Gossip Girl's girl, Blake Lively has been featured on Fashion Magazine's (Canada) glossy cover, where she talked about Hollywood, her mom's cake and many more things related to her life. After having romantic flicks with Leonardo DiCaprio, the woman finally got married to Ryan Reynolds, and has launched her own lifestyle website called 'Preserve'.
The actress cum entrepreneur is wearing a Gucci dress on the magazine's cover.
Jennifer Lopez in Elle (UK)
The multi-talented mother of two, Jennifer Lopez grace the cover of Elle UK magazine this month. The singer cum actress dazzles in Versace gown, accessorised with Laura Lee Jewellery and Lock & Co Hatters. In her interview with the magazine, the star talks about love and her albums.
I still believe in love. The nirvana man, he's out there somewhere. But you just have to work at it. You have to work at everything.
Every single album I have ever made is about love. But I am not going to give up. I've got to hope that if I keep going, I will eventually get it right.
Reese Witherspoon in US' Vogue
Looking graceful in red eyelet dress, the 38 year old actress Reese Witherspoon talks about raw sex scene in her next film 'Wild' directed by Jean-Marc Vallee. She is also producing the highly anticipated adaptation of 'Gone Girl'.
Vaani Kapoor in Femina
Former model turned actress, Vaani Kapoor is the cover girl of Femina this month. The actress played a second lead in the film 'Shuddh Desi Romance' and has two more films to do under Yash Raj Films. She also won the Filmfare Award for Best Female Debut.
Shahid Kapoor and Bipasha Basu in Filmfare
Ahead of his film 'Haider' release, Shahid Kapoor is flaunting her looks on Filmfare's October issue cover. Hot and sizzling Bipasha Basu is sharing the space with him for the Filmfare cover. She is wearing a loose pink buttoned shirt.
Which one magazine's cover are you going to read first?