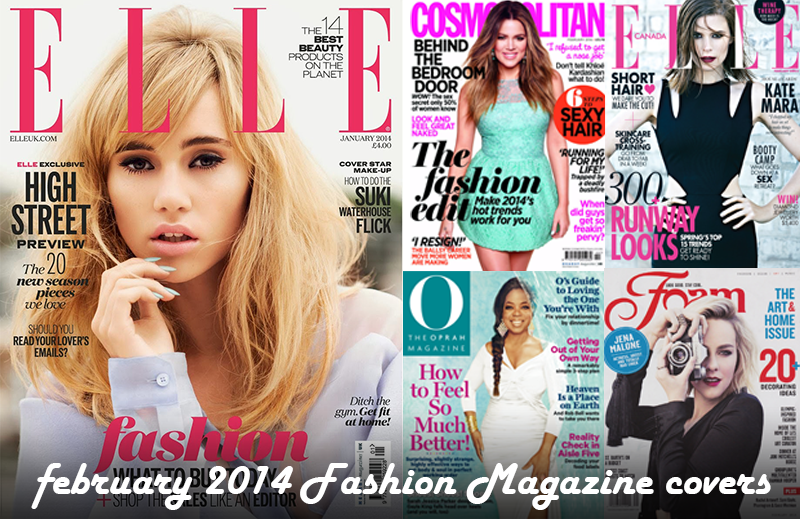 Crispy aqua shades, sun-kissed punk elements, huge Chanel pearls and smoldering photoshoots – fashion is a hankering beast and as we are still experiencing the chilling climate, the February 2014 fashion magazine covers are all set to heave our over coats into the sartorial abyss as we enjoy and adore our favorite celebs and models gracing the fashion cover pages on this Valentine's Day issue.
This February, two topics are gonna be trending – Valentine's Day and Fashion Week. It's obvious to find some special editions with glossy cover pages; a treat for our eyes with a pinch of romance and tons of fashion.
While Allure brings out the best of Jennifer Connelly, as she gives her best shot for Allure February 2014 issue, which is already available at the newsstands since 28th January. Kate Upton once again gives a racy photo shoot for V magazine with the cover line that ask "Why can't Kate Upton keep her clothes on?"
On the other hand, the much-awaited Lena Dunham's first Vogue cover page has arrived amid controversies.  Georgia May Jagger, daughter of Mick Jagger and Jerry Hall is gracing the Teen Vogue February 2014 and Vogue UK alike.
As per tradition, Fashionlady is once again back with the month's glossy cover pages, while drip-feeding the best shots of the Valentine's month issues.
Take a look at those covers, and do let us know which fashion magazine do you follow!
Jennifer Connelly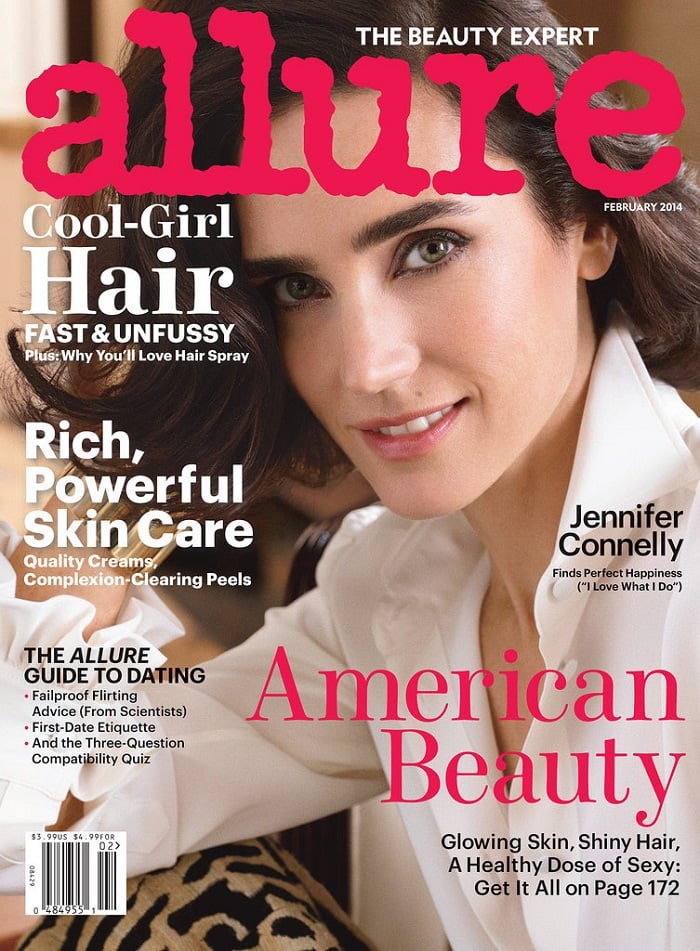 Jennifer Connelly is the cover girl of Allure February 2014 issue. Photographed by Carter Smith, the 43 year old actress looks picture-perfect in Dolce and Gabbana blouse, silk pants by Valentino and leather sandals by Valentino Garavani.
While the actress is all set for her highly anticipated film "Noah", she opens up how does it feel to act in a movie directed by her husband. She is currently working in her husband Paul Bettany's movie, Shelter.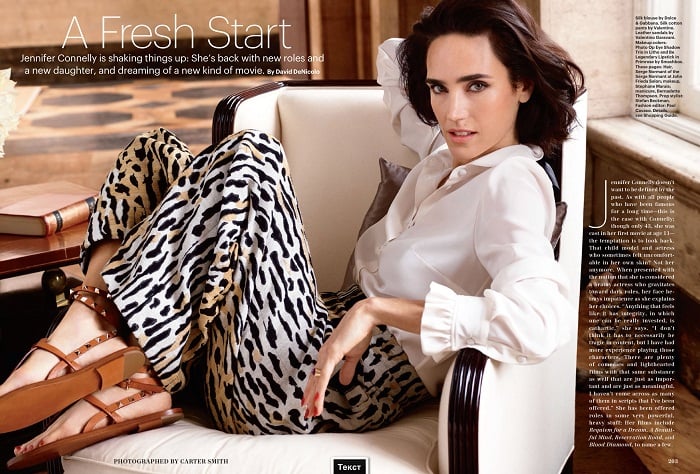 The drop-dead gorgeous actress not only shares about her experience in working in her husband's directorial debut and her much-awaited Darren Aronofsky's Biblical epic, Noah, she also opens up on life, family and beauty in the interview.
The Oscar winning actress had this to say on working with husband,
"One couldn't feel more safe as an actor than knowing that the director's your husband. It's like, Oh, if I really make a fool of myself, I can just say, 'Honey, can you please not put that in the movie?' That was a great perk."
"The thing that really matters to me is well-being and happiness. Maybe it comes from knowing people who have tortured themselves trying to meet these strangely narrow and rigorous definitions of what our culture thinks is beautiful."
While she is all set to sizzle the silver screen with her long time colleague, Russel Crowe, she is already showing some of her best smolders as she dominates the Allure's cover page.
Kate Upton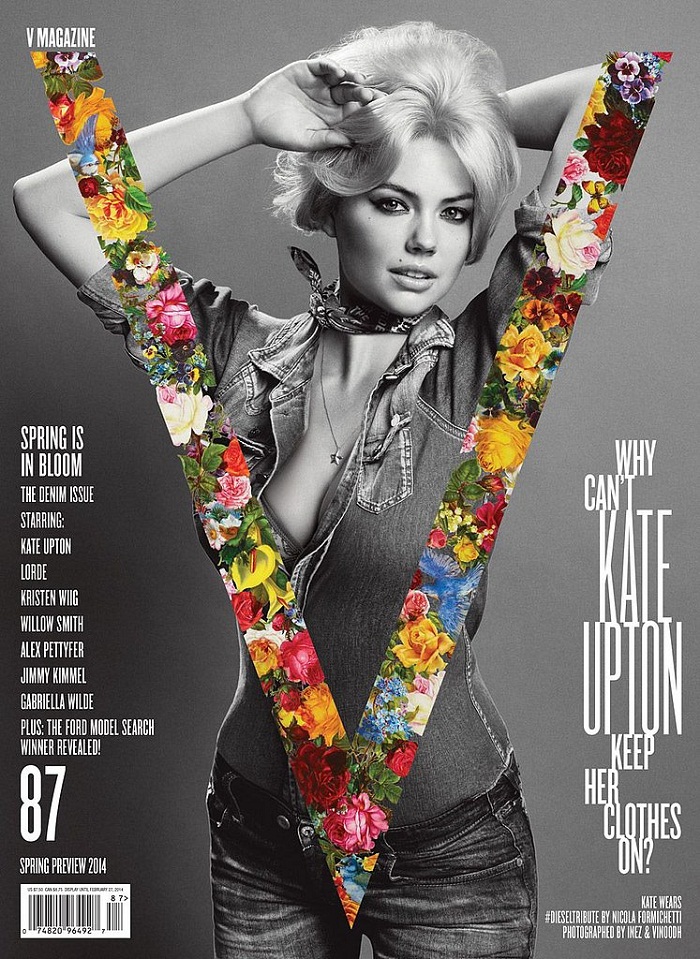 Kate's love for nudity is once again captured, as she graces the cover page of V magazine, which is already available at the newsstands. The February issue which covers Kate Upton can be easily mistaken for Playboy, as Kate gives some peekaboo shots followed by tagline –  "Why Can't Kate Upton Keep Her Clothes On?"
The bikini model is featured in a peel-back acetate cover, in a Diesel denim bodysuit styled by Nicola Formichetti and photographed by Inez van Lamsweerde and Vinoodh Matadin.
The major highlight of the cover page is that you can literally undress Kate Upton to find out her voluptuous bikini picture. You'll have to peel back the outer layer layer of the magazine to reveal a cover shot of Upton in her skivvies.
Kate's penchant for exhibitionism led her to notoriously rise to fame right from her flirtatious YouTube video, "Teach Me How to Dougie" to bikini-clad Cat Daddy dance. Unlike other models, she is arguably the social media sensation. Subscribe this issue to find out more about this super model.
Sarah Jessica Parker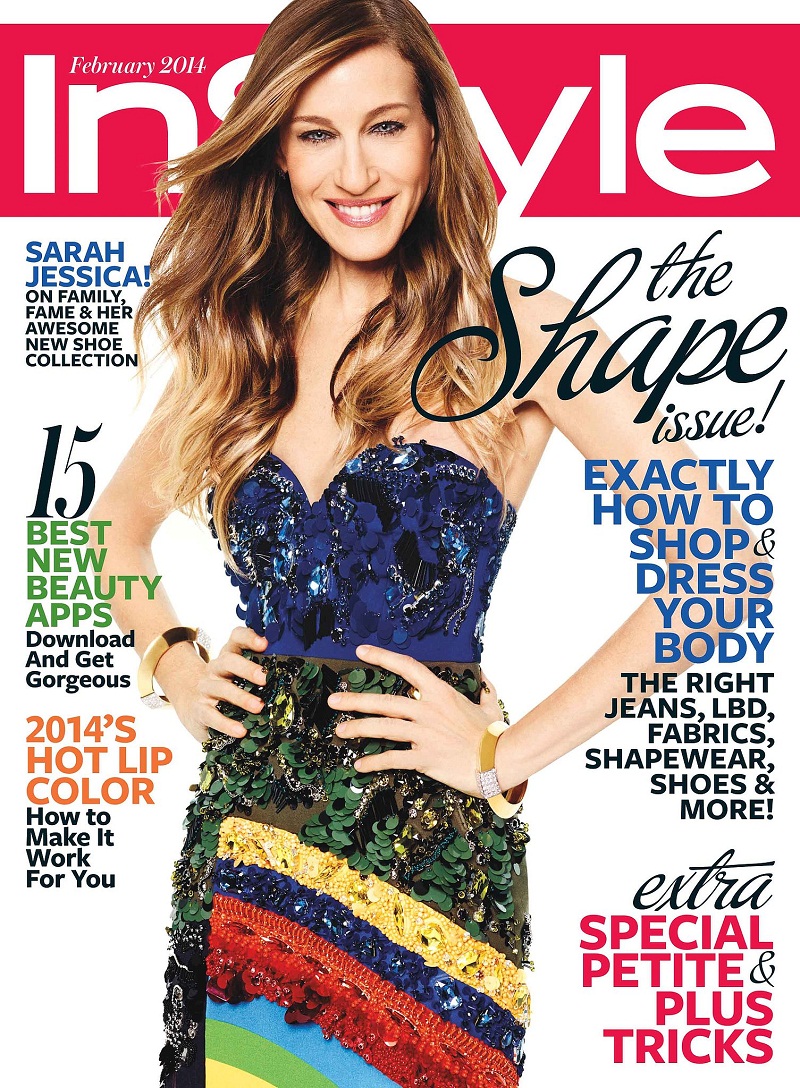 Sarah Jessica Parker looks vibrant and fresh in Prada dress, David Yurman earrings and Fred Leighton bracelets, as she graces the cover page of InStyle magazine of February 2014.
Katie Couric, who interviewed Sarah over a light meal, says she had a blast with the Sex & the City actress. While Parker had yellowtail sashimi, Couric preferred only tea.
They both had random discussions from  Parker's new shoe line for Nordstrom, SJP, Katie's upcoming wedding, the challenges of being a woman in charge, and the possible resurrection of SATC's Carrie (how could she miss that after all!)
Apart from sharing tips on personal style, Sex & the City 3 and parenting, the reel life Carrie Bradshaw even shares the "Golden Rule" with her fans.
On personal style, Sarah had this to say,
"People should dress the way they want. Any rules for age or shape are silly. If you walk out the door feeling good about yourself, that's what counts."
"A part of me thinks there is one last chapter to tell. But timing is a peculiar thing. It isn't a decision that can wait forever. I don't want to have to wear muumuus!"
On parenting,
"It's complicated when you're working crazy hours. But the kids are a joy, even when they're not. I had one child only for nearly seven years and thought I had the blueprint. Then these girls came, and not only were they girls, but they were as different from one another as they could possibly be — physically, emotionally, disposition-wise, probably politically."
The Golden Rule,
"Do unto others as you would have them do unto you — that's my religion, my dogma. As soon as my son could recite it back, I'd repeat it to him."
As per Katie Couric, Sarah is unfailingly polite and she actually listens and gets interested in your conversation rather than boasting about herself. It seems Katie had a real good time with our very own Carrie Bradshaw.
Jennifer Lawrence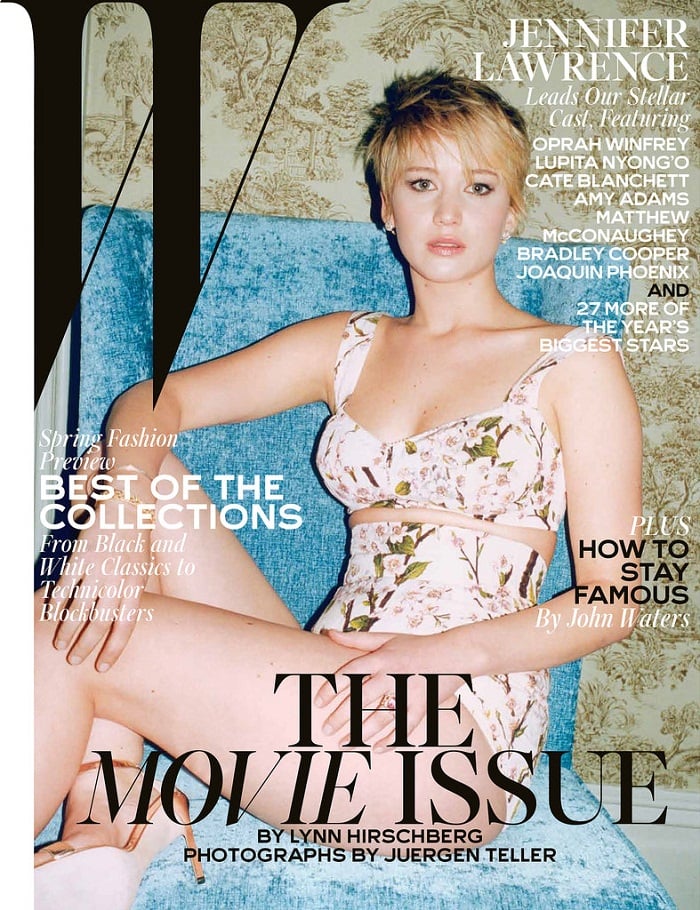 The W magazine has come up with a special issue claiming to hold secrets of the Hollywood's superstars. Even the biggest celebrities have some undercover stories, which were just unfolded at the newsstands by the W magazine.
Among the 32 big shots, Jennifer Lawrence, Oprah Winfrey, Cate Blanchett, Amy Adams,  Lupita Nyong'o and Matthew McConaughey are gracing the cover page of special 6 editions.
Apart from sharing her success of Golden Globes and two biggest blockbusters, the Dior girl also reveals her Oscar secret. Remember her fall at the Oscars last year?
Here is the secret revealed,
"I was at the Oscars, waiting to hear if my name was called, and I kept thinking, cakewalk, cakewalk, cakewalk. I thought, Why is 'cakewalk' stuck in my head? And then, as I started to walk up the stairs and the fabric from my dress tucked under my feet, I realized my stylist had told me 'Kick, walk, kick, walk.' You are supposed to kick the dress out while you walk, and I totally forgot because I was thinking about cake! And that's why I fell."
Shakira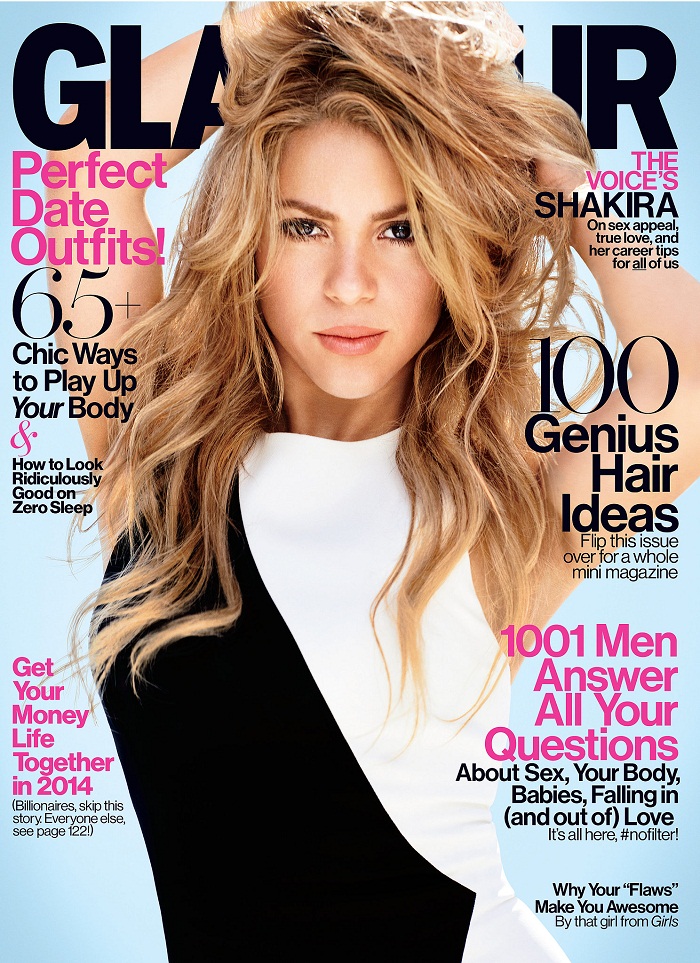 One Shakira is enough on the Rihannas, Gagas and Mileys out there. Did you know by now the 37 year old singer has sold more than 50 million albums across the globe and has a shelf with 10 Latin and American Grammy Awards with countless other trophies to boast off?
If you knew, "Hips Don't Lie," by the way, is worldwide the biggest-selling single of the twenty-first century.
The Hips Don't Lie singer, after enjoying her motherhood is now all set to give all other singers a run for money. And what a comeback? Shakira is working with Rihanna..
"Working with her was utopia. She's the sexiest woman on the planet. And at the end of the day, we're both just basically Caribbean girls. the chemistry was so good and so real. She taught me dance moves. She was a sweet teacher."
How humble of her!!
As she enjoys her motherhood to Milan, she even shares about the father of her son, Gerard Piqué,
"My man, Gerard, prefers meat over bones. He doesn't like too skinny. That takes pressure off. I already have a lot to worry about. This month I'm not exercising because I have an album to finish and I have a baby. And I like these pastries in front of me".
If you assumed our Hips Don't Lie star has lost into the oblivion then she is all set for a rocking comeback with none other than Riri this time!
Amy Poehler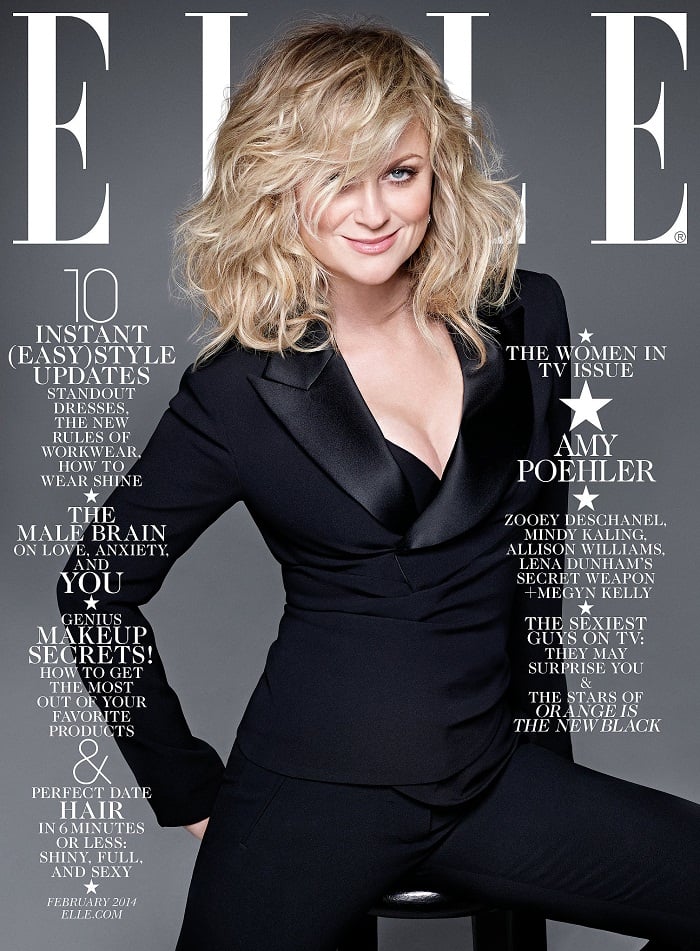 The February issue of Elle US is celebrating women on TV for which they have covered 4 funniest women from the small screen including . Zooey Deschanel, Mindy Kaling, Amy Poehler and Allison Williams, each photographed by Carter Smith.
After wooing the audience at the Golden Globes last month and not shying away from making a few digs at the Hollywood greats including George Clooney, Leonarda De Caprio and Tom Hanks along with her co-host Tina Fey, Amy opens up in an exclusive interview with Elle about being a comedian and home maker at the same time.
Here is an excerpt,
"Now that I have kids, I'm up at 5:30AM no matter what.  Sleep at this point is just a concept, something I'm looking forward to investigating in the future. But I'd like to say that I maintain that same sense of play and creativity and spontaneity – of being able to get into a room with people and say, 'Let's waste some time.'  When you're a creative person, even when you're in a position of power, you still have to be able to straddle both worlds."
Drew Barrymore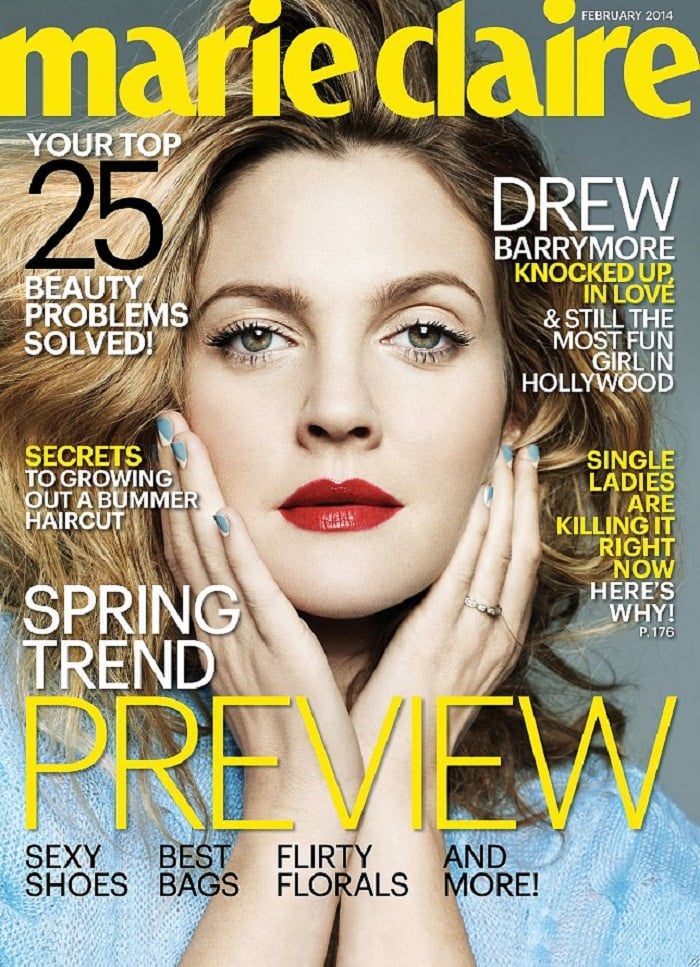 If you are listing out youthful faux pas, chances are Drew Barrymore in the list. Having said that, the girl is all grown up to flaunt her svelte avatar. This is perhaps the very reason the actress-producer is frequently seen dominating the glossy cover pages of fashion magazines almost every 1-2 months. This time she is gracing the cover page of Marie Claire.
In the silence-packed store of Book Soup in West Hollywood, all of a sudden Drew screams through the narrow aisles, "I found the porn section!"
Immediately all eyes turn on her, watching Drew scorching through the book shelves to find something saucier..
"I looooove cookbooks," the 38 year old celebrity clarifies. She further adds up, "I cook a lot when I'm pregnant. When I got pregnant the first time, I couldn't even boil water. But now I can make the most spectacular slow-roasted pork tacos you will ever have, an incredible verde sauce with ancho chilies—so fucking good."
There has been a dramatic transformation in this actress from being a wild cat who didn't even hesitate to flash her boobs at David Letterman in his show to a sensible and successful entrepreneur as she is today.
Hope you enjoyed this! Have a great February!!