What is this fitness challenge that is taking Twitter & Instagram by storm all about? Who started it? Why are all celebrities a part of it? Let's dig into the details.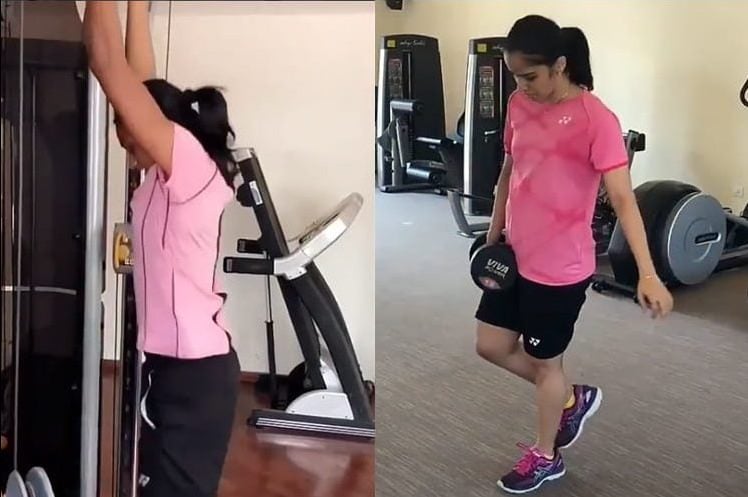 The #HumFitTohIndiaFit social media campaign was initiated by Union Minister Rajyavardhan Singh Rathore. Since then, the campaign has gone viral on social media some of the most influential youth icons from various fields such as Virat Kohli, Deepika Padukone, PV Sindhu, etc have given it a big thumbs up!
It is a challenge which involves that you post a picture or video of your fitness regime and nominate 3 other people to do the same. It creates a chain reaction on Twitter. It is definitely an innovative and uber cool way to create awareness about fitness and inspire others to become fit too!
List Of Celebs Who Participated In The Fitness Challenge:
Here are a few celebrities who have accepted the challenge like a sport:
1. The Union Minister himself had nominated Saina Nehwal and she readily accepted and nominated 3 other celebs to continue the trend.
https://www.instagram.com/p/BjEzqMOleQp/?hl=en&taken-by=nehwalsaina
2. Tiger Shroff, the fittest man we've seen in Bollywood till date has done it himself and it is no surprise. That sculpted body sure serves as a huge inspiration to the youth to take on this Fitness Challenge and get fit.
I beleive i can fly….almostttttt 😔 pic.twitter.com/HnRlH2qpr4

— Tiger Shroff (@iTIGERSHROFF) May 10, 2018
3. Although Hrithik Roshan hasn't nominated 3 other people, he has given a new perspective on adding fitness to your daily routine by opting for cycling to work.
Cant kill this vibe 💃🕺🏻 pic.twitter.com/aMJbB2Lv4h

— Hrithik Roshan (@iHrithik) October 25, 2017
4. PV Sindhu is seen working hard at the gym in the fitness challenge video and she further challenged Akhil Akkineni, Deepika Padukone, and Joshna Chinappa to do the same.
https://www.instagram.com/p/BjHHVR6FVik/?hl=en&taken-by=pvsindhu1
5. The Bollywood sensation Deepika Padukone was nominated by Badminton champ PV Sindhu and accepted the challenge sportingly. She soon posted a video on Instagram to share her new-found love for running. She further extended the nominations to ace cricketer Mithali Raj, golfer Aditi Ashok, and hockey captain Rani Rampal.
https://www.instagram.com/p/BjIFMe2BCoR/?hl=en&taken-by=deepikapadukone
6. Another sports star who took on the challenge was none other than the fitness freak – Virat Kohli. He took to Twitter to share a video of him sweating it out. He went on to nominate 3 other popular personalities – his wife Bollywood actor Anushka Sharma, Prime Minister Narendra Modi and MS Dhoni.
I have accepted the #FitnessChallenge by @ra_THORe sir. Now I would like to challenge my wife @AnushkaSharma , our PM @narendramodi ji and @msdhoni Bhai for the same. 😀 #HumFitTohIndiaFit #ComeOutAndPlay pic.twitter.com/e9BAToE6bg

— Virat Kohli (@imVkohli) May 23, 2018
What's better is that Narendra Modi voiced his support for the initiative by accepting the challenge that Virat had nominated him for.
7. Like husband, like wife! This uber fit couple gives us fitness as well as relationship goals. Anushka Sharma accepts and uploads her Fitness Challenge video.
I accept your challenge @imVKohli. Here's my video for the #HumFitTohIndiaFit #FitnessChallenge. I'd like to nominate my friends, @DipikaPallikal and @Varun_dvn Great initiative @Ra_THORe sir! #ComeOutAndPlay pic.twitter.com/SmdmkArT6U

— Anushka Sharma (@AnushkaSharma) May 24, 2018
Tollywood celebrities like Samantha and Rakul Preet are also playing an active role in the #HumFitTohIndiaFit Fitness Challenge. Coming from fitness freaks like them would surely be an inspiration to many.
https://www.instagram.com/p/BjM3mezHUeV/?taken-by=samantharuthprabhuoffl
Thanks for d challenge @srikidambi n here is one of my fav full body exercise .#HumFitTohIndiaHit 💪🏻 Bigggg Thanku 2 our sports minister @Ra_THORe 4 a FIT initiative 💪🏻 I nominate @S1dharthM @LakshmiManchu and @taapsee #healthybodyisahealthymind pic.twitter.com/cc5P9YRteY

— Rakul Singh (@Rakulpreet) May 25, 2018
So now you know how every celeb is taking on the challenge and doing his or her bit to make this fitness revolution a huge success. We can't wait to see more celebs joining the fitness bandwagon on Twitter soon and inspiring us to get fit!
Are you ready for the #HumFitTohIndiaFit challenge? Post videos of how you manage to stay fit. Tag three friends to do the same! Don't forget to use the fitness challenge hashtag #HumFitTohIndiaFit and trend like a celeb! Let's bring about a change one step at a time!