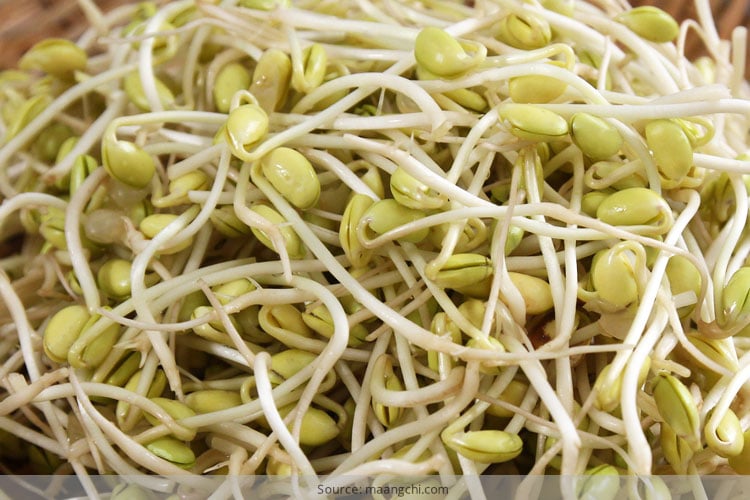 Handful of tiny sprouts everyday can transform your health goals. These proteins packed, antioxidant rich and vitamins filled germinated seeds can help boast a slimmer, fitter and more beautiful you. Not sure how, let us introduce you to the benefits of sprouts as they are one of the best options among locally grown superfood and make for an excelling ingredient in soups, salads and curries.
Benefits Of Eating Sprouts
Coming to health facts, they are a powerhouse of vitamins, proteins, fibre and enzymes and easily digestible. They are considered to be one of the best snack option. The benefits of sprouts are endless in the sense that they also have therapeutic values, meaning that they protect us from diseases. Following are the top ten benefits of eating sprouts:
[sc:mediad]
1. Sprouts For Weight Loss
Eating sprouts for breakfast work wonders in weight loss, sprouts have fewer calories in them and thus help in losing and maintaining weight. Sprouts diet for weight loss is a healthy way to lose those extra kilos. High in fibre and protein, and fewer in calories, they help you feel full longer and keep binge eating at bay. A fulfilling sprouts salad or soup will provide you with all your nutritional requirements while minimizing the number of calories you consume.
2. Sprouts For Healthy Digestion
Sprouts contain a high quantity of enzymes, thus making it easy to digest. They also work as detoxifiers and prevent bloating. For the same reasons, sprouts are thus considered healthy and apt for children, and people suffering from digestive problems.
3. For Muscle Gain
Sprouts for protein are an ideal choice when you want to include right punches in your diet. The quantity of the proteins in the seeds, nuts or grains multiplies dramatically when they are sprouted. During the soaking and absorbing process, proteins change and accentuate its nutritional value. The proteins in the sprouts help in building muscle mass and repairing torn tissues. If eaten properly, sprouts can be the perfect source of the protein that most of us lack in our daily diet.
For people who are combating extreme petite form, sprouts for weight gain is a blessing. It is a wonder food in the sense that it carries all the essential elements and nutrient necessary for muscle build and repair. The high quantity of protein content in sprouts help in building muscle while giving you the required minerals and vitamins. This way you get to gain weight in a healthy manner.
4. For Healthy Skin
Rich in anti-oxidants sprouts help fight free-radicals, making your skin healthy and toned. Consuming sprouts on regular basis shall assist in maintaining youthful skin and natural glow.
5. For Growing Fetus
Being an excellent source of enzymes sprouts are rich in special types of proteins. The seeds when sprouted, have a greater concentration of proteins, vitamin and fibre befitting the growing foetus. Sprouts are considered to be very good for pregnant women who can opt for cooked sprouts rather than the raw ones.
6. Energy Booster
Fresh, locally grown and chemical-free, eating sprouts for breakfast is a wonderful way of integrating protein in your diet early during the day to prevent you from feeling bloated and giving the required energy for the entire day. A sprout salad is easy and quick to make.
7. For Hair Growth
The benefits of eating sprouts are endless, it seems. Not just skin, it has been proven that eating sprouts benefits your hair as well. Sprouts contain vitamin C, which promotes hair growth, and vitamin A, which stimulate hair follicles and encourage hair growth. It also boosts blood supply which is essential to get thick, strong and healthy hair.
8. For Stronger Internal Mechanisms
Eating sprouts regularly can help getting rid of indigestion and constipation permanently. Since it is plant based, it helps to maintain our blood cholesterol level which further lessens the risks of cardiac arrest and strokes: they also help regulate blood pressure levels.
In a time when everything you buy from the market is either chemical-based or grown with the help of harmful fertilisers, sprouts are a blessing. They can be grown at home with the minimum effort and are also inexpensive. That way, you have something locally grown, fresh, without any harmful chemicals and for no price at all.
Even though sprouts have endless health benefits, a word of caution, they can be harmful if not cleaned properly before consuming. Eat sprouts regularly for improving your skin, hair and overall