In the days that followed since noted designers presented their clothing at the Lotus Make-Up Indian Fashion Week A/W 2019, we've had ample time to choose and narrow down the list of approved designs. The event started off on a lackadaisical note. The schedule lineup was backed by well-known names in attendance. Scroll down to catch up on the exciting exclusives that transpired from Day 1 to Day 4 of the fashion week.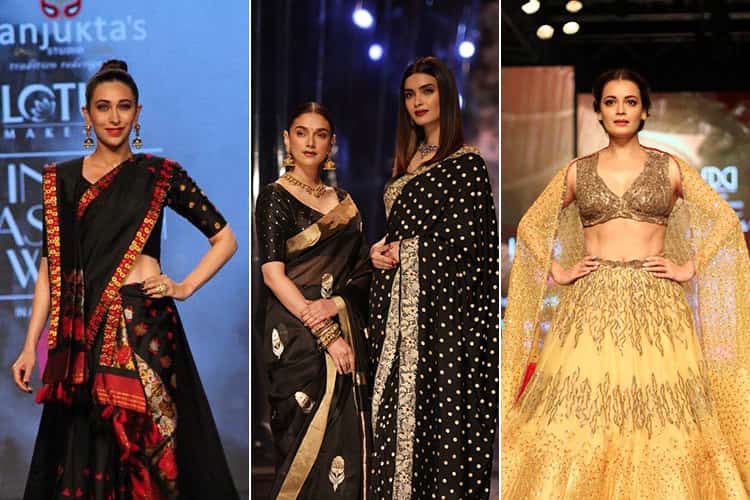 LMIFW A/W 2019:
Day 1 Highlights:
On the first day designers took a pledge with none other than Kailash Satyarthi, the Nobel Peace Prize winner. For the uninitiated, she is a child rights activist working keenly for underage labor. The fashion industry has long been employing underage children as cheap labor, and Kailash is working on putting an end to it. Standing in solidarity were designers like Namrata Joshipura, Pankaj & Nidhi, Rahul Mishra, and Varun Bahl.
The first day also witnessed designers like Diksha Khanna's, Suket Dhir, and Rahul Mishra showcase. Diksha Khanna championed her collections with denim saris. The ripped effect saris were also worn by stars like Sonam Kapoor Ahuja. The draped silhouettes were widely inspired by the Middle East.
Suket Dhir, the Woolmark Prize Award Winner's latest showcase was also his first runway show. Some of the major highlights of his work were the printed brocades, embroidered bomber jackets with Morse Code and fanciful landscapes.
[Also Read: Highlights Of Lakme Fashion Week Summer/Resort 2019]
Designer Rahul Mishra closed the first day with his fine body of work. Along with his wife Divya Bhatt, he showcased seamless design lineup.
Day 2 Highlights:
Day 2 saw the likes of Suneet Varma, Huemn, and Samant Chauhan. Read ahead to catch up on the showcase you missed on Day 2 of the Lotus Makeup India Fashion Week A/W 2019. The runways at the event saw shiny couture through the designs of Suneet Varma in collaboration with Nirakara Jewels,
And Safari theme by Samant Chauhan in jewel tones, pink, rust, orange, white, ivory, and burgundy embroidery designs.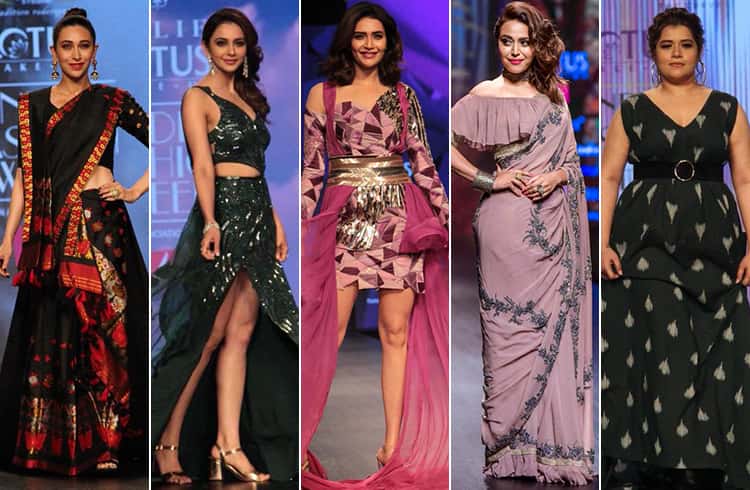 Day 3 Highlights:
Day 3 of Lotus MakeUp India Fashion Week A/W 2019 saw a mixed collection of aesthetics. From Pankaj & Nidhi's party collections and Namrata Joshipura's modern edge outfits, scroll ahead to read the top recap you missed from Day 2.
[sc:mediad]
Vineet Bahl's collection was titled Safari Soirée' and showcased print-on-print with a wide palette of white, orange, scarlet, and yellow.
Designers Pankaj & Nidhi's 2019 designs championed embellished and sequined blouses, dresses, jackets, and skirts.
Day 3 of the fashion week came to a close with the party creations of Namrata Joshipura.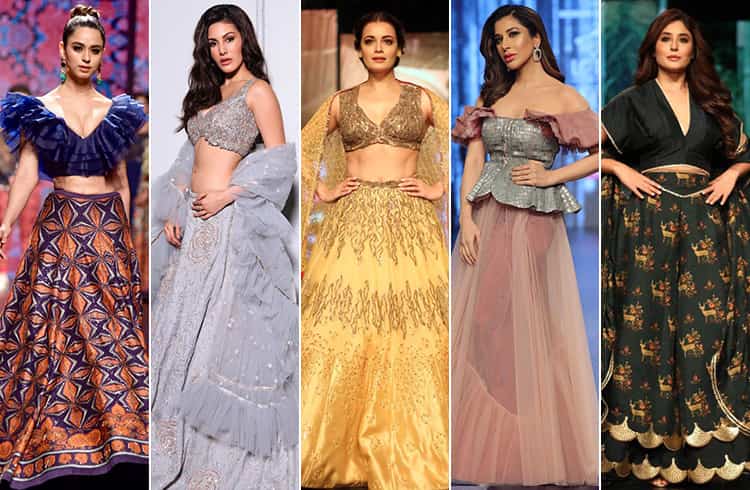 Day 4 Highlights:
The Lotus MakeUp India Fashion Week came to a conclusion with a multi-designer starrer finale where they paid tribute to the classic sari. Designers like Akaaro, Anavila, Urvashi Kaur Bodice, Gaurav Gupta, Little Shilpa, Neeru Kumar, Anita Dongre, Amit Aggarwal Pankaj & Nidhi, Payal Khandwala, Prashant Verma, Raw Mango, , Alpana & Neeraj Rohit Bal, Rohit Gandhi + Rahul Khanna, Rimzim Dadu, Anamika Khanna, Tarun Tahiliani and Wendell Rodricks gave their interpretation of the six yard drape. The finale also witnessed the fine works of newbie designers like Doh Tak Keh, Naka Clothing by Paras Chawla, Tiso Ghari by Badal & Bhumi, Done & Dusted by DIsha, and SGBG Atelier.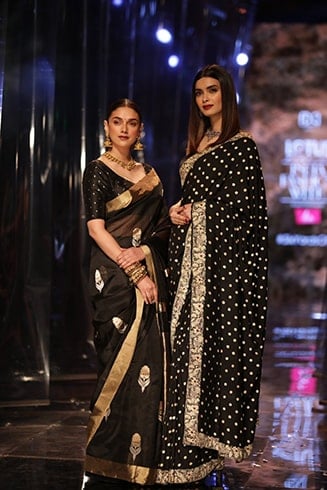 Finally the LMIFW A/W 2019 came to a glam end with lots of social messages. Hope you enjoyed seeing it all!
facebook.com/TheFDCI