India's most prestigious fashion show, Lakmé Fashion Week Summer/Resort 2019 has kicked started it's 5 Day journey with its customary vow of having a plethora of new designs and mighty talent.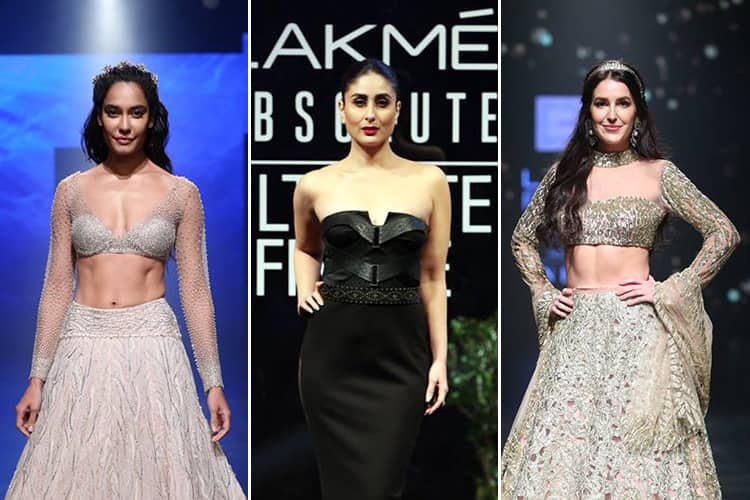 Day 1 Of Lakmé Fashion Week Summer/Resort 2019:
Ace designer Gaurav Gupta was the first to open the curtains with his collection The (Un)folding, with veteran filmmaker Karan Johar and the gorgeous actress Tabu sashaying down the ramp as his showstoppers. The designer's collection displayed some gorgeous structured couture including sari gowns, pant suits, evening wear, among others in handwoven fabrics. The color palette veered towards the summer-friendly pastels, while embellishment and embroideries like crystals, 3D flowers and zardozi added an interesting element to the collection. The designer has also made use of chikankari embroidery for the first time.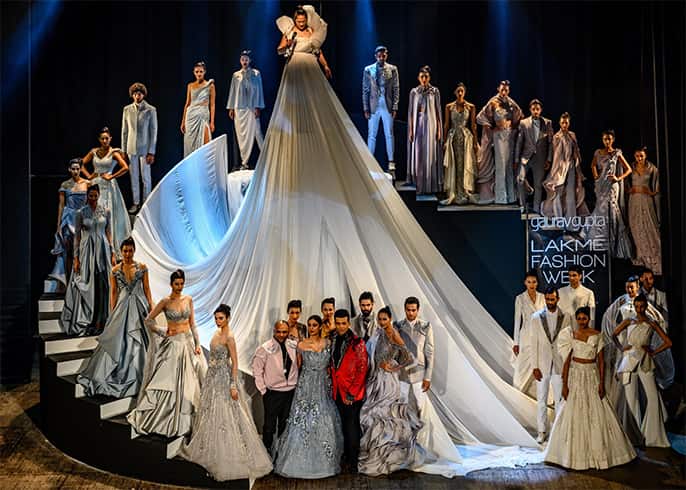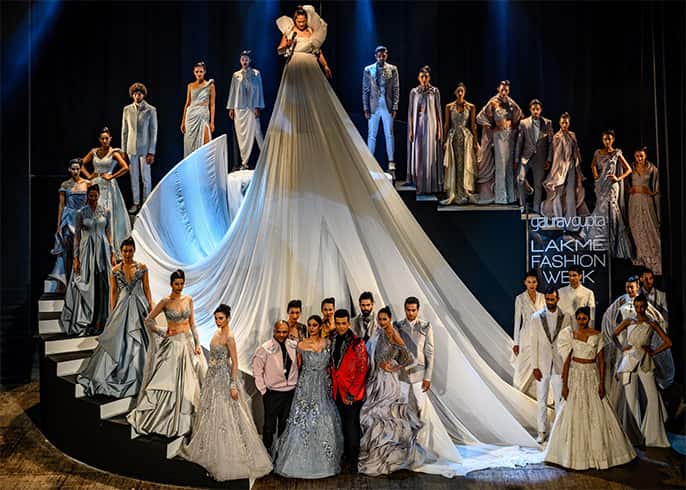 Showstoppers Tabu and Karan Johar looked wonderful as they walked the ramp, with the former wearing an icy blue, off-shoulder embellished gown, and the latter looking dapper in a red blazer with black and silver detailing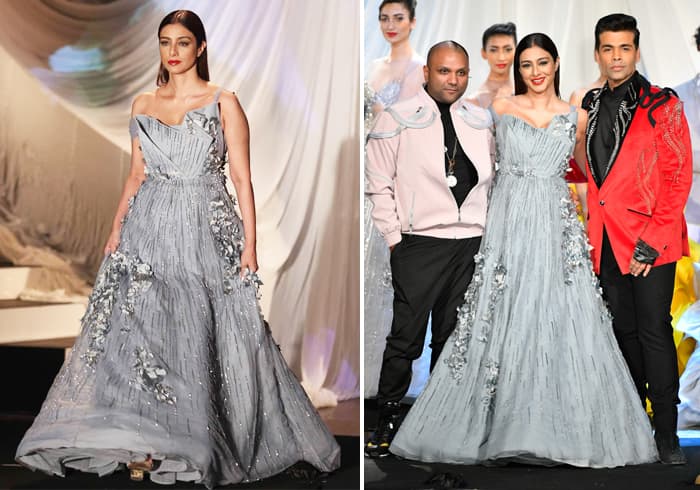 Gennext Collection:
The GenNext show at the Lakmé Fashion Week summer/resort 2019 was praised and lauded for supporting young talent. The 27th edition of Gen Next Designers Amrapali Singh, Madhumita Nath, Sunaina Khera and Ujjwala Bhadu put up a brilliant show.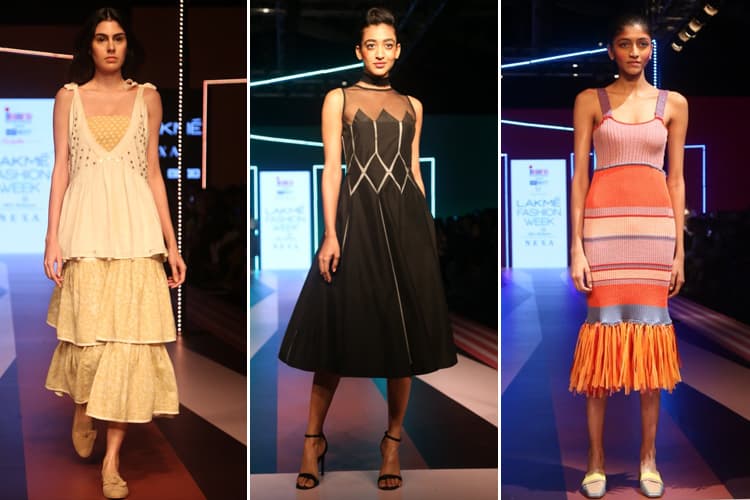 Sunaina Khera's Collection, Titled 'A Long Way Home':
Featuring very understated glamour in the form of easy breezy silhouettes, Sunaina Khera's collection focused mostly on evening wear clothing – from blazer dresses to slip dresses and chic lehangas to statements skirts and tops. The color palette ranged from cheerful tangerines to sparkling whites and delicate pinks to dark hues in black and navy. Hand embroidered sequins and paisley have been used throughout the collection.
Amrapali Singh's Collection Titled "Queen Of Hearts":
Using fabrics like Giza cotton, net, cotton silk organza and silk chiffon, Amrapali Singh's collection saw a color palette ranging from reds to white and blacks. Her clothing showcased playfulness and comfort in the form of stripes, mono prints, lace hand and machine embroidery, scallops and , fun patches. Pleats and gathers have also been used in her garments for that extra feminine flounce.
[sc:mediad]
Madhumita Nath's Collection Titled "Bliss":
Her collection saw organic hand-woven patterns in the form of 'V' striped pencil skirt, striped jumpsuit, tiered flouncy skirt, a multiprint midi and pinafore. She stuck to earthy tones including natural, beige, raw white, mocha and soft yellow.
Ujjwala Bhadu's Collection Focused On Culture Fusion:
Her collection was a fusion of culture and craft using several colours and silhouettes. The hues used such as blue, off-white, yellow, rosy tones and peachy red brought out the beauty of fabrics such as cotton sateen, while silk Gazar. Knitwear fabrics were also used for the fitted dresses and tops. Her collection also incorporated details like knit pleats, knitted raffia fringe, geometric prints, horizontal stripes, tassels, etc in the form of oversized trousers, long-sleeved jumper, slinky knit skirts, pinafore, mini shorts and slip dresses.
Art Meets Fashion:
A specially curated studio collection by emerging designers, Ajay Kumar, Bobo Calcutta, Helena Bajaj Larsen and Yavi, showcasing wearable art in the form of silhouettes and ensembles in vibrant colors and prints.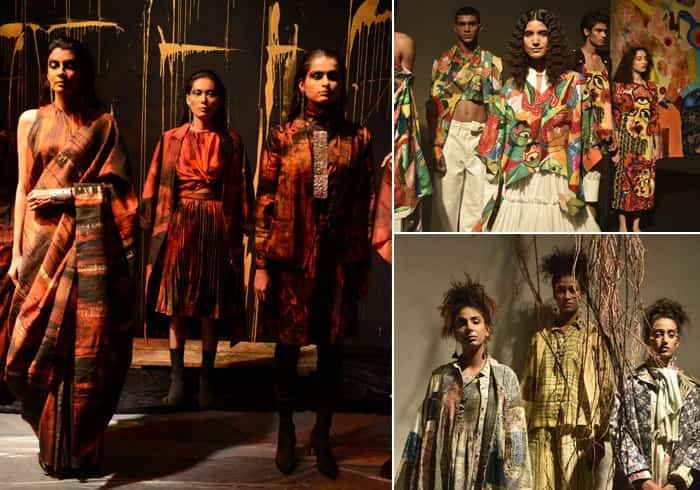 Bobo Calcutta:
Celebrating the fusion of fashion and art, Bobo Calcutta by Ayushman Mitra presented a minimal collection in monochrome tones, titled 'Blackout/Whitewash. From voluminous garments with hand embroideries and embellishments and of course the label's signature prints, the collection has been developed from Bobo's paintings that depict scenes of contemporary revolutions.
Asa Kazingmei and Sneha Arora Collections:
While Asa Kazingmei's collection was intricately detailed and quite edgy and youthful, Sneha Arora's collection featured flirty summer clothing in serene hues.
Varun Bahl:
Returning to Lakme Fashion Week after 4 years, Varun Bahl launches his new label "Pret", showcasing some ethereal creations in the form of kurtas, dresses, cardigans, culottes and trousers. The designer however, retains his signature floral aesthetic in pastel palettes. His collection is created with Art Nouveau motifs in print forms as well as light embroidery compositions.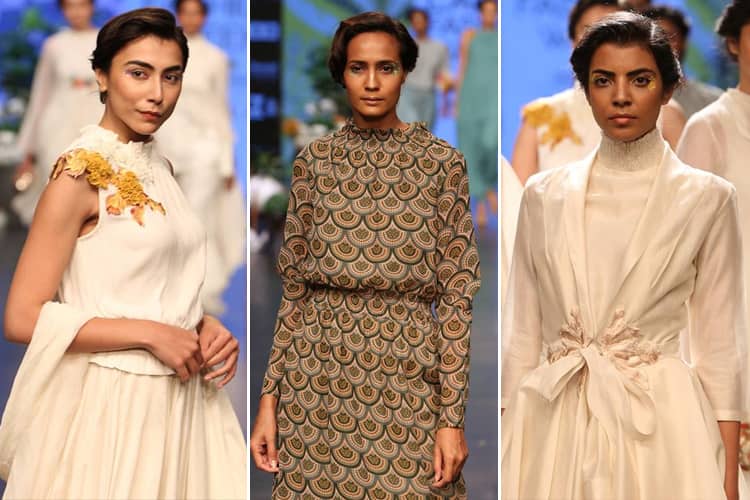 INIFD Corporate Launchpad:
This presentation showcased the work of 5 fashion and interior design students at the Lakmé Fashion Week summer/resort 2019 studio.
Lakmé Salon x Gauri & Nainika's Collection, "The Art Of Latte":
A collection uniquely designed for the free-spirited woman who is also a chic traveller. The designer-duo's collection is inspired by lifestyle of the French Riviera and features a glamorous holiday wardrobe, focusing on floral prints in the in shades of reds, pinks, nudes and browns. Fabrics like crepe de chine, chiffon, silk taffeta, organza and micro crepe have been used to design high-low dresses, floor-sweeping trains, breezy wrap-arounds and more. Yami Gautham turned showstopper for the designer duo Gauri and Nainika.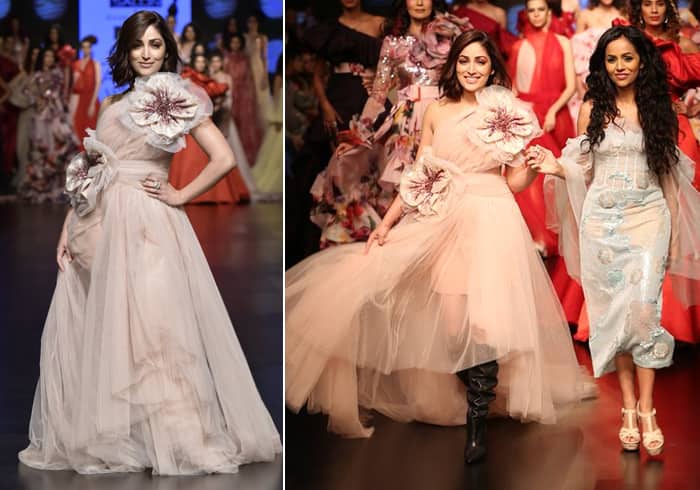 The Kashmir Collection By Rohit Bal, Presented By Usha Silai:
Giving us all a perfect ending to a marvelous Day 1 of the Lakmé Fashion Week summer/resort 2019. The collection was all about empowering women and championing sustainability. Collaborating with fashion label Usha Silai, the collection 'Guldastah' came to live. Exquisitely hand embroidered by female Kashmiri artisans, using fabrics such as cotton silk blends, Chanderi, silk organza, silk and velvet, beautiful garments were showcased. Thread embroidery, gold wire and zardozi, in floral motifs decorated the collection. The profits earned from these garments will be returned to these women artisans.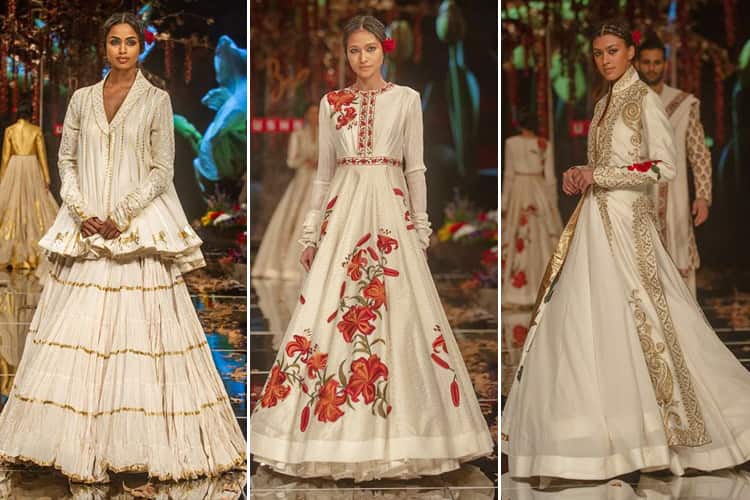 Author: Neharika Nath
---
Day 2 Of Lakmé Fashion Week Summer/Resort 2019:
Day 2 of Lakme Fashion Week Summer/Resort 2019 was dedicated to Sustainable Fashion and truly the show was a myriad of beautiful creations from wastes, curated by the artisans hailing from all corners of India.
In simple words, the day 2 of LFW S/R'19 was a celebration of weavers, their creativity and sustainability theme. Here, we have unravelled for you, the creations of the innovative designer partnerships –
Circular Design Challenge in collaboration with UN Environment, Fashion for Earth by R|Elan and Lakme Fashion week:
The Circular Design Challenge was organized in partnership with UN Environment and Fashion for Earth by R|Elan, to which 900 registered from 30 different countries. However, only 8 contestants reached the finale who presented their sustainable fashion designs at the LFW 2019. All the garments showcased at this show were creative designs of the finalists with materials from diverse sources of waste which includes waste. The 8 finalists included Bareek, Aiman, I was A Sari label, Iro Iro, Lifaffa, Saltpetre, Miesu, and Doodlage.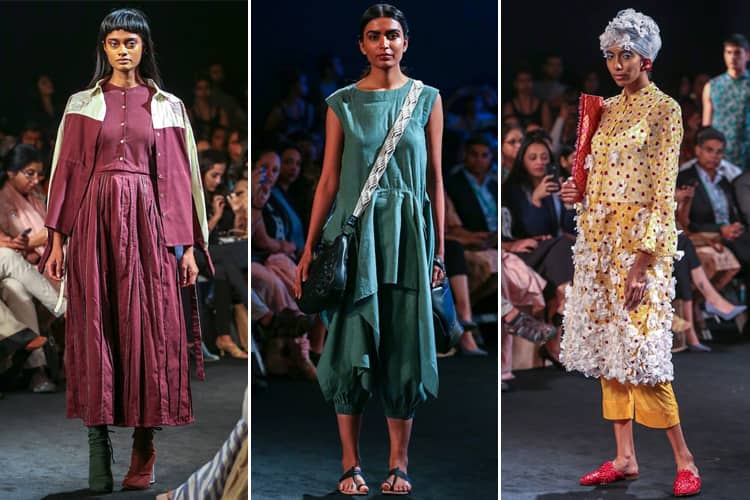 Sustainable Development for Northeast India- Weaving Partnerships for Change by the UN in India and IMG Reliance with an Anita Dongre Grassroot Initiative and Raymond:
Anita Dongre Grassroot and Raymond, collaborated with APONIR (Action Plan on Northeast India Report), a project launched to focus on strengthening the livelihoods of artisans, at the LFW Summer/Resort 2019. The duo presented a celestial collection showcasing the creativity, interventions and success of the weaving clusters in Assam. With apparel woven out of Eri and Muga textiles by the Assam artisans, the show truly drew a new definition to the term sustainable fashion.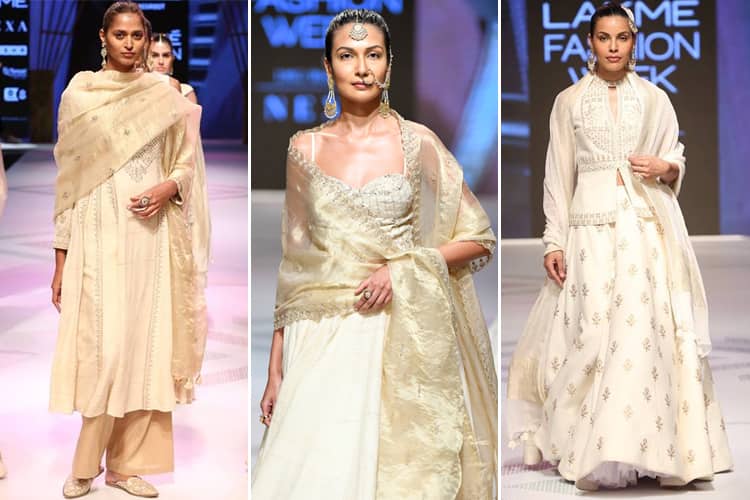 Spotted at the Anita Dongre show were Yami Gautam and Saiyami Kher.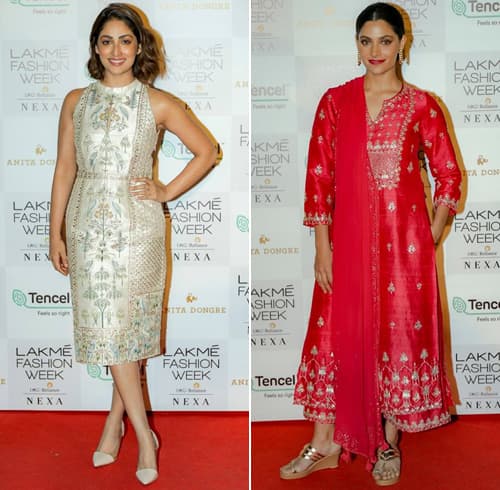 LFW #Fashup by Fashion Revolution – Doodlage | Door of Maai | Rossbelle:
#Fashup by LFW and Fashion Revolution proudly presented three young labels, Doodlage, Door of Maai, and Rossbelle. True to the concept of sustainable fashion, the trio presented unique collections using waste Tencel fabric. Focused to emphasise on the recycling and upcycling on waste, the collection by each label were interesting, encouraging and inspiring.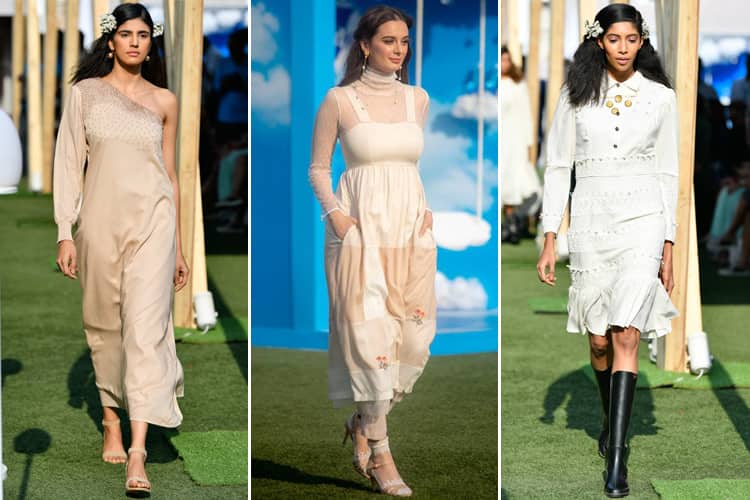 Anaam x Rangsutra | Anka | Ereena:
#FashionForLivelihoods was presented by three strong organizations namely Anaam x Rangsutra, Anka and Ereena, who solely believed in strengthening the livelihoods of the artisans from different regions of India. Anaam, an LFW Gen Next Alumni label, who collaborated with Rangsutra, a company based on artisans from remote villages of India, presented sustainable fashion in cotton fabric with cool Bandhej tie and dye techniques mastered by artisans from villages of Napasar and Lunkarnsar near Bikaner.
Usha Devi Balakrishnan's Anka, showcased Balarampuram saris in traditional cotton threads woven beautifully by artisans of Payattuvila cooperative society from Balarampuram, Trivandrum.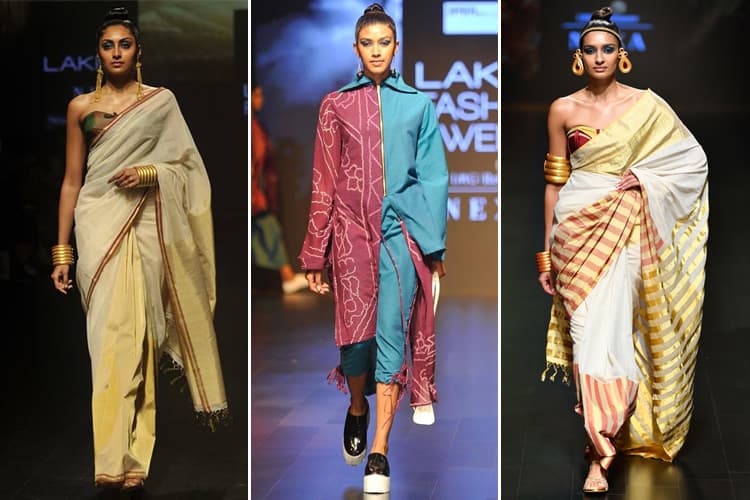 Ereena by Jyoti Reddy from Hyderabad focused on showcasing apparel built out of arganic Eri silk and cotton. Splashed with natural dyes by weavers from Assam, Telangana, West Bengal and Andhra Pradesh, the collection was truly eye catchy.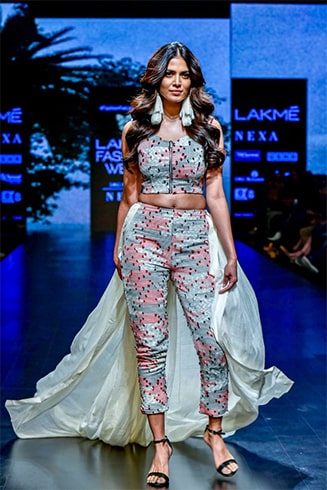 #japantoindia introducing Bunon:
Soumitra Mondal Marg launched the label Bunon first in Tokyo with a good guidance and consultation from a Japanese designer, Satoshi Ishii. And now the designer made a debut with Lakme Fashion Week Summer/Resort 2019 with handlooms made by weavers who loyally worked with Soumitra over the past 15 years. Most of the apparel were made of khadi, silk, and linen fabrics by weavers from Vardhaman, Murshidabad, Nodia in West Bengal.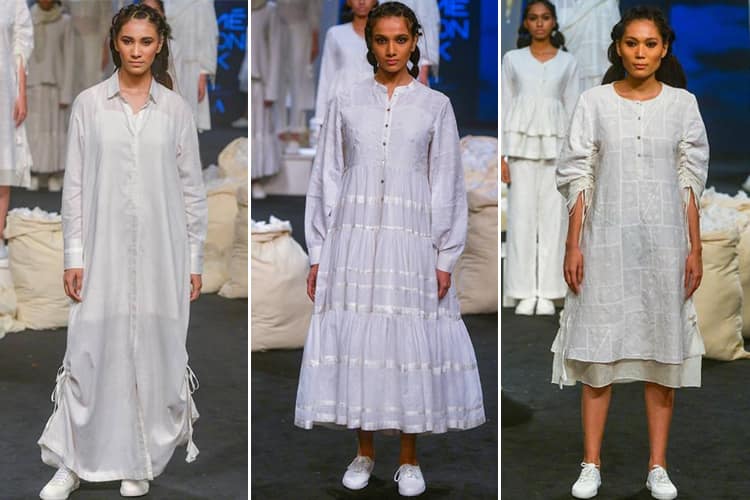 The Woolmark Company x Pero supported by Bhuttico Weavers Co-operative Society:
It was a beautiful, celebrated union of The Woolmark Company with Aneeth Arora of Pero and Bhuttico that swept us off our feet on day 2 of Lakme Fashion Week Summer/Resort 2019. The trio presented a handwoven and handmade luxury fashion made out of Merino wool. Titled #FarmToFashion, the designer Aneeth Arora, brought to light the traditional textiles of Kullu, Himachal Pradesh intertwined with geometric patterns of 'pattu' in monochrome shades including off-white, khakhi and blue. From stoles, shawls, apparels to accessories, the weavers work was simply stunning.
The link below has multiple images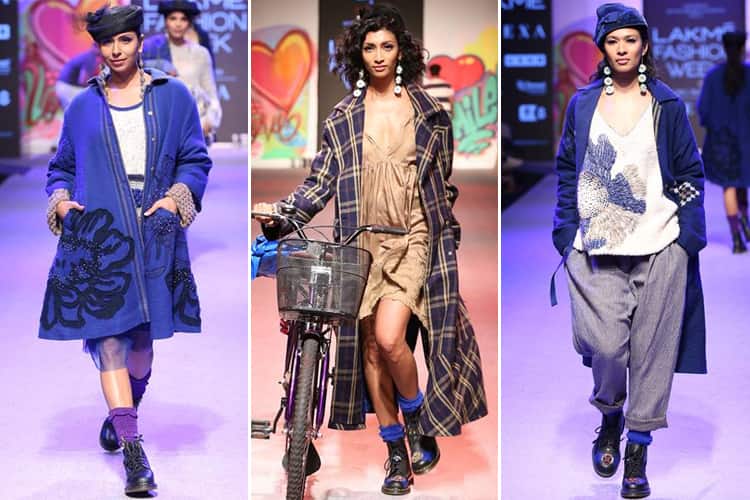 Anita Dongre in collaboration with TENCEL:
Finally, Anita Dongre in collaboration with TENCEL brought the sustainable fashion day to pleasant and endearing end. The renowned designer presented her collection titled 'A Summer Reverie', which brought forth an idyllic, breezy and viable line of apparel. Light, airy patterned styles in a combination of Tencel fibres and silk, the collection was delightful. In sweet pastel hues and playful summer prints, in patterns that included lehengas, maxi dresses, jumpsuits, crop tops and skirts, the show ended with a happy, romantic vibe.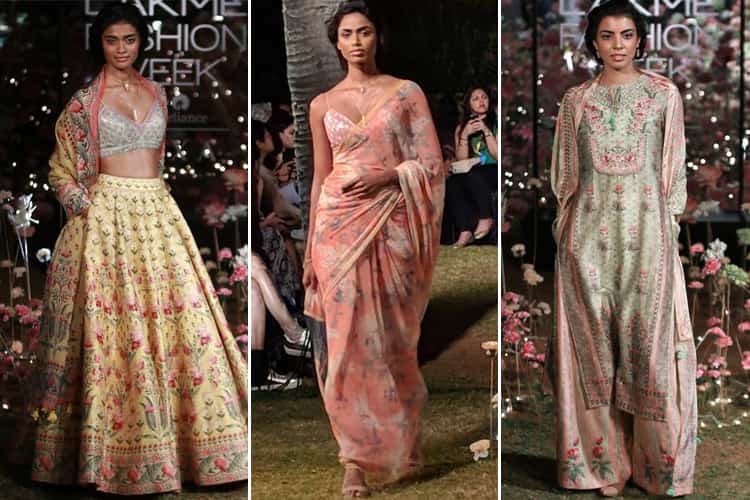 ---
Day 3 Of Lakmé Fashion Week Summer/Resort 2019:
The Lakme Fashion Week Summer/Resort 2019 was swamped with designers, influencers, fashion insiders and fashion takers. After Sustainable Fashion Day, looks like the idea, and theme rolled into day 3 of LFW as well. Scroll down for deets and much more.
Tahweave:
Blending French architecture of the 17th century with the ikat designs, Sweta Tantia of Tahweave caught every onlookers eye. Since it is a summer collection, we found varied easy-breezy dresses in summery hues like pinks, blues, yellows and corals.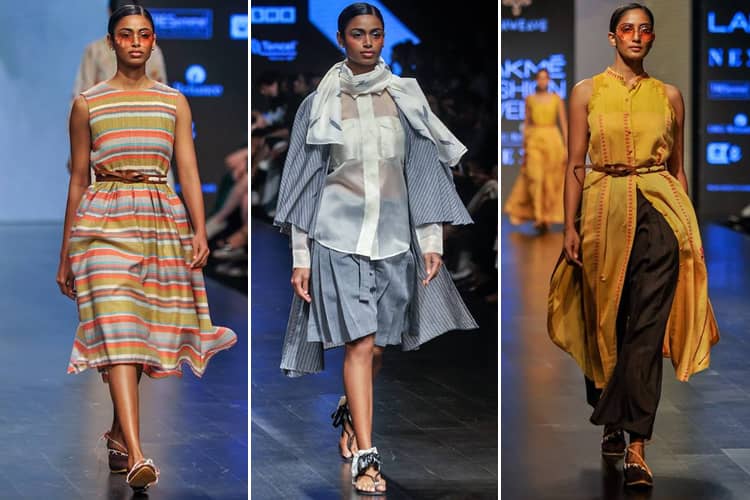 Plastic Fantastic by Kanika Goyal:
Showcasing collection titled as 'Plastic Fantastic', Kanika Goyal sure conveyed a strong message. Reaching out to bold shades, eye-catchy silhouettes with sheer layers, she beautified the ramp. With checked pants and dresses carrying slogans like "Sensor is Tripped", "Don't Cash Feelings", she held our hearts with her powerful message conveying show.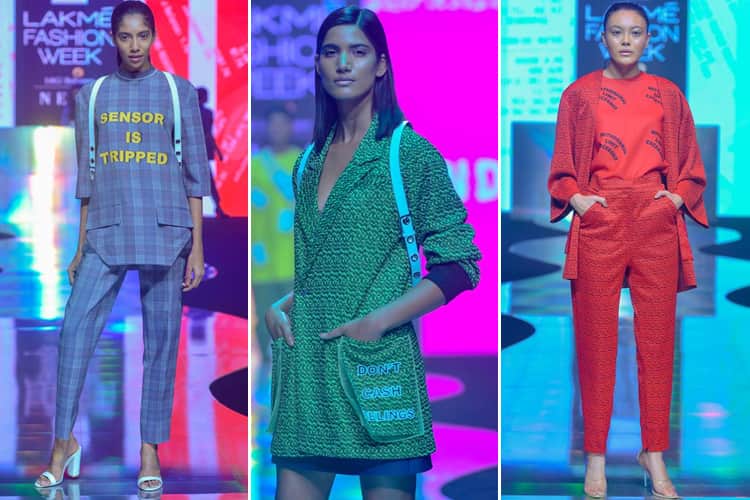 SVA by Sonam and Paras Modi:
Sonam and Paras Modi opted to showcase festive season and they nailed the show with pastels. Lehengas with denim jackets, organza layers with printed denim shararas were few of the styles of the collection 'Tara'. Truly it was a pinch of boho vibe to festive styles.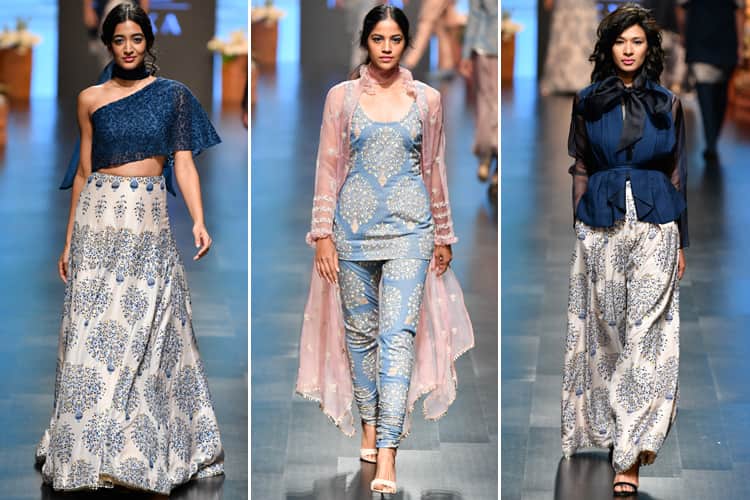 6 Degree Presents Caste No Bar by Dimpy and Krunal, Sukriti Aakriti and Gazal Mishra:
Kriti Kharbanda was the showstopper for Sukriti and Aakriti's collection at the LFW S/R 19. Wearing a maang tika, with shimmering blouse and flowing skirt, Kriti looked mesmerizing. In support to the designer, sighted at the event were Tamannaah Bhatia and Divya Khosla Kumar.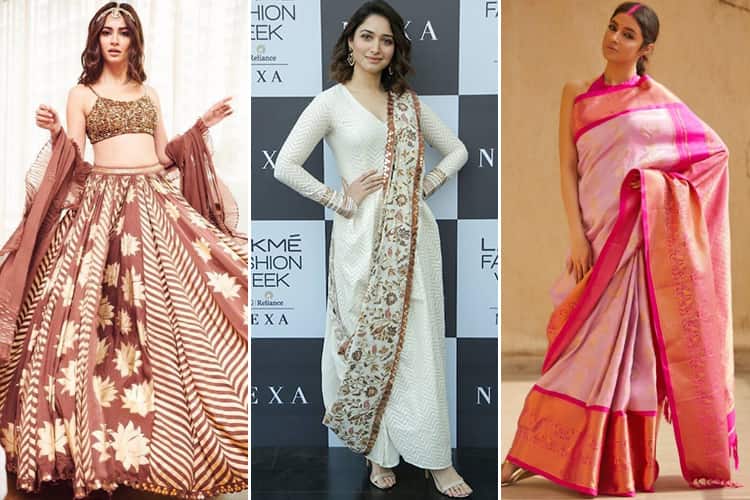 Also, Rhea Chakraborty walked the ramp for Caste No Bar, and Aahana Kumra and Kubbra Sait were the show stoppers for Gazal Mishra.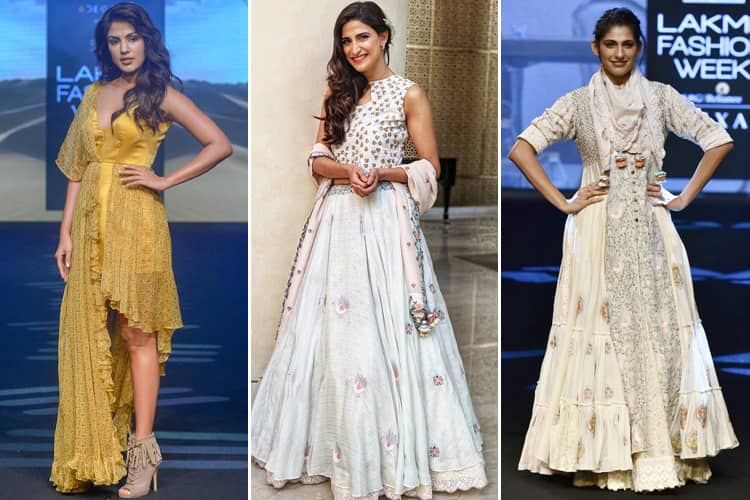 Caprese x Payal Singhal:
Titled 'Qo'shilish', Payal Singhal's collection at Summer/Resort 2019 of Lakme Fashion Week was a blend of retro styles with Mughal art. New silhouettes like Nizami sharara, short lean kurtas, saris and renaissance tops were introduced in velvet, crepe, silk, organza and many more. The color palette circled around moss green, blue, dusty rose and sandstone brown.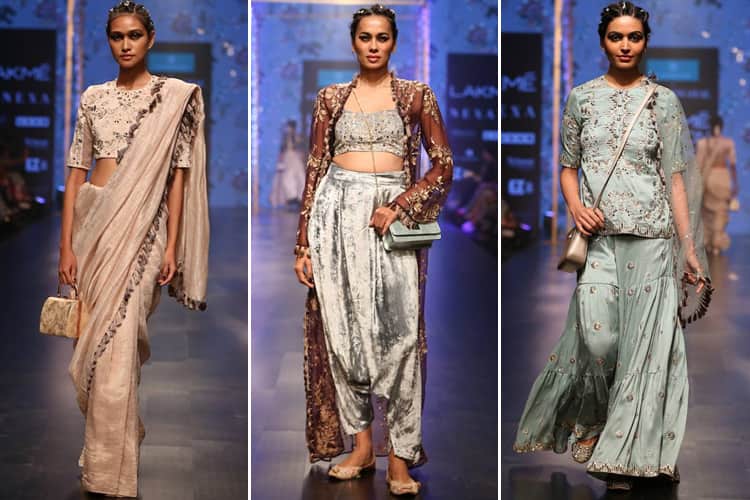 Mouni Roy walked the ramp for the designer in a neutral toned lehenga looking fantastic.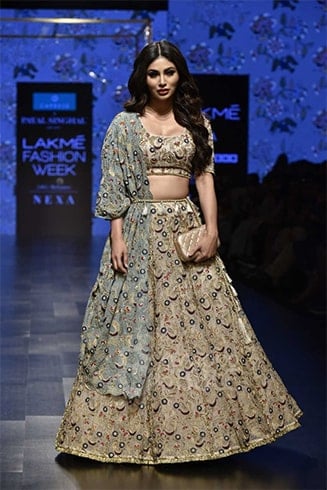 Maria Goretti, Tanishaa Mukerji, and Shibani Dandekar were spotted at the designer's show.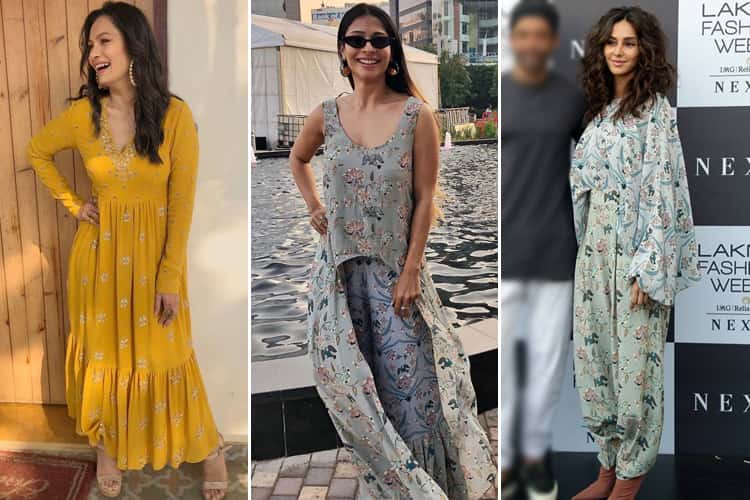 Corcal Bone & Beauty presents EKA:
Eka by Rina Singh was a true delight to watch at the Lakme Fashion Week Summer/Resort 2019. The collection comprised of easy-breezy dresses, anti-fit blouses, and layering styles in sheer and lace. The color palette ranged across all the pastel-ey shades and the beauty of the show was remarkable and eye-catchy.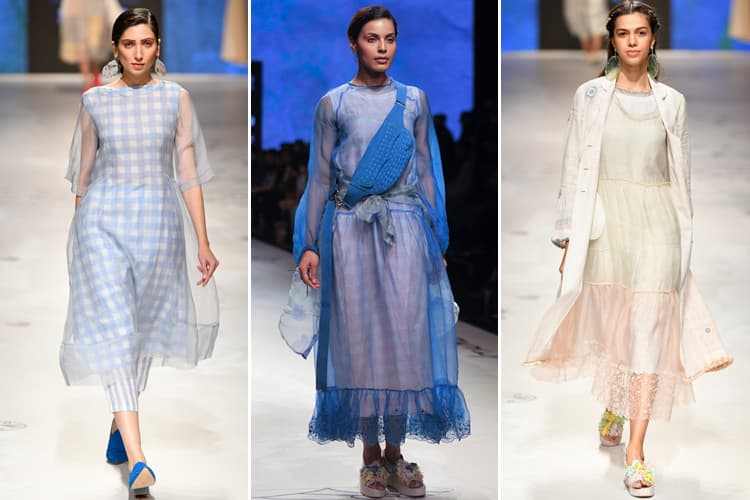 Anavila:
Anavila saris, the simple, monochrome saris are irresistible and this Lakme Fashion Week Anavila Misra closed the show with her collection that drew inspiration from the Sa Pa tribes of Vietnam. Every garment was crafted using natural yarns like cotton, linen, silk and 100% natural dyes, all made in West Bengal, Bhuj and Sa Pa. The collection included both saris and loose fitted dresses with patterns that involved cording, pleating or embroidery.
Vidya Balan, the epitome of elegance walked the ramp for Anavila in a gorgeous black sari with sleeveless blouse. The highlight feature of the style was the Rick Royco dupatta and the trendy jewelry from De'Anma and Roma Narsinghani.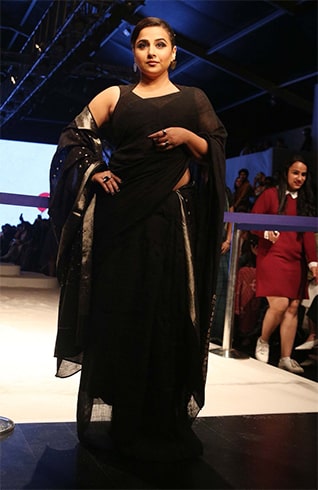 ---
Day 4 Of Lakmé Fashion Week Summer/Resort 2019:
Below are the highlights of Day 4 of the Lakme Fashion Week Summer/Resort 2019-
Saaksha & Kinni:
Saaksha & Kinni along with Rara Avis and Verandah were sponsored by the Diamond Producers Association. While the Diamond jewelry designers and winners of the Real Cut Rupam Singhal and Shazia Zeb Motiwala presented their ornate collection, Sakshaa & Kinni brought forth sheer jackets, pants and skirts loaded with geometric prints and patterns. The jewelry and apparel beautifully complemented one another, don't you agree?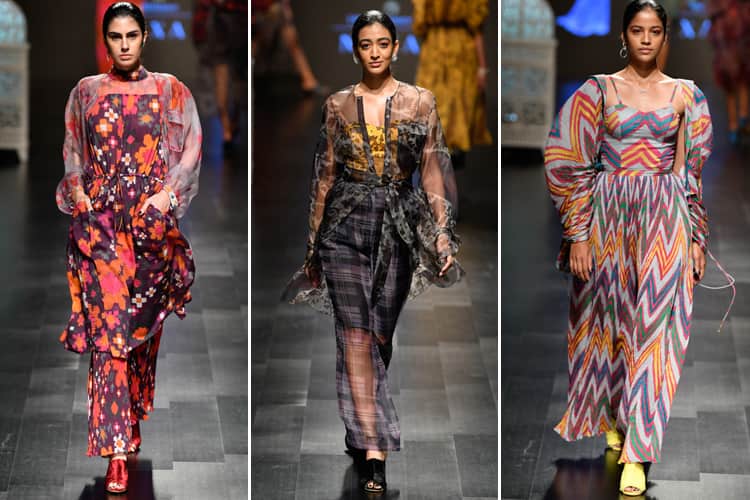 Pooja Hegde, Shibani Dandekar and Urvashi Rautela walked the ramp at the LFW S/R'19 showcasing stunning creations by Diamond Jewellery designers Shazia Zeb Motiwala, Rupam Singhal, Bhavana Jakhia, Rajeshwary Singh, Akshita Garg Chiripali jewellers in apparel by Rara Avis by Sonal Verma, Rupam Singh etc.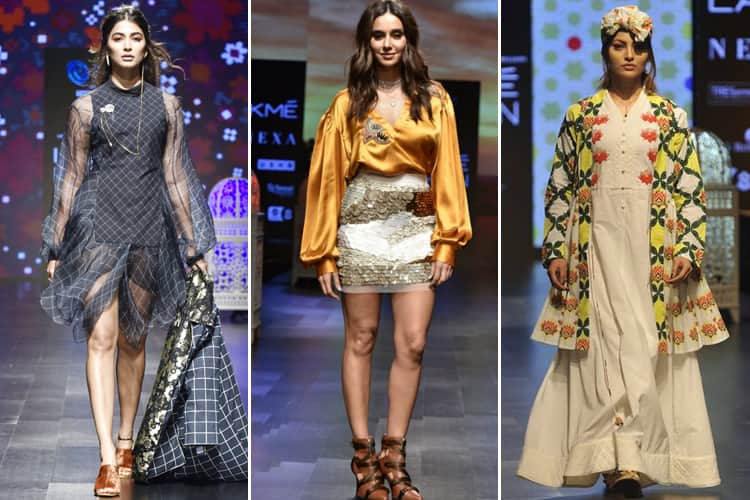 Rara Avis By Sonal Verma:
Sonal Verma's collection Rara Avis comprised essentially an all-beige palette which was a true inspiration from safari coupled with textures that handled challenging monotone fashion. Some of the eye-catchy styles included denim shorts with cowri shell detailing and poplin ecru dresses with doodles in rainbow shades. Diamond Jewellery designers and winners of The Real Cut, Bhavana Jakhia and Rajeshwary Singh presented their celestial collection along with Rara Avis collection.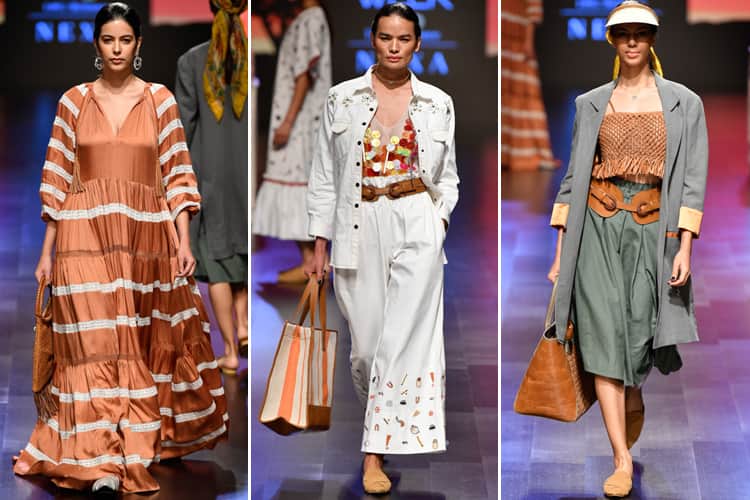 Narendra Kumar:
Narendra Kumar in collaboration with Alcis Sports launched Alcis x Nari sustainable athleisure collection titled 'My Earth My Style'. Most of the apparel was created with recycled Polyster derived from PET bottles. Isn't that cool?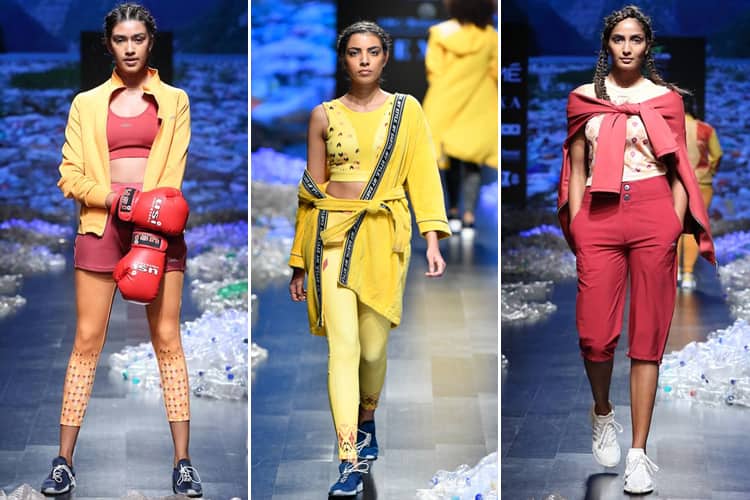 Sanya Malhotra and Miss Malini walked the ramp for Alcis x Nari at the LFW S/R'19.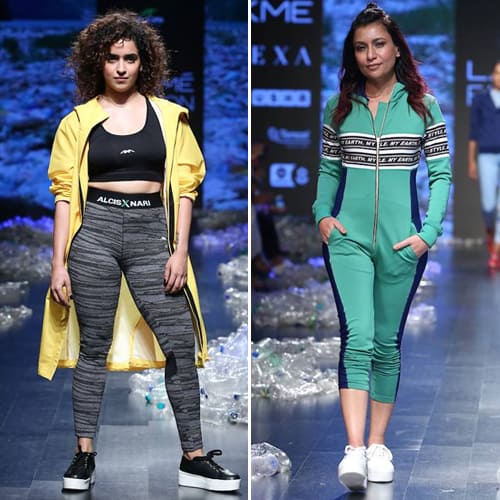 Anushree Reddy:
Titled Atirah, Anushree Reddy presented out of the world collection at the LFW S/R 19 in a refreshing color palette with intricate design details. The collection comprised of hues of celestial blue, warm apricot, and frosted almond. It was an ode to the ancient tradition belonging to the city of Kannauj. This city is well known for extracting oils from flowers to make intoxicating scents since the Mughal era. Rich with this culture and history, her collection was surreal.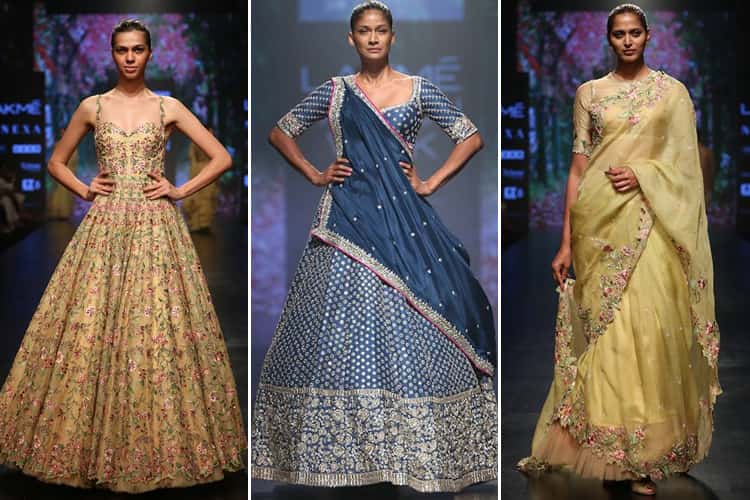 Kangana Ranaut was the showstopper for the designer and the diva scored a perfect A.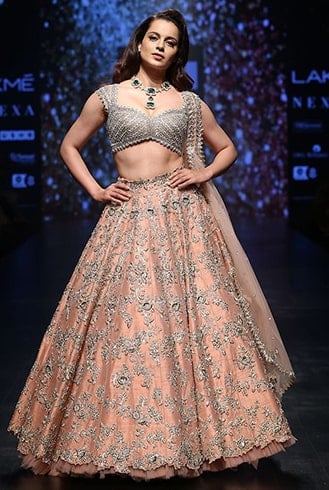 Nikhil Thampi:
This Lakme Fashion Week Summer/Resort, Nikhil Thampi showcased his collection which was totally inspired by 'Semicolon'. Walking the ramp were gorgeous models in designer's signature style sharply tailored power dresses with a pinch of contrasting elements adding up the spice.
The Semicolon brought new territory to explore in the fashion world that included cuts that went low in both back and neck, and the slits that went higher and higher up the thigh. This collection is an ode to 80's maximalism and every model looked eye catchy.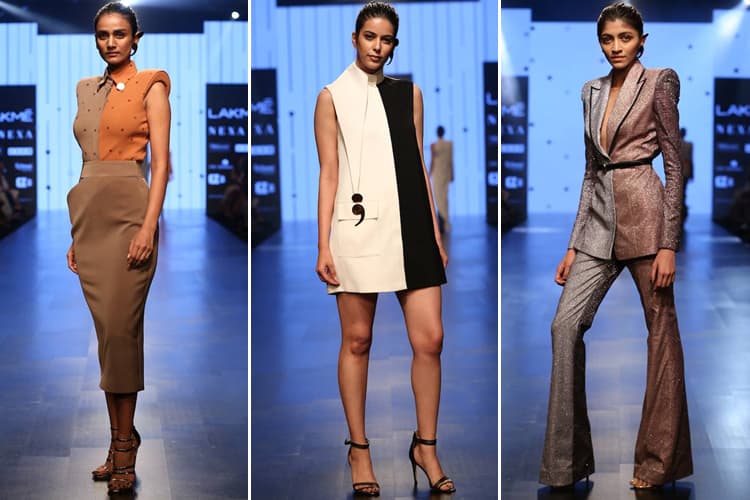 Shivan & Narresh:
R | Elan and Shivan and Narresh collaborated on the day 4 of LFW S/R 19 to exhibit a collection made from free flow fabric. Taking inspiration from the elements of Odisha's Pattachitra art along with intrinsic Tholu Bommalata leather puppetry of Andhra Pradesh, the collection revolved around asymmetric dresses, to lehenga cholis.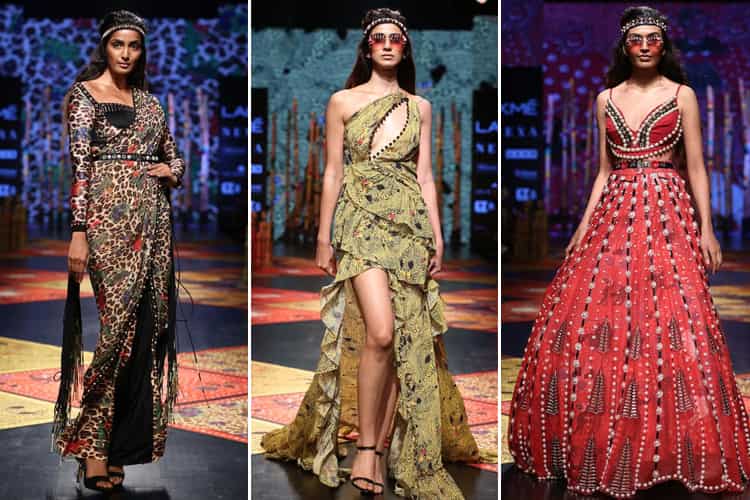 Vaani Kapoor was the showstopper for the designers in a satin red asymmetric dress.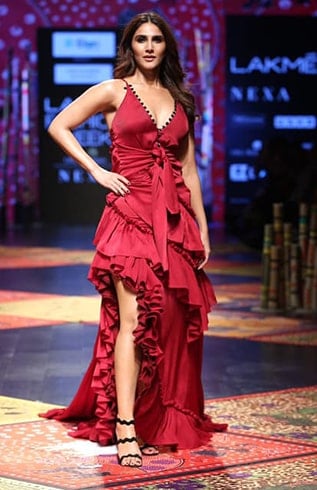 6 Degree presents Manoj Agarrwal, Anjali Verma, Magnoliaa by Vaani Ragupathy Vivek, Kanchan, More Sabharwal:
Malaika Arora walked the ramp for the designers Manoj Agarrwal presented by 6 Degree platform. Chitrangda Singh was the showstopper for Anjali Verma's collection.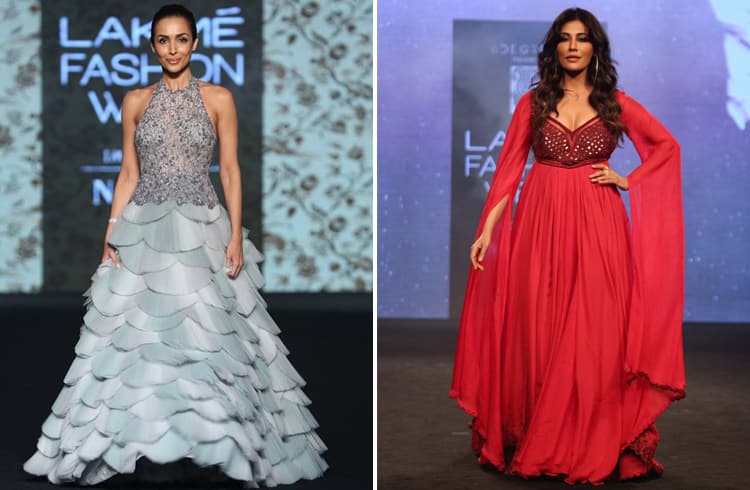 Raghavendra Rathore:
Raghavendra Rathore's collection is magnificent like always and this season, he chose to showcase evening and formal wear in shades of black. Janhvi Kapoor and Anil Kapoor were spotted at the event, walking ramp, in classy, elegant black outfits. Joining the duo from audience was Ranveer Singh.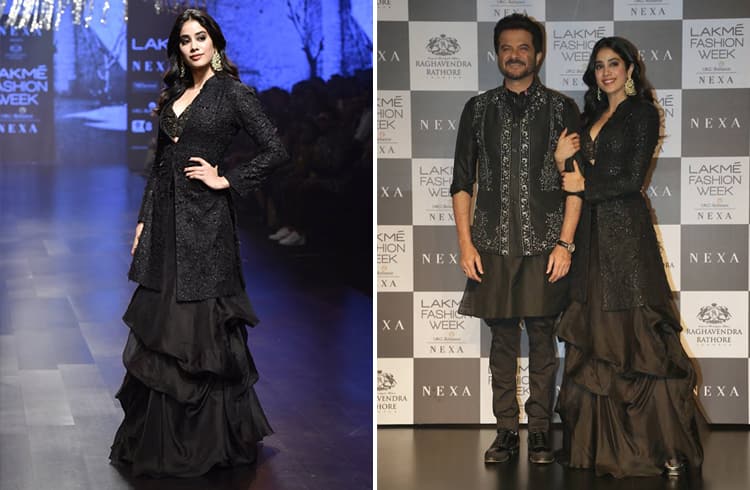 ---
Day 5 Of Lakmé Fashion Week Summer/Resort 2019:
Lakme Fashion Week Summer/Resort 2019 came to a phenomenal end! From Kareena Kapoor, to Ranveer Singh, the show energetic, fashionable and lots of fun. Besides being lit with drop-dead gorgeous styles to take away, the showstoppers left us speechless with their elegance, aura and gracefulness.
Scroll down to know the highlights of day 5 of Lakme Fashion Week Summer/Resort 2019.
Mishru:
Mishru by Swapna Anumolu showcased their collection titled 'Reminisce', a true abode to ethnic wear. The designer drew her inspiration from Hyderabad, right from Paigah Tombs to Chowmahalla Palace. In gota, tulle, organza, and silk, the apparels were embellished with pearls, miniature glass beads, floral motifs and intricate embroidery. The color palette included white, ivory, blush, mauve and grey.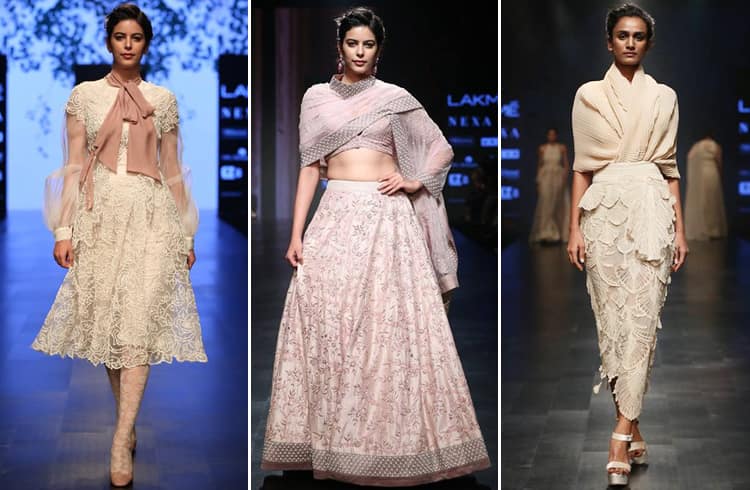 Diana Penty walked the ramp for the designer looking surreal in a pastel toned lehenga choli style. With near nude makeup and smokey eyes, she nailed the style.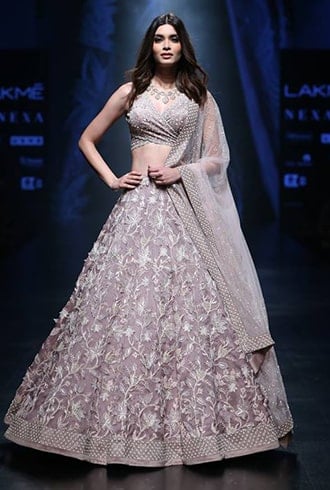 Latha and Sailesh Singhania:
House of Latha Puttanna showcased her collection Latha titled 'Wonder Years' which encompassed easy-breezy separates and dresses in vibrant to pleasant hues.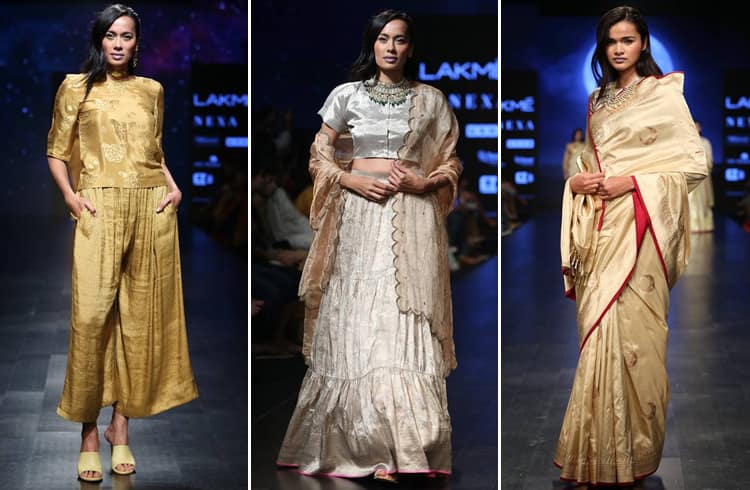 Sailesh Singhania on other hand, showcased his signature styles with his collection titled 'Shahaana'. From saris, anarkali and lehenga cholis, the styles were beautifully woven in shades of beige, gold. With vibrant motifs, the collection looked mesmerizing. Aditi Rao Hydari walked the ramp for the designer, Sailesh Singhania looked celestial in golden lehenga. With a choker, glowing makeup, plum colored lips, and luscious lashes, she looked stunning.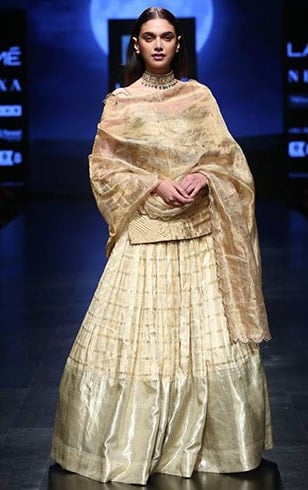 Punit Balana, Misfit Panda and Agami By Neha Agarwal:
Punit Balana, Misfit Panda and Neha Agarwal presented their eco-friendly inspired collection at the Lakme Fashion Week Summer/Resort '19. Punit Balana's collection titled 'Maya' was all about block printing. One of the styles that we were smitten by was that of Karisma Kapoor in block-print anarkali which came with two dupattas. With fishtail braid, glossy lips and glowing makeup, she was a delight to watch.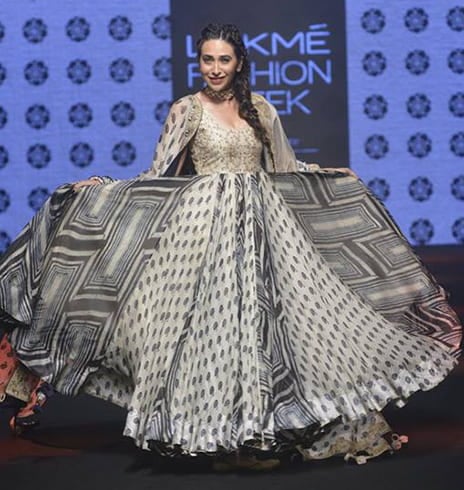 Agami by Neha Agarwal had similar block prints in her collection along with zardosi detailing. Soha Ali Khan walked the ramp for Neha Agarwal. She looked glamorous in an off-white front open gown and palazzos. However, PV Sindhu was the showstopper for Misfit Panda. Showcasing a bright pair of sneakers and gladiators, she illustrated the Misfit Panda style well.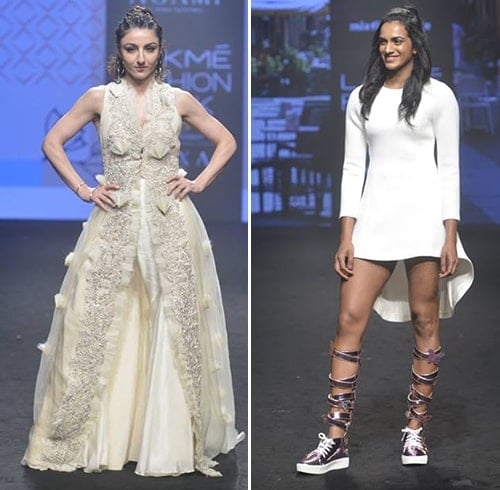 Shriya Som and Shehlaa:
Shriya Som's show was all about carefree styles featuring elements of raffia as a tribute to free-spirited woman.Both whimsical and romantic, the collection was a mix of ruffles, and raffia. Walking the ramp for the designer was Lisa Haydon flaunting her slender frame in a pastel toned lehenga.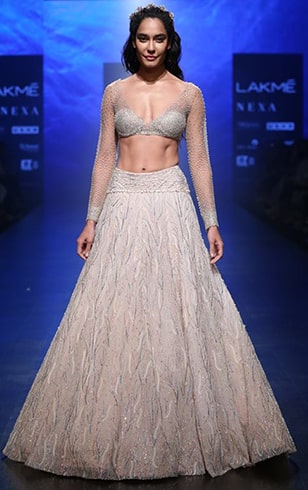 Shehlaa by Shehla Khan's collection 'Diana' was a huge success with styles inspired by the 1980's era and hence included shoulder pads, bold embroidery, sheer fabrics and sultry silhouettes. Bhumi Pednekar, Isabelle Kaif walked the ramp for the designer in rich and elegant styles.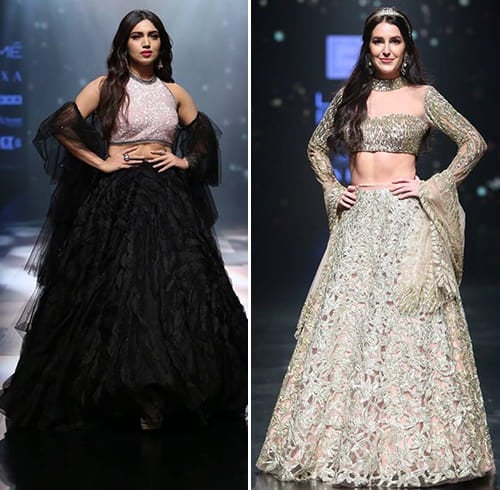 Lakme Absolute Ultimate Finale by Shantanu & Nikhil:
Lastly, the show was end by Shantanu & Nikhil's collection 'Recruit' that encompassed structured gowns, capes, drapes and power shoulders in shades like red, black and gold. Kareena Kapoor was the showstopper for the designer and she nailed the ramp walk in a strapless floor gown.
Hope you enjoyed the show!
Images Source: facebook.com/LakmeFashionWk/