Becoming Cleopatra in beauty and looks is a tall task. No amount of running to parlours can help you achieve that look.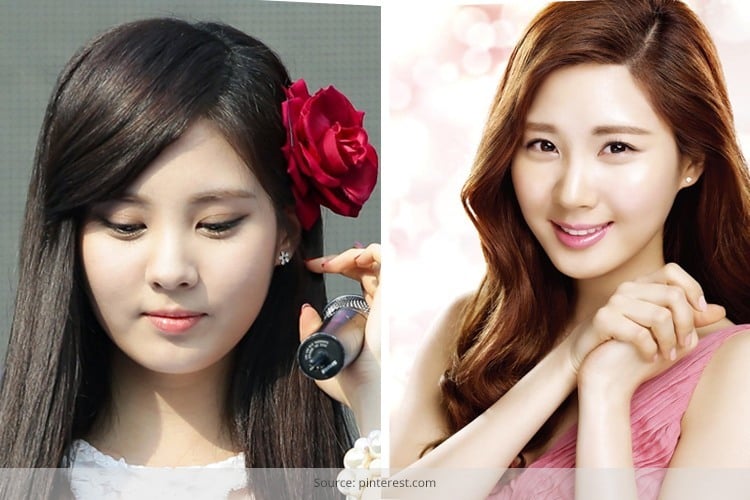 The first thing somebody notices in you is your eyes, lips and cheeks. Cheeks define your face like none other. They help create a youthful appearance. In fact, high cheekbones are found to be more attractive than flat ones.
Ever thought what makes a face look fuller at a younger age? It is due to the subcutaneous fat under the skin alongside the cheeks which makes the cheeks look healthy and chubby.
The sad part is that with age, the subcutaneous fat gets visibly reduced leading to sagging cheeks and older looks. This is obviously not an attractive sight to watch and calls for remedies to bring back the plumpness in cheeks. Here are some quick solutions on how to get chubby cheeks naturally.
1. Rose Water-Glycerine
Glycerine is the best ingredient to getting tight and wrinkle-free skin. And Rose water is a great skin cleansing agent.
When you combine the two of them and apply it on your skin, it causes increased fat production thus giving you chubby and cute cheeks. This also nourishes the cheeks and gives you an instant face lift, thereby making your cheeks look fuller.
2. Olive Oil
Tell us one person who doesn't know the health, beauty and nutritional benefits of olive oil. Not only is the oil good for skin, it is also best for cooking Indian and western meals.
[sc:mediad]
Talking of health, olive oil help retain chubby cheeks. In order to do that, consume 1 tbsp olive oil daily. It will help producing skin fats and give you fuller and chubby cheeks within 15 days.
3. Milk
Lean and skinny people are those who don't get adequate quantities of milk to drink daily. Milk is the best and a complete diet for people of all age group. Since it has vitamins, minerals and proteins, it helps fulfil the daily dietary needs. So, in order to get chubby cheeks, drink 1 glass of milk in the morning and at night over a period of 3 months.
Like you can see, even consuming food for chubby cheeks will do the needful.
4. Apple Paste
Apple is a multi-talented fruit for you. Apart from eating the fruit in raw form, you can start taking apple paste to get cute, healthy and chubby cheeks.
Apple is endowed with nutrients and vitamins that make healthy skin and cheeks possible.
You can make this chubby cheek wonder at home by mashing a raw apple and applying it all over the cheeks. Let it stay for 15-20 minutes and then wash it with water. Apple paste also has collagen and elastin skin proteins that help in giving you fresh-looking cheeks.
5. Butter-Sugar Paste
If you wish to have chubby cheeks without the use of chemicals or cosmetics, then try out butter sugar paste. This paste has both the ingredients in equal quantity.
To get chubby cheeks, apply the paste on your cheeks for 10-15 minutes. Now follow it up by washing with water to get the desired results.
6. Facial Yoga
Yoga is a form of Ayurveda that is not only ideal in making the body supple and lift sagging skin but also get chubby cheeks. Facial yoga helps produce collagen and elastin that make your skin firm and plump up.
Follow the diagram shown below and complete your facial yoga routine few times a day. You can also do cheek presses and cheek lifts in order to tone up your cheek muscles.
[Also Read: Facial Exercises to Remove Double Chin]
7. Blow Balloons
Sometimes recalling one's childhood helps. Blowing balloons can help you work out your cheek muscles in an amazing way. When you blow air into a balloon, it puffs up your cheeks helping build up the muscles to add some beef to your cheeks. Do balloon-blowing 5 to 6 times a day to get best results.
8. Fenugreek
Did you ever think that fenugreek would answer your how to get chubby cheeks query? We are pretty sure you would say no. But, believe us when we say that this common kitchen ingredient can actually help you in getting those puffy cheeks that you desire.
You can either massage your cheeks with fenugreek oil once or twice in a day or make a paste by mixing fenugreek powder and water and gently massage your cheeks with this paste. Wash off the paste after 10 minutes. Practice this remedy at least once during the day.
9. Shea Butter
If you are screaming, "I want chubby cheeks', then it's time to get some shea butter. You can use shea butter to increase your cheek fat since it contains fatty acids which can improve your skin's elasticity. The vitamin E in it will make your cheeks chubbier by tightening the skin.
You can use the simple method where all you need to do is just rub some shea butter on your cheeks and start massaging it in circular and upwards motion. After massaging your cheeks for 10 minutes, let the cream stay as is for 15 minutes and then use water to wash it off. Try to do this couple of times during the week to see effective results.
So the next time you ask yourself, 'how can I get chubby cheeks', just pick up some shea butter.
10. Pucker Up Your Lips
One of the simplest exercise to get chubby cheeks is to just pucker your lips tightly and as far as possible. Release the pose and bring back your lips into a smiling pose. Make sure to keep your mouth tightly shut the whole time. Repeat the process again after 5 seconds. You need to do this simple exercise 15 times every day.
11. Food Items
Along with following naturally remedies and exercises, you should also know what to eat for chubby cheeks. The best thing to do is eat crab-rich food which is essentially food items that are rich in carbohydrates.
So start stocking your kitchen with rice, pasta, bread, etc., to get those cute and chubby cheeks.
So, now we have shared with you some tricks on how to get chubby cheeks naturally. Now, start doing these chubby-lifting techniques at home and get prepared to win attention.