Guduchi is a shrub mainly found in India. Its name is derived from a Sanskirt word meaning imperishable. It is also known as heart leaved moonseed, heavenly elixir, tinospora cordifolia, Giloe, and others. The roots, leaves, and stem of Guduchi are popularly used in Ayurvedic medicine. The benefits of Guduchi leaf for treating various health problems like high cholesterol, diabetes, hay fever, stomach gout, cancer, allergies, lymphoma, rheumatoid arthritis, peptic ulcer disease, fever, hepatitis, gonorrhea, and to improve immune system.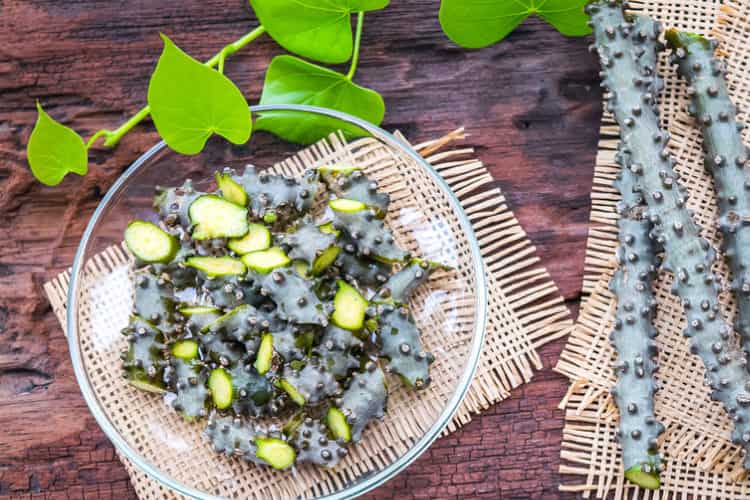 The Ayurvedic Properties Of Guduchi:
Guduchi is a large shrub mostly used in Ayurvedic medicine because of its detoxifying, anti-inflammatory properties, and rejuvenating agents. According to studies, guduchi can be used for treating several health problems like flu, skin disorders, liver problems, rheumatoid disorders, gout, and arthritis.
According to the Ayurvedic Pharmacopoeia of India, the herb has essential healing properties. Some of these are listed below:
Rasa: Astringent, bitter
Guna: Light, unctuous
Vipaka: Sweet
Deepana: improves digestive system
Rakta shodhak: Blood Purifier
Health Benefits Of Guduchi:
The health guduchi benefits are as follows:
1. Improve Immune System:
Guduchi is known for enhancing memory, promoting longevity, improving health, and bestowing youthfulness. The herb treats immune system and promotes better health in a person. Studies indicate that the immune system is greatly boosted using Guduchi and in turn kills cancer cells. It is said to promote white cells and kill bacteria.
2. Act As Detoxifier:
Guduchi acts as a detoxifier to heal skin problems. If you are suffering from certain skin problems, then you can apply the plant oil of guduchi on affected areas. The lotion of guduchi can also be used to improve skin tone and health.
3. Treat Respiratory Disorders:
The shrub has traditionally been used for treating ailments like chronic cough and bronchitis. Its essential oil soothes respiratory system and by this means also treats asthma.
4. Improve Liver Problems:
Guduchi has healing properties to detox liver and improving proper functioning. It may also be used for treating fatty liver and for stimulating damaged liver tissues.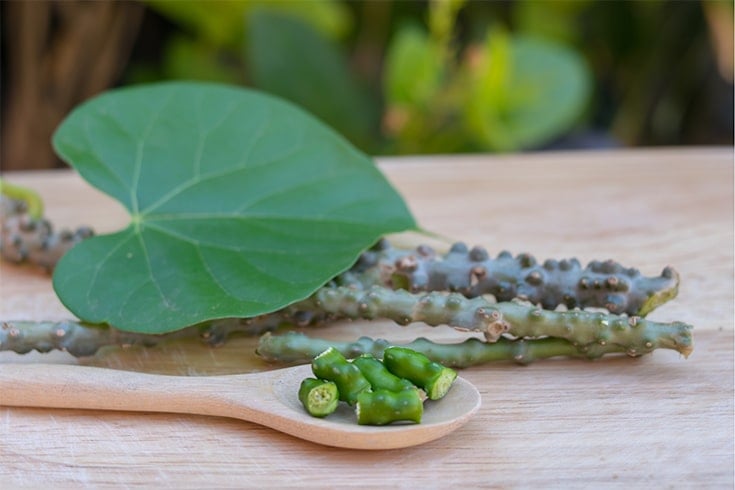 5. Improve Digestive System:
Guduchi greatly improves the digestive system and protects body against worm infestations, colitis, loss of appetite, constipation, dehydration, and vomiting.
6. Reduce Stress And Anxiety:
The healing elixir is an adaptogenic herb which greatly helps to manage anxiety and depression. It normalizes physiological functions on the body and has a calming effect. Also, guduchi has the ability to improve cognitive functions and memory.
7. Health Rejuvenator:
The medicinal herb is popularly known for improving immune system and for fighting against several illnesses like jaundice, fever, cold, constipation, skin problems, and tuberculosis.
8. Anti-inflammatory Properties:
Guduchi has anti-inflammatory agents to bring relief against inflammatory problems like arthritis and gout. Clinical studies have indicated that the shrub noticeably reduce pain in people suffering from rheumatoid arthritis.
9. Treats Fever:
Guduchi brings down high fever by lowering the body high temperature. Using powdered guduchi greatly helps while treating intermittent fevers like malaria and dengue.
10. Improve Eye Sight:
Guduchi may improve eye vision. In order to get the full benefits, boil Guduchi leaves or powder in water. Allow it to cool and apply the juice onto eyelids.
11. Treat Skin Problems:
Guduchi has anti-ageing agents to treat dark spots, wrinkles, acne, and fine lines which results in glowing and flawless skin.
Also those with skin problems like psoriasis, vitiligo, and eczema can greatly benefit from this wonder drug. Make a paste using the powder. Apply the paste onto skin. It adds moisture and make skin soft.
12. Improve Sexual Health:
According to Ayurveda, Guduchi has aphrodisiac benefits. It can effectively treat sexual problems like ejaculation problems and impotency.
[sc:mediad]
Side Effects of Guduchi:
There are few side effects of guduchi you may not be aware of. They are listed below:
1. Pregnancy and breast feeding:
There are not enough studies which prove guduchi is unsafe during pregnancy and breast feeding. But feeding and expectant mothers are advised not to use it.
2. Diabetes:
Guduchi may lower blood sugar levels but diabetic patients should use it carefully. The dose of diabetic medications should be adjusted.
3. Autoimmune diseases and other conditions:
People suffering from rheumatoid arthritis, lupus, multiple sclerosis, autoimmune, and other health conditions should avoid using guduchi as it may cause the immune system to get more active.
4. Surgery:
The shrub may interfere with blood sugar control before and after surgery. Avoid taking it at least two weeks before surgery.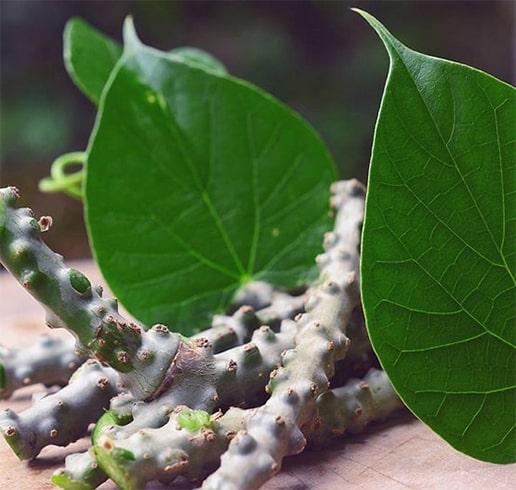 How To Prepare And Use Guduchi Powder?
The stem, roots, leaves, and bark of guduchi or giloy powder is used in several Ayurvedic medications. Its bitter extract is said to be effective. While the stem is the chief medicinal component, its leaves are used for treating liver problems.
Guduchi is mainly used in powder form. The standard dosage is one teaspoon, two times a day. It is effective to take during the onset of flu for one week to fight off infection.
Dosage:
Guduchi Designs
Plant Part or Derivative
Dosage
Guduchi Stem Powder
1 to 3 grams
Guduchi Stem Water
50 ml to 100 ml
Guduchi Stem Extract
125 mg to 500 mg
Guduchi Stem Juice
1 ml to 5 ml
Guduchi Satva
250 mg to 1000 mg
Guduchi Leaves Powder
1 to 3 grams
Guduchi Leaves Juice
2.5 ml to 10 ml
Guduchi Safety and Precautions:
Children above five years can safely use Guduchi for one to two weeks or as advised by health consultant. It is also safe to use during lactation but unsafe during pregnancy. Diabetic patients under medication should also use Guduchi with care and take the advice of a doctor.
It is also important to discuss your current health problems and medications with the doctor. They will check for any pre-existing conditions and allergies before you start having guduchi. If you notice any negative signs or symptoms, then tell your doctor immediately.
You can also monitoring your blood sugar levels daily and prevent using it during pregnancy and breastfeeding.
Guduchi has a lot of potential in treating health issues and has been validated by modern scientific research, as well. According to Ayurveda classical texts and modern studies, the benefits of this herb have well been established. The health benefits of the heavenly elixir are popularly known. It is both used as an anti-inflammatory and immune-modulator.
Now that we've covered about Guduchi health benefits and discussed how great this wonder shrub can be for everyone. We'd love to know your opinion?
Talk to us in the comment box below. Or you can share this article to your loved ones to also let them know the incredible wonders of guduchi.