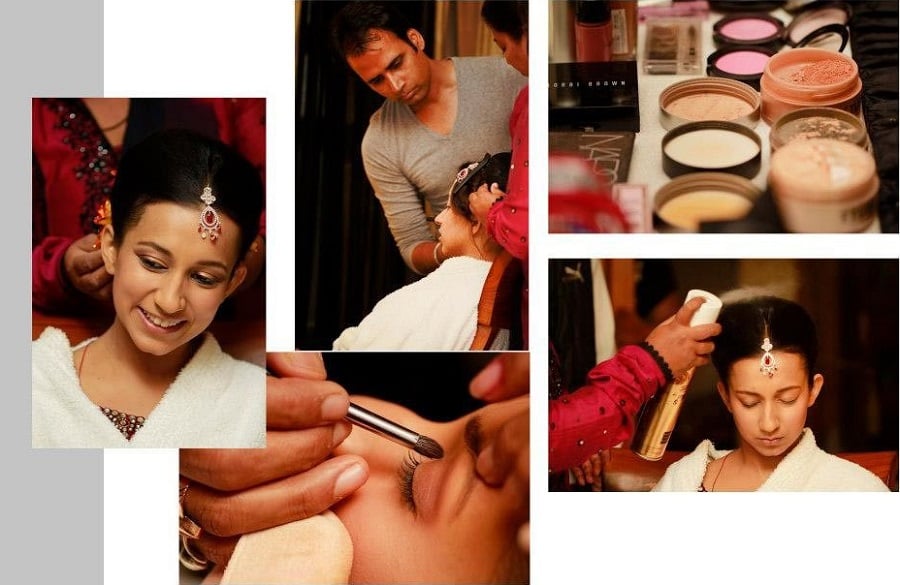 British royal family might have fired Kate Middleton's hair stylist, but Bebo is head over heels for her hair stylist Pompy Hans so much that last month Kareena Kapoor Khan had thrown a party for her hair stylist on his birthday.
It was in fact a surprise party planned by the Begum. Pompy was called to Mehboob Studio where the actress was busy shooting for an ad campaign. While the celebrity stylist arrived thinking it to be work, Kareena's unit had planned a surprise party to celebrate his birthday. In a gesture of gratitude, the actress had also called upin some of her friends to be a part of the celebration.
Here's the video where Kareena awards Pompy for being the best hair stylist in Bollywood,
As per Kareena's spkoesperson,
"Pompy Hans has been Kareena's hair stylist for years now and on the occasion of his birthday Kareena decided to do something special and throw him a small party."
Kareen, who is quite particular about her looks, credits the success of her beauty to her stylists. Even Salman Khan is a huge fan of her hair stylist Pompy Hans and dress designer Radhika. The actor bonded with her staff during the shooting of their film Bodyguard.
During the stay, Pompy had done a medley of Helen's dance numbers and had also cooked a meal for Salman. In return, the actor who is known for his generosity gifted him and entire Bebo's staff Being Human watches and tees. Besides, he was so much impressed by their works that he had requested Kareena to send her staff to Istanbul while he was shooting for Ek Tha Tiger.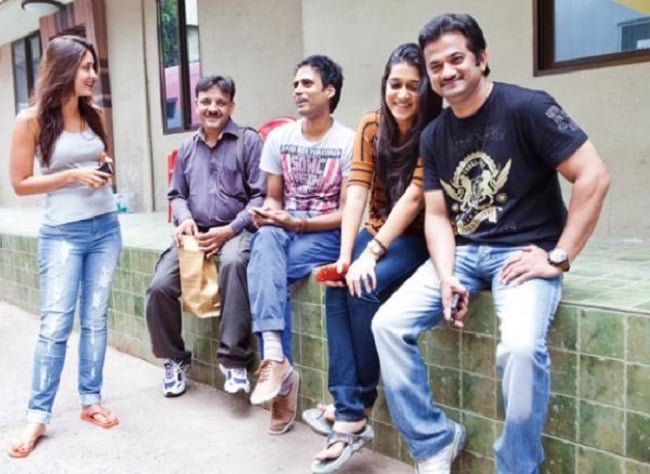 Here is Kareena's entire staff, the people who are responsible for Kareena's look in each and every film of hers for almost 10 years now – spotboy-Ved Prakash, hair-stylist – Purshotam Hans (Pompy), stylist – Radhika Mehra and make-up artiste – Ritesh Naik.
Purshottam Hans, who is now famously known as Pompy Hans may not be a popular name for you, but he is quite famous in Bollywood circuit. Apart from Kareena Pompy has also worked with Deepika, Priyanka and other leading actresses of the film industry.
Born in Amritsar, this down to earth celebrity stylist started his career with Lakme. He left Lakme only to assist the veteran hair and make-up hair stylist Cory Walia and then there was no looking back for this extremely talented artist.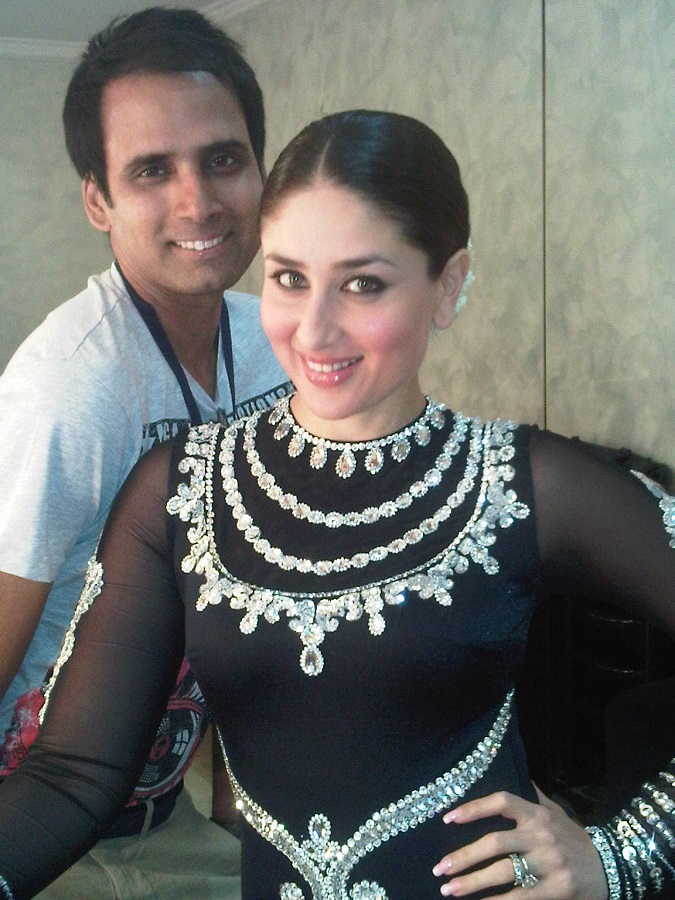 After entering Bollywood Pompy then started working independently after he was recommended to several film makers and models by his god father Cory Walia. He has so far worked in hundreds of ads, film posters, fashion shows and with many other celebrities before getting a full-time job under Kareena.
[sc:mediad]
He has been styling Kareena since 4 years now. The duo met during the shooting of Kambhakt Ishq and Bebo immediately became his fan who had given an ultra-glamorous look for her film.
2 years back I had happened to see him work on the actress, while she was shooting for Talaash movie at the Pinewoods Studios. Little did I know their professional bondage would grow so stronger that Kareena not only steps outside without him, but she throws a birthday party and even recently awards him for being the best hair celebrity stylist in the nation at present.
No matter whatever character Bebo is playing, both the director and cinematographer are assured as Pompy is right there to give her the exact look suiting the character.
In Bollywood, Lisa Ray was the first person Pomp has worked with. She was a model then who had come to Lakme Salon and he got a chance to style her. After Lisa, it was Sameera Reddy whom he had styled.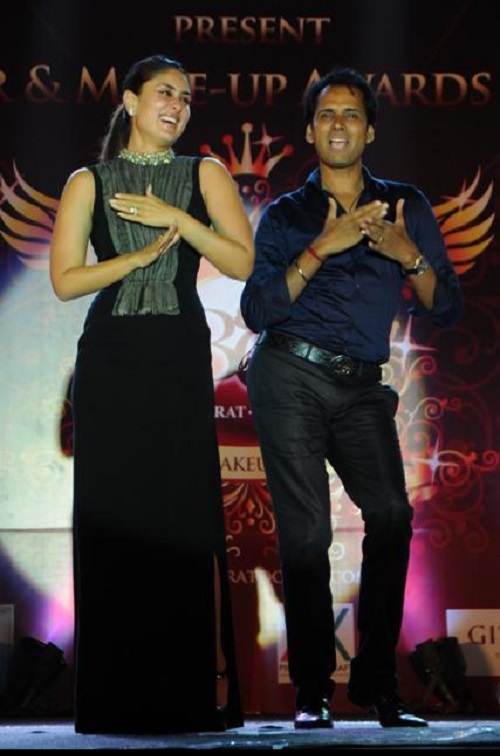 In an interview when Pompy was asked who decides what hairstyle and makeup should go on, Pompy had this to reply,
"It's a mutual thing. Maybe a client wants something like a Kareena Kapoor hairstyle but they don't have the similar style of hair or cut or length or a different face structure. I then have to suggest the client what suits her best and then we go from there. The main thing is to get whatever suits the person most."
Kareena's look in her upcoming flick
In Reema Katgi's next, Kareena as per her stylist dons a new look, as she is playing a completely different character than all of her previous movies. She will be seen flaunting straight long hairs with streaks.
Secret behind Kareena's perfect hairdo and her hair care rituals
When asked how Kareena manages to maintain her perfect hairdo, the hair stylist said that he uses high end hair voluminizing products such as L'Oreal and Tigi and also uses a root booster and volume hairspray to keep her hair stay in place.
The actress uses a high quality shampoo and conditioner and gets hot oil massage once in a month to maintain healthy strands.
Karreena's look while she is at home
As per Pompy Hans, Bebo simply loves a messy pileup look. She just takes all the hair up and ties a rubber band in a messy way. The messy pile up look and maxi dress has become her personal style when she is not working or outside.
Pompy's tips,
"It really depends on the face structure and hair texture. I really like mid length with layers. Make a concoction of 4 oils – almond, castor, olive and coconut. Warm the oil and massage your scalp with it. It works as a great conditioner and stimulates the roots of the hair. Do this at least once a month."
Hope you enjoyed reading this post!
Stay tuned for more such Bollywood interviews!!