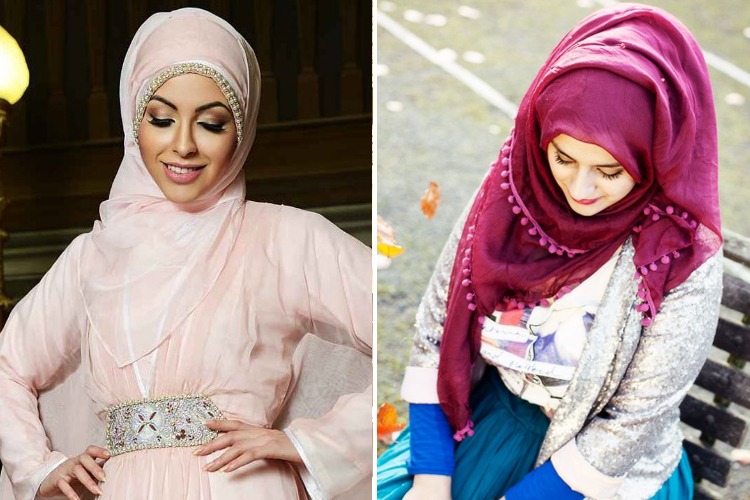 The niqab or headscarf is a fabric that comes in several styles and colors. The niqab is commonly draped around a woman's top head.
The niqab also serves as a stylish way to keep your tresses out of sight. You can keep your hair off the face and secure it with a low bun or ponytail, before putting on your niqab. The headscarf can stay on or off, but you can simultaneously try twisted hair to keep it in place throughout the day.
Here is a chic hairstyle you can wear to match with your niqab styles.
What you will need:
Rectangular shaped chiffon scarf.
Tube scarf or under-scarf
Directions:
Tie your hair into a loose knot or ponytail at the nape.
Place the scarf over your head, making sure the two ends are equal in length.
Line the scarf at the base of your head and around hairline.
Tie a knot in the back using the two ends.
Take one end of the scarf and wrap around your head. Tuck it in. Repeat the same with the other end.
DIY Simple Everyday Niqab Style:
Wearing a niqab may be a priority for you, but that doesn't mean you have to givie up styling it. You can accommodate the following niqab styles, which are easy. You can try these styles with or without a tube scarf. First, you should always go for a fabric that is comfortable. For this reason, chiffon in rough material is preferred because not only does it look neat but is also less likely to slip off.
Here is the niqab style step by step tutorial:
Wrap the scarf around your head.
Keep one side shorter and the other side longer while allowing the scarf to frame your face.
Fold the two sides' and bring it right underneath your chin.
Use a pin to secure the ends or tug the shorter side underneath the longer side and bring it around without pinning it.
Keep the long side folded while bringing the scarf around.
Secure it using a straight pin underneath your chin.
Pull the long piece around.
Tug the shorter side inside your blouse or shirt.
For the final step, pull the longer ends around your face just enough to cover your eyes.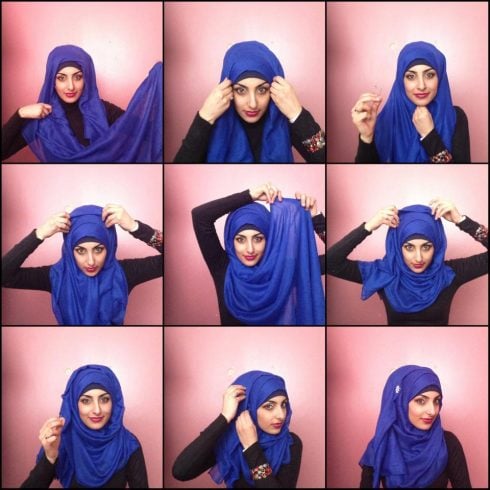 Stylish Ways To Wear Your Niqab:
Here is nine of the latest niqab designs to inspire you:
1. Pop-up Color
In a mixed cluster of gold and bling during weddings, it is great to do a pop-up color which can instantly brighten your mood. Go for deep fuschia, crimson, blue, and emerald for an eye-catching niqab fashion burst.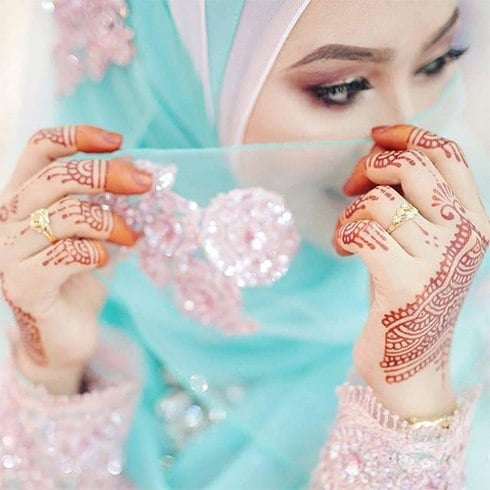 2. Enhancing Eyes for Daytime
While wearing niqab, your eyes remain the focal point for attention. So why not dress it up? At the same time, you should make sure to go for an eye makeup look that is ideal for daytime. Here is what you can do. If you prefer dark kohl-rimmed eyes, then create a small flick for a subtle finish. You can also go for eyeliner colors like dark brown or bronze. It is simple to bring attention to your eyes without contrasting it too much. For a foolproof finish, use bronze or gold shadow over your lids.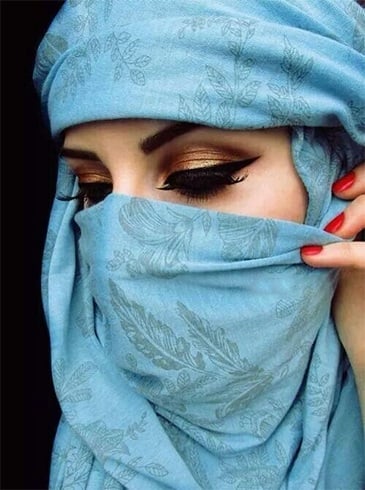 3. Add a Festive Flair
It is hard to miss this season which ushers in numerous festivities. Clearly, there is no better time to wear chic ethnic wear and put your best foot forward. You can embrace the festive mood and dress yourself in pre-stitched traditional sets with a niqab to match.
4. Play Up With a Twirl-Worthy Ensemble
A free-flowing and flattering traditional ensemble to go with your niqab can be a good pick. For those uncomfortable to surrender their curves to a bulky fabric, opt for a design with cut-outs. This popular style is a decided regal flair.
5. Achieve Picture Perfection With Statement Jewellery
Traditional pieces can be paired comfortably with niqab designs too, apart from cholis and ghagras. Any niqab styles that reveal statement jewellery in all its glory are passable. You can add gold or silver statement jewellery while heading for a wedding to make a style statement. No matter how plain your ensemble or niqab is there is always a piece of jewellery that can meet the mood.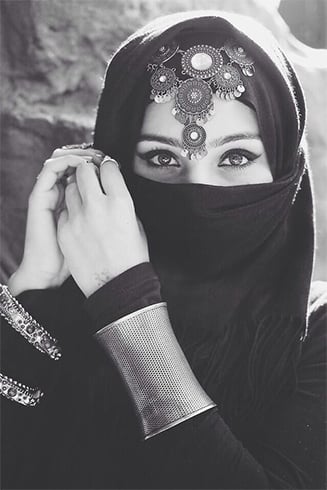 [sc:mediad]
6. Total Pink, Worth Trying
If you love the color pink a little too much, then you can look for a stylish niqab in similar hue. You can pair it with an all-pink ensemble as well. This is a color that flatters anyone. If you have strong facial features, then pink may allow softening them. You can team powder pink ensemble with fuschia niqab for a peppy girly look.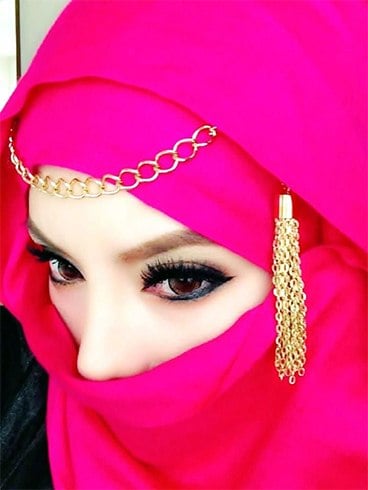 7. Allow a Printed Niqab To Take Center Stage
Make your printed niqab stand out by ensuring to use minimal accessories. Choose an outfit that is proportionate to prevent the bold pattern from being too overwhelming. You can pick a cloth with big flowers and vintage-inspired pieces for a girly look.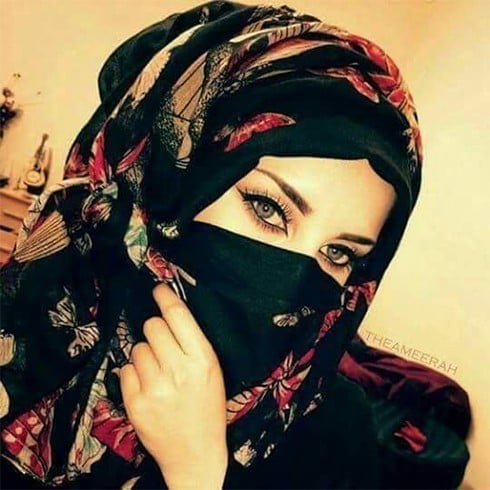 8. Adding a Unique Touch
In addition to sparkling eye makeup, and a fabulous headband, there's no style statement quite as alluring as the niqab. Whether you are partial towards colorful vintage fabric, or formed-style, a niqab design combined with all these ideas can add a touch of drama to any ensemble.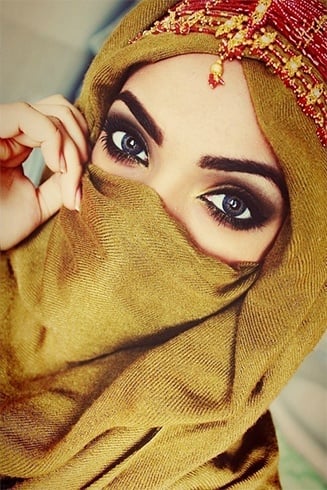 9. Wedding-Worthy Look
You might be aware of your everyday style, but translating the same to a wedding day look is a different ball game. After all, it is not daily you walk on the aisle. On your wedding day, you can pay homage to wear traditional with a twist featuring delicate lace niqab style.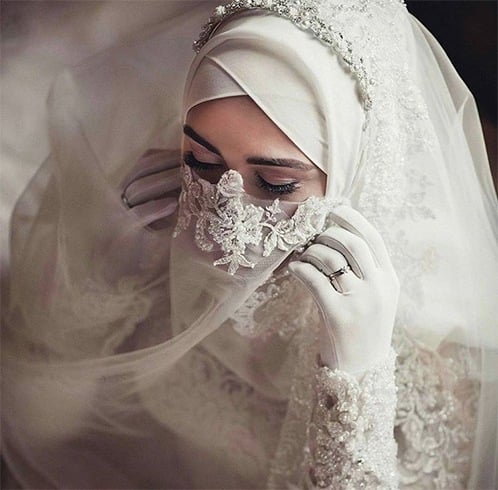 These are few of the latest niqab styles and tips you can flawlessly wear. Hope this helps!
Images Source: pinterest.com