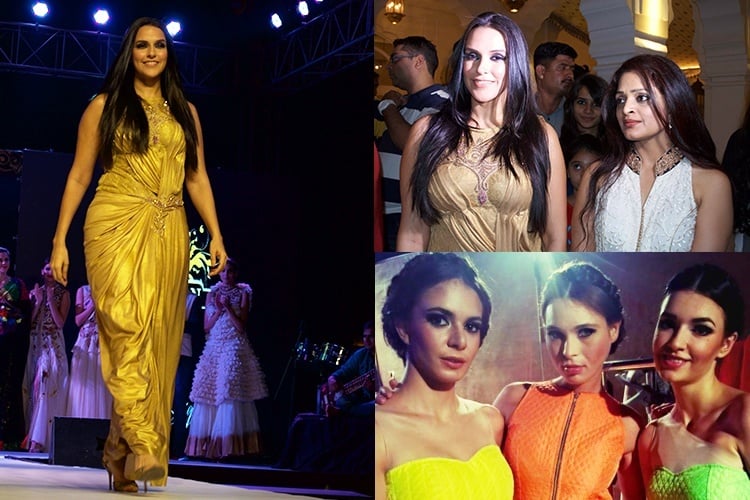 Is it the culture of fashion speaking or fashion set in the land of culture, tourism and hospitality? It's both.
Starlitte Entertainment that has big ventures to its credit such as film production, celebrity management, conducting of events and fashion shows announced its 4th Edition of Rajasthan Fashion Week 2015. The event will take place from 17th June to 21st June 2015 in Jaipur Marriott Hotel and would kick off with an offside show of Himmat Singh who will be the opening designer. Himmat Singh has by the way contributed majorly to reviving the elegant history of classic Royal Rajasthanis.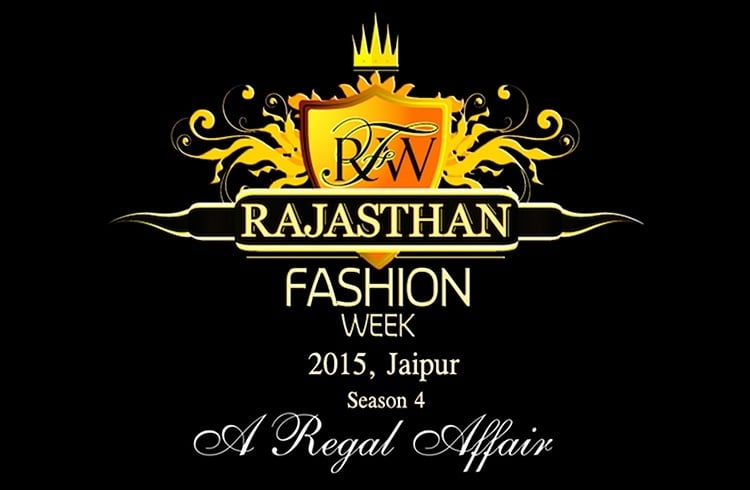 At the RFW Announcement party held at Jai Mahal Hotel, former beauty queen and actress Neha Dhupia walked the ramp for designer and national award winner Rajneeral Babutta. It's such a coincidence that Rajneeral celebrates the first anniversary of her scintillating multi designer store – Vhannah that offers aesthetic experience and customer delight.
Vhannah is spread over 2500 sq ft and has over 40 designer labels under one roof which is quite an achievement made in less than a year. Today, it has emerged as one of the eminent and illustrious brands in Jaipur. It's CEO and Founder, Shishupal Singh and Shalika Sharma also announced the official dates of Season 4 of Rajasthan Fashion Week to be held in Jaipur.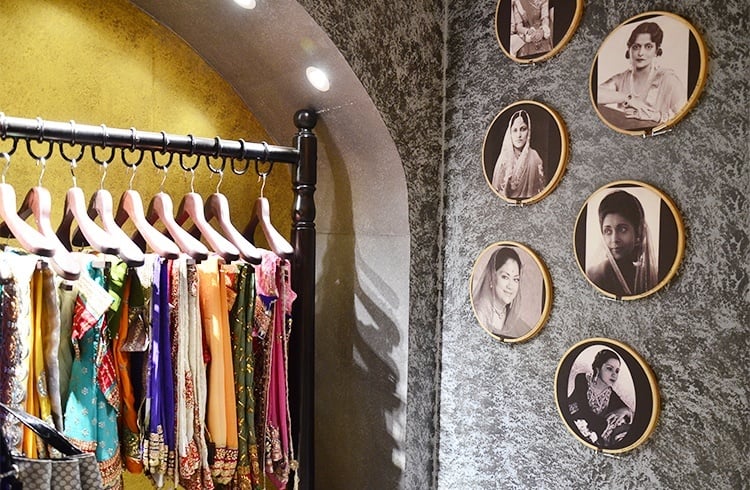 The event commenced with Madhu Chopra (mother of Priyanka Chopra) being felicitated at the ceremony. Local based designers showcased a preview of their collection at the ceremony followed by cocktails and dinner. Rajneeral Babutta closed the show alongside Neha Dhupia who dazzled in her long golden gown.
Rajneeral's inspiration is her daughter Hannah. Incidentally, the brand name of the store Vhannah is an extended version of Rajneeral's inspiration and dream. Rajneeral's vision for her label is to create clothes that are luxurious, wearable, feminine and with a sophisticated touch. Rajneeral said "I am interested in what it means to live a contemporary life. To me it is all about luxury without formality, considering my designs cater to what works for a woman – feminine, precious and perfect".
Along with the completion of the first successful year of her multi designer store Vhannah added another feather to the hat by introducing designers Samant Chauhan, Rajdeep Ranawat, Nitya Bajaj Birla, Niket Mishra who also showcased a preview of their collection at the launch event of Rajasthan Fashion Week 2015. The show was choreographed by Lokesh Sharma at Jai Mahal Palace, Jaipur. The new collection will be available at the store. Famous designers and designer labels at Vhannah are Sumit Das Gupta, Peppermint Diva, Anju Modi, Preeti Jhawar, Himmat Singh, Neha Modi, Mahi and many more.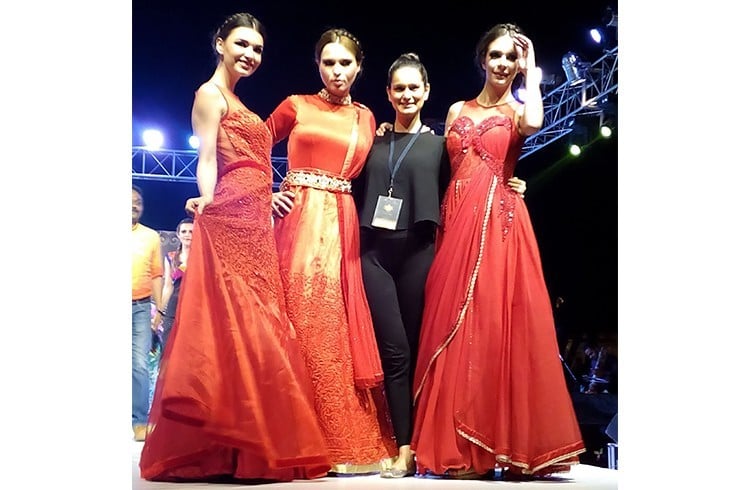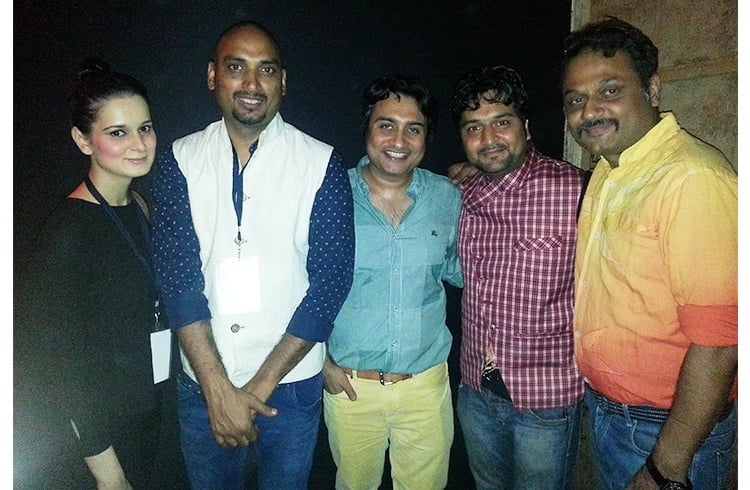 Rajasthan Fashion Week since its Origin
RFW has come up to be a strong brand across the fashion industry since 2012, its year of foundation.
The story of its success continued with its next season in 2013 where RFW got bigger and better by massively reaching out to the people. A distinctive and lengthy 80 feet ramp was constructed in the stadium for the event. The majestic box seats at the show captivated the spectators as they witnessed the glorious event. After celebrating the first two seasons, RFW is now gearing up for its Grand extravaganza in 2015.
RFW is a fully owned brand of Starlitte Entertainment, Mumbai that was founded over two decades ago by its existing Chairman and Managing Director Shishupal Singh. With joint efforts made by CEO – Director, Ms Shalika Sharma, and extended support of their strong team, Starlitte is one of the leading names in media and entertainment today.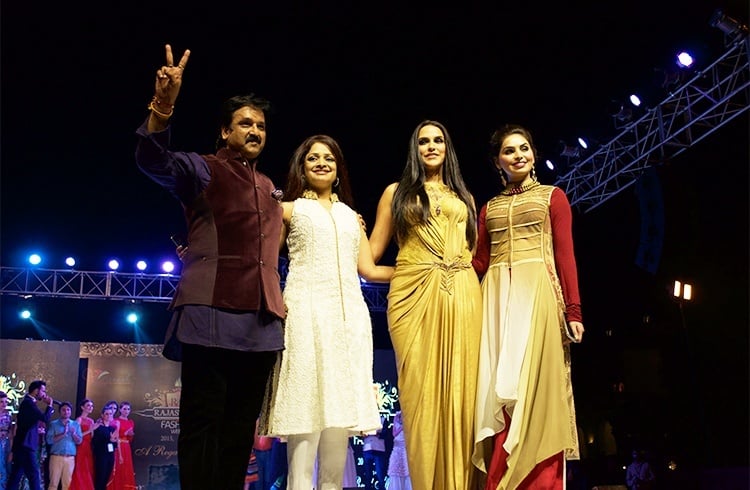 RFW 2015 – The Highlights
The Season 4 of RFW 2015, a five day "Royal Fashion Week" will be showcasing designer outfits with top models & celebrities as showstoppers at the royal city of Jaipur. The list of attendees will include the who's who of the fashion fraternity, royal and majestic families, top Bollywood celebrities, cricketers, bureaucrats; media group editors, industrialists and embassy delegates.
Show 1 on Day 1 will be dedicated to Women Empowerment. It is an effort to inform, inspire, entertain and salute the women of colour.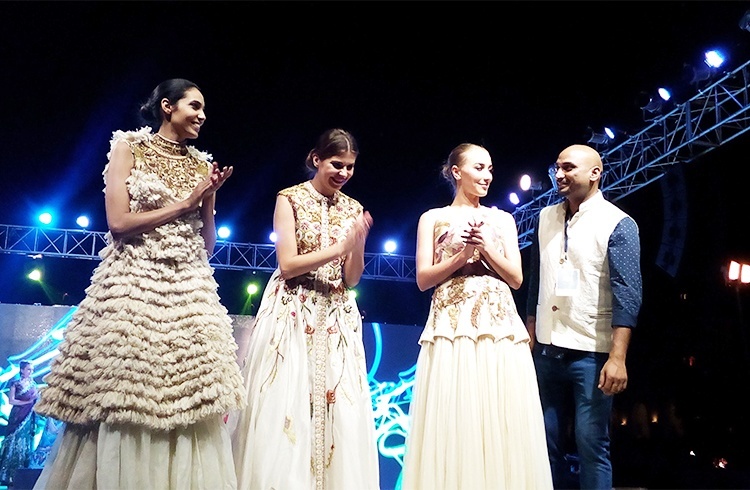 [sc:mediad]
The previous season of Rajasthan Fashion Week had a blend of fusion and contemporary designers such as Padma Shri Ritu Kumar, Vikram Phadnis, Kavita Bhartia, Neeta Lulla, Mandira Wirk, Krishna Dembla to Payal Jain, Ramesh Dembla and Sonaakshi Raj. RFW is a great meeting point of India's best designers and models who combine rich heritage, elegance and a fusion of tradition with the modern.
Today Rajasthan Fashion week has taken its place in the TOP 5 fashion weeks of India. With sheer hard work and sincerity, RFW is ranked 4th and has carved a distinctive identity of its own by collaborating with the most prestigious designers in India to put together a 'one of a kind' fashion event.
Though the Pink City will host the 4th Edition of Rajasthan Fashion Week 2015, it will be no surprise when this year RFW will collaborate with International designers from Dubai and Karachi too. The cross border association will soon be announced.
RFW 2015 – Three Category Slabs of Designers
Rajasthan Fashion Week 2015 invites designers under three categories – Gen Next Designers, Emerging Designers and Established Designers.
Designer Rajneeral Babutta along with the CEO, Founder Shishupal Singh, announced her association with Rajasthan Fashion Week 2015. This season, veteran designers like Raghavendra Rathore, Anju Modi may be a part of RFW.
Rajasthan Fashion Week 2015, in short, is a place where the pride of maharajas meets the dream of the fashionistas. It's a prolific affair which will be showcasing rich and luxurious designer collection and an exhibition area dedicated solely for buyers and visitors.
Since the exhibition arena will be open for all, book your tickets for the event. It's after all going to be no less than a Filmfare Event!